Ontraport Review – Is It Worth The Price?

Ontraport Review – Is It Worth The Price?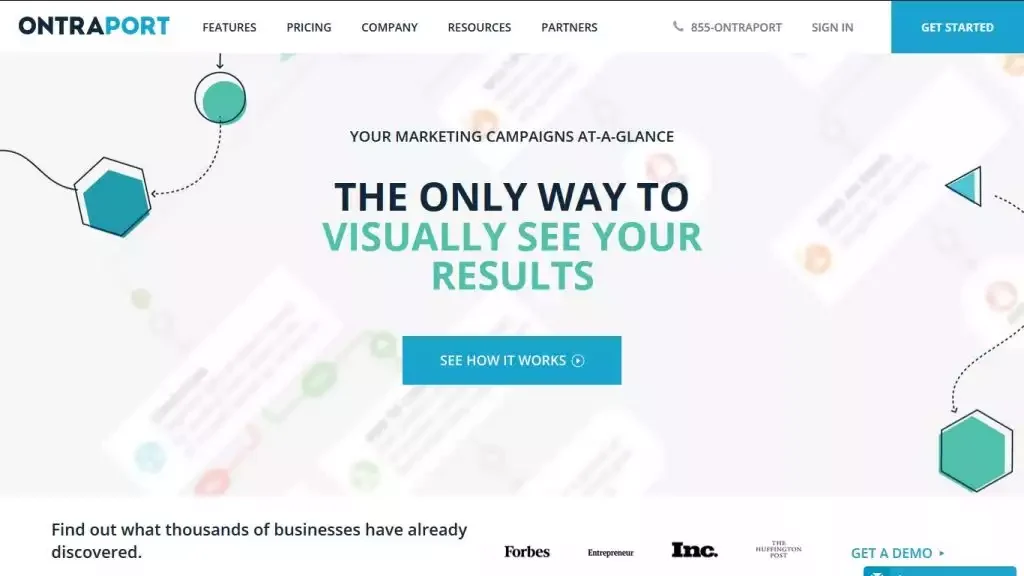 Do you want to increase the marketing efficiency of your online business? Are you searching for new ways to build great customer relationships with your clients? If your answer is yes, it is time to bring a new edge to your marketing concept with Ontraport. 
Every business needs marketing to grow in its market. And these marketing concepts need proper management that can not be neglected. To combat marketing management problems, businesses usually rely on Business Automation Tools to make their business process smooth which in turn provides a seamless customer experience.
Well, there are many business automation tools in the market. It is consequential to find the right fit for your business. Ontraport is one such great Business marketing tool available in the market. So, let's dive deep into what is Ontraport in this blog and find out if it works best for your business.

What Is Ontraport?
Ontraport is a Business Automation Software with power-packed marketing features. The best part is that Ontraport is useful for all kinds of big, medium, and small-scale businesses. It provides Customer Relationship Management (CRM), Email automation tools, and email marketing tools.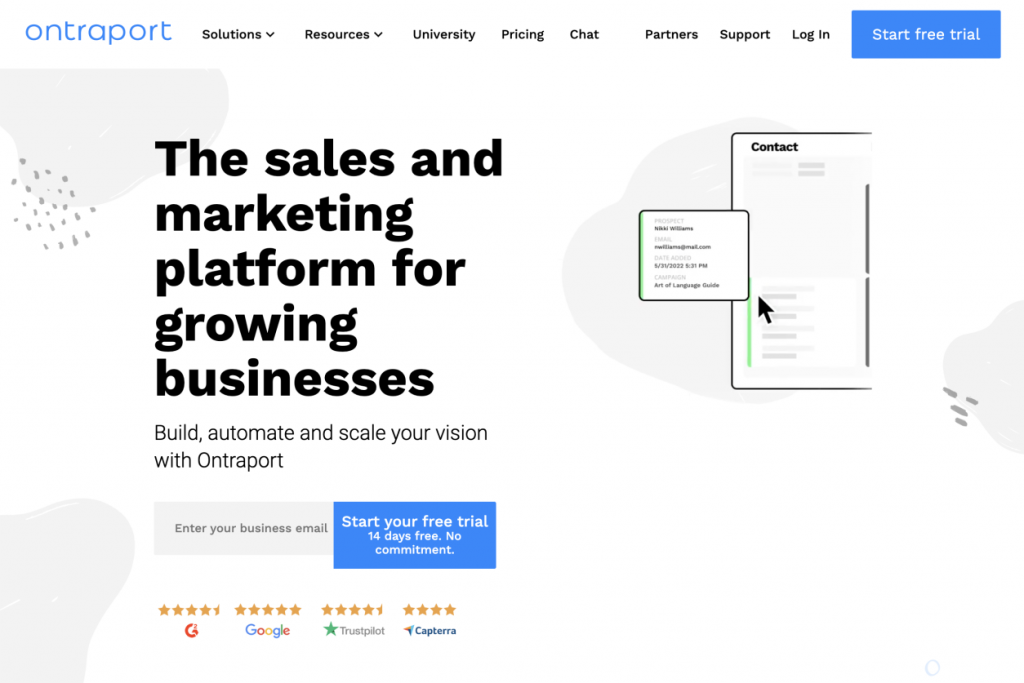 Ever since its launch in 2008, Ontraport has remarkably delivered successful results to budding businesses and helped big businesses to create an outstanding impact. Started in Santa Barbara, California, Ontraport has proved to give first-class results to entrepreneurs over and over again. 
Especially launched to simplify the online marketing concept of a business, Ontraport's features are designed to prioritize five phases of the customer cycle – attract, convert, fulfill, delight, and refer. Now that you are familiar with Ontraport, let us discuss all the nitty-gritty details about the features that Ontraport offers. 

Ontraport Features:
Ontraport is a robust marketing automation suite packed with many features that help to accelerate your marketing game to the top. Some of the noteworthy Ontraport features are:

● Website Building Tool
Ontraport Website Builder is one of the favorite features among users because of its no-coding interface. Yes, you read that right, you do not need to have any prior experience in building websites with code languages.
It provides pre-designed templates that can be customized for free. But you can also create your landing page from scratch. 
With Ontraport website builder you can create beautiful landing pages easily for your website. You can customize the design, color, fonts, images, and layout according to your preference. Apart from that, it also gives you the option of mobile view customization to design a website that is compatible with mobile devices. So why need a web developer when you can unleash your creative side with the Ontraport Website Building tool?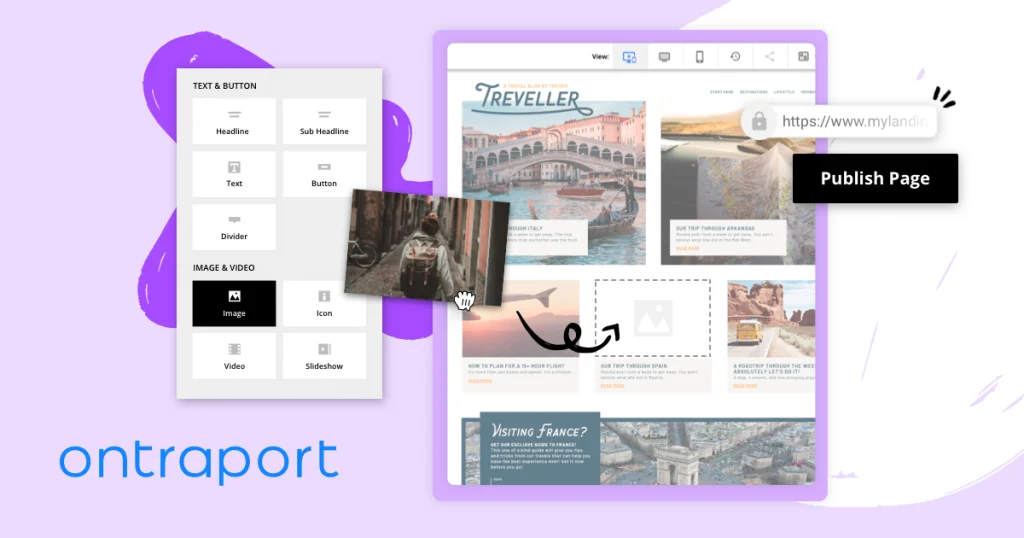 ● E-commerce
Ontraport's e-commerce portal is designed to bring out the best of both worlds. Meaning, you can sell digital as well as physical products with Ontraport's e-commerce platform. 
Ontraport's e-commerce platform opens a door to building new opportunities and services for Entrepreneurs. It smoothens the process of receiving orders and processing payments through various payment getaways. You can also introduce subscription plans, coupons, and offers to build a great relationship with your customers through the Ontraport E-commerce portal.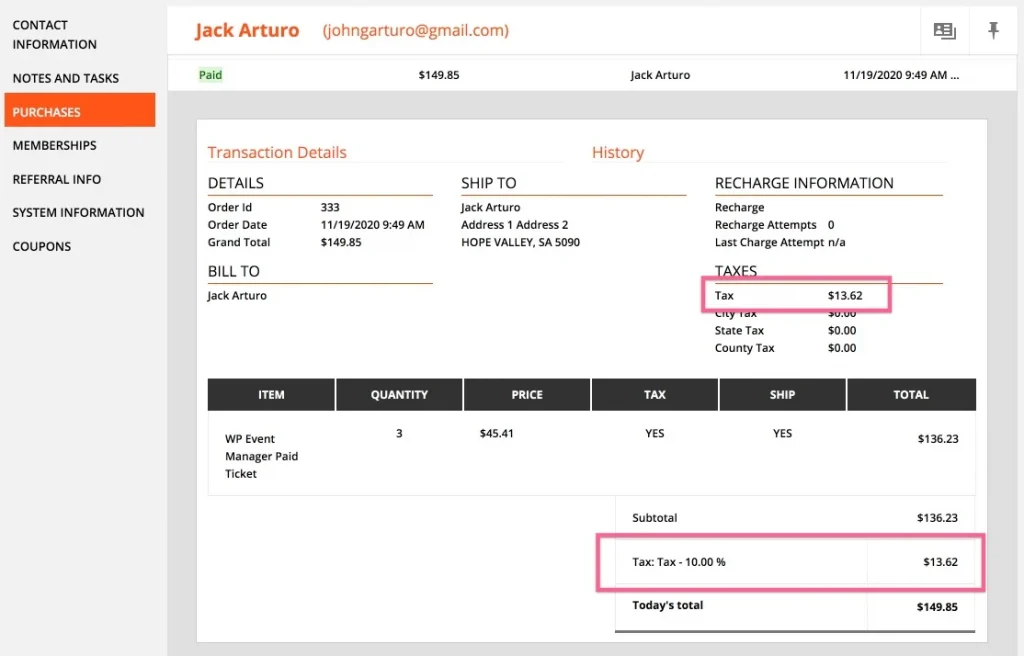 ● Ontraport Payment Methods
Having a smooth payment transaction every time you receive an order is one of the key aspects of running a business. It has a built-in payment tool that comprises many payment methods that intend to cater to all the needs of your customer while processing a transaction. 
Ontraport Payment tools aim to simplify the check-out process for you and your customer so that you can close every deal of your business. Not only that, but you can also find survey forms, upsell forms, coupon pages, and offer pages to engage with your user base and even attract more customers to your business by providing them with a one-of-a-kind experience.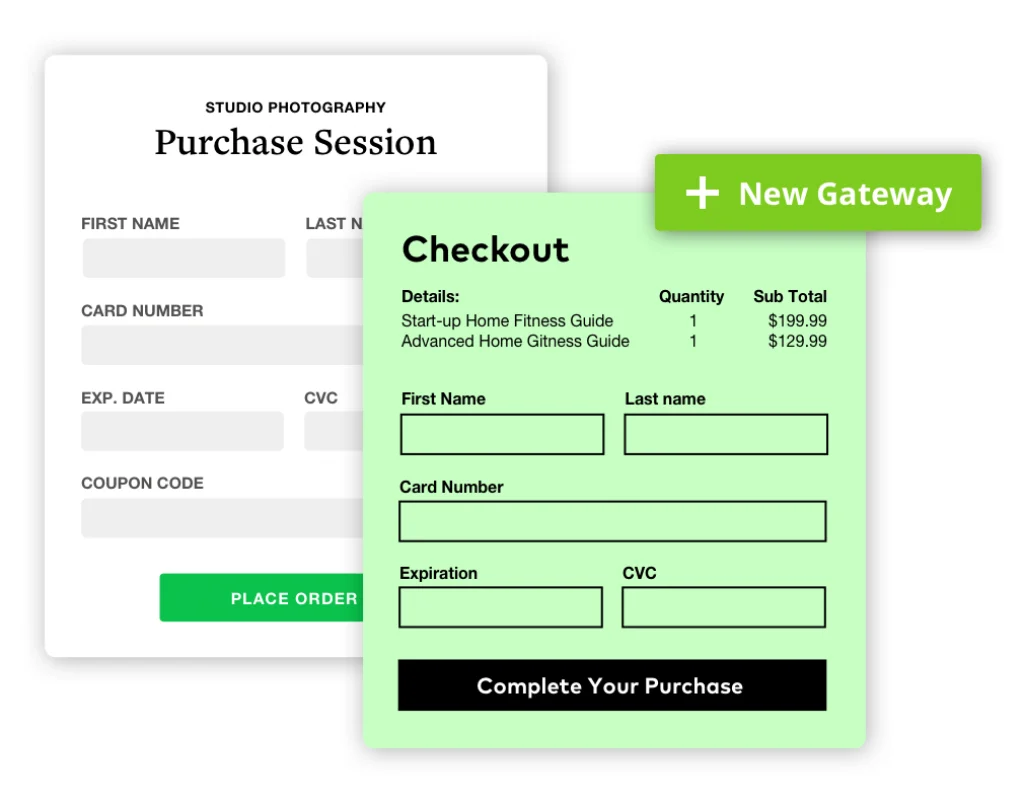 ● Webinar Services
Whether you have a coaching business, consulting Business, or e-commerce that wants to review or display the products and services, you can never go wrong with the video. And webinars are a way to emphasize personalized video experience. 
Rather than choosing expensive webinar service tools, you can opt for Ontraport's built-in webinar system. With the Ontraport Webinar tool, you can record, edit, and save your video to stream it to your audience. You can schedule your webinar and find your target audience as well with Ontraport. 
 While many Ontraport features are free to use, Ontraport webinar tools are chargeable. The point to note here is that it is comparatively much cheaper than other webinar tools available in the market.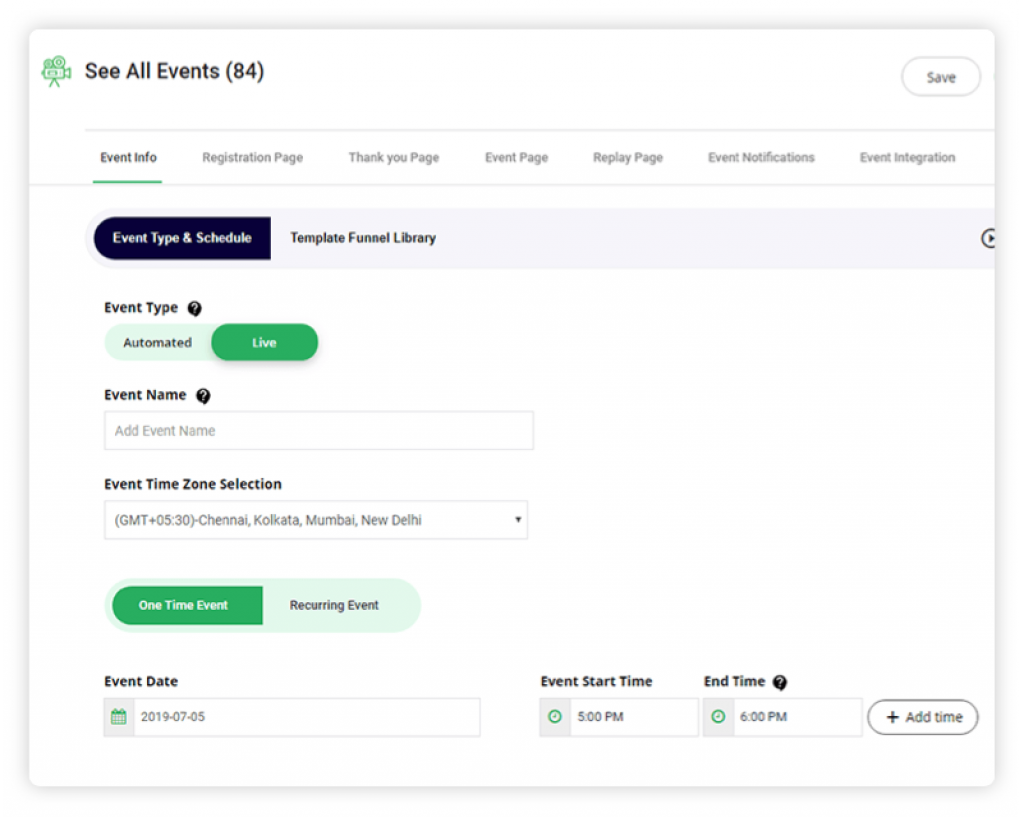 ● Support
Ontraport is unbeatable in terms of support to its users. You can find beginner guides, video courses, and a blog library on its website that will eventually help you get started with Ontraport. However, in case of any additional assistance, you can contact their customer support team via Email, Live Chat, and screen share.
Its customer service is commendable as reported by its countless user base and entrepreneurs who rely on Ontraport to grow their businesses.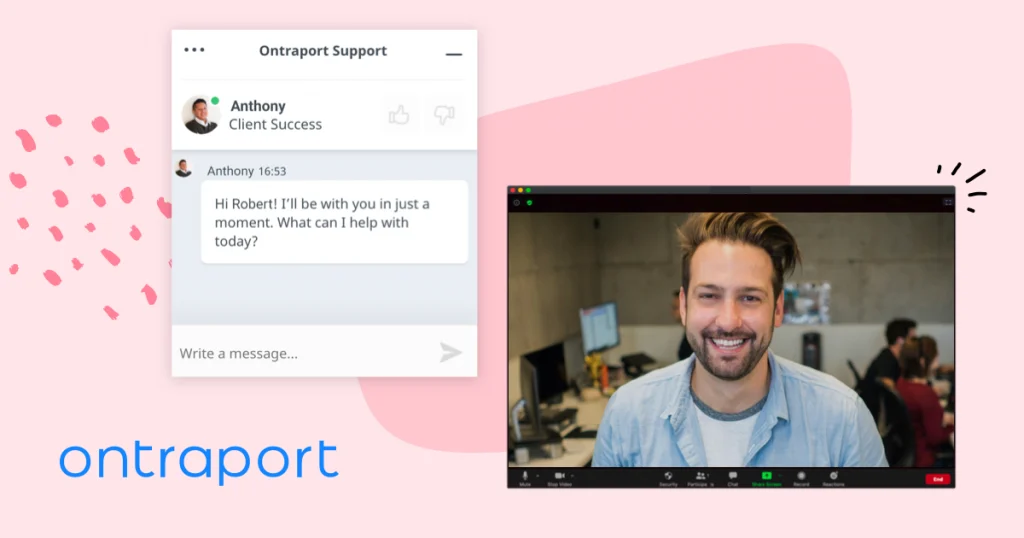 ● Campaign Building and Automation
Well-designed campaign building is one of the key angles of every business's marketing toolkit. You can never automate and get results from a marketing campaign that does not hit your target audience. Sounds stressful? Take a deep breath and release your campaign-building tension with Ontraport. 

Its campaign-building system gives 360-degree support to its users. Starting from understanding your audience persona, Writing and analyzing marketing strategies, gathering lead information, and creating visually appealing content to content sharing, Ontraport helps you with all. 
Once you set up your campaign, you have full power to tweak and customize your running/* campaign according to the generated data. Additionally, you can control and automate all the parts of your customer life cycle and implement creative ideas for the better customer -interactions. 


● Customer Relationship Management
Being an entrepreneur you must be aware of the five stages of the CRM cycle- Customer outreach, Capturing Customer Interest, Conversion, Customer Repetition, and Customer Loyalty. But it is also true that thriving in all five stages can be a bit gnarly. 
Hence, to succeed in all the steps of CRM management you must choose Ontraport to be your business ally. Ontraport has proven to be a crème de la crème (the best) CRM platform over the years. With its well-optimized system and up-to-date features, it takes your Customer Relationship Management system to another level. 
The best part is that you can drag and drop features like SMS, email, and phone number based on the needs of your potential customers. With Ontraport's advanced tools, you can engage with your customers directly by sending personalized messages, getting a review, asking for changes and improvements, and monitoring their interests. At last, your business will reap the benefits when you filter the needs and wants of your customers with past and present CRM records.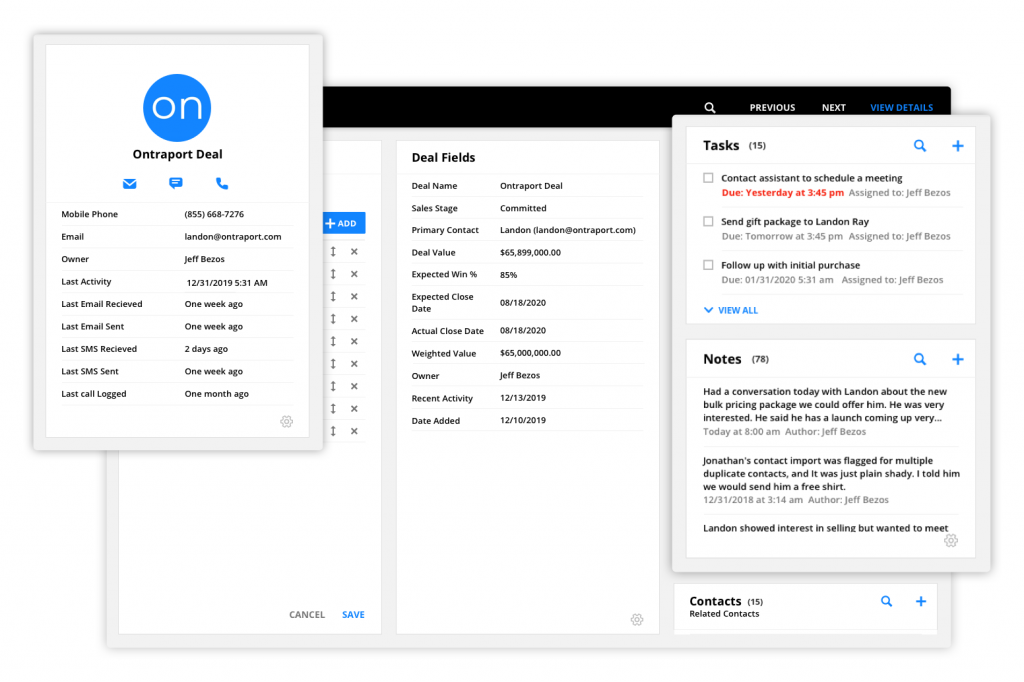 ● Business Automation and Workflow Creation
Creating a smooth workflow is what is going to make your business stronger and bigger. As what happens inside reflects outside. Ontraport platform lets its users create workflow systems that work best according to their business type. You can find all the workflow management tools here. You can automate all the time-consuming and interrupting tasks with a few clicks. 
It automatically tracks your actions and does the job on your behalf for the recurring processes. You can appoint, schedule, and manage tasks efficiently with this platform. 
Ontraport's Business Process Automation system is backed by AI which makes it best even for non-techies who are switching to digital transformation. 
Here's more, if you wish to build a customer support service for your business, you can design a dedicated customer support service for your business with this powerful Business automation tool. You can attach survey forms, follow-up emails, Product review forms, and customer satisfaction forms to your Ontraport customer support system.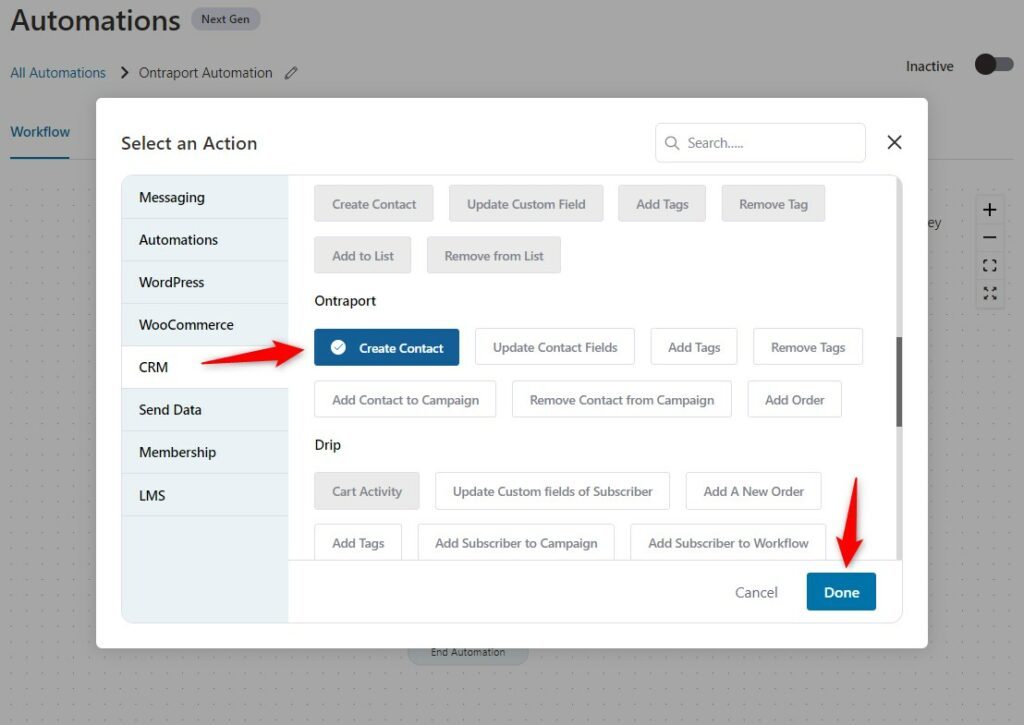 ● Reports and Analytics Of Your Business
To expand your business you need statistical data and metrics to measure the success ratio and pitfalls of the business system. These data-driven insights will help you to nurture your business in the right direction. Maintaining reporters and analyzing the Business analytics is a critical aspect and you can count on Ontraport for the same. With loaded features, Ontraport has helped businesses to excel.
The platform gives you insights into your marketing campaigns, amount of people landing on your website, their engagement, click-through rate, average time spent, and much more. You can even add more KPIs that your business needs. Ontraport digs deep to record, maintain and analyze all the data for you that you only need to focus on building and implementing new strategies based on the derived statistics.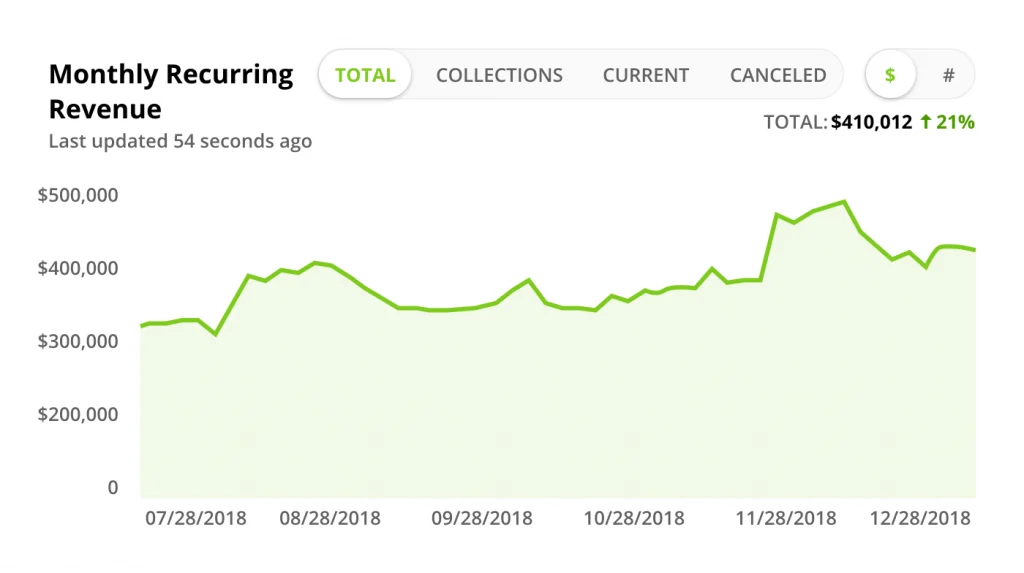 ● Membership Sites
Ontraport is one of the most admirable platforms for subscription-based businesses. With the latest features, you can build a membership site for your business. 
Membership Site builder lets you design your website from scratch or you can also choose from any pre-designed template that you like. Its membership site builder is best for all kinds of mentoring, consulting, and coaching businesses that function on a subscription basis. Add the feasible payment gateway to your beautifully designed membership site and you are good to go.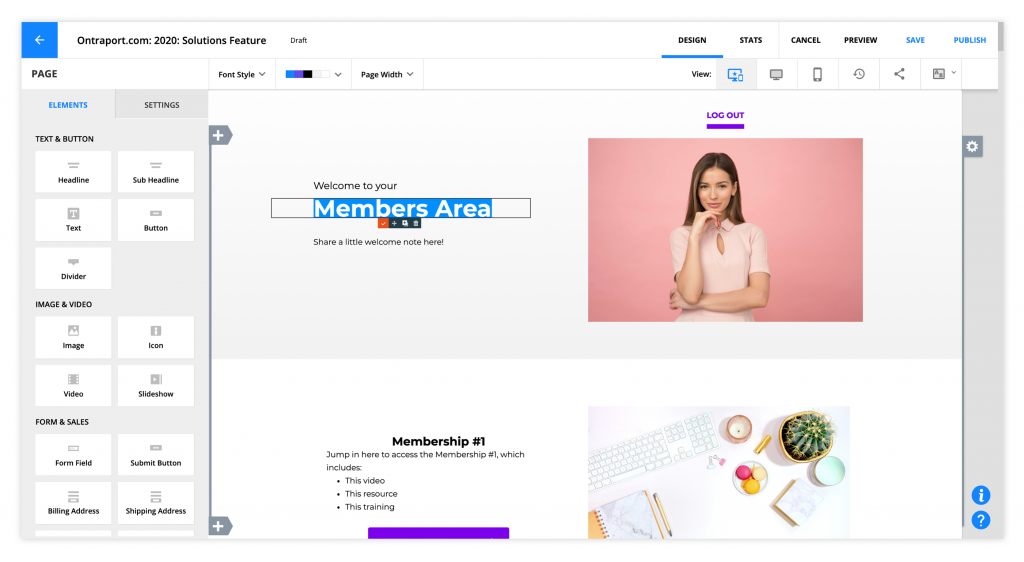 How Does Ontraport Work?
Ontraport is a CRM system created for businesses to understand, manage and market online business activities all on one platform. The platform believes that the key to finding business success depends on Customer Relationship Management therefore Ontrport delivers unbeatable CRM and business automation tools to all businesses ready to scale.
You no longer have to juggle between automation tools for different prospects as you can now manage client data, build email marketing campaigns, create digital offers and products such as courses, memberships, and subscriptions, and even automate your workflow on a single platform. 
It provides in-depth knowledge and support for each stage of your customer cycle. Along with valuable insights and a robust marketing mechanism, you can witness growth in your business when you integrate it on Ontraport.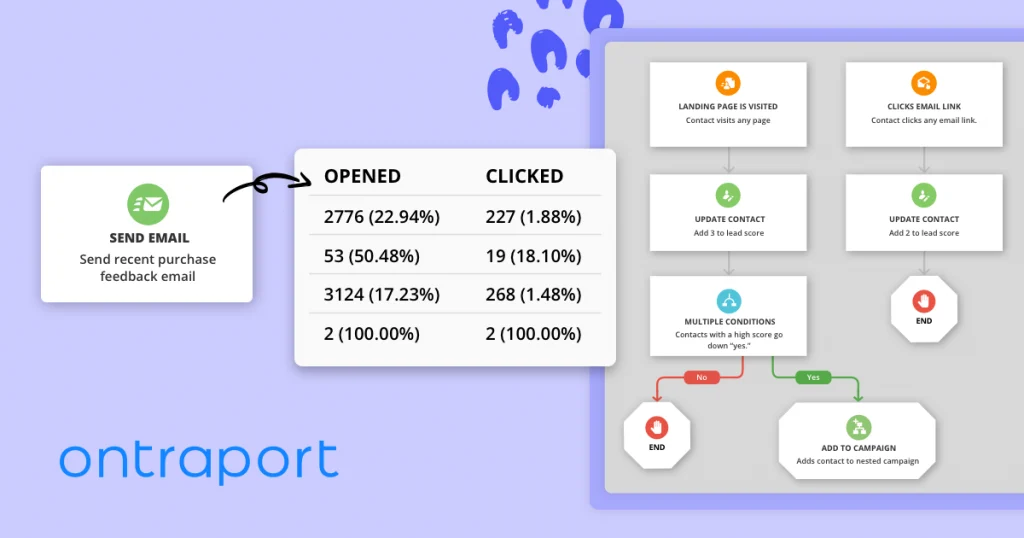 Why Should You Use Ontraport?
Do you have an out-of-the-box business idea in your mind? Are you looking for ways to streamline your business process? Are you ready to disrupt the digital market with your newly designed strategies?
This platform can assist you in bringing your business ideas to reality with its dynamic features. The simple answer to the question "Why should you use Ontraport?" is that because you want to climb bigger on the business growth ladder.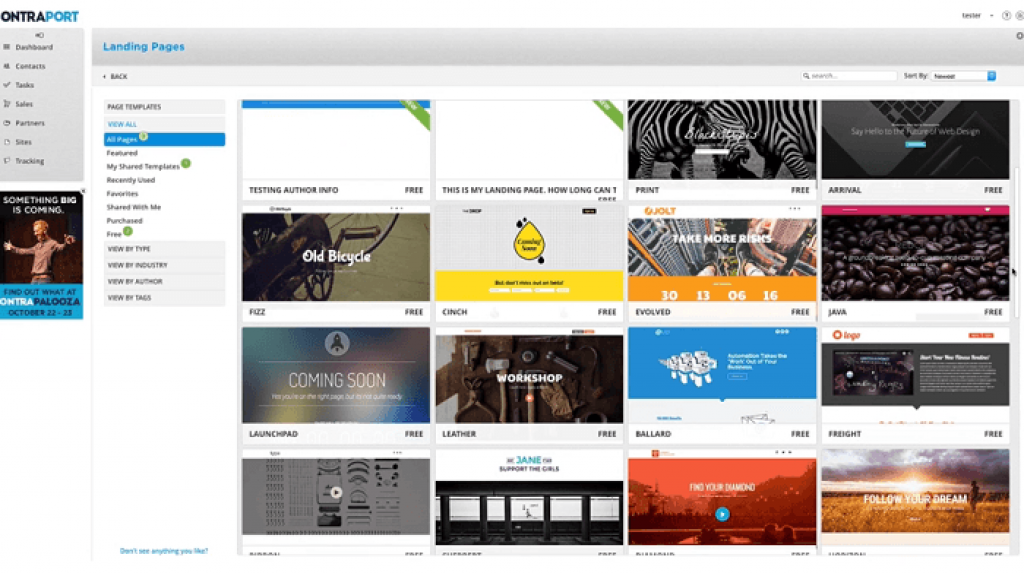 And this goal can only be achieved when you have all your systems, tools, marketing, and management in place. With Ontraport, you get a 360-degree view of your business and every single thing that your business needs to flourish. 
Whether you want to create a visually appealing landing page, create some content, set up a marketing campaign for your new product, host a webinar or automate your workflow, you can do all of it with Ontraport. 


Easy To Use:
Ontraport has a clean user-friendly interface with a minimal design that makes navigation easier for first-time users. You can become familiar with the Ontraport platform even if you are new to website technicalities. 
After signing up on the platform, you can take a tour guide to understand the operations better. As you know, the Ontraport platform has many layers to it including CRM, Website Builder, Email marketing, and business automating, accessing all of these features can be pretty complicated at first. However, you can easily grasp the functioning of the platform with time and patience. No one becomes a digital marketer without practice, right? The platform has a slow learning curve but it will be worth it in the end.
The good news is, it lets you design creative content, campaigns, and landing pages with drag-and-drop options. You can customize pretty much anything and everything with this platform. It keeps on innovating what is new to bring out the best in your business.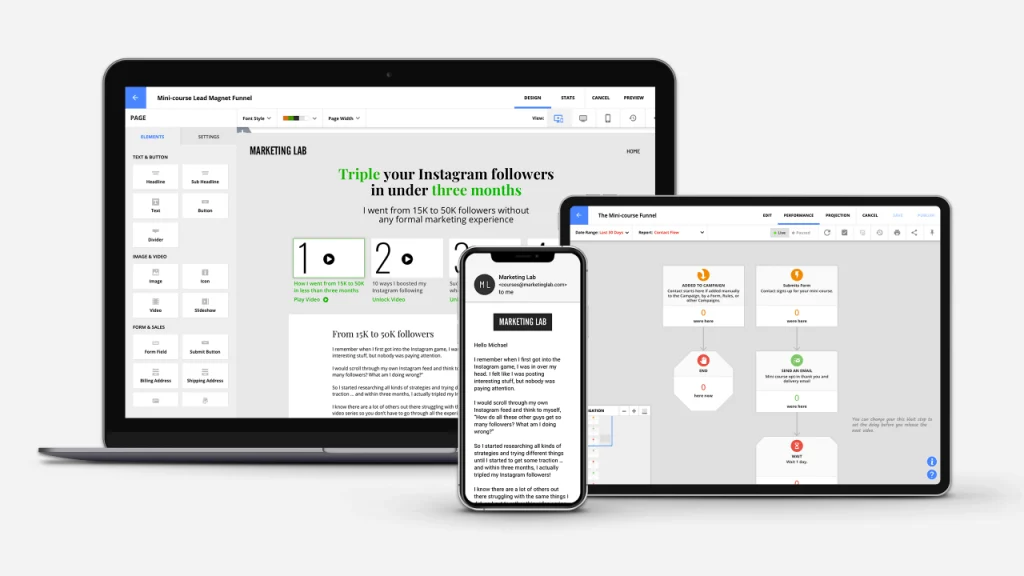 Pros And Cons:
Pros:

● Ontraport provides extensive CRM features.
● It lets you create an e-commerce platform.
● You can design landing pages without any complex coding language, and create content from the available templates. 
● It helps to build new marketing campaigns. 
● You can host a webinar, and create and share video-format content with Ontraport.
● It is ideal for subscription-based membership, coaching, and consulting businesses.
● It has an easy user interface.
● The platform has a resources library including how-to guides for first-time users. 
● It provides well-optimized business automation tools.
● Excellent 24/7 customer support team.
● Mobile App to be connected to your workflow even on the go. 
● Drag and drop functionality
● It has a split testing capability that shows statistical data and records business analytics.
● You can send personalized messages, and forms to engage with your customers.
● Helps to manage a large contact base.
● Supports overall customer journey.
● Easy WordPress, membership, offers payment gateway integration.
● It offers a free trial without asking for credit card information.
● This platform offer 30 days money back guarantees to every user.
● Lets you set up a customer support system for your business.
● It provides an unlimited email-sending facility in all the plans.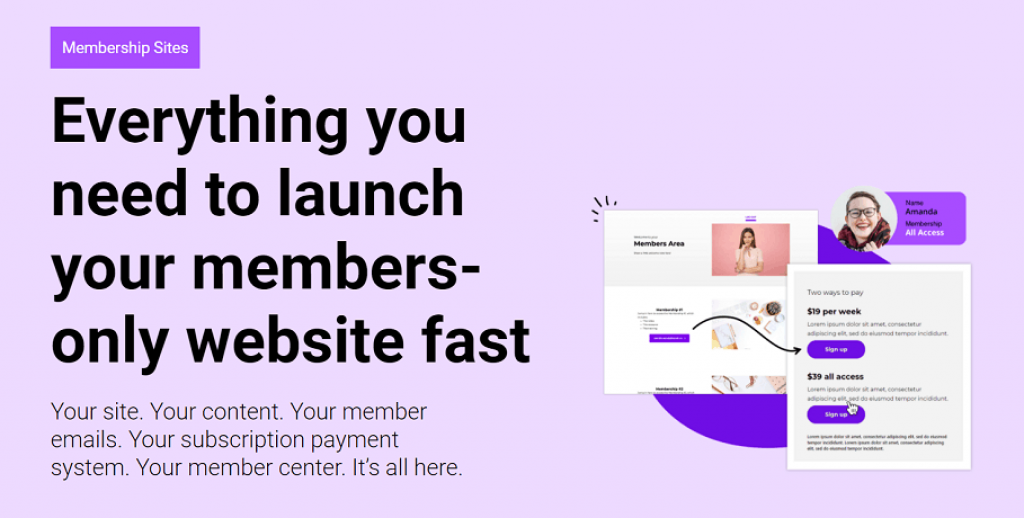 Cons:
● It does not offer Webinar service for free.
● Due to the many features on the platform, it can be difficult to set up.
● It takes time to master all the features because it has a collection of all the advanced tools under one platform.
● It does not support Social media integrations.
● Does not have a well-optimized mobile app interface which causes lagging. 
● You may have to make additional purchases for some extra features.
● It can be a little costly for small businesses. 
● It has only 14 days free trial.
● Dedicated account representative only with the Enterprise plan.


Ontraport Sales and Marketing:
The business world encounters new and revolutionalized techniques of Sales and Marketing from time to time. Therefore, every business needs to adopt new techniques to keep up with the proliferating marketplace.
Ontraport Sales and Marketing encompasses many tools that include, CRM software, Sales intelligence tools, Sales Analytics tools, Data Connector tools, customer success tools, and lead-scoring tools for closing deals.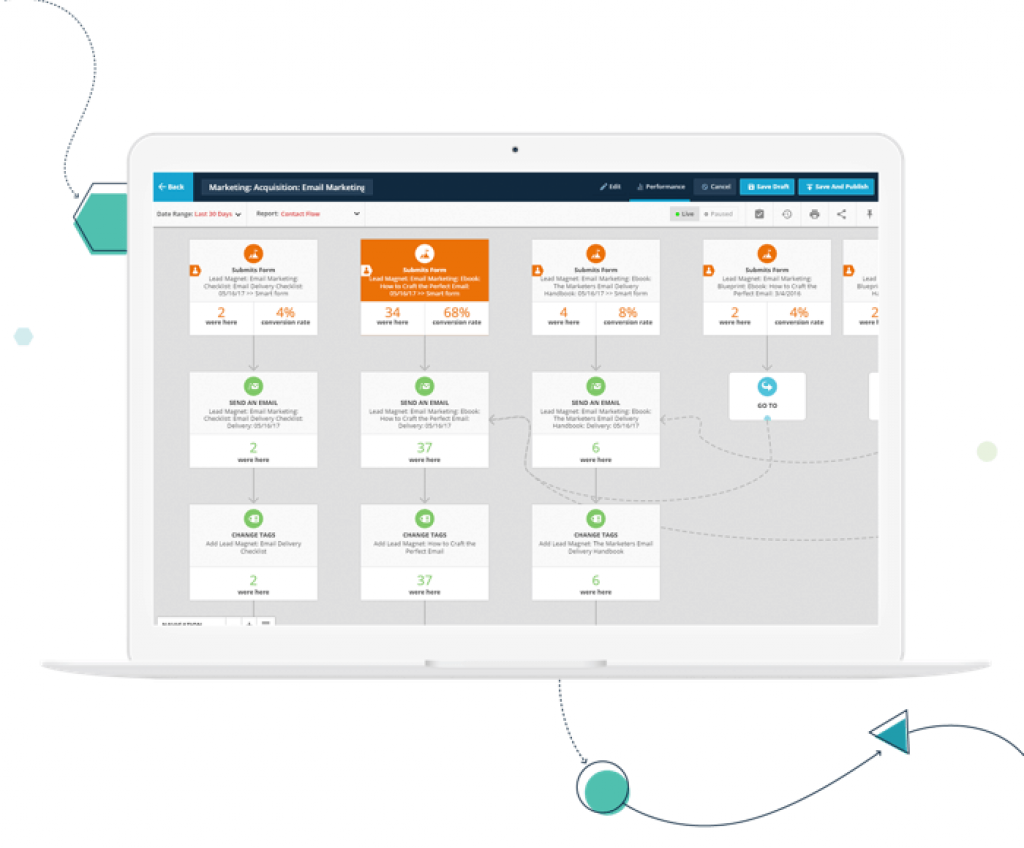 All these modern mechanisms help to access the demand of the people and give a better understanding of the critical sales data. Ontraport allows you to create multiple pipelines, sales funnels, and customer retention reports for building an extraordinary sales plan.
As you know that sales and marketing are two main pillars that generate revenue for businesses, it has all the built-in mechanism that supports achieving this goal. 
 While Ontraport marketing tools guide you to build awareness with well-crafted campaigns for your brand, Ontraport leads scoring tool and CRM tool help to convert the viewer into potential customers by providing a first-in-class customer experience. 


Ontraport Integration:
Ontraport offers a wide range of integration options. You can sync your software with Ontraport for flawless functioning of your e-commerce, marketing, and business automation. 
Here is a list of the most popular software to sync with your Ontraport account:
Zapier: It is a popular integration tool that makes Ontraport easier to combine with thousands of apps. Apart from that, it runs on command and can edit and schedule your meetings and contact creation. 
Fuzed: Identical to Zapier Fuzed is also an API helper that lets users integrate their Ontraport account with various applications like Shopify.
Shopify: Sell, manage and market your products and your online business with Shopify. Ontraport integration with Shopify boosts the chance of growing business exponentially.
PlusThis: This API tool helps create attractive campaigns with its add-on SMS feature, video tagging, and much more.
JotForm: Jotform is a form creation tool that lets you display it for the users to answer so that you can get insights about your products and services.
Zoom: Zoom is one of the best mediums for live webinars, video consultations, and coaching. Zoom integration with Ontraport will help you to find the right audience for your service.
WordPress: One of the most popular website creation software with easily customizable templates, layouts, and designs. WordPress has plugins to connect Ontraport with the website. 
Google Calendar: Mark your date, schedule your meetings, or even customize in advance with Google Calendar. Google Calendar integration with Ontraport makes it easier to close sales by updating your schedules and meetings on time.
Beaver Builder: Create beautiful landing pages for your WordPress website with this extremely easy-to-use application. It lets you design anything with a drag-and-drop function. 
Paypal Standard: Paypal Standard allows smooth transactions for your customers after they purchase your product or service. It is highly compatible to work with the Ontraport account.
Payflow Pro: The solution for your customers who do not have Paypal is Payflow Pro. As it supports all the major debit cards and credit cards, you can easily get your payment from your clients.
Woocommerce: It is one of the popular choices among e-commerce business owners because it is highly responsive, customizable, open source, and compatible with WordPress.
Facebook Connect: Facebook is the best social media platform to gain customers. Integrating Ontraport with Facebook will give you a chance to set up marketing campaigns to increase your ROI. 


Pricing:
Ontraport offers 4 price plans to its users. All of these vary based on the benefits it provides. It is up to you to decide which plan adds the best value to your business.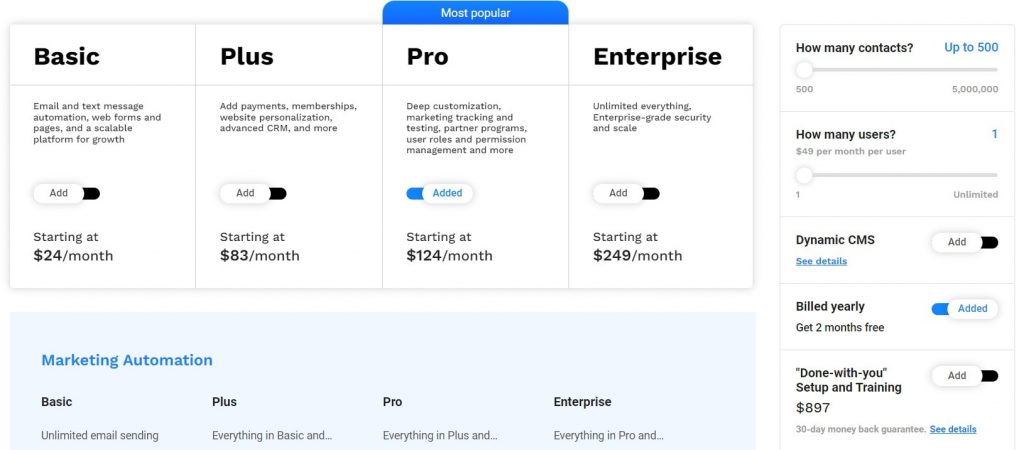 Ontraport Basic Plan: $79/ month
 With this plan, You will get unlimited emails from 1000 contacts in your list. And 1 user account.
 This plan offers:
● Contacts management
● Customer follow-up
● Lead generation
● Website customization
● Campaign Automation

Ontraport Plus Plan: $179/ month
 With this plan, you get unlimited emails and 2,500 contacts, and 2 user accounts.
 This plan offers:
● Seamless payments to partners
● Free of-cost WordPress integration
● Payment gateways
● E-commerce setup
● Marketing campaigns to convert the leads

Ontraport Pro Plan: $279 /month
With the Pro plan, you can send unlimited emails and can save up to 10,000 contacts in your Ontraport contact base.
 Key features of Pro Plan are:
● Customer tracking
● Full website, content creation customization
● Free email consultations
● Advanced ROI tracking and reports
● Campaign performance projection and customizations

Ontraport Enterprise Plan: $497/ month
 With the Ontraport Enterprise plan, you can unlock all the features available on the platform. You can save up to 20,000 contacts and send 200,000 emails every month. Plus, you will get a dedicated account representative to manage your Ontraport account. 
 The most attractive point here is that regardless of which plan you choose, you can request and get a dedicated IP Address for your Ontraport account. 
 Not only this, you can use a 14-day Ontraport free trial to understand and figure out if the platform is suited for your business. It also offers a 30-day money-back guarantee in case you want to withdraw your Ontraport services.


Ontraport Alternatives: Is Ontraport Better Than them?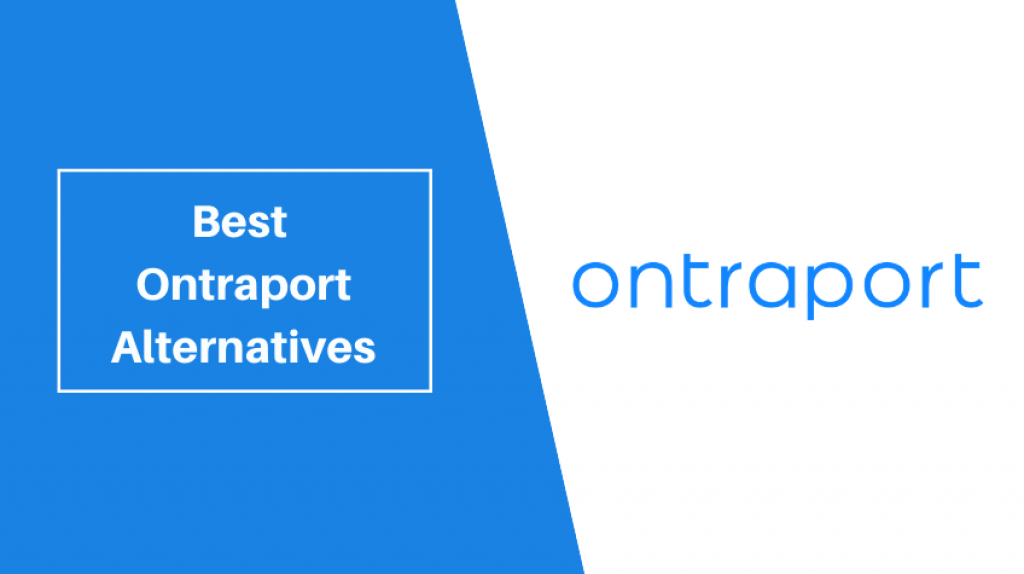 There are many alternatives to Ontraport present in the market. It is always better to consider all the options and then decide which one to choose from. You can refer to this comparison guide to understand better.
Ontraport vs Keap
Both CRM systems offer almost similar tools to its user. Keap also has a mobile app. However, Ontraport Customer support is better than Keap according to the user experience. Like Ontraport, Keap also has a minimal design platform, yet it has a more complicated user interface than Ontaport. Keap's Basic plan starts from $40/month.
Ontraport vs Kajabi 
 Kajabi is one of the highly preferred platforms for course creation. Kajabi also offers similar features to Ontraport, but it has limitations to website designing templates and fonts. With Ontraport you can build an attractive website from scratch. Both of the CRM platforms offer simple user interfaces but Kajabi is not easy to access for complete beginners. Kajabi Basic plan starts at $119 whereas the Ontraport basic plan costs $79.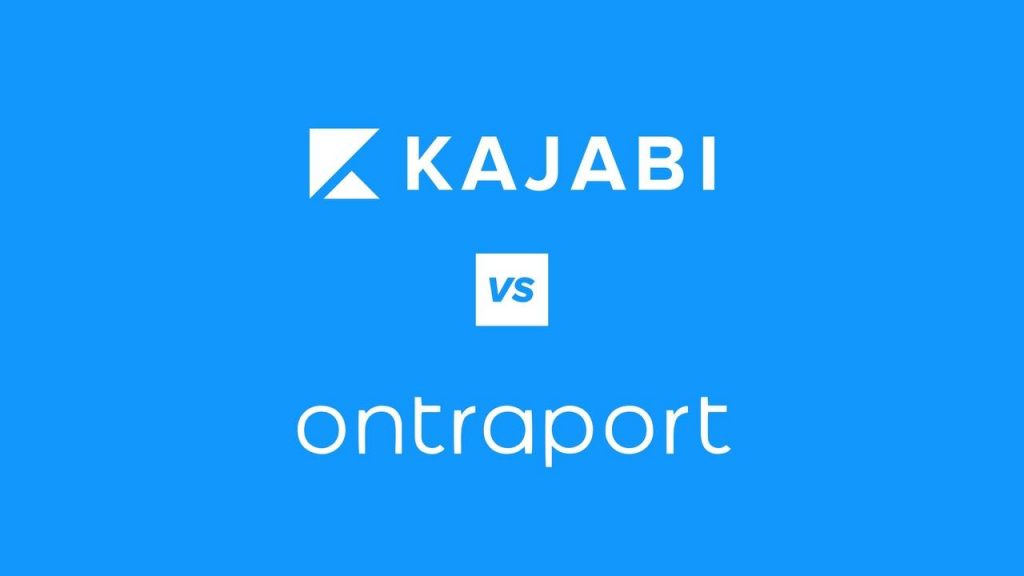 Ontraport vs Hubspot 
 Hubspot is an all-around platform to boost sales and provides the best customer service to clients. Both of the platforms have similar features but Hubspot does not have e-commerce and membership site support. Ontraport has a much more user-friendly interface than HubSpot. Hubspot Pricing is much cheaper than Ontraport, with no free trials, and no money-back policies.
Ontraport vs ActiveCampaign
Both CRM software have responsive and user-friendly interfaces. Ontraport has a better customer support team. Activecampaign is easier to set up than Ontraport because of its fewer features. The basic plan for ActiveCampaign starts at $9 per month if paid yearly.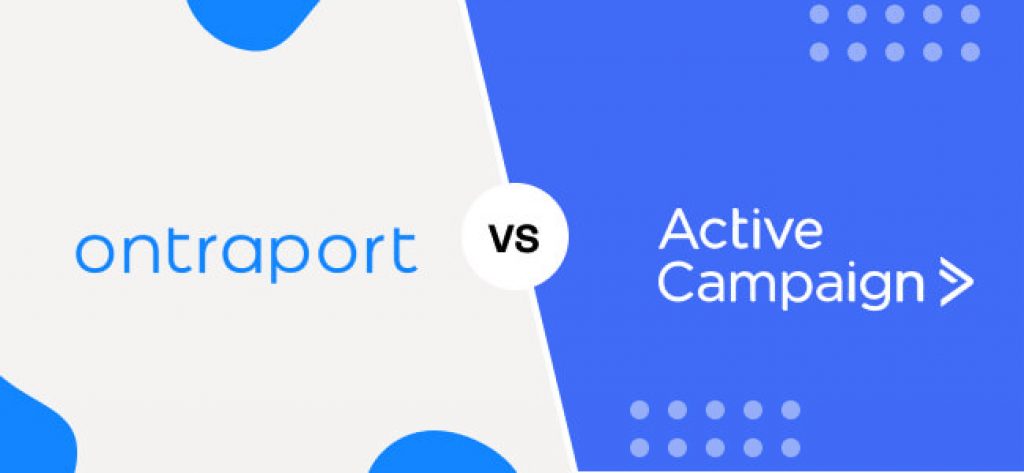 Ontraport vs Salesforce
Salesforce is one of the ideal choices for small to mid-sized businesses. You can add and delete features on Salesforce, and it is easier to find a sales executive for Salesforce than on Ontraport. Both offer similar features with highly responsive interfaces. Salesforce Basic plan for 1 user starts at $25 per month.
Ontraport Mobile App:
It is hard to carry your laptop or desktop with you all the time, especially while traveling. Well, to combat this issue, it has a highly optimized and responsive Mobile application that allows you to access the features and tools of the platform. 
You can research for your campaign, design or create layouts, customize your ongoing campaigns, and even edit anything that you want with the mobile app as well.
 You can easily find the customer support option even in the Mobile App to help you out when stuck. Users can easily find and install Ontraport mobile app from the Google play store and App store on iOS.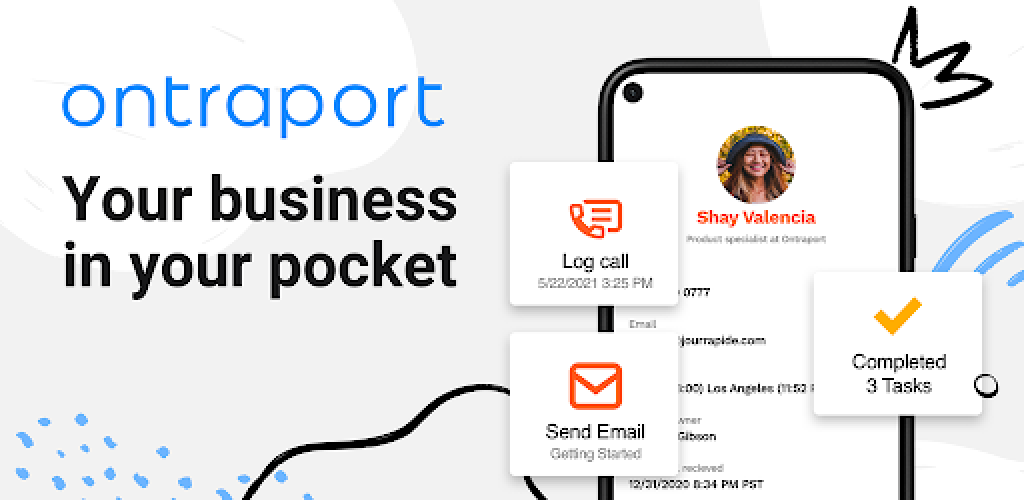 Customer Support:
Ontraport's top TIER customer support service is what distinguishes it from the other platforms. It has dedicated platform tour guides, blogs, videos, and other resources for first-time users which anyone can use as their manual to start on the platform. Once you do your research, you can jump on the navigation and creation part. 
You may happen to face problems while working on different functions of Ontraport, but you can always find your way out with the help of the Ontraport Customer support team. They have undoubtedly the best customer support executives who are always eager to solve your queries and are patient enough to provide you with the positive results that you desire. 
 You can contact Ontraport Customer Support via
● LiveChat
● Email
● Screenshare 
You can talk to them whenever you are stuck in your process, need assistance, or even when you want to implement the idea that's running in your head. You can email your questions and you will get a brief answer in response to your query. 
As you have already come across with the fact that the learning process on this platform is slow but thanks to its great customer service that quickens the learning pathway of the users.
Along with that, Ontraport has a dedicated and highly responsive user community group on Facebook where you can find all the answers to your questions and find new ways of learning tools from the existing user experiences. The brighter side to it is that you won't have to wait long, the Facebook community grants access in less than 24 hours. Great, isn't it?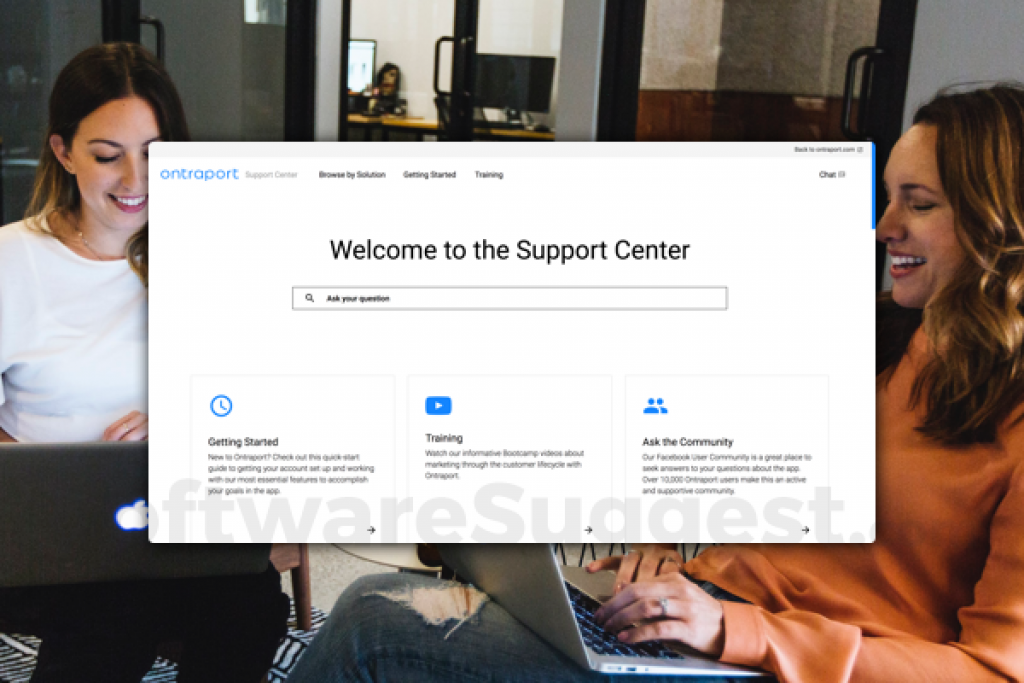 Final Thoughts:
With its high-quality and exemplary business automation services, Ontraport is an all-in-one software that your business needs to touch the heights. Whether you want to build an interactive campaign, create aesthetically pleasing landing pages, set up an e-Commerce, or promote your business, you can do it all with this platform.
Now that you've got learned about Ontraport thoroughly. It is up to you to decide if is it worth it. Well, Ontraport's pricing can be a point of concern for small businesses and start-ups but you can not ignore all the advanced CRM, business automation, and marketing features that it offers all under one platform that saves a lot of time for the business owners. 
Thus, we recommend you start with the basic plan or at least give it a shot with its 14 days free trial. What's even better is that Ontraport offers a 30-day money-back guarantee in case you do not like their services, which means you can cancel the subscription within your first 30 days without losing your money. Why miss the opportunity? 

Frequently Asked Questions:

Q1. What is Ontraport Used for?
Ans: Ontraport is a CRM and business automation platform that provides email marketing, content creation, e-commerce and membership site-building, and workflow automation tools to expand the online business. 
Q2. Does Ontraport have a mobile app?
Ans: Yes, Ontraport has a mobile app that lets you perform all your business functions even while traveling. This compact version is available on the Google play store and App store. Manage your sales, customize campaigns, or design a website wherever and whenever you want right from your phone.
Q3. Can you build a website with Ontraport?
Ans: Ontraport website builder offers drag-and-drop features. You can build highly-responsive, creative, and eye-pleasing websites with Ontraport. It also has pre-designed templates and layouts that you can customize for free.
Q4. Does Ontraport integrate with WordPress?
Ans: WordPress plugins let you integrate your website with Ontraport very swiftly. It lets you customize WordPress plugins with Ontraport according to your creative preferences. 
Q5. Does Ontraport integrate with Shopify?
Ans: If you want to integrate Ontraport with Shopify you first have to install an integrator tool named Fuzed. Fuzed will help you integrate your Shopify site into the Ontraport platform. 
Q6: Will Ontraport charge you after the Free trial?
Ans: Once you have completed your free trial of 14 Days, you no longer will have access to the free version. To use the Ontraport platform further, you need to purchase the Ontraport plans. 
Q7. How Do I Change Time Zone On Ontraport?
Ans: To change the time zone on Ontraport: First, log in to your account dashboard. Go to the Personal Profile tab. From the User's Details section, click on Time Zone and select accordingly.
Q8. What Is OntraMail?
Ans: The Email Marketing feature of Ontraport is also referred to as OntraMail. It makes email marketing easy with the help of custom email templates and professional email campaign-building tools.