Kajabi is the most popular all-in-one online website and course building platform in the market today out ranking most of the competitors in the field.
In this detailed Kajabi review, we will outline the pros and cons of the platform, and help you decide if it is the right choice for you. Be sure to trial them all and check out our reviews on the competitors.
TalentLMS
Thinkific Plus
LearnWorlds
Teachable
Gurucan
Mighty Networks
Udemy Business
LearnDash
ClickFunnels
SamCart
Let's explore Kajabi's features in detail in the next sections.
Kajabi is an all-in-one website and course building platform used by  digital entrepreneurs and small businesses to sell content and digital products online. The platform has 3 different pricing subscription levels and offers annual and monthly billing options. It is the closest you can get to finding an all-in-one platform to build and run your entire knowledge business.
Try Kajabi For Yourself
Try a risk free unlimited 30 day trial of all Kajabi's features! Click the link below!
Now, let's look deeper to find what Kajabi has to offer and whether it is the right solution for you or not.
Kajabi is one of the most popular online website and course builders on the market today. It's described as "all-in-one" because it provides the full set of features you need to: Easily create an attractive, professional looking website. One of it's key differentiating features is it's all in one nature, with course creation, website building, marketing pipelines and integrated checkouts. It also support affiliate programs, and basically everything you'll need to run and online business or course which is why its so highly appealing.
Many big names such as online marketing expert Amy Porterfield and Brendan Burchard one of the world's best high performance coach, a 3-time New York Times bestselling author, and one of the most-watched, quoted, and followed motivational speakers in history.
However with these fully integrated feature set also comes a high price. The cheapest starting package begins at $119/month. Whilst some find this off putting you'll likely spend the same, if not more to separately pool together different software solutions to match the functionality. Coupled with the difficulties you may face in a non integrated system.
Here's a highlight of the features that Kajabi has to offer a creator like you:
Finally, it's their team that takes care of all the techy stuff including security, maintenance, and updates on the platform which allows you to focus on your core job of creating and selling online courses.
Another important thing you should know about Kajabi is that it's not a marketplace like Udemy. Therefore, you'll have complete control over course pricing, your policies, and student data.
We'll take a closer look at all the features and evaluate them in the subsequent chapters in this Kajabi review guide.
When you plan to start using a new platform, the first thing that comes to mind is, "what do I need to know to use the platform?" 
With Kajabi, you don't use any special skills to use the platform. You just have to learn what features are there, where they are located, and how they work with each other.
To start with, the user interface is clean and well-organized. You can access every feature under the menu options present on the left navigation panel.
Kajabi has smartly segmented all its features under different buckets. For instance, Design, Pages, Navigation, Blog, etc., are placed under the Website tab.
When you click on a tool in the left panel, the various options and settings appear on the right. 
The good thing is that the UI remains consistent throughout the app. 
Plus, all Kajabi tools (the course builder, the website builder, etc.) are drag-and-drop. So you can work with them, even if you have never used such a platform before.
One specific thing that I like about the user experience in Kajabi is that all the individual tools are tightly integrated with each other.
Let me give you an example. Kajabi has individual tools for landing pages, email marketing,  and checkouts. While you can use these tools separately, they're also available under one interface in their pipeline builder.
Finally, you'll see the Kajabi Assistant towards the top. It's a search tool that lets you search through the admin area and the knowledge base, which is useful for when you get stuck.
Overall, Kajabi's learning curve is pretty gentle. Although the platform offers so many features, you can learn and use them in no time.
Course Creation and Engagement
The primary job of an online course platform is to let creators build their courses as they want and offer a great learning experience for their students.
In this section, we'll see how Kajabi performs when it comes to structuring courses, content delivery, learning tools, and member engagement.
Let's first start with the process of creating a course in Kajabi. 
Course Builder
Kajabi makes it easy to upload your content and structure it. The course builder has Product Blueprints for various types of digital products.
These blueprints are nothing but pre-made structures. For example, if you select the online course blueprint, Kajabi will create a sample structure by automatically adding Categories and Posts.
Basically, sections and lessons in Kajabi are called Categories and Posts respectively. While Categories are for organizational purpose, Posts is where the actual content resides.
In addition to these two, you can also add another level — Subcategories, which makes the course structure in Kajabi pretty flexible.
Now, you can easily create new Categories and Posts in your course. Plus, you can easily reorder them by dragging and dropping them at your preferred location.
In order to add content to a lesson, you need to click on the lesson title to open the lesson editor. Here, you can add different content types including videos, audio files, assessments, text, PDF downloads, etc.
When it comes to content hosting, Kajabi offers unlimited hosting for all your content including videos. And what I like is that you can use them anywhere you want including blog posts and landing pages.
The process of uploading content is straightforward as well. You can upload content either from your system or from Dropbox/Google Drive.
If you have a lot of videos, you can also bulk upload them into your course and Kajabi will automatically turn them into Posts.
One thing that I don't like about Kajabi's course builder is that it's not very flexible with adding multiple content types to the same lesson. For example, you can't add two videos or a video and an assessment to the same lesson.
Another limitation is the unavailability of bulk actions. So, you can't choose multiple posts or categories and perform an action such as marking them draft or deleting them in one go.
Overall, the process of course creation and uploading content in Kajabi is easy and intuitive, and you'll be able to work with it even if you have zero tech skills.
Content Delivery
Course player is where your students are going to spend the maximum time. Therefore, it's important that the course player has everything needed for a good learning experience.
While most online course platforms offer one theme for the course area, Kajabi offers 10+ course player themes.
The best part is that you can choose different themes for different products. So whether you teach an evergreen course, run a membership site, or do online coaching, you can find and select a theme that meets your requirements.
Plus, you can further customize them as you want. This gives your online program a unique touch and makes it stand out from the crowd.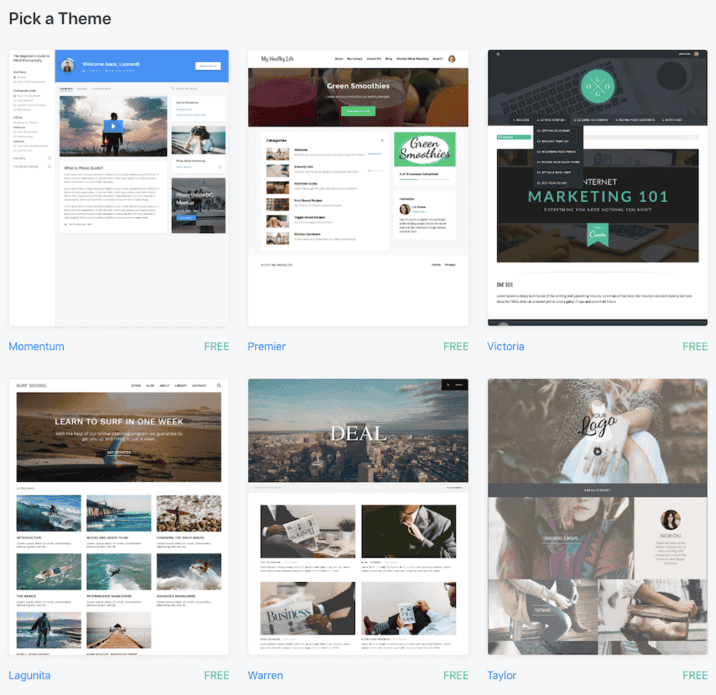 My favorite is the Premier theme, which has the best-designed course player of all the online course platforms that I have used. 
The clean and elegant theme lets you add and display thumbnails for individual lessons. You can also add your branding to the course player, which gives a premium touch to the look and feel of your online courses.
The individual lesson pages for the Premier Theme are also well designed. Your video is positioned at the top, whereas the navigation bar appears on the right side, next to the video.
You can add additional content like text, PDF downloads, and images in the content area below the video.
Finally, you can enable a comment area at the bottom, where your users can discuss the lesson with other students and the instructor.
Another course player theme that I like a lot is the Momentum theme. The Momentum theme has a more traditional design, where the navigation is on the left and the content is on the right.
All the course player themes are mobile responsive, and your students won't have any issues while watching content on mobile.
In addition, Kajabi offers iOS and Android mobile apps, which allows your students to consume your content on the go.
You can also send push notifications to your users when new content is available or when a new discussion happens. This leads to higher student engagement.
Overall, Kajabi's course delivery experience is very well optimized from a learner's perspective. No other course platform gives you as much flexibility, and this is one of the things that I like the most about the platform.
Learning and Engagement Tools
Besides, course structuring and delivery, what's important is learning and engagement. When you have tools to engage and evaluate students, you can turn a one-time learner into a returning student and build your brand along with it.
Keeping the importance in mind, let's check all the engagement tools Kajabi has to offer.
Quizzes and Certificates
Kajabi has this tool called Assessments that you can use to create quizzes and assignments for your online course.
To start with, you can set a passing score for your quizzes and Kajabi can automatically grade your students.
When it comes to questions, there are primary question types that you can add:
Multiple-choice questions
Multiple-selection questions
Paragraph-style questions
Moreover, you can add images to your questions and do some basic formatting, which should work for most creators.
Finally, you can add a File Upload option in your Assessment, which is really handy if you want your students to submit an assignment. 
What stands out about Kajabi Assessments is its flexibility. You can use it to not just create quizzes, but also surveys to gather student feedback during the course.
In fact, you can add quizzes even to your landing pages and use them for lead generation and segmentation purposes.
While Kajabi has a powerful Assessment feature, there are some limitations in regards to quizzes that I would like to highlight:
You can't import questions directly from an external file.
You can't limit the number of Assessment retakes.
You don't get advanced quiz features like questions banks and timed-quizzes.
As far as certificates are concerned, Kajabi currently doesn't have inbuilt support for creating and issuing one. So, you'll have to rely on an external solution like Accredible or Google Docs to send certificates to your students.
Content Dripping and Locking
Like most course platforms, Kajabi also offers to drip your course content. The drip feature allows you to release Categories within a course after a specific number of days after a student enrolls in your course.
Instead of giving your members immediate access to all of your content, you can release it according to a schedule. You can either choose the drip schedule as per the student enrollment or a specific date.
Another useful feature that Kajabi offers is content locking.
With content locking, you can create a linear learning path for your students and compel the students to complete a particular lesson before they can get access to the next module.
Now, this lesson can also be an Assessment in which case the students will need to pass the quiz successfully before they can access the next modules.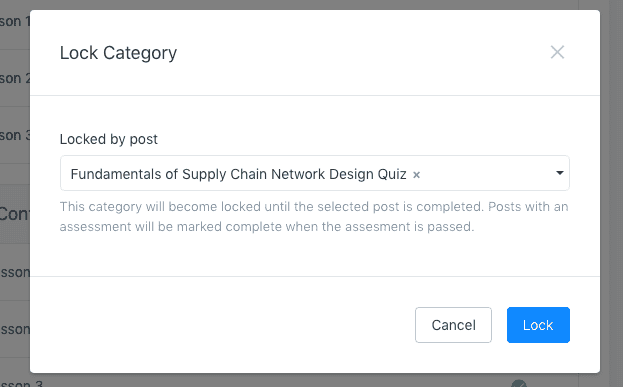 Dripping and locking are two really handy features that Kajabi offers and they can go a long way in ensuring student compliance and boosting engagement.
Community Area
Apart from the ability to add a comments area to your lessons, Kajabi also includes an online community builder.
Kajabi calls this particular feature Community and you can offer it as a standalone product as well as part of your membership site. 
Your members can access a community from their dashboard. They can start a new discussion or participate in an existing one from the community homepage without ever leaving your website.
Plus, they automatically get notified via email and push notifications when you, the instructor, or another member participates in a discussion they're a part of. 
Setting up a new community is easy, and it has a clean, modern design that looks great.
As an admin, you can create topics to keep discussions in your community organized and even pin a post to move it to the top of the community feed.
Moreover, you can create a Member Directory page where your members can see each others' profiles and they can even send direct messages to other people.
Now, there are a couple of things about the Kajabi community builder that aren't so good. For example, you can't create polls or quizzes, set up events, or do live streaming inside your community.
Otherwise, Community is a good alternative to Facebook Groups for running your online course support group or hosting your membership community.
Coaching Program
Kajabi recently introduced a new product called Coaching which allows you to create, sell, and manage 1:1 coaching sessions.
Creating a Coaching is pretty simple. You need to add some basic details, including the number of sessions in your coaching package.
Then, you need to choose how your learners will schedule the sessions. While Kajabi has direct integration with Calendly, you can use any other scheduling tool as well.
Moreover, Kajabi allows you to add an agenda and resources for each session. Both the coach and the students can take private notes.
Now, you can sell coaching separately or as part of your online course or membership site. Upon making a purchase, students will be able to book a session from their dashboard.
Kajabi Coaching is a great addition to the platform. Whether you want to offer your coaching services separately or as part of your online course/membership, you can do it.
Kajabi Automations
If there is one feature in Kajabi that gets me really excited, it's Automations. Automations allow you to create when/then rules for taking different actions based on certain triggers.
For example, if a student has been inactive for several days, you can create an automation to send them a reminder email, and bring them back to your platform.
Similarly, you can offer another course for free to those who have completed a particular lesson to reward them and motivate them to take further action. 
Another example would be sending additional learning material to those students who couldn't pass a particular Assessment.
These are just some use cases off the top of my head, but you can use Kajabi Automations in many different ways in order to gamify your online program and boost engagement.
Plus, I am not aware of any other hosted online course platform apart from Kajabi that offers this sort of automation capability.
Site Design and Customization
Having a great website is critical for the success of your online course business and it's expected from an online course platform to offer intuitive website building features.
Before we get into the details, let's talk about some essential things that it offers:
You get unlimited hosting for your website as part of your subscription.
Your site gets a Kajabi subdomain, but you can also use your own domain.
All pages on your site will have a SSL certificate out of the box.
Their team will take care of all maintenance, security, and updates.
You can remove Kajabi branding from all places.
Now, let's talk about how Kajabi performs for website creation.
Website Themes
When it comes to building your website, Kajabi has pre-designed themes that you can install with a single click.
The overall look and feel of your website depend on the theme you select. Using these themes, you can easily and quickly build a good-looking website.
There are eight themes available, and each one is unique, having a clean and modern design.
Once you install a theme, you can further customize all your pages using the page builder to give your website the look and feel you want.
While you can build all types of websites using the website builder themes, I would like to see Kajabi create and add more themes to its library. 
Finally, Kajabi also provides you the option to import and use custom themes. So if you're a power user, you can hire a developer to build a completely custom theme for your website.
Page Builder
In order to further customize your website and create pages, you'll need to use Kajabi's page builder. The page builder is a visual, drag-and-drop editor where you can make changes on the front end of your website.
The page builder interface is clean and it is very well designed from a user experience point of view. All the existing sections on your page are listed on the left and on the right, you'll see the real-time preview of your page.
Using the Settings option on the left, you can define the page level settings for colors, fonts, font sizes, etc.
For adding a new section to your web page, click on the 'Add Section' button on the left panel and choose from 40+ pre-built sections available.
There are sections for various purposes. For example, you can create:
A hero section with a background image or a video
A multi-column layout to show features
Add pricing tables
List your courses
Show your blog posts
Add an opt-in form
Display a countdown timer
Modifying and updating elements within a section on your page is super easy as well. You need to click on the section on the right area for editing it. Then, editing options will appear on the left panel such as modifying the text, changing colors, adding animation, and a lot more.
If you want to remove certain sections or elements or change their order, you can do that as well.
Most importantly, Kajabi's page builder ensures that the entire website is mobile responsive. Plus, you have the ability to show/hide specific page elements on desktop or mobile.
If you wish to preview the mobile version of your page, you can do that by clicking on the desktop icon on the right bottom.
What I like about Kajabi's page builder is that it is super flexible. It provides you with a lot of editing options without compromising ease of use. 
​You can completely customize your existing pages or build new ones from scratch. And you can do all this without writing a single line of code!
Blogging and Podcast
Kajabi allows you to add a blog to your website. You can easily create new blog posts and add content to them using the text editor. 
Apart from adding content, you get the following capabilities:
Do search engine optimization (SEO) for blogs by adding title, meta description, etc.
Group blogs into different categories.
Add an opt-in form.
Show different elements in the sidebar.
Create and customize blog homepage as well as individual blog posts.
If I give some examples for blog homepage customization — you can control how the blog listings appear, design the sidebar area with custom blocks, change pagination appearance, and do other things like displaying a CTA or an opt-in form.
While you can create a full-fledged blog on Kajabi, it's not as powerful as a specialized blogging platform like WordPress.
It doesn't have as much flexibility as WordPress in terms of extending the functionality, SEO settings, or even content editing for your blog.
​But then, most of the course creators don't need all that functionality. By keeping your blog on Kajabi, you can have everything on a single platform, which makes things much easier to manage.
Besides blogging, Kajabi also supports podcast creation. It has a Podcast feature that allows you to create episodes, host your audio files, and distribute them to major listening apps like Apple Podcasts, Google Podcasts, and Spotify
Now, you can create a free Podcast and make it available to everyone. Or, you can create a private Podcast and sell it with your courses and memberships.
Podcasts is a useful addition to Kajabi and I am not aware of any other course platform that offers this sort of capability.
When it comes to sales and marketing tools, Kajabi takes a very different approach from its competitors.
While most course platforms would offer just the essential features required to process payments and sell your courses, Kajabi offers an entire suite of tools to handle your market and build your audience on the platform.
So, let's discuss what Kajabi has to offer when it comes to sales and marketing.
Product Pricing Options
In order to sell online courses, you need to create what Kajabi calls an Offer. Offers are pretty easy to create and they give you a lot of flexibility when it comes to pricing your Products. 
Firstly, you can make your course free, charge a one-time payment, use a subscription model or have a payment plan.
If you want to create a recurring subscription, you can charge your learners weekly, monthly, or yearly. Plus, you can also charge an initial setup fee and create a trial period for your subscription.
Secondly, Kajabi gives you the flexibility to price your Offer in any major currency including USD, GBP, CAD, AUD, INR, etc.
Thirdly, you can select the Products that you want your customers to have access to when they purchase an Offer.
You can either select a single product or you can select multiple products (courses, coaching, community, podcasts, etc.) in the same Offer. This feature is quite handy if you want to sell a product bundle or build a membership site.
Plus, you can include the same product(s) in multiple Offers, making it possible for you to create multiple tiers for your course/membership.
You can do two additional things with Offers:
Set a specific date for students' product access, which is useful if want all of them to start at the same time.
Restrict students' product access to a certain number of days (e.g. 1 year), after which their access will expire.
Another useful feature that Kajabi provides for course pricing is the ability to create coupons. You can create either a single coupon code or generate bulk codes as well.
Plus, for every coupon, you can select specific courses to which it's applicable. Overall, the coupon feature in Kajabi is pretty flexible.
I simply love how the Offers and the whole pricing thing works in Kajabi. It comes with a lot of options so that you can price your Products in any way you want.
Payments and Checkouts
When it comes to payment processing for your customers, Kajabi allows you to integrate with Stripe and PayPal.
​Unlike a lot of other course platforms, PayPal is available as a payment option for subscriptions/payment plans and even for non-USD pricing.
Kajabi doesn't charge any transaction fee and all payments are immediately sent to your accounts.
Another important feature for selling your courses on Kajabi is the ability to create high-converting checkout pages.
When you create an Offer, Kajabi automatically creates a checkout page, which is very well designed from the conversion point of view. 
Most importantly, it's a 1-step checkout, so your users first complete their purchase and then create an account.
You can further customize the checkout page using the page builder. There are options to add a logo, an intro video, offer details, testimonials, a money-back guarantee badge, etc., to your checkout page.
In addition, Kajabi gives you full control over what information to collect from your customers on the checkout page. For example, you can request learners for address, phone number, etc., and mark it "required."
Kajabi also offers three powerful conversion tools:
Add an order bump to your checkout page to increase the order value.
Place a 1-click upsell on the thank you page to prompt students to purchase other Offers too.
Use abandoned cart tracking and send a follow up email to those who don't complete the purchase.
Like other course platforms, Kajabi offers checkout pages rather than a traditional shopping cart and it makes sense because checkout pages tend to convert better.
The only exception is when you want to build a marketplace and have dozens of courses on the platform. In this case, the traditional shopping cart functionality might work better. For that, it's possible to connect Kajabi to an e-commerce platform Shopify.
The only area where I think Kajabi currently lacks is the EU VAT handling and other taxes, during the checkout process. For this purpose, you have to connect Kajabi to an external app such as Quaderno.
Having said that, Kajabi offers all the features you need to create a high converting checkout page and sell the online courses.
Sales Pipeline Builder
The most stand-out marketing feature in Kajabi is the ability to build different types of marketing funnels and it is also my favorite one.
Kajabi Pipeline Builder is a game-changer as it's the easiest and the fastest way of building funnels for those who have little or no marketing knowledge.
​When you create a sales funnel (pipeline), Kajabi first asks you to select from a set of pre-built sales pipeline blueprints.
So, if you want to offer a lead magnet to build your email list, you can select the Freebie blueprint. Similarly, if you want to market your online courses through webinars, you can select the Zoom Webinar OVO.
You can also use the "Blank" blueprint for building a funnel from scratch.
As soon as you select a blueprint, Kajabi will put together all of the pieces you need for that funnel, including landing pages, forms, email campaigns, your offer, etc. 
For example, if you select the Webinar blueprint, Kajabi will automatically create the registration page, the confirmation page, and reminder and follow-up emails.
Let's talk about customizing a sales pipeline now.
You need to go in and edit the placeholder content Kajabi created for your landing pages and emails, which is pretty easy to do.
For example, when you click on a page, Kajabi will open the page builder right inside the pipeline area, where you'll be able to make changes.
So, you can build your entire funnel without actually leaving the pipeline builder which is an awesome experience.
Apart from building entire funnels in Kajabi, you can also build standalone landing pages for lead generation, selling your courses, etc.
You can select from a library of 40+ landing page templates. The templates are all well designed and customizable using the page builder.
Finally, you can also create opt-in forms that you can either embed on your blog posts or use as popups to collect email addresses.
Overall, Kajabi does an excellent job at building marketing funnels. And, at this point, no other online course platform offers you this sort of funnel-building capability. 
When it comes to email marketing, Kajabi allows you to do much more than just send broadcast emails to your subscribers and members.
First and foremost, it lets you create automated email sequences that are sent based on user actions.
To create an email in your sequence, you can choose an email template and then edit it to add text and other content.
You can add as many emails to your campaign as you want and create a schedule by specifying the number of days.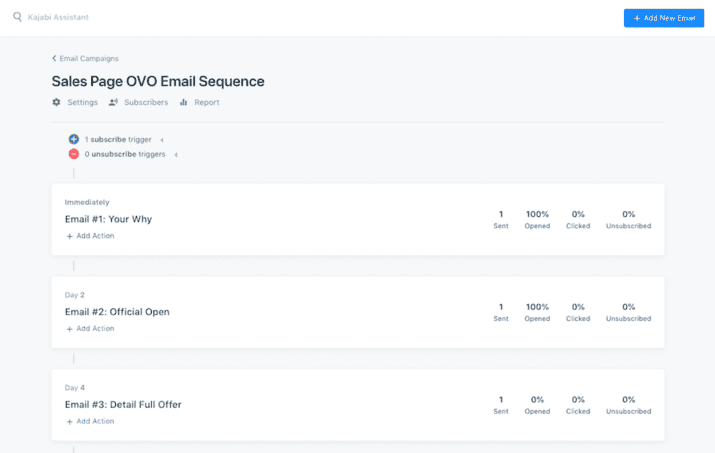 Secondly, you can tag your users and create segments. That would help with better user management and also in creating more effective email marketing campaigns.
Finally and most importantly, Kajabi Automations make it possible for you to completely automate your email marketing.
We discussed Automations previously in the context of engaging your members, but it can be even more effective for your marketing.
With Automations, you can add/remove tags, move users between different email sequences, send targeted campaigns based on their actions and do much more.
For example, you can remove your subscribers from a sales sequence as soon as they purchase your offer. Or, you can add them to another email sequence if they don't purchase your offer.
Similarly, you can send a single-use discount coupon to your new subscribers in order to encourage them to sign up for your offer. This can also be used to offer a "Gift this Course" option.
Now, Kajabi does lack a couple of necessary email marketing features: 
You can't send two or more emails at different times on the same day.
You can't restrict email sending to specific days in a week.
Despite its limitations, Kajabi's email automation capabilities are pretty good and it opens endless possibilities for your marketing.
In fact, there are a lot of things (e.g. sending a one-off coupon automatically) that won't be possible or easy to do if you were to use a third-party email platform with your course builder.
Affiliate Marketing
If you want to let affiliates promote your Offers in exchange for a commission, you can do that with Kajabi. It has all the essential features for creating and managing an affiliate program.
You can start by selecting the Offers you want your affiliates to promote and then set the commission rate for them. You can also overwrite the commission rate for individual affiliates if you want.
Plus, you can track the performance of affiliates (form submissions, conversions, etc.) through the admin dashboard, and export the payout reports for sending them payments.
By default, Kajabi creates a registration and a login page for your affiliates. They also get access to a private affiliate dashboard where they can find their affiliate links and track statistics for their promotions.
The only missing feature is the inability to upload assets/swipe files for your affiliates to use in their promotions. Otherwise, Kajabi gets a thumbs up for its affiliate tools.
Reporting and Administration
Reports are essential to know how your business is performing and help creators to make improvements accordingly. Kajabi has numerous reports and we'll talk about them in this section.
I'll also discuss all the options that Kajabi offers for managing your website, courses, and learners.
Reporting and Analytics
Kajabi offers some really handy reporting tools for your courses and sales transactions.
It has a separate Analytics section in the admin dashboard where you can find several reports for tracking things like page views, opt-ins, revenue, affiliate sales, etc.
You even have a report for subscriptions where you can learn about metrics like:
Monthly Recurring Revenue (MRR)
Average Revenue Per User (ARPU)
Churn Rate
This is very useful if you have a plan to create a membership on Kajabi.
Moreover, all the individual reports are very well designed. For example, when you open the Net Revenue report, you'll see a chart for your overall revenue, a summary of revenue, and refunds for each Offer.
In addition, you can filter the reports by date or by offers. You even have the capability to switch from a daily view to a weekly, monthly, or yearly view.
When it comes to course reporting tools, Kajabi lets you track your students' progress, quiz scores, and the performance of your videos.
You can track course progress either at the lesson (Post) level or at the student level, and you can do that inside individual Products.
For video analytics, there are options for tracking engagement rate, play rate, etc. You can also analyze how students engage with your videos and where they drop, using the visual engagement viewer and video heatmaps.
People Management
Kajabi has a dedicated People section in the admin area where you can find and manage your users.
To start with, you can bulk import new users into your Kajabi site, and grant them access to an Offer or add tags.
To manage your existing users, you have a ton of filters available. You can filter the users based on what Products they're enrolled in, whether they have purchased an Offer or not, what coupon(s) they've used, etc.
You can further take the following bulk actions:
Grant or revoke access to an Offer.
Add or remove from an email sequence
Register or deregister from an event
Export the user list
Finally, you can click on a specific user and track the entire lifecycle. You can check the purchased Offers, product access, course progress, emails received, etc., for the selected user.
User Roles
A very handy feature that Kajabi offers for site administration is the ability to add admin users to your Kajabi site with different access levels.
Basically, there are three types of user roles that you can assign to your team members:
Administrators have the same privilege as owners, with the exception of handling payment integrations.
Assistants can delete and modify site content, but they can't access any financial reports.
Support Specialists can only moderate comments and manage your students.
So, whether you want to extend your site access to your team members or your virtual assistant, you can do that in Kajabi.
The only thing missing is the ability to add course authors who will have access to certain courses only.
While Kajabi offers powerful in-built email marketing tools, you can also integrate with other popular email marketing solutions:
Aweber
MailChimp
Drip
ConvertKit
Active Campaign
In addition, Kajabi integrates with Zapier which allows you to create an indirect integration with literally hundreds of tools related to marketing, user experience, etc.
For example, using Zapier, you can integrate Kajabi with an email automation platform like Infusionsoft. Similarly, Zapier can be the medium to integrate with a tool like Google Slides for issuing certificates to your students.
Kajabi also integrates with popular analytics tools — Google Analytics, Facebook Pixel, and Segment, so that you can track site visits and other user actions. 
Overall, the integrations Kajabi offers will be sufficient for most people. But I must mention that it doesn't have a public API key, so you can't create custom integrations such as Single Sign-On with other apps
Kajabi stands out among all the online course platforms with its excellent support. They are one of the few course platforms to offer 24/7 Live Chat Support.
So, if you're stuck and need help with your Kajabi account, you can simply reach out to their support via chat.
Nothing is better than having 24×7 customer support. I've personally experienced it multiple times during client product launches when I needed help with something and immediate support from Kajabi saved the day for us.
Moreover, Kajabi also has a lot of how-to-do tutorials for learning the platform. You can simply search a keyword using the Kajabi Assistant bar at the top of the dashboard. It will show you the relevant tutorials and articles on the topic.
Besides that, you also get access to Hero University, where it provides a lot of free training on various topics like creating your online course, starting with marketing, etc. 
Kajabi also has a rewards program called Kajabi Hero. It is designed to reward creators who reach certain revenue goals with exclusive perks.
There is one more way how Kajabi provides support to its users. You can join their daily live Q&A webinars and engage with their executives directly.
Finally, Kajabi also has a really engaged user community on Facebook. Their official FB group has 28k+ members where you can ask questions, get help from fellow course creators, and network with them.
Before you can make a decision about Kajabi, you would want to know how much does Kajabi costs. Let's discuss Kajabi pricing. 
It offers three pricing plans, all of which offer you unlimited bandwidth, unlimited video hosting via Wistia, and 0% transaction fees.
Kajabi's lowest tier is called the Basic Plan and costs $149/month. It allows you to create up to 3 Products and 3 Sales Pipelines. 
Plus, it offers all the features except affiliate marketing and advanced Automations, which are available on the Growth Plan. It costs $199/month and allows you to create more products and pipelines.
If you need to increase your limits even further, you can choose the Pro Plan that costs $399/month. However, most users will be fine with either the Basic Plan or the Growth Plan.
Kajabi's starting price is steep and it probably won't work for you if you're here to just test the waters or if you're on a tight budget.
That being said, Kajabi is easily the most feature-rich online course platform in the market and when you consider all the different tools it offers, you'll find it reasonably priced.
If you would like to explore the platform, you can start a 30-day free trial.
Kajabi vs the Competition
Before we conclude this review, let's take a look at some of the Kajabi alternatives and how they compare to the platform.
Kajabi has two sets of competitors. The first one is all-in-one platforms like New Zenler and Kartra.
When compared with New Zenler, Kajabi does a better job in most aspects. The only significant advantage New Zenler provides over Kajabi is its pricing, and that it lets you create unlimited courses and students on all plans.
As far as Kartra is concerned, it's primarily a sales and marketing platform. So it has better capabilities in this regard. Otherwise, Kajabi is much better for creating a course/membership.
Recommended Reading: Kajabi vs Kartra: Which is Best for Your Online Business?
Next in the line are standalone online course platforms — Thinkific and Teachable. Creators generally choose these over an all-in-one platform like Kajabi when they primarily want features for course creation and engagement.
In the case of Thinkific vs Kajabi, the former has more beginner-friendly pricing, offers advanced quizzing tools, supports live lessons, and has a native certificate feature. It also has a full-fledged app store which makes the platform more extendable.
Recommended Reading: Kajabi vs Thinkific: What Course Platform Should You Use?
There are some other platforms such as Podia and ClickFunnels which are also compared to Kajabi often. We won't talk about these tools here but you can read our comparison guides:
Kajabi Review – Final Verdict
Kajabi is one of the best options out there for creating online courses and memberships.
It offers unlimited video hosting, 10+ well-designed course player themes, iOS/Android mobile app, quizzes, and surveys, Community, Coaching, and much more.
But Kajabi lets you run your entire business on the platform. You can create a website, run a blog, create podcasts, build marketing funnels, and automate email marketing.
Some of its marketing features like Sales Pipeline Builder and Automations are game-changers and no other course platform has anything as powerful.
The starting price is steep but the pricing should work well if you build your entire business or a significant portion of it on the platform. 
If you want to give Kajabi a try, you can start a free trial by clicking on the button below.
Try Kajabi For Yourself
Try a risk free unlimited 30 day trial of all Kajabi's features! Click the link below!
Frequently Asked Questions
Kajabi is an all-in-online online platform for running a knowledge business. You can use the platform to host your online courses, build your website, and run your marketing campaigns.
Kajabi is used by all types of course creators, including many well-known names like Amy Porterfield and Brendan Burchard. See this list of successful Kajabi examples.
Yes, Kajai is a legit online course platform. The company was started in the year 2010 and empowers more than 40,000 online businesses.
What makes Kajabi different than other providers?
The biggest difference between Kajabi and other providers is the all-in-one capabilities that the platform offers. It lets you run your entire online course business from a single place.
Can I sell physical products on Kajabi?
Yes, you can sell physical products through Kajabi. Plus, you can also integrate with Shopify if you want a full-fledged eCommerce store.
Is Kajabi good for building a website?
Yes, Kajabi is excellent for building your website as it offers numerous themes, a powerful page builder, and blogging capabilities.
What is Kajabi Pipelines?
Kajabi Pipelines is another name for their sales pipeline builder. The tool is used for creating end-to-end marketing funnels easily and quickly.
Does Kajabi replace MailChimp?
Yes, you won't need to use MailChimp with Kajabi. It has in-built email marketing tools and overall, it's better than MailChimp.
Is Kajabi mobile-friendly?
Yes, all online courses and websites created on Kajabi are mobile responsive. Plus, your students can also access your content through a free mobile app.
Why is Kajabi so expensive?
Kajabi isn't your typical online course platform. It's actually multiple platforms combined in one, which also reflects in its pricing.
Kajabi's headquarter is in Irvine, California, United States.