Ahrefs Review: An Excellent Tool For SEO but plagued with Pricing Issues

Ahrefs Review: An Excellent Tool For SEO but plagued with Pricing Issues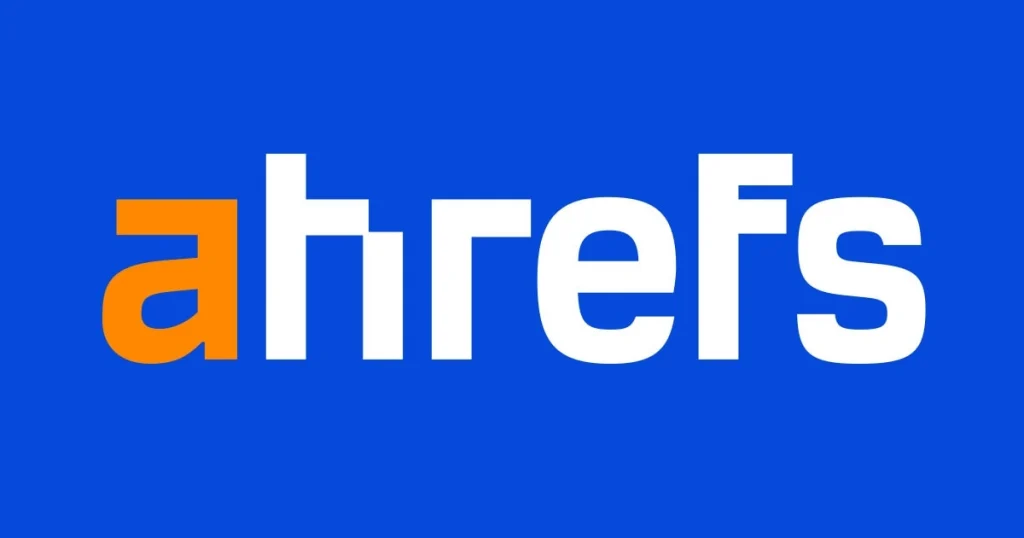 Search engine optimization is a complex subject in itself. You have to deal with many entities in it, such as keyword research, website technical health, backlinks, internal links, content quality, competitors, and whatnot! Due to this complexity, you need a comprehensive tool to measure the health of your campaign, give it direction, and get the most out of your efforts for your site's search engine optimization. Many tools exist for this purpose to carry out tasks such as measuring website speed, content quality, keywords, etc. However, several tools on the market work as a single platform to check everything you need to and optimize your site based on the findings. If you have had any kind of association with SEO, you must have heard the name Ahrefs. It is one of the most popular tools to check and optimize your site's search engine optimization campaign. However, this is not the only tool available, and it faces fierce competition from numerous other tools like Semrush, Moz, and numerous others.
Therefore, considering its popularity, I decided to use it comprehensively to find out everything you need to know if it is the right tool for your SEO campaigns. So, after using Ahrefs for almost a month, my comprehensive review will cover everything from the product's pros and cons to its features, pricing, competitors, and unique selling proposition. This will help you determine how effective Ahrefs is for businessmen or professionals.
Ahrefs Overview:
Not that it will help you, but if you're curious, the company was founded by Dmitry Gerasimenko in 2010. According to the information on its website, it operates AhrefsBot, the largest commercial web crawler ever created. This bot constantly adds and updates links in its 12 trillion link database, which is enormous.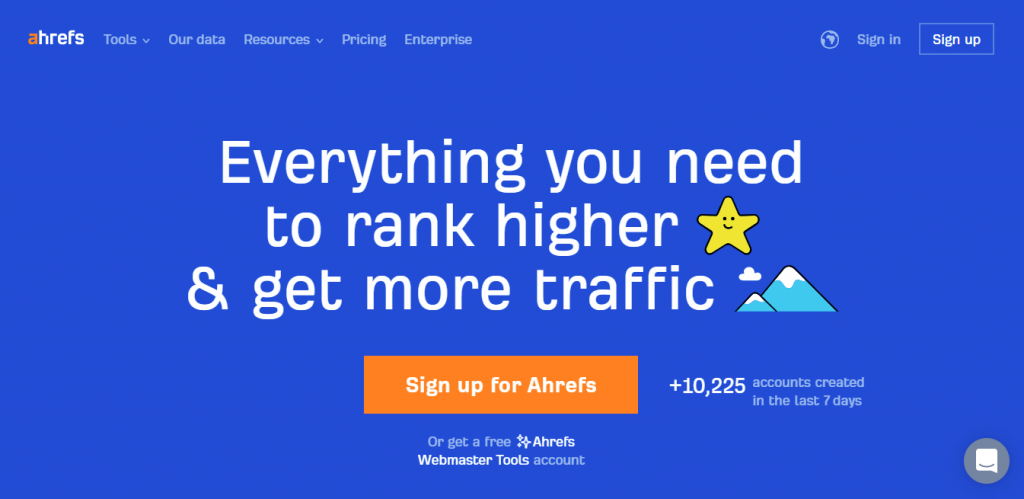 The company introduced its backlink stool in 2011, and it got better year by year by introducing new services to the tool. The Singapore headquartered company offers the six tools listed below to assist SEO professionals with their campaigns:
Site explorer
Site audit
Keyword explorer
Rank tracker
Content explorer
SEO toolbars
Before you get into the full detailed review, here are the pros and cons according to my experience with the tool:

Pros and Cons:
Pros:
Comprehensive toolset: Ahrefs includes many features that can help you improve your search engine rankings and analyze your website traffic.
Accurate data: It is known for the accuracy of its data, which is collected from various sources, including its web crawler.
User-friendly interface: It has a simple and easy-to-use interface, which makes it accessible to users of all skill levels.
Excellent for multiple projects: You will love this feature-rich SEO tool if you have to work on more than one project since there are various features to make working on multiple projects easy.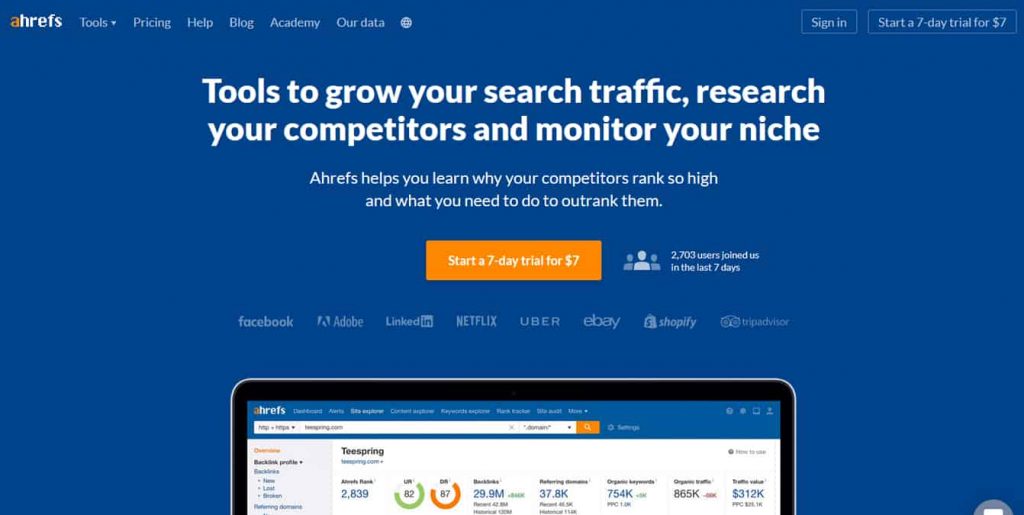 Cons:
Price: While Ahrefs is competitively priced compared to other SEO tools on the market, it may still be out of reach for smaller businesses or individuals on a tight budget.
No free trial: It doesn't offer a 7-day free trial for its full-fledged version, which is one of the biggest drawbacks.

How Ahrefs Works And Its Ease of Use:
As previously stated, Ahrefs employs the world's largest commercial private crawler bot, on which professionals from all over the world rely; it adds to the data of billions of websites on its server and remains active on the internet 24 hours a day, seven days a week. Another important piece of information for you is that it does not use any data from Alexa or Google.
However, it has been in operation for more than ten years and has a proven track record of delivering the desired results for campaigns. And compared to other tools, it is more capable, and as per my experience, the accuracy of the data is not an issue with the tool.
As an SEO professional, you can use it to analyze keyword rankings, SEO, competitors analysis, and the health of website links.
In recent years, it has added several new features, such as the keyword explorer and content tool. The content tool provides information like how much duplicate content is on a website. Furthermore, it includes a feature called "content gap analysis," which can assist you in determining the problem with your content compared to your competitors.
You can also use it to get the variations of keywords for Amazon, Google, and YouTube and analyze the pages of competition that are bringing traffic to your competitors' sites. There is no denying that Ahrefs will not disappoint you when it comes to ease of use. Log on to the site, and you will be welcomed by the dashboard and layout, which are filled with many features.
However, you get used to them quickly. More about it later; first, you should know that there are plenty of advantages to using a tool like Ahrefs, such as:
● You don't need to install any software for it; you can log in anytime from anywhere.
● No processing costs on your end.
● Automatic save of each crawl.
● Automatic software updates
Because of these reasons, it is extremely easy to use, and it further shows in its site design that it displays the main tools, such as the site explorer, keyword research, and others that are always available with a click as they are right on the top of the page.
Furthermore, you can feel more at home when you look at its dashboard, which is excellent since all the important information is always on the home screen, displaying the crucial stars of your project. Let's talk more about its dashboard.

Ahrefs Dashboard:
Once you log in to the Ahrefs dashboard, you will see a customized list of websites you have selected for tracking, all of which show the same set of matrices as given below.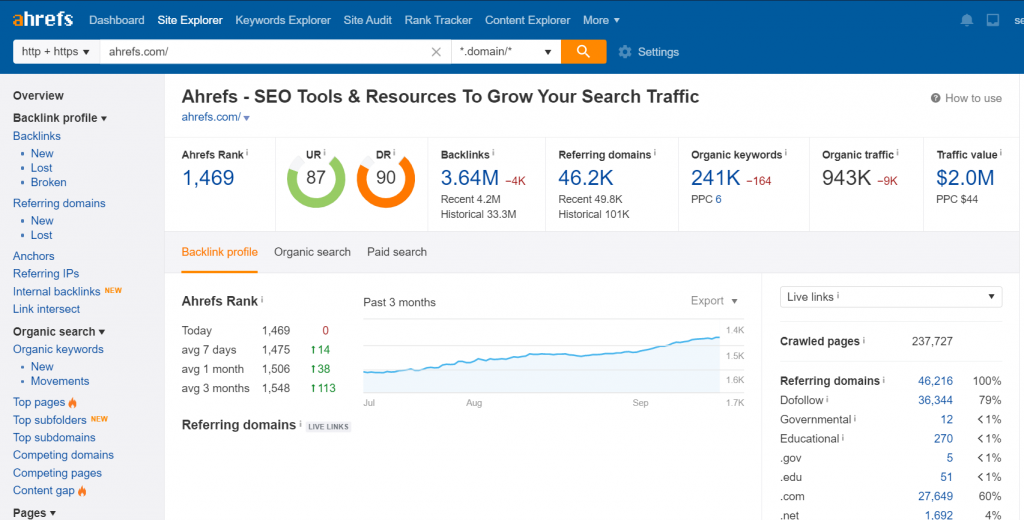 ● DR (Ahrefs Domain Rating) – This score is given to the entered domain to display the backlink strength of the site.
● Domain Traffic – It shows the estimated organic traffic the entered domain receive.
● Referring Domains -This number is super important as it displays the number of domain links back to an entered domain.
● Backlinks – It displays the total number of backlinks opting to the entered domain.
● Organic traffic -Organic traffic received/ monthly for the entered page.
● Organic keywords –The total number of keywords for which the entered domain ranking (Keywords appearing between the 1 to 100 positions organically).
● Tracked keywords: It displays the keywords the user is tracking.
● Traffic value: This figure shows how much money you would have to shell out in case you wanted to buy the traffic coming to the domain.


How Good Are The Various Tools on Ahrefs:

1.Site Explorer: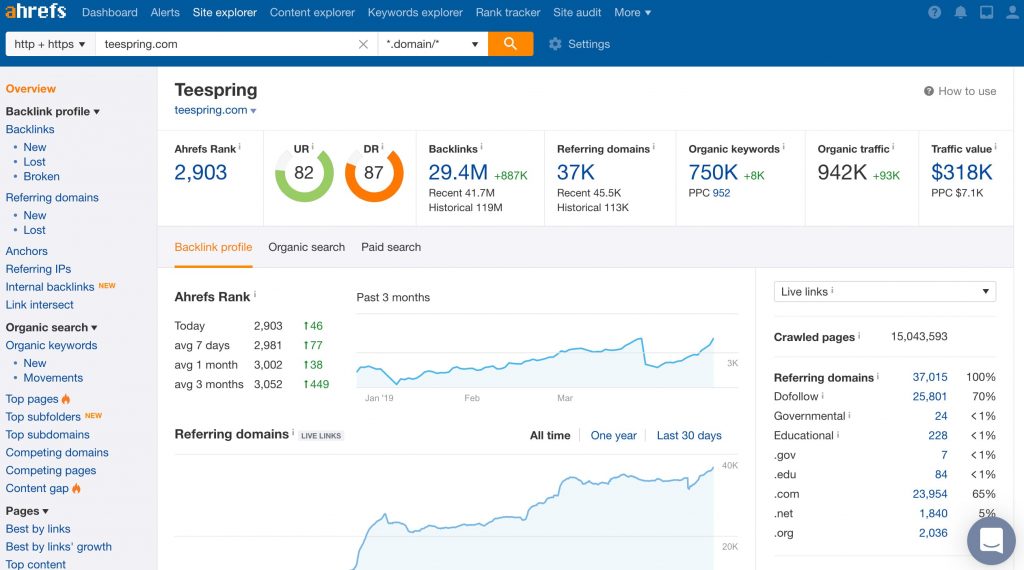 You will love the Site Explorer since it combines the power of 3 most important features into a single tool:
Backlink checker: You can use it to see your competitors' backlinks to measure their strengths.
Organic traffic analysis: As the name suggests, you can do an analysis for which keywords your competition is ranking for and what are their top pages.
Paid traffic analysis: Apart from the organic traffic, you can check if your competitors benefit from the paid search advertising and if yes, you can know via which mode.
The site explorer's strength is Ahrefs' vast database, and according to the information available on its site, it monitors over 150 million keywords in the United States alone. When you add in over 150 countries, it is undeniably very powerful.
Three particular sections that are worth mentioning in site explorer are:
The "Pages" section i: It's a fantastic feature since it lets you quickly find out which web pages on a website are the best in terms of backlinks and social shares.
The "Outgoing Links": This section provides an idea of an entered website's linking patterns so you can know where your site is lacking.
Backlink Analysis: The tool is so easy to measure the backlink profile of any site as you just need to access the "Backlink Profile" section and enter any domain, and that is it! You can get the comprehensive stats before you.

2. Keyword Explorer:
Ahrefs" Keywords Explorer" is a tool that allows you to research and analyze keywords and their performance in search engines. It provides a range of metrics and data that can help you understand how difficult it may be to rank for a particular keyword and the potential value and traffic that a keyword could bring to your website. Users get to see the following metrics:
Keyword difficulty: This metric measures how difficult it is to rank for a particular keyword in search engine results. A higher keyword difficulty score signifies that it may be more challenging to rank for that keyword.
Search Volume: This is the estimated number of searches for a particular keyword in a given period, such as a month. A higher search volume on this metric indicates that the keyword is more popular.
CPC (Cost-per-click): This is the estimated cost of a single click on a pay-per-click (PPC) advertisement for a particular keyword. A higher CPC indicates that the keyword may be more valuable or competitive.
Clicks: This is the estimated number of clicks a website could receive for a particular keyword in a given period.
CPS (Cost-per-sale): This is the estimated sale cost resulting from a PPC advertisement for a particular keyword.
RR (Return Rate): This is the estimated percentage of users who return to a website after clicking on a search result for a particular keyword.
Global Volume: This is the estimated global search volume for a particular keyword, considering all regions and languages.
In addition to these metrics, Ahrefs "Keywords Explorer" also provides other data and analysis tools, such as the ability to see the top pages ranking for a particular keyword and compare the performance of different keywords. This can help you identify valuable keywords and optimize your website's content and PPC campaigns for better results.

3. Site Audit:
The Ahrefs site audit tool checks for a wide range of issues that can impact a website's SEO, including performance, HTML tags, social tags, content quality, localization, incoming and outgoing links, and resources.
The tool automatically groups these issues by type and generates printable reports that are fully visualized with colored charts. This can be helpful for quickly identifying and prioritizing issues that need to be addressed to improve the SEO of a website.
Another excellent aspect of using the site audit feature is easily tracking your site's SEO progress. This gives you complete control over the data – from creating custom filters based on numerous parameters to adding custom values for the analysis of particular issues.
Depending on your requirements, it can show you data on a specific property or filter it out entirely across all crawled pages. Another fantastic part is that Ahrefs' backlink and organic traffic metrics are integrated, so there's no need to cross-reference data; you'll have all the SEO metrics in one place.

4. Rank Tracker: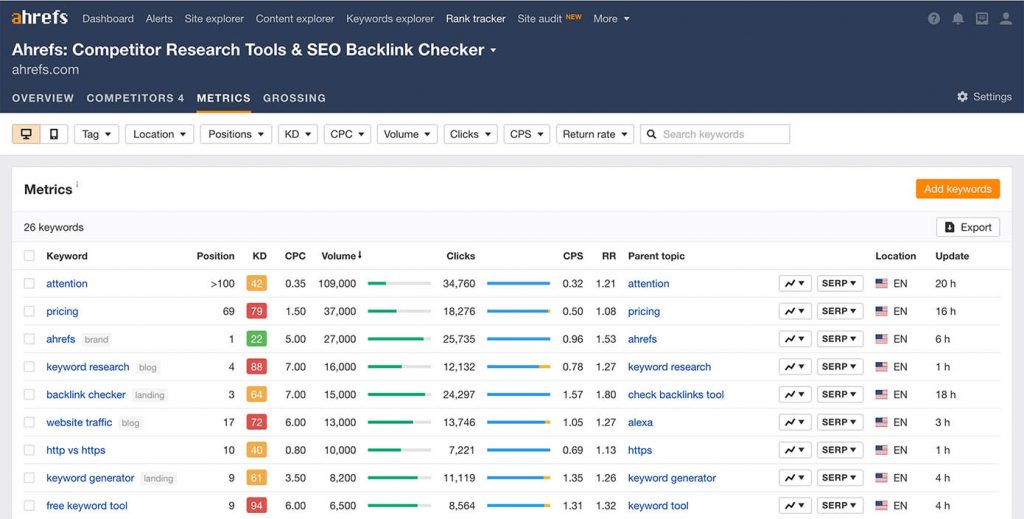 It does exactly what it says. It allows you to monitor the ranking of your keywords on Google in 170 countries. Irrespective of whether you input or import keywords or just enter the competitor keywords, it will show rankings for the countries you have selected. Everything is easy and seamless.
It does an excellent job because it not only provided me with information about the keyword I was ranking for, but it also provided me with suggestions for related keywords.
With the Rank Tracker, you set keywords and countries for which you want to check rankings. Ahrefs shows you all the keywords you are already ranking for and suggestions for associated keywords. Another feature that sets it apart from the competitors is how it summarizes project information by distributing the following metrics:
Visibility: It displays the percentage of all received clicks on a keyword on a website
Average position: The tracked keywords' average position
Traffic: An estimate of the number of clicks generated on the tracked keyword
SERP features: This tells you how many keywords appear on page search engine results that include featured snippets, map listings, and other non-standard features.
Positions: Let you know how many tracked keywords increased in rankings and how many declined.
Distribution: Another metric to inform you about the spread of positions of your keywords in different segments. For instance, ranking is shown for the keywords in the grouping of 1-10 the position, 10th to 20, and so on.
Comp: number of competitors being tracked
Locations: Keyword positions for Countries you are tracking for
Keywords: The exact number of keywords you are tracking for your site


5. Content Explorer:

Content Explorer is another key feature of this comprehensive SEO tool. It is a cool feature that provides you with countless use cases. However, I can't call it better than the competition. It is similar to BuzzSumo, but in terms of functionality, it is adequate but not exceptional. I will rate it satisfactory.
Like other tools in Ahrefs, the pattern of ease of use also continues here. You just need to enter a word or phrase in the search window to get the top content pages. It presents you with top-performing content for the entered word phrases and opens the door for countless content-building opportunities.
The Ahrefs find content examples and ideas from a database of 11 billion web pages. It claims to discover 40 million pages daily, so you will not complain about the quality of the results. The tool can check any content page's organic traffic, backlinks, keyword rankings, and social shares over time.
Moreover, it gives information like the publishing frequency of the competitor's site. You can use it to find the best blogging opportunities and the best-performing content for any topic. I like that I can filter the results on continent Explorer according to filters like "referring domain," "website traffic," "domain rank," etc.

6. SEO Toolbar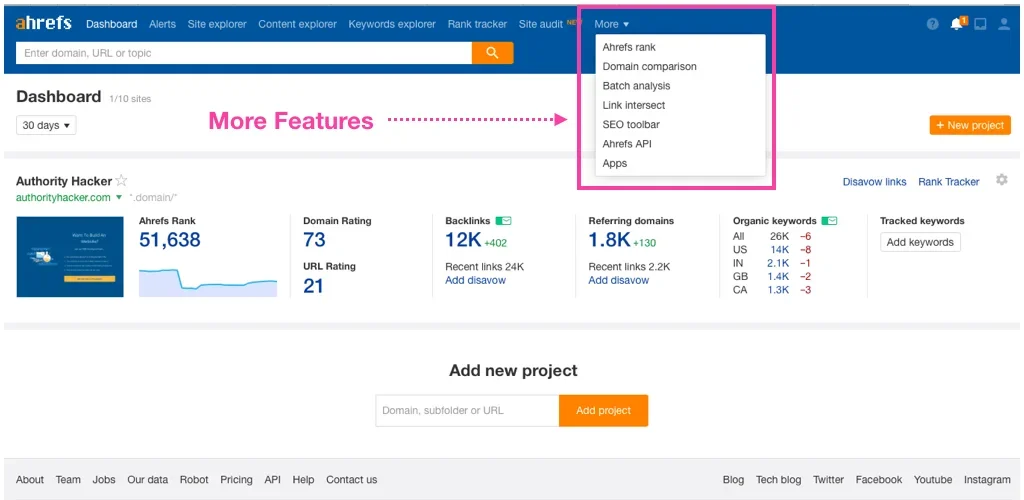 It is not a feature but a free Chrome Store extension that allows users to view key statistics about the web pages they visit. The same extension of Ahrefs is also available for Firefox.
The key metrics it displays are:
● Report on on-page SEO.
● SERP rankings or positions.
● Display important keyword metrics such as keyword difficulty and search volume.
● Outgoing links report and broken link checker.
It is certainly an extremely useful extension and a must for SEO professionals. Now that you have an explanation of all the tools in Ahrefs, it is time for you to know about the best features I appreciate.

The particular Set of Features that I love in Ahrefs: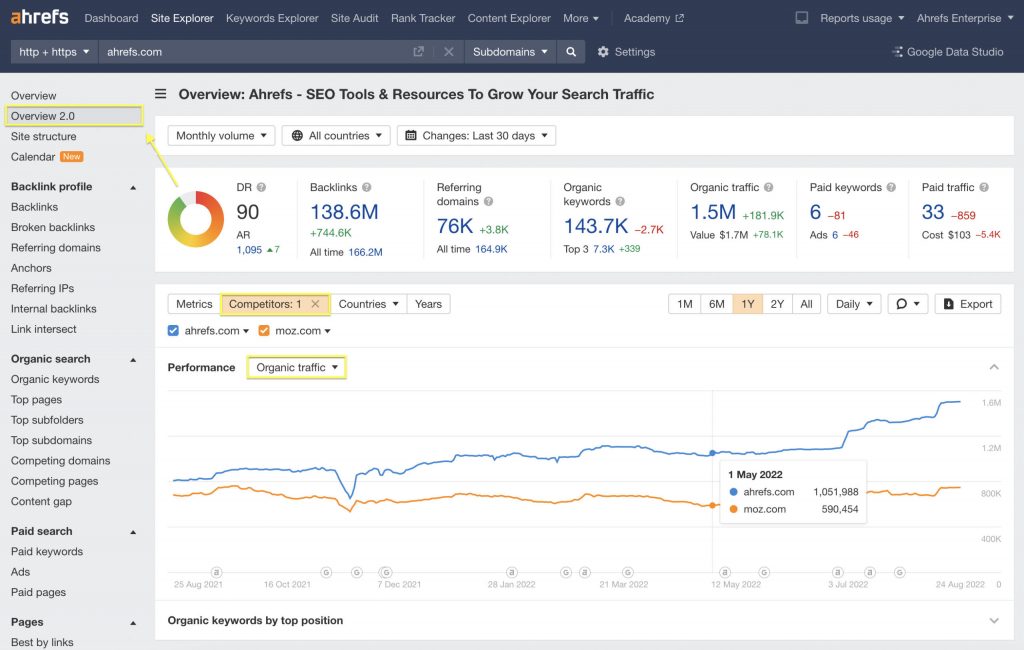 Here are 7 specific aspects of Ahrefs that I find amazing:
Backlink tracking: Ahrefs has an extensive backlinks database that lets you see which websites are linking to your own. This feature has been very useful in helping me analyze the quality of the links and identify opportunities to build new ones.

Keyword research: This particular feature was delightful as it has a range of keyword research tools that have been very helpful in identifying relevant and high-volume keywords to target in my content.

On-page SEO: It has a range of on-page SEO tools that have been very useful in optimizing my website's content and structure for search engines. These tools allowed me to identify issues with my website's meta tags, header tags, and other elements.

Traffic analysis: Here is another feature that is of great value. The various aspects of traffic, its value, and its origin-related stats allowed me to see where my traffic is coming from, how users interact with my site, and what they do when they visit. One of the key metrics that Ahrefs Site Explorer provides is the "organic traffic estimate," which is an estimate of the amount of traffic a website receives from search engines. This metric can be especially useful for identifying the most popular pages on a website and understanding traffic sources.

Competitor analysis: Ahrefs has a range of competitor analysis tools that have been very helpful in tracking the performance of my competitors' websites. These tools have allowed me to see which keywords my competitors are ranking for, how much traffic they are getting, and which backlinks they have.

Content gap: One of my favorite features! The content gap tool is just spectacular. Just enter your domain and various competitors' domains, and boom! You get to see the keywords for which my competitors rank, but I am not. This tool has helped me identify opportunities to create new content and improve my search engine rankings.

Rank tracking: Another useful and practical feature is letting me see how my website performs in search results for specific keywords. This feature has helped me monitor my rankings over time and identify any changes that might affect my traffic.


Pricing:

In terms of pricing, Ahrefs is both expensive and confusing. I'll tell you why. The plan is distributed into the following categories:
● Lite: $99/ monthly payment/$ 83 /yearly payment
● Standard: $199/monthly payment/$ 166 /yearly payment
● Advanced: $399/monthly payment/$ 333 /yearly payment
● Enterprise: $999/monthly payment/$ 833 /yearly payment
First, the lite plan is not good enough even for basic users since it doesn't include important features such as content gaps, broken backlinks, broken links analysis, link intersect, domain and country comparison, and calendar view, which are very important.
However, another issue is that even if you purchase any plans, you can consume up to 500 credits, and credits are spent using all Ahrefs tools except Rank Tracker and Site Audit.
And 500 credits are not good enough, and they dry up quickly if you try to go for in-depth analysis for even a single project. Moreover, there is no free trial. It says it offers a free "Ahrefs Webmaster tool." However, it works only for the site that is yours. As an independent professional, that tool is useless since it asks for credentials to prove that you are the owner of the site you want to use it for.
The competitors, like Moz and Semrush, offer free trials (30 days each), and they are more generous towards users regarding how much they can use the tool, even for the basic plan.
Furthermore, Ahrefs is more expensive than its competitors, such as Moz and Semrush. For example, Semrush's business plan is available for $449.95/monthly, Moz Premium is available for $599/mo, and Ahrefs offers an enterprise plan at $999/monthly or $833/year.
Another example of how greedy their pricing can be is to go to "Trustpilot" and see the negative reviews. The site (Trustpilot) is filled with numerous complaints from users who constantly complain that their pockets have been ripped off because of the credit use policy of AHrefs. The overall rating on Trustpilot is just 2.1, which is dismal. My advice for their company would be to work on the credit use issue; otherwise, they will not be able to stay ahead of the competitors for long.

Ahrefs Vs The Competition:
In this review, I will discuss how useful I found Ahrefs compared to its two major competitors: SEMRush and Moz.
Compared to tools like Semrush, things that go in favor of Ahrefs are
Its data accuracy is much better.
Better for backlink analysis
Cheaper than Semrush ($99.95/Monthly)
However, Semrush is better in terms of competitor analysis and offers plenty of tools for marketers and advertisers. Semrush offers a 30-day free trial of Pro plans. However, no such offering is available with Ahrefs.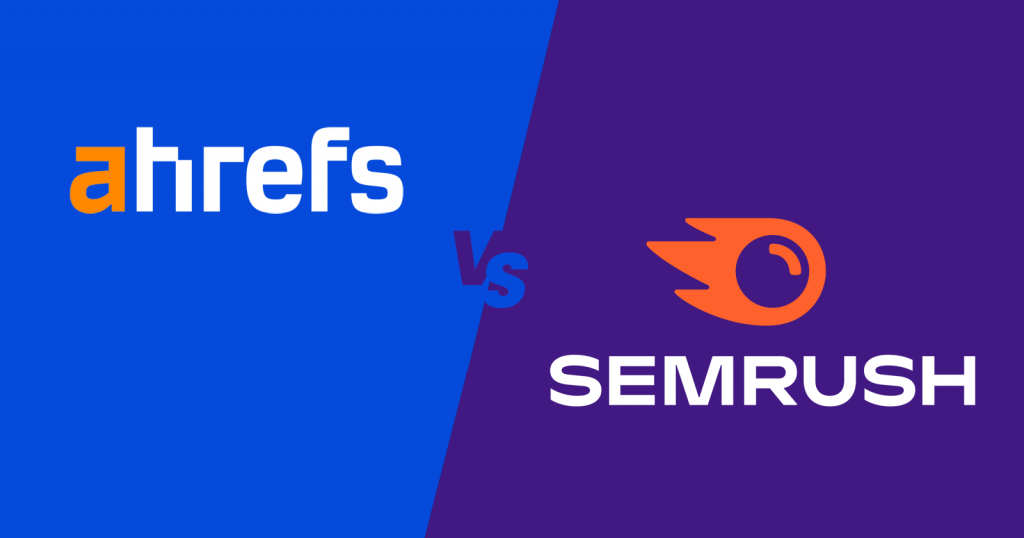 Compared to a tool like "Moz" in terms of keyword research, Ahrefs is a clear winner since it offers keyword analysis for up to 10 search engines, whereas Moz offers keyword research for Google only.
Another area where Ahrefs excels in keyword analysis is keyword difficulty scores; they tell you how difficult it will be to rank for a keyword and can also be used to estimate roughly how many backlinks you'll need to rank your keyword in the top 10 results, which Moz does not provide.
 Another aspect I liked better in Ahrefs was the "Content Gap" tool, which is referred to as the "Keyword Gap" tool in Moz. In Ahrefs, you can check your entered domain against up to ten domains, whereas in Moz, you are limited to only three. In Ahrefs, you can check your entered domain against up to ten domains, whereas in Moz, you are limited to only three.
Ahrefs entry-level plan restricts you from using vital features such as broken backlink checking, content gap tools, link intersect tools, and historical data. However, the Moz entry-level plan gives you access to all key features. Moz also offers a 30-day free trial, which you can't find with Ahrefs.
So, using all 3 tools will help you, but if you are looking for a more in-depth tool for SEO, Ahrefs is better, and if you are looking for marketing tools, go with SEMRush. In terms of overall pricing, Ahrefs is more expensive.

Customer Support :
The poor experience in terms of pricing continues with the support services of Ahrefs. When I tried to find the chat option, I did find one, but after clicking on it, it took me to the help center. This section contains FAQs that cover most topics; however, there is no way to contact support by phone or chat.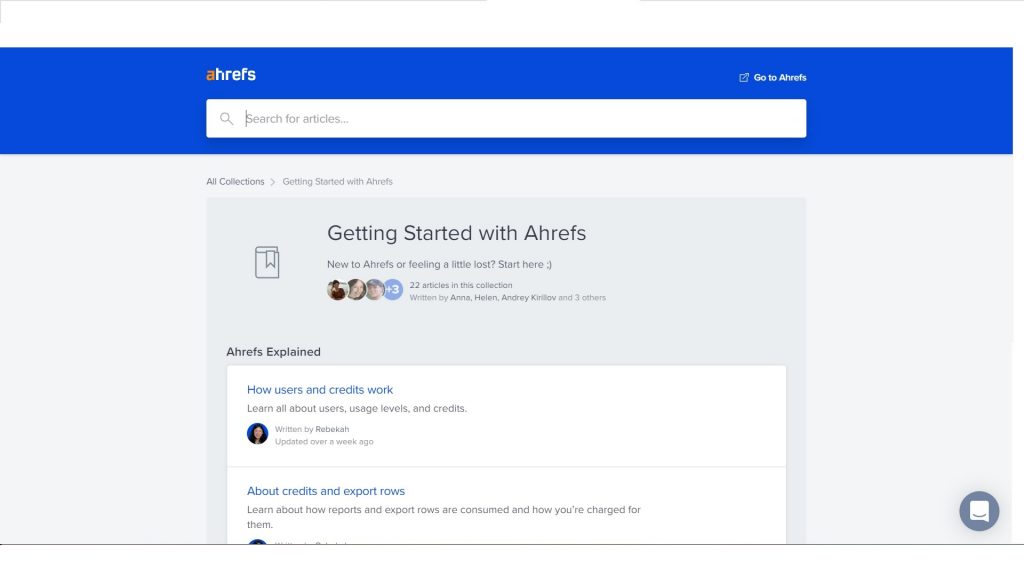 There is an email option: "support@ahrefs.com." However, even its response came after 2 days, which is not something one can call speedy or efficient. Moreover, there is no way to talk to their representative via messaging, even on social media. So, the support is not up to the standard you would expect from a renowned company.
Ahrefs should provide live support options because you never know when someone may require immediate assistance. For instance, since its tool covers broad use cases in SEO, a client may have issues with billing, the use of credits, or the site being down.
Considering the number of complaints on social media and review sites such as Trust Pilots about the pricing issue at Ahrefs, it seems like the company is deliberately not allowing clients to talk to their representatives directly since the complaints regarding pricing may prove too much for them to handle. So, regarding pricing and support, Ahrefs proved to be a disappointment, to say the least.


Final Verdict:
So, what is the last verdict? In short, Ahrefs is an excellent tool for ease of use and functionality. It is more accurate and has crawlers. The database is certainly huge and more accurate than the competitors'. In terms of keyword research, backlink monitoring, and site audits, it is more thorough and provides more suggestions than the competitors' tools.
Additionally, as per observation, it generates more comprehensive reports than other tools, and the content tool is also recommendable. But what is the Achilles' heel of this comprehensive SEO tool? It has to be the combination of pricing and the lack of direct support via chat or phone.
If you can live with expensive pricing without access to any free trial, you can buy the subscription plan. However, if budget is your issue, you might be better off with SEMRush or Moz. Both offer lower quality and accuracy in terms of data and some features here and there, but they are still better bang for the buck.


Frequently Asked Questions:
Q1: Is Ahrefs a comprehensive tool for SEO?
Ans: Yes, it is not a tool that is focused on one or two tasks, but you can use it for almost all tasks related to SEO, from keyword research to site technical audits to backlink profile analysis of not only your site but also that of your competitors.
Q2: Can I use Ahrefs for free, or is there a free trial version?
Ans: No, you cannot use it for free, and sadly, there is no free version available right now. It does offer a webmaster version, but it is only available to site owners since you will have to verify that the domain you want to use it for belongs to you.
Q3: Is there any feature on Ahrefs to measure the paid traffic on competitors' sites?
Ans: Yes, you can use the "paid traffic" feature on "Site Explorer" to check the paid traffic of any domain and its source.
Q4: Can you call up support or chat with support while using Ahrefs?
Ans: Sadly, support is a weak feature of this excellent tool. You can check the faqs or send an email to support, as live support is not available as of now.
Q5: Does Ahresf use its own or a third-party database?
Ans: Database size and accuracy are two areas where Ahrefs excels over rival services. It owns a crawler (AhrefsBot) that has been working for it for the last 12 years, and its database is the most accurate after Google.
Q6: Are the plans offered by Ahrefs truly unlimited?
Ans: No, they are not, as every paid plan comes with 500 credits, and if you exhaust those, you need to pay more. The credits offered under each paid plan are insufficient for the average user.
Q7: How good a tool is Ahrefs in terms of ease of use?
Ans: According to my experience, the tool is user-friendly, but in the beginning, it can look huge and confusing because there are so many features. However, once you start using it, you will feel at home.