AccuRanker Review: A Handy Keyword Rank Tracking Tool 

AccuRanker Review: A Handy Keyword Rank Tracking Tool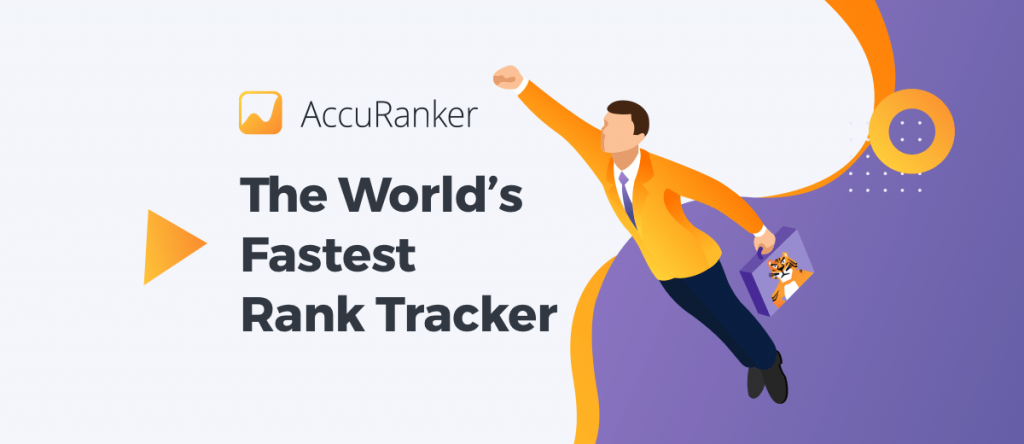 Ask any SEO professional about the most concerning thing they care about, and they will tell you that it is the ranking. Their clients care about this since it is the most crucial part of their reporting. But, keeping an eye on the multiple keywords day in and day out is tough, and report preparation in itself is a huge issue. And how can we not discuss the moment when the ranking suddenly goes up or down and the moment just goes by without us even getting to know about it? And professionals need to keep an eye on not 5 to10 keywords but hundreds of them, and sometimes for thousands of keywords in a setting where their clients happen to be of enterprise level. This AccuRanker review will help you to find the answers to your stress.
Any SEO professional will tell you that all of the stuff that has been discussed causes a great deal of inconvenience and stress. For all these issues, professionals just wish for a tool that can make their lives easy because ranking is not the only thing they need to take care of. They have several other metrics to watch, such as organic traffic, conversion rate, content strategy, on-page and off-page optimization, and many other metrics.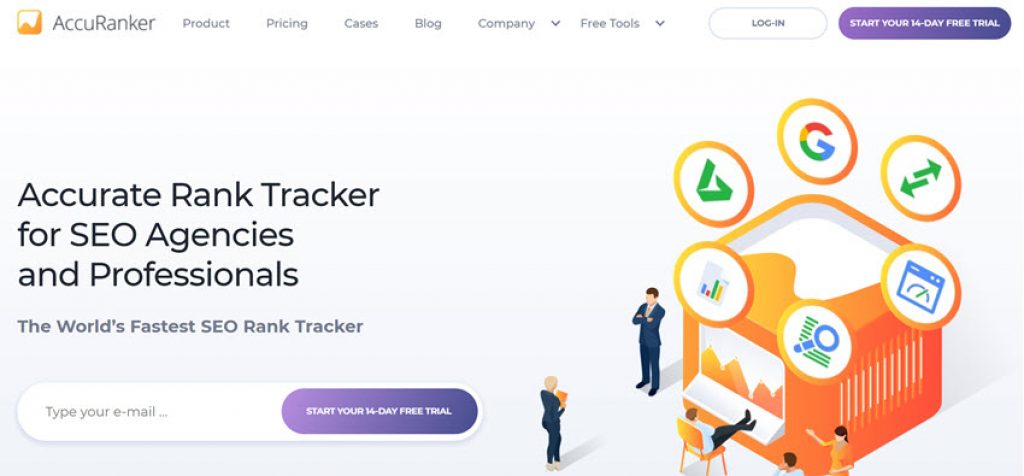 So, as said earlier, for all these reasons, individuals working on search engine optimization desire an expert tool to make their lives easier, help them keep an eye on keyword rankings, and help them with reporting.
What if I told you that one such product does exist and works wonderfully well? You would be so eager to know about it. So the product I'm referring to is called "AccuRanker," and it's quite useful, to say the least. 
I used this tool for several days, experimenting with its features to see how effective it could be in the hands of a professional. This post is in-depth to let you know everything you may want to know about "AccuRanker." Hopefully, after reading it, you will be able to know whether you want to use it for yourself. So, let's begin.
What is AccuRanker, and why does it exist?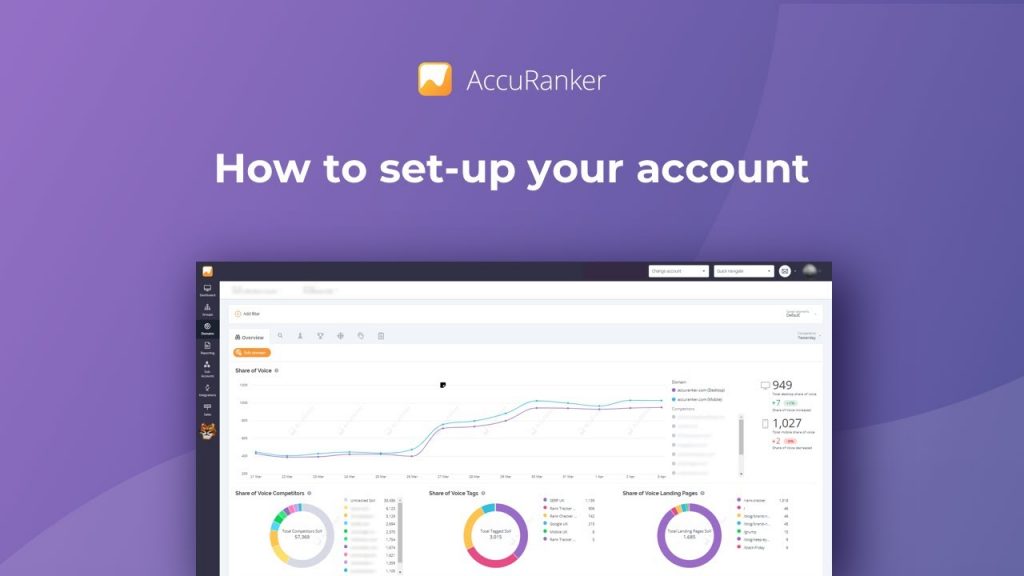 AccuRanker, the name indicates, is an SEO tool that helps you keep an eye on the keywords as it tracks ranking. It is created to do this particular task but in a way that makes life easy for professionals. It has been created keeping SEO professionals and digital marketing agencies in mind, which cater to their clients day in and day out.
It can help them track rankings for thousands of keywords. Another great feature of this ranking tool is that it can be used not only on Google but also on other popular search engines like Bing, Yandex, Youtube, and Baidu.
It is filled with many great features, such as on-demand ranking and proficiency to update the ranking of tracked keywords on daily basis. This is just the beginning of features on offer as the tool can send automated reports to the client at a prescheduled time, and pity can import the keywords Google Analytics. Moreover, it can show the ranking distribution for the added keywords too. All of these features of the AccuRanker sound incredible, don't they? 
Keep reading this post, and you will get a full explanation. First, find out the pros and cons of AccuRanker. 


Pros and Cons of AccuRanker :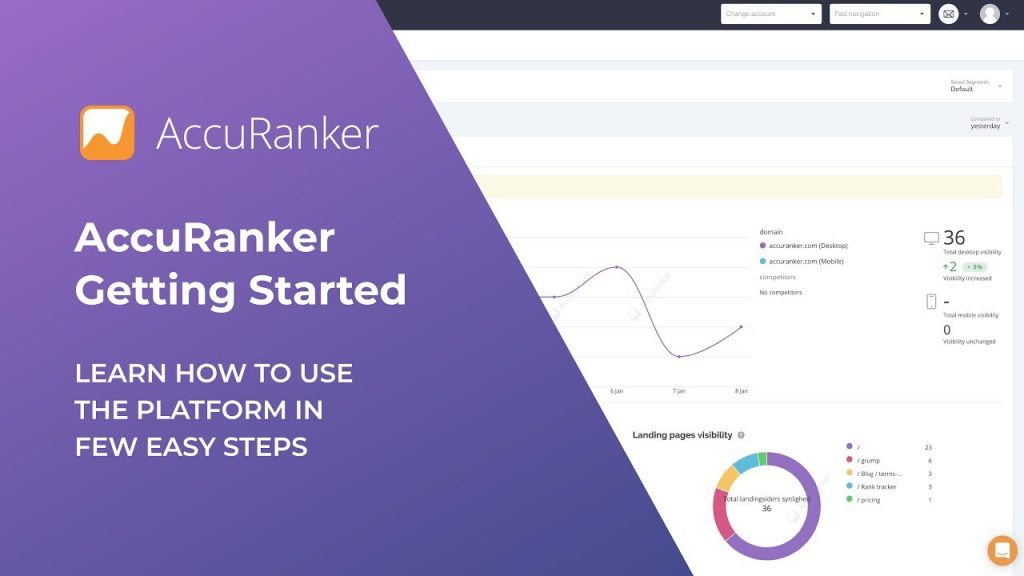 Let me inform you about the major pros and cons of AccuRanker as per my experience:

Pros:
○ The tool is more superlative than other tools if you compare only the rank-tracking functionality.
○ The interface is easy, and it shows results fast.
○ Daily ranking updates and on-demand ranking updates are excellent features.
○ It can produce automated reports you can schedule and even personalize by attaching logos or watermarks while sharing them with clients.
○ It has another cool feature called share of voice. 
○ It offers excellent third-party app integration, including Google Search Console, Google Analytics, Google Data Studio, and Adobe Analytics.
○ Professionals will love this tool because they can use it for multiple search engines besides Google.
○ The tool produces accurate results and can increase functionality in many ways.
○ You are not limited in terms of usage, as you can use the tool as often as you like and add as many users as you want.
○ The company offers a 14-day free trial that users can use without entering their credit card details which is excellent.
Cons:
○ AccuRanker's biggest strength is its biggest weakness, as it can help with ranking tracking not, unlike its competitors, such as Semrush and Ahrefs, which provides a whole suite of features for various SEO tasks.
○ The cost is a little high, considering it is not a complete SEO tool.


How do you get started with AccuRanker?

You can register for a free trial to use AccuRanker. Just enter your email address on its website to create your account needed for a 14-day trial by following the steps mentioned below :

Step 1: Sign Up for a Free Trial on AccuRanker 
● Your email address will be required to create an account.
● By clicking the confirmation link, you can confirm your email.

Step 2: Add Your Domain
● Register with your account.
● At the bottom of the page, scroll down and enter your domain information.

Step 3: Add Your Keywords
● Visit the dashboard
● In the box next to your domain name, click "Add Keywords."
● Choose your location, search engine, and any Google settings you want to utilize.
● Keyword suggestions will show up below as you write.
● Choose any to add to your list by clicking "Add Keywords."

Step 4: Track Your Keywords
● On your AccuRanker dashboard, you can now view and track your keywords and their rankings.


What do you see on the dashboard of AccuRanker?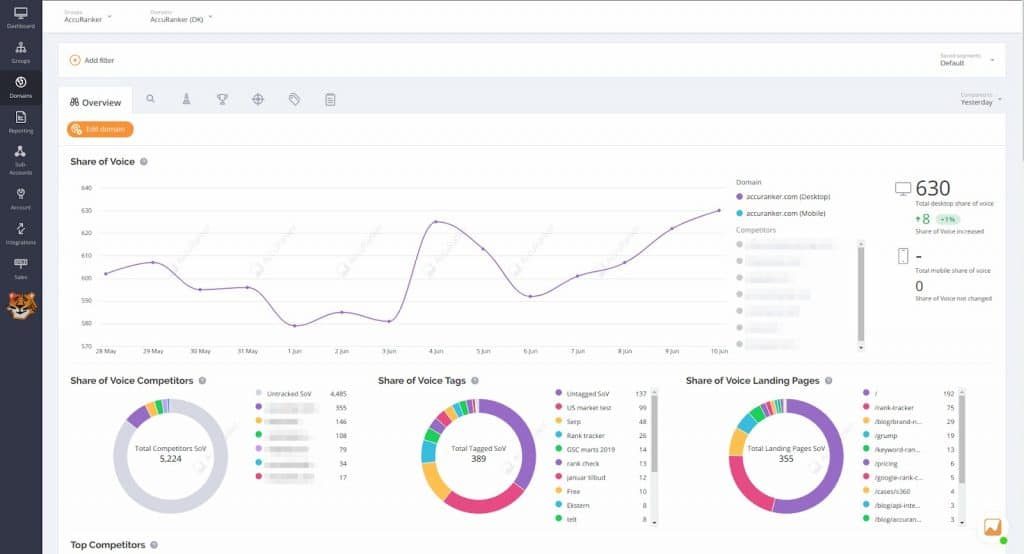 When you access your AccuRanker dashboard, you will see an overview of important information for each domain name you've added to the platform. This includes:
● Number of Keywords added to AccuRanker
● Average Rank
● Share of Voice
● Ranking Distribution
The post will discuss these metrics, their purposes, and some use cases in the later sections. 


How do you use AccuRanker and get the best out of it? 
To understand how AccuRanker is going to help you with your SEO campaign, you need to go through each of its features which are: 

Share of Voice :
Share of voice is an excellent tool for assessing your SEO performance. It combines the number of monthly searches for your keywords with the rankings of your website to provide an accurate picture of how you're performing in the organic search market.
It is a metric that indicates how well your most important keywords perform. The calculation considers all keywords ranked between positions 1 and 20. The average click-through rate (CTR) for each position is multiplied by the search volume of each keyword to determine whether high-traffic keywords are losing or gaining rank.
Seasoned SEO professionals will tell you that there are some keywords for which competitors cannot rank but your company can, such as your company brand. I liked how AccuRanker took care of it by including an option in the keyword settings to exclude specific keywords from the Share of Voice feature. (SoV)
It's worth noting that AccuRanker calculates SoV based on the keywords you put into the system, so it doesn't reflect your website's overall performance unless you're adding every keyword your site ranks for.

AccuRanker Average Rank:
AccuRanker's Average Ranking feature computes the average ranking of your keywords over time. By clicking "compare to" in the top right corner and selecting intervals, you can choose which dates to compare.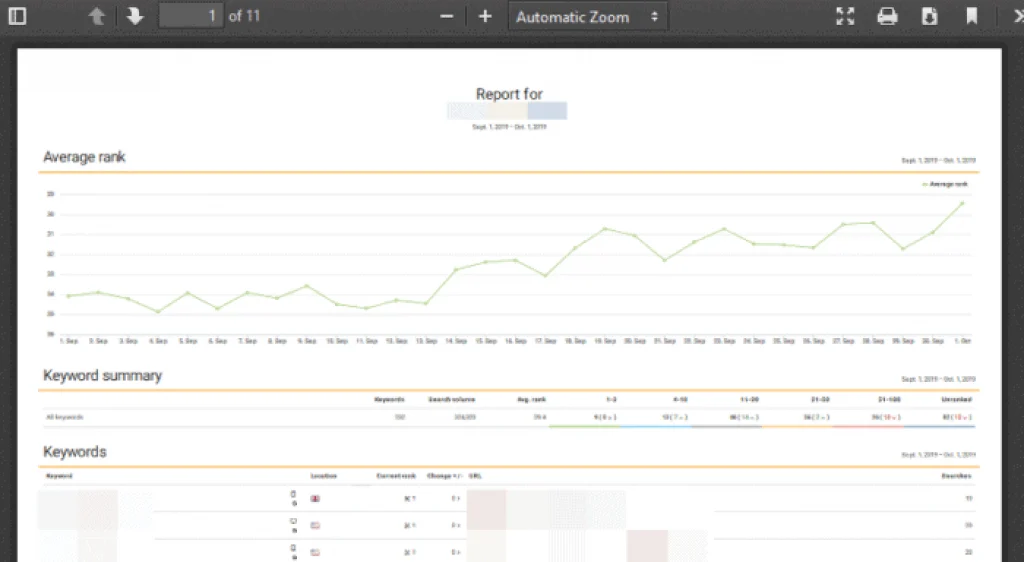 Under my usage, this feature was more than a handful since I could quickly look at the overall health of my keywords' performance without going into them individually. 
 It is important to note that average ranking only considers keywords with a ranking in the top 100, so it is only accurate for those in the system. For example, if you have two keywords, one of which is ranked #1 and the other is ranked outside the top 100, the average ranking would be 1 because the ranking of the second keyword is ignored. However, the average ranking drops from 1 to 25 if the second keyword is ranked 50 while the first keyword remains at rank 1.
AccuRanker Keywords List:
AccuRanker's Keywords List feature can be found in the tab next to the Domain. It includes a list of all the keywords you've added to the system and key information about each. This includes the keyword, the device (desktop or mobile), the search engine (Google or Bing), the location, the rank, the change in rank, the URL, the average monthly search volume, the keyword's Share of Voice (SOV), the Search Engine Results Page (SERP), the date you added the keyword, and the age of the data (when it was last updated).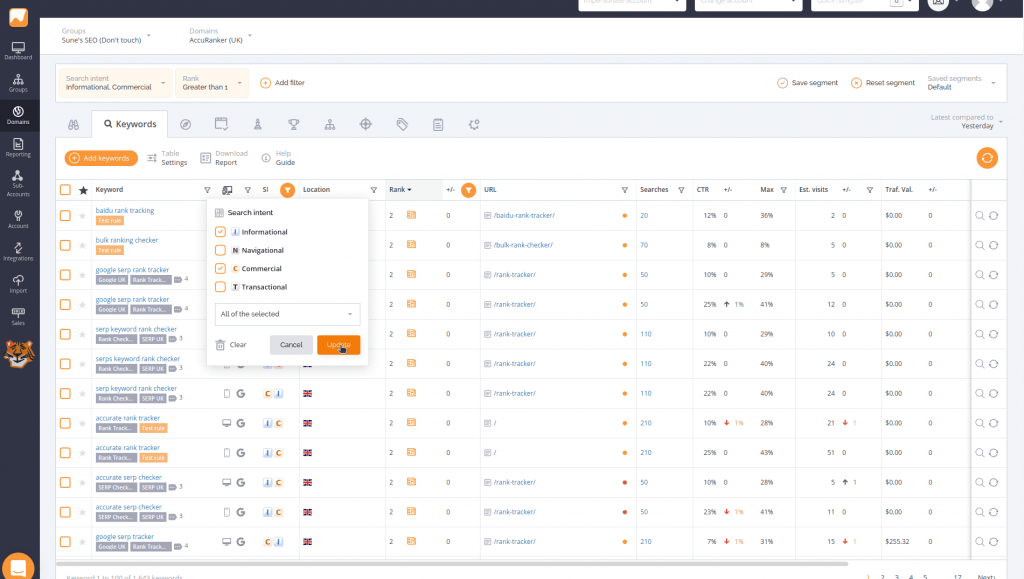 This feature allows you to easily view and track important keyword information, making it an indispensable tool for tracking your SEO performance.
Again, the creator of this tool has looked into real-world usage. AccuRanker offers filtering capabilities that enable you to find specific keywords by filtering multiple options. This is useful for keyword research as well as trend and pattern analysis. For example, if you want to search for all keywords ranked in the top 50 in the United Kingdom, you can use the filter function. AccuRanker also allows you to filter for SERP features in the Ranks column and refresh keyword rankings by clicking the button on the right.
 You can also use notifications to keep track of your important keywords, which will notify you of changes in rank for starred keywords, movement on highly ranked keywords, newly ranked keywords, and unranked keywords. And I don't need to tell you that these metrics are significant. 


Keyword History: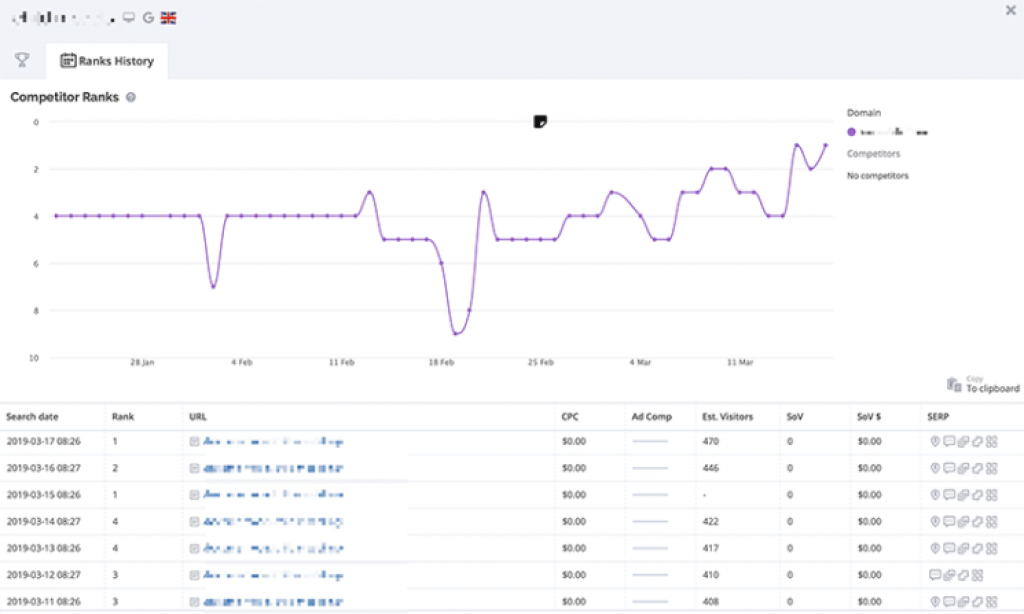 If you want to track the historical performance of a specific keyword, go to the Domain in question and select the Keywords tab. Simply click on a keyword in the list to see its complete SERP history. 
This will show you the entire ranking history, including the landing pages for those ranks, as well as the ranking history of your competitors by clicking on them.

Reporting: 
AccuRanker's automated reporting is one of its most powerful features. It enables you to quickly create and schedule reports for your clients, saving you significant time and effort.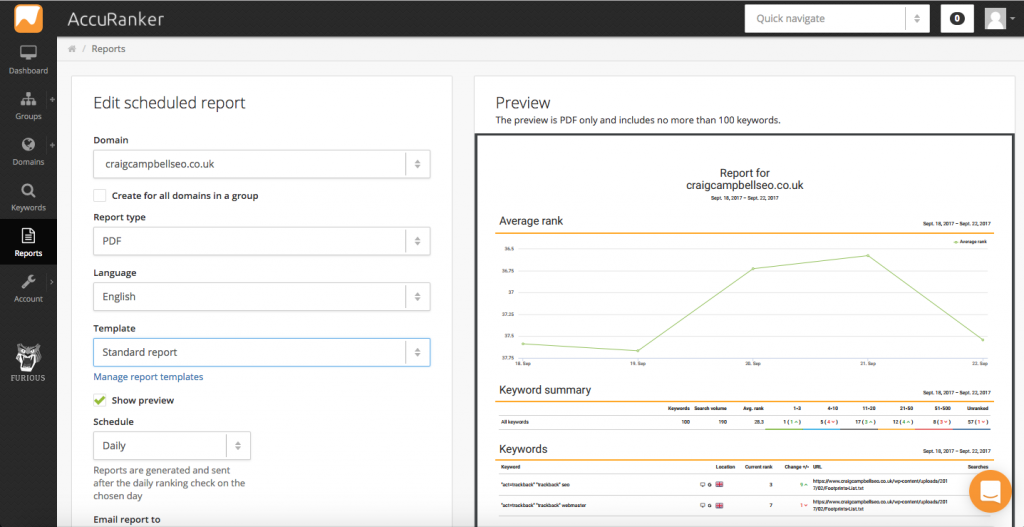 To create a scheduled report, go to the dashboard's left side and select the domain for which you want to create the report. Reports can be sent out daily, weekly, or monthly, filtered by keywords, location, and rank.
You can select a group if you want a more complex report for multiple domains, which is a helpful feature. Moreover, you can have your report in PDF, CSV, or Excel format and choose the language in which it is displayed.
Users can choose from various templates or create their own using the template builder after selecting a domain and report type. The email address of the recipient can also be customized. AccuRanker makes it simple to tailor reports to each client's specific needs.

Ranking Distribution: 
 AccuRanker's Ranking Distribution feature is a useful tool for tracking the performance of your keywords. It's found on the overview tab for a specific domain and displays your keywords at six different levels. 
The distribution is divided into six groups based on a range of rankings, allowing you to quickly see whether keywords within those ranges are rising or falling. AccuRanker will also show you if a keyword is not ranked.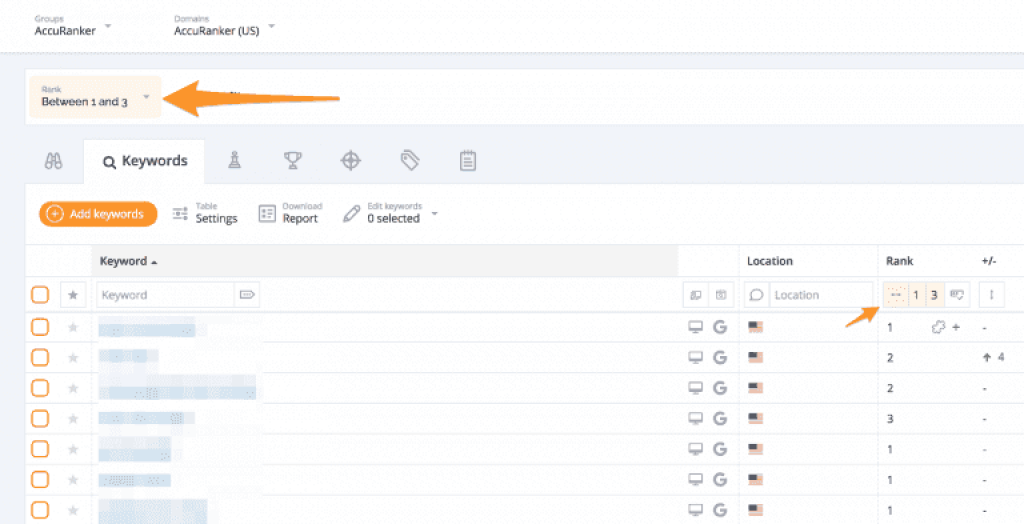 This feature allows you to specify the exact level or levels for which you want to see results, allowing you to filter the data to only display relevant information.
For example, if you want to see which keywords rank in positions 1-3 in searches, you can choose that option and disregard the other ranges. You can also check on a specific date, which is useful because rankings change daily.
Not sure how to download the data and add it to the reports. No worries, as it is simple! You can also download the data in multiple formats by clicking on the icon next to the levels and adding the ranking distribution chart to reports. This feature provides a broad overview of your keywords' performance and allows you to track the consistently high-ranking ones.

Google Grump:
AccuRanker's Google Grump feature rates the stability of Google's search results. It is based on how volatile a website's rankings are over time. This is one of the best features unique to this tool.
A high "Google Grump" rating indicates that a website's rankings fluctuate frequently, whereas a low rating indicates that rankings are stable. This function can assist in locating potential algorithm updates or shifts in the search environment that might affect a website's functionality.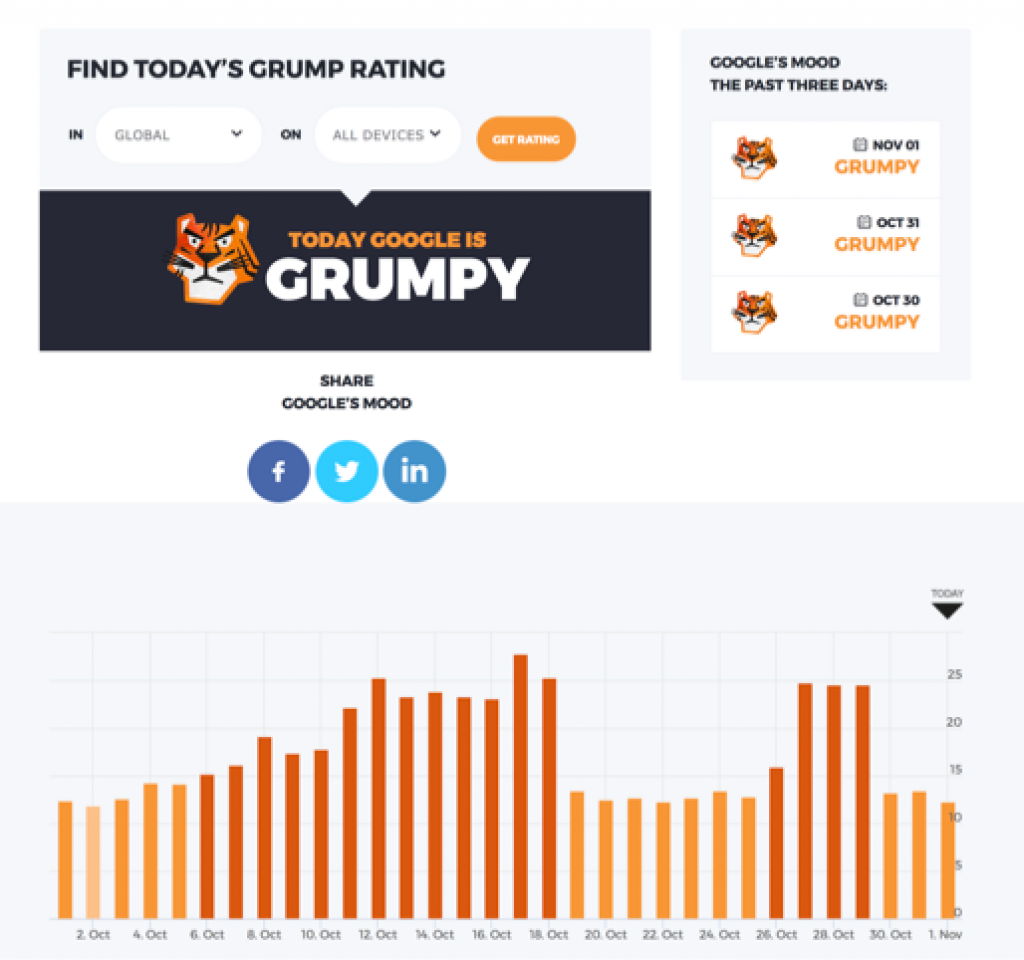 If you want to learn more about how the "Google Grump" feature works, let me help you! It is a metric that tracks changes in Google's algorithm. 
It is based on calculating the average number of rank changes in the top 100 results per keyword. It is used to indicate when Google's algorithm has been significantly updated As said earlier, it t is unique to AccuRanker and is useful for detecting and responding to changes in search rankings.


AccuRanker Third-party Integration: 

Another feature that demonstrates that the AccuRanker was designed with SEO professionals in mind is that it integrates with many popular services, including Google Analytics, Google Search Console, Adobe Analytics, and Google Data Studio, to name a few.
By linking AccuRanker to your Google Analytics account, you gain access to a wealth of additional data and insights, such as estimated visitors per keyword and landing page/tag cloud data, making it a powerful tool for SEO professionals.


Unique Qualities of AccuRanker that Most Users Will Recognize: 


1. Cloud-based SaaS technology: Who wants to install software these days as people prefer minimum hassle? I loved it when I learned that AccuRanker is a cloud-based software as a service (SaaS) tool, which means it does not require any local software installation. Instead, you can access your data from any location on the planet. Furthermore, the tool has a revolutionary user interface with automatic data refreshes every 24 hours or on demand.
2. Share of Voice: I've already mentioned that AccuRanker's Share of Voice feature allows you to track your competitors across multiple data points in your account. This simple feature allows you to see how your competitors rank in search engine results pages.
3. Tag Cloud: To access the Tag Cloud, navigate to the relevant domain and click the Tag Cloud tab. The Tag Cloud feature displays aggregated data for all keywords grouped under a single tag. Because it provides advanced metrics on the tags you use, this feature is excellent for organizing and structuring your account.
4. Landing page monitoring: Wanting to know if the landing pages are indexed for any keyword? It is extremely easy to find out using this tool! You can use AccuRanker's preferred URL feature to see which landing pages search engines indexed for any keyword. This feature is essential for user experience because it allows you to direct users to the appropriate landing page.
5. Filtering and Segmentation: Another feature that I admired and found user-friendly was AccuRanker's extensive list of filters I could apply to the data in your keyword-related sections. This feature allows users to simplify their view and access specific metrics for the keywords they want to track.
6. Historical keyword data:  One of this tool's most useful and convenient features is the ability to import historical keyword data directly from other SEO tools or a CSV file. This feature is useful for tracking a website's performance over time and identifying any issues affecting your rankings.
7. White Label Reporting: Lovely feature and excellent for SEO companies! It provides white-label reporting options for agencies and single website administrators, allowing them to send automated progress reports to themselves, their bosses, or clients. AccuRanker also offers Notes that allow users to keep track of the steps taken during the optimization process to see how the effects play out in real-time.
8. Add multiple Users:  Finally, the ability to easily add multiple users to AccuRanker makes it ideal for business administrators to bring in the team. And anyone with people working under them will find this feature extremely thoughtful and useful. 


AccuRanker vs. The Competition:
So, how can a review be called complete without comparing it to other tools? Apart from AccuRanker, there are multiple tools available on the market. We will compare it to Ahrefs, SEMrush, and Moz, all well-known SEO tools for monitoring and analyzing search engine rankings. This comparison will show how AccuRanker compares to Ahrefs, SEMrush, and Moz.
AccuRanker's real-time ranking tracking feature is one of the main differences between it and the other tools. AccuRanker updates your website's rankings in real-time, whereas Ahrefs, SEMrush, and Moz update their data daily or weekly. In short, it provides more up-to-date information, which can help you identify and address any issues affecting your rankings.
Another significant difference between AccuRanker and the other tools is its user interface. Its interface is intended to be user-friendly and simple to use, even for those with little or no SEO experience. Ahrefs, SEMrush, and MozPro, on the other hand, have interfaces that can be more complex and require more learning to use effectively.
AccuRanker also has several features that other tools do not have. For example, it has a keyword research tool that allows you to find the best keywords to target for your website. However, it offers more features and capabilities if you want an SEO tool to help you with rankings and reporting. It also provides a free trial, a great way to test the tool and see if it's right for you. Moreover, it provides a wealth of support resources, including a knowledge base, user guides, and tutorials. Furthermore, the company's customer support team is available to help you with any questions or concerns. Ahrefs, SEMrush, and Moz provide similar support options, but AccuRanker's resources are more extensive.
Finally, AccuRanker, Ahrefs, SEMrush, and Moz are all effective tools for monitoring and analyzing search engine rankings. Each tool has its features and capabilities that distinguish it from the others.


AccuRanker Pricing: 
AccuRanker's pricing model may be extremely costly for some, but it is straightforward with plans based on a monthly subscription. Last time I checked, a 10% discount was available when paying a year in advance.
 Users can upgrade, downgrade, or cancel their plans at any time without incurring additional fees. Pricing starts at $116 per month for 1,000 keywords if paid yearly and $129 per month if paid monthly, which is more than $0.116 and $0.129 per keyword, respectively. The price per keyword decreases as the number of keywords increases. Tracking 10,000 keywords, for example, will cost $764.



AccuRanker Customer Support:
Customer service is an area where many online SEO software companies struggle. However, AccuRanker support proved to be prompt and resourceful. Its customer support is available via live chat, open chat, email, or phone.
I tried the live-chat on their website, emailed them at hello@accuranker.com, and even called, and I received a quick response. Furthermore, I am pleased to inform users that they can find helpful articles on their website at accuranker.com/help to get quick answers to their questions.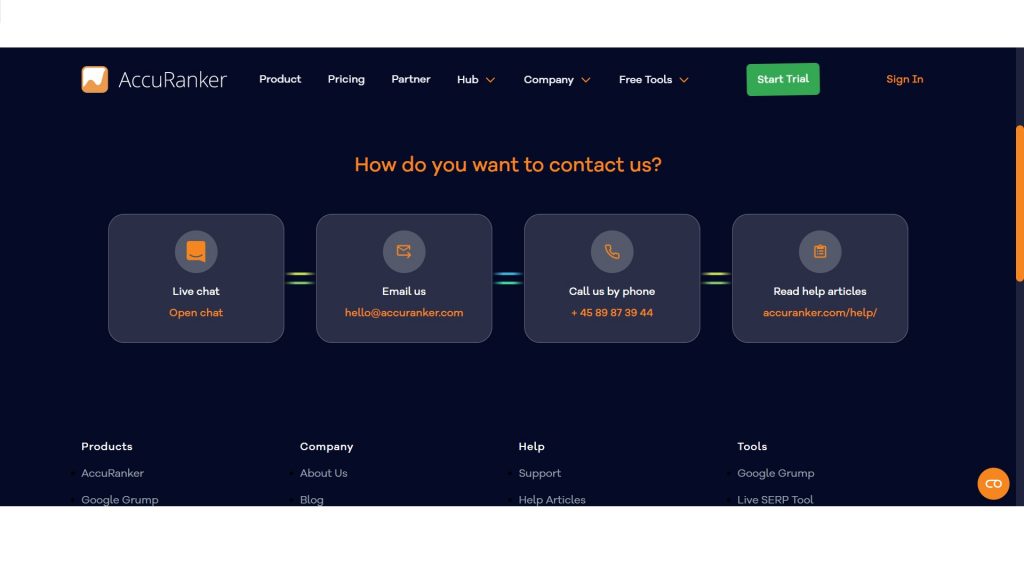 Final Verdict:
Finally, AccuRanker is a fantastic tool for SEO agencies and professionals. According to my experience, it has excellent features such as automated report creation, Share of Voice, instant ranking refresh, and automatic notifications. These features make it simple to track and analyze your website's search engine rankings and identify and address any issues affecting them.
However, unlike Ahrefs, SEMrush, and Moz, AccuRanker is not a full-fledged SEO tool. It has limited functionality and may lack some of the features found in a more comprehensive tool. Furthermore, AccuRanker can be costly for many, particularly small businesses or individual website owners.
Despite these limitations, I believe AccuRanker is an excellent tool for SEO professionals and agencies. It is a valuable tool for tracking and analyzing search engine rankings because of its real-time ranking tracking feature, user-friendly interface, and additional features. 
Furthermore, its data accuracy and support options make it an excellent choice for those seeking a high-quality SEO tool. In conclusion, it is a powerful tool that can help you drive growth through insight, but before investing, you should weigh its features against your specific needs and budget.


Frequently Asked Question:

Q1. What exactly is AccuRanker?
Ans: AccuRanker is a powerful tool for tracking and analyzing the search engine rankings of your website. It has several features intended to help you drive growth through insight.
Q2. How does AccuRanker stack up against other SEO tools?
Ans: AccuRanker is well-known for its real-time ranking tracking feature, as well as its user-friendly interface and other features. However, it is widely regarded as being more expensive than other SEO tools such as Ahrefs, SEMrush, and Moz.
Q3. What functions does AccuRanker provide?
Ans: AccuRanker includes real-time ranking tracking, keyword research, backlink analysis, site auditing, landing page monitoring, tag clouds, filtering and segmentation, historical keyword data, white label reporting, and the ability to add multiple users.
Q4. Is AccuRanker simple to use?
Ans: AccuRanker is intended to be user-friendly and simple, even for those with little or no experience with SEO. It provides detailed explanations for each feature, making it simple to understand what they do and how to use them.
Q5. Is there a free trial available for AccuRanker?
Ans: AccuRanker provides a 14-day free trial, a great way to try out the tool and see if it's right for you.
Q6. Can AccuRanker keep track of my rankings in different countries and languages?
Ans: It allows you to track your rankings in any country or language, making it simple to see how your website performs globally.
Q7. Is AccuRanker's accuracy trustworthy?
Ans: It is well-known for being one of the most accurate SEO tools available, providing fresh and accurate data in real-time. It also has a feature for pinpoint accuracy in local rankings and the ability to ignore local results if necessary.
Q8. What kind of support does AccuRanker provide?
Ans: It provides a wealth of resources, such as a knowledge base, user guides, and tutorials. Furthermore, the company's customer support team is available to help you with any questions or concerns you may have.