Unbounce Review: Is It Reliable to Invest Your Time and Money Here?

Unbounce Review-Is It Reliable to Invest Your Time and Money Here?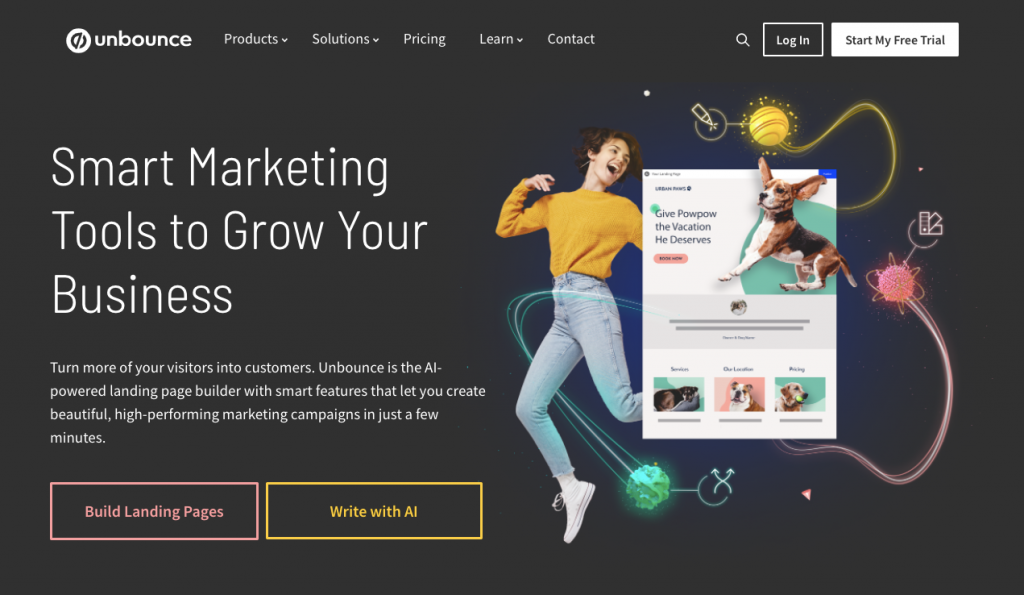 Digitalization has grabbed a crucial part in converting a genuine customer into business sales. Preparing landing pages to acquire users' attention is a challenging task. Do you want to make your work quick and simple? Explore Unbounce to create and design personalized and professional landing pages by following simple methods. 

Unbounce is a unique advertising campaign platform that ensures brilliant work in increasing the conversion rate of your site visitors. It built up a landing page with exclusive designs that supported its customers' business.
We have uncovered some essential highlights in this Unbounce Review. So, read the points stated further to gain in-depth knowledge before investing your money.

What Is Unbounce?
Unbounce is a well-developed software firm from Canada. Rick Perreault started this digital company in 2009 to boost the organization's sales through landing pages.
The interface of the Unbounce website is simple to understand by the enhanced initial business owners. It supports creating and designing unique landing pages for customers with a simple drag-and-drop method. 
Free customizing opportunities by this builder platform grabbed a positive response from the users. Unlike the drag-and-drop facility, Unbounce assists in branding, A/B testing, and auto image. 
This conversion intelligence site made the business owners engage with their visitors in no time to make millions of profit. This platform is now connected by 1 lakh users who claim to be benefited with double the profits than usual. 
To use the service provided by this cloud-based digital conversion platform, you will be required to first integrate with constant contact, Active Campaign, Mail chimp, etc. Hence, Unbounce helps increase your mailing list contacts to boost your business. 
Further, you will get information regarding the features and the genuine use of Unbounce. If you are into business and need clarification about grabbing quick marketing techniques, we suggest you read further for an easy solution. 


Unbounce Review: How Does Unbounce Work? 
Unbounce is predominantly involved in combining Marketing perceptions with Artificial Intelligence. Therefore, it encourages its users to develop, create and optimize their landing pages, sign-ups, and more. It ultimately results in converting the promotions into moneymaking leads. 
Build, Learn and Optimize are the tools of Unbounce for accomplishing the combination of Artificial intelligence and Marketing Intelligence.
Build- Develop the campaigns specific to your business that converts beneficiary leads
Learn-Choose the best for your niche-specified audience by analyzing trends and patterns.
Optimize-Automatic optimization of your content will boost conversion rates spontaneously.
Unbounce enhances visitors' conversion rate with the simple technique of drag and drop. It means Unbounce is stress-free for even any non-specialist who wants to convert their customers into profitable leads. It is easy to drag and drop elements, including CTA buttons, page sections, images, etc. 
Unbounce does not restrict to alteration of codes in any of the steps of designing. You can customize your design with a sticky bar, pop-up, or landing pages. Therefore, all business, large or small, can improvise their sales without spending massive amounts of money.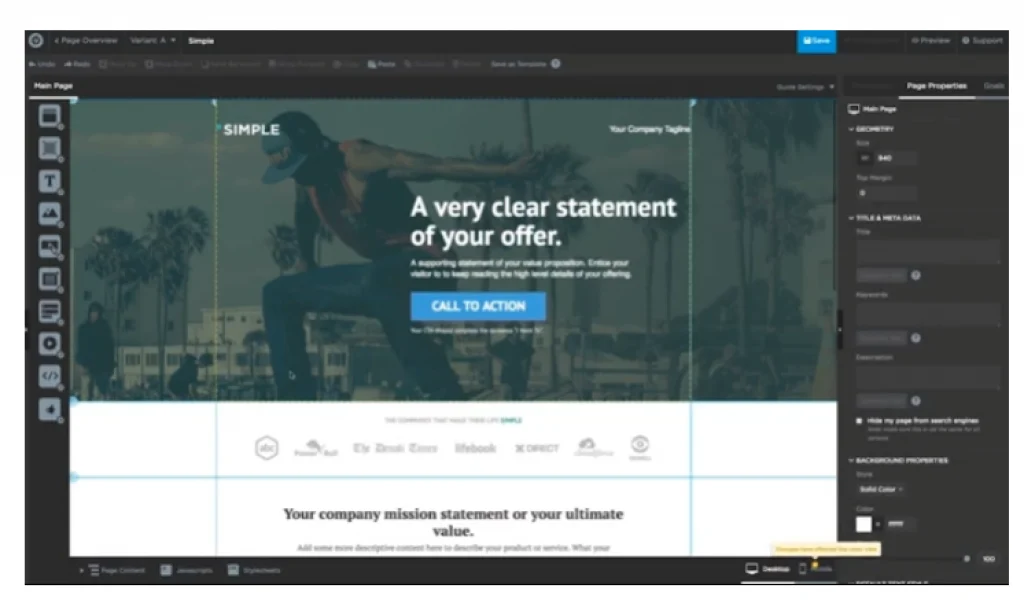 Why should you use Unbounce?
Landing pages had a significant role in converting visitors into leads. However, these pages need to be traced for data management, conversion tracking, predictive study, and experimentation, which is beyond understanding for a layman. Hence, they land up hiring professionals. 
Unbounce will solve these concerns by making a quick and easy solution for each business owner. This platform supports varied provisions as listed below:
Unbounce supports developing customizable, mobile-optimized, easy, and quick landing pages. It can even be achieved if you are not trained, experienced or skilled.
This platform has maximum templates that can be shuffled and matched according to the individual's creativity. Therefore, developing unique and exclusive conversion landing pages.
Smart Copy Chrome Extension with Unbounce avail the chance of the owners to produce quick SEO-friendly content.
Further, we would peek into some pros and cons of Unbounce.
Unbounce Pros and Cons:
Unbounce is the conversion rate boost platform that is acquired fame with its positive approach. Though, we need to understand both pros and cons to make a correct decision.
The following are Unbounce pros:
Creation of landing pages, pop-ups, and sticky bars with an easy interface.
The platform has ready-to-use more than a hundred customizable templates.
It is easily accessible to users with a drag-and-drop feature.
A/B testing and Smart traffics are the tools used in this platform, enhancing the chances of profitable conversion rates.
Dynamic replacement of text in customizing feature support to boost ROI in advertisements.
Quick responsive customer support (within 12 hours).
High-security assurance.
The following are Unbounce cons:
Beginners cannot afford Unbounce service due to the high price.
Limits in each month are few for better conversion.
Integration service of the e-commerce software is accessible in the higher range of plans.
Unbounce navigation needs help from the coders for some features.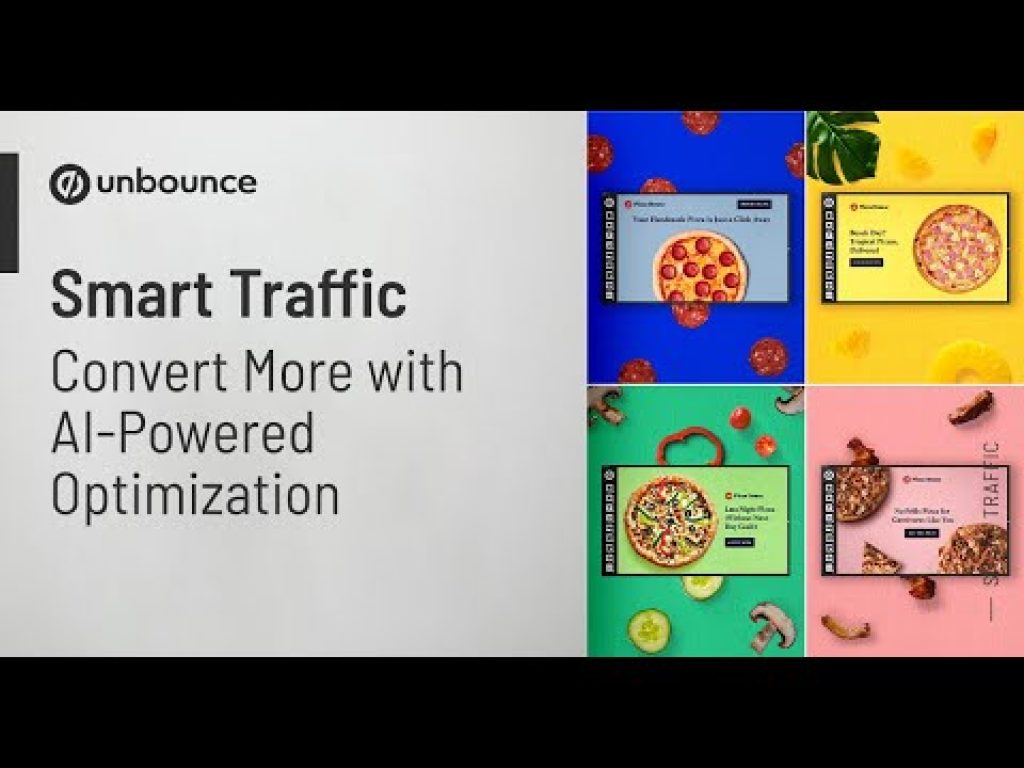 Unbounce Benefits:
A transparent and straightforward interface makes the landing pages catchy, hence attracting customers. Therefore, Unbounce builder focuses on the chief concept of conversion with simple and understandable methods. 
Our review jotted down some benefits that will support you in viewing Unbounce for the beneficiary aspect of your business. Get into the below points for attractive benefits.
Maximum Profitable Conversions: Unbounce uses Smart Traffic Guides to grab visitors and promote their business. It makes it feasible by applying simple AI to create attractive landing pages. Users can drive their website visitors to revenue-generating sources by displaying sticky bars and pop-ups. Therefore, increasing the rate of conversions and benefiting the business's overall performance.
Drag and drop Builder: Users can avail themselves on an immediate basis to drag and drop the images, click action buttons, and more. This can be easily changed when required and republished with a corrected page in one click.
Save your time and money by hiring an IT team: Unbounce provides 100+ templates of landing pages with respective pop-ups and sticky bars. Any person with minimal knowledge of Artificial Intelligence can design, create and edit their message, marketing strategy or brand, etc., in no time. Hence, developing your marketing campaigns without an IT team and HTML developer is possible.
CAC (Customer Acquisition Cost) is reduced: Unbounce simple and easy methods, develop an exclusive campaign, and reduce the organization's expenditure to obtain their money-spinning customer. Hence, it prevents the firm from balancing its income.
Free Access to understand Unbounce: An individual always doubts while investing hard-earned money without experiencing it before purchase. So, Unbounce understands its users' issues and provides a 14-day free trial. They ensure that you do not regret your decision after purchasing. You are free to research all the aspects to boost your conversion rates.
Monitoring Stats made easy: Unbounce statistical analysis engines are fully automated and real-time. Hence, it is stress-free to learn about your conversion rates and your reach in the market.
Unbounce advantages related to pay: Many users complained that Unbounce builder's plans are expensive compared to other similar platforms. Yes, we, too, recognized the same. However, when we dig further, we find that Unbounce provides better customer acquisition costs than others. Therefore, making it a reasonable choice for new business owners. 
Direct Integration to other software: Landing pages created using Unbounce can integrate your leads directly to your software like emails, sites, applications, or more. It is seamless and lets your leads take action quickly by constraining them to click your action button.
Time-saving developer methods: Unbounce allows users to customize their designs, pages, and more. It makes it simple and navigates further to publish the result within 60 minutes.
Market your business smarter way: Unbounce support with a commanding feature that helps to gain leads through showing maps, widgets, videos, and more. It familiarizes its users with the latest concepts to empower them in their conversion leads.
Referring to the above points, using Unbounce is easy. Let us dig into this theory and understand, is it effortless to navigate through Unbounce?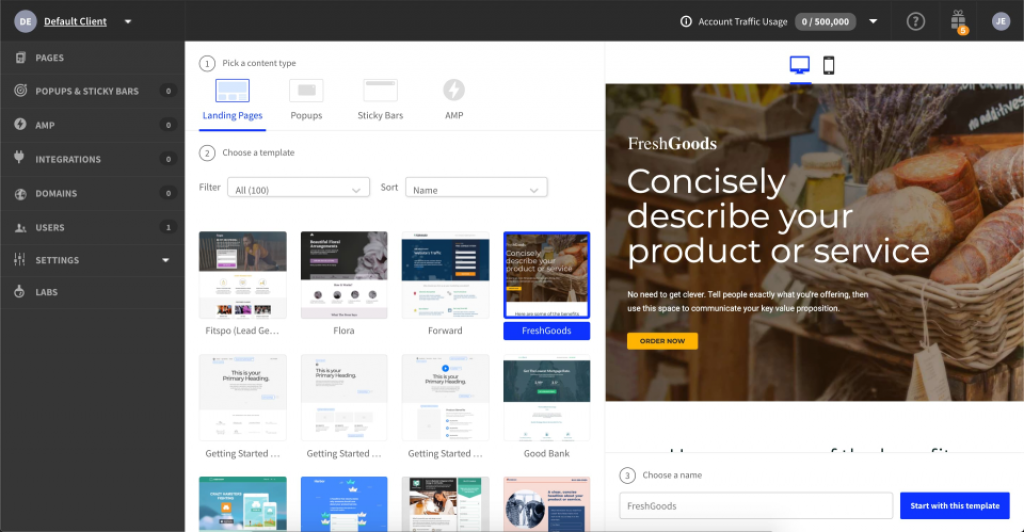 Easy To Use:
Every marketer is bound to use several marketing techniques to enhance their conversion scale report. As a result, it should support them with better outcomes. Unbounce claims to do so, but the rising doubt about its easy navigation is a concern. 
When taking a glance through this landing page builder interface, it seems a little complicated. However, when the user tries to understand it, it becomes accessible and relatable. It fulfills every aspect required to create an exclusive landing page in the market.
So, is it easy for first-hand users to catch hold of Unbounce? Let us have a look further.
Unbounce is the one-stop builder platform to create and develop tremendously accessible landing pages without hiring an IT developer. You can boost your marketing strategy with the help of in-house services like email marketing, landing pages, online software integration, real-time analytics, and more.
Unbounce accepts the challenge of developing effective landing pages to acquire leads. They combine their marketing techniques with Artificial intelligence to make straightforward converting campaigns. Therefore, it helps to show the presence of many talents in the business field, like Digital Marketers, Online educators, bloggers, Entrepreneurs, and more.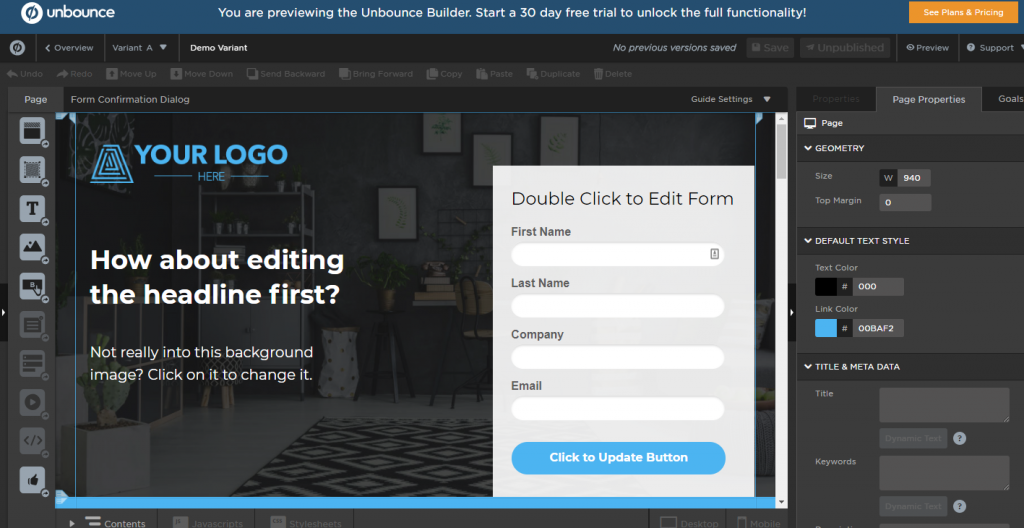 Unbounce Features:
Unbounce majorly gained popularity as a landing page builder platform. It aims to support its users by generating specific leads for businesses. This lead-converting platform had grown exponentially by focusing on being unique in their field. To accomplish this height, Unbounce developed its platform by adding several features. 
To be specific, we have bought some limelight on its best features to date. However, according to your purchase plan, you can take advantage of some of its features.
1. Smart Builder: The first exclusive feature of Unbounce is Smart Builder. It grabs the data from all the targeted conversions and sorts out the best layouts, headlines, etc., per your target audience. Therefore, this feature helps to raise the possibility of conversion without IT experts. 
Let's now understand the characteristics of Smart builder in the Unbounce conversion platform.
Smart builder design assistant feature, speed-up the user's design and creation by suggesting business-specific templates to enhance conversion rates.
Users are allowed to connect with their favorite tools without any coding techniques.
Dynamic layouts are available for developing new and exclusive variations spontaneously.
Smart builder tracks the conversion data and improves the performance by optimizing it with a superior success rate
SVG graphics, colors, typography, logos, etc., are permitted with smart builder features and prevent your landing page from slowing down.
Smart builder grid system and approachable templates support the users to preview their created landing pages on all devices.
Comparably, this feature is a professional marketing designer for your development with profitable conversion rates in your work.

2. Landing Page Builder: Unbounce support the user with Landing page builders, which restricts the need for coders to access and develop the complete package of the landing page. You can customize your design by adding videos, text, social widgets, links, call-to-action buttons, etc. 
The Landing Page Builder tool in Unbounce is incredibly powerful because it permits the addition of alt descriptions and metadata and adjusts any transparency in the landing pages. 
You have a choice to make from 100+ landing page templates already provided. You can edit and customize it or make it new from scratch. This tool takes care of the speed and performance of your landing page with specific suggestions to make your landing page work smoothly without irritating your visitors.
Some of the Landing Page builder's features available on all plans of Unbounce are:
-100+ templates for landing page design
-75 minimum landing pages allowed per month
-SSL certification provided.
-Landing Page Display for all devices.

3. Smart traffic: What if your visitors change their minds? It means your conversion rate is at risk of driving down. The smart traffic feature from Unbounce takes care of such a scenario. 
Smart traffic is an Artificial Intelligence powered tool that checks your visitor's attributes, behavior, locations, search engines, etc., to understand the alternative they are attracted to. Therefore, providing your visitors with the best landing pages and generating more leads.
Users can take support Smart traffic by just turning on the feature. This tool automatically prepares a report and sends them the most relevant landing page as per variations.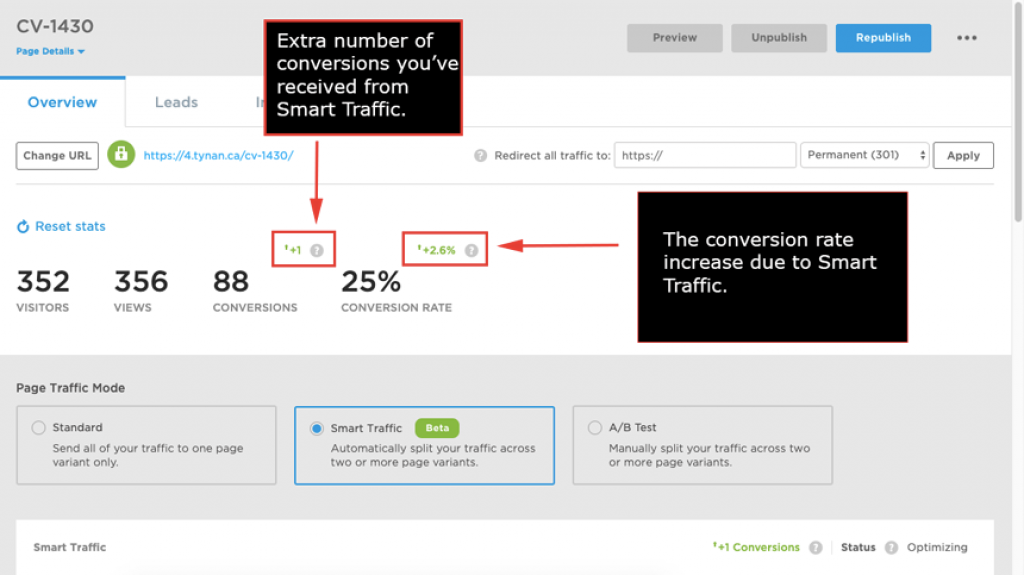 4. SEO-Friendly: SEO-search engine optimization is adjusting your work in such a way that it is looked into the results of search engines by showing its relevance. 
Not all landing pages builder are SEO friendly. However, by digging into the Unbounce feature, we find that it provides the user with SEO-friendly products. Hence, making it more approachable.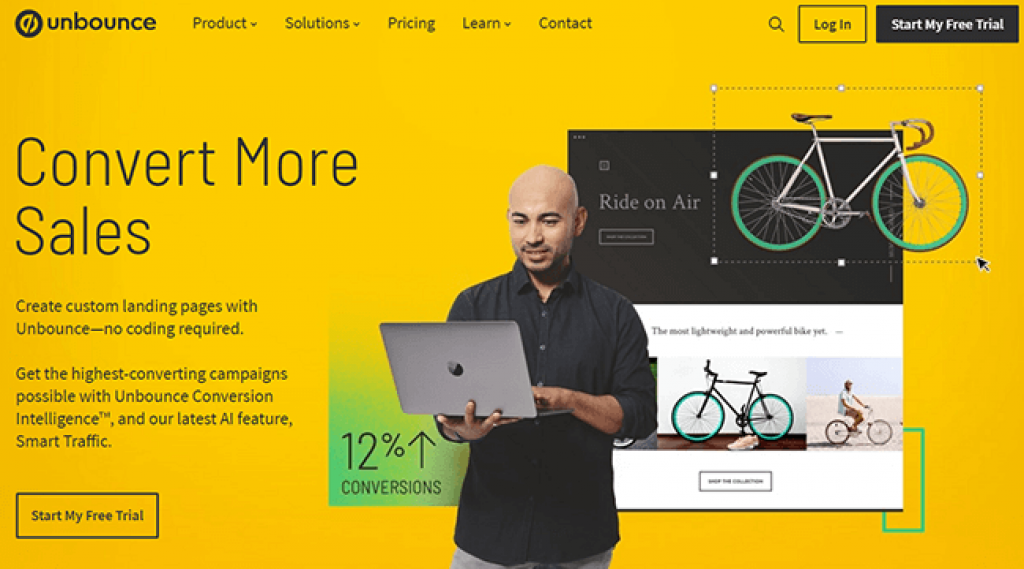 5. One-on-One Onboarding: Unbounce is a one-on-one Onboarding platform that supports the extension of Smart Copy in Google. This feature helps to expand, rewrite and write content with forty-five professional templates. It can make content using Artificial Intelligence with eye-catchy headlines, text, blogs, etc. It also recognizes and writes content in various languages like German, Spanish, English, French, and Portuguese, enhancing the customer's influence.
6. Over 100 Unbounce Landing Page Templates: Unbounce has extracted the best 100+ templates for creating landing pages, sticky bars, and pop-ups. Users can use drag & drop builder to pick and drop the desired tool, buttons, etc., without using a coder. Customizing according to your idea and requirement is easy and accessible in just a few snaps. Unbounce allows you to create a beautiful page using templates or start making it on a blank canvas. 
   A few additional tips for using 100+ landing pages are:
Users can save time by editing and making a duplicate of previous landing pages for new promotions.
Users can also copy and paste the components from previously made landing pages to the new ones.
WP landing page plugin helps to publish your pages quickly without delay.
You can check out some templates right here.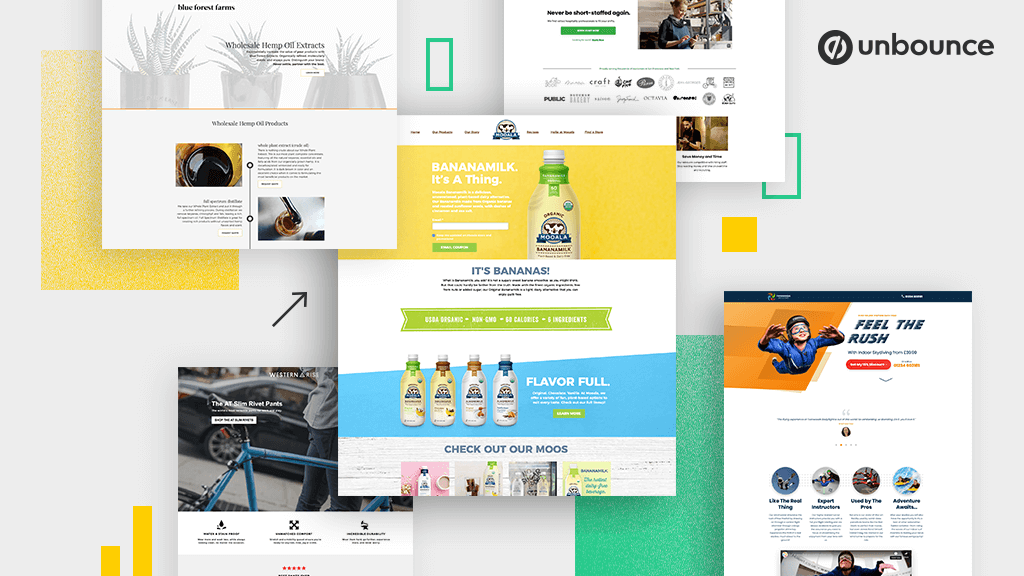 7. Smart Testing: Smart testing tool in Unbounce helps to build up a framework for data with the support of artificial intelligence. This feature is the added advantage for incorporating some value to the landing pages by eliminating unnecessary involvement of scripts, text, etc. 
The application of Smart testing saves time by assigning testers, creating flows, and setting up a specification.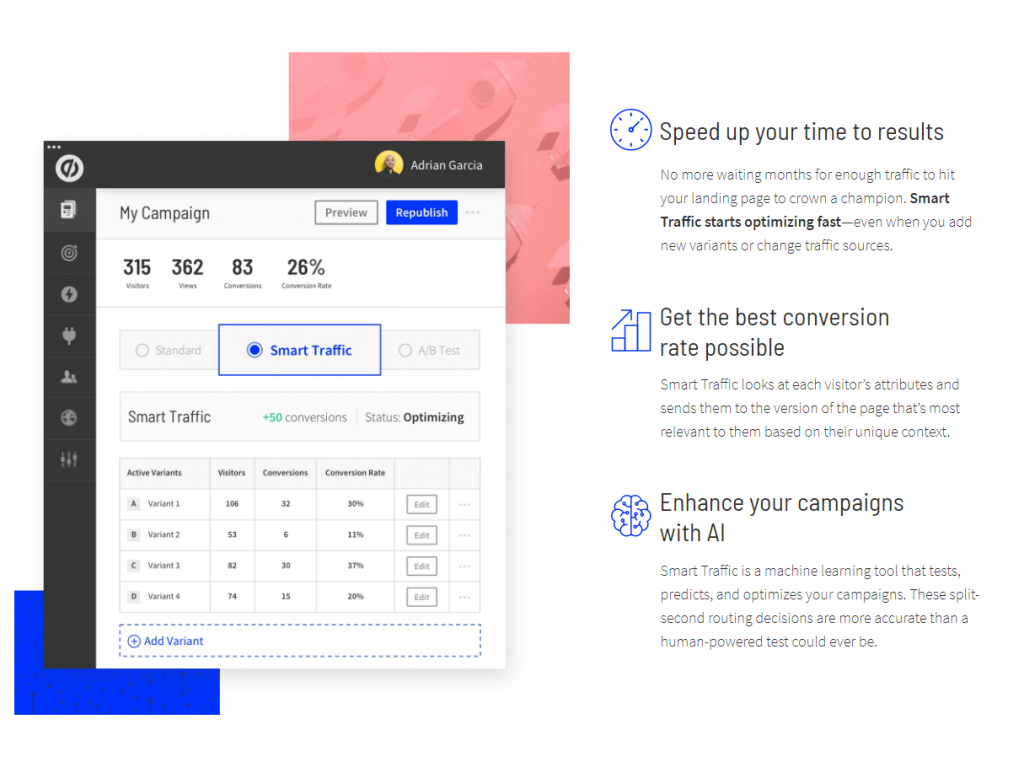 8. Dynamic Text Replacement: Unbounce avail a dynamic text replacement that permits the addition of distinguished content on the landing page. 
In short, this feature will replace the targeted words in your campaigns according to the visitor's search terms. It will stimulate the conversation rates by corresponding to the intention of the visitors. 
Unbounce Dynamic Text Replacement can be enabled by selecting the text and tapping on the Dynamic Text Button.

9. Conversion Intelligence Tools: Pop-ups and sticky bars are significant conversion intelligence tools when it comes to helping hand with increasing conversion rates. It is easy to design it in Unbounce through its drag-and-drop system.
You can make a template list and program the system to display these pop-ups or sticky bars in the appropriate place on the landing pages. Remember to use both these conversion tools to grab the attention of your visitors. Unbounce supports you with the targeting system feature for placing the right tool in the correct place.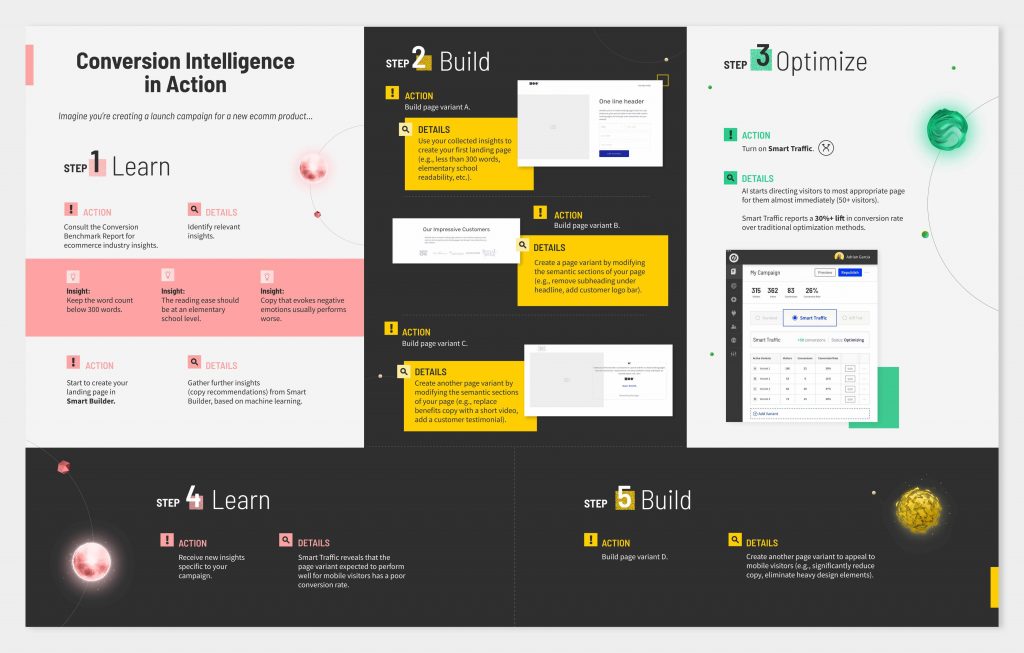 10. Accelerated Mobile Pages: Unbounce AMP (Accelerated Mobile Pages) is developed to rapidly prepare the landing page network on all devices, including mobile. It aims to decrease the loading times of a page in just a single second.
Unbounce facilitates AMP templates to their users, which can be optimized as per requirement. It also manages the landing pages according to the latest standards.

11. Security For You and Your Users: Securing users' data is the organization's responsibility in a digitalization business. The Unbounce software uses section time-outs and an automatized SSL encryption feature to keep all their data safe.  
Unbounce makes their users and visitors safe not only through SSL encryption but also through other security as follows:
Filtration of IP addresses,
Considers compliance with GDPR
Automated backups
Maintain Audit logs
Two-Factor Authentication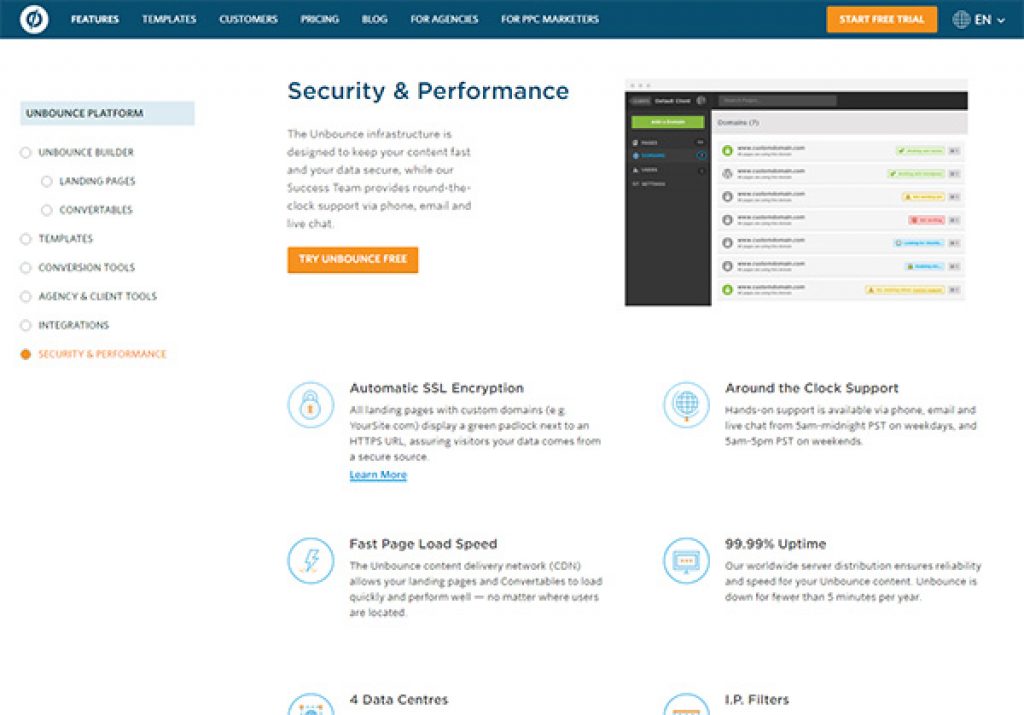 12. A/B Testing: Set-Up and Accuracy: A/B testing is the dominant tool to notice the variants of your visitors and analyze the high-conversion pages specific to your business. Unbounce supports these features in low to high plans. 
It allows the users to optimize and reanalyze the promotions for variations like adding buttons, same-page identification, etc.
A/B test can track conversions, visitors, and views for better profitable leads. 
Our peek into this feature in Unbounce recognizes that A/B testing must be checked separately for each element. Therefore, doubting the accuracy of this feature. However, the Smart traffic tool plays an A/B testing role more perfectly without wasting time.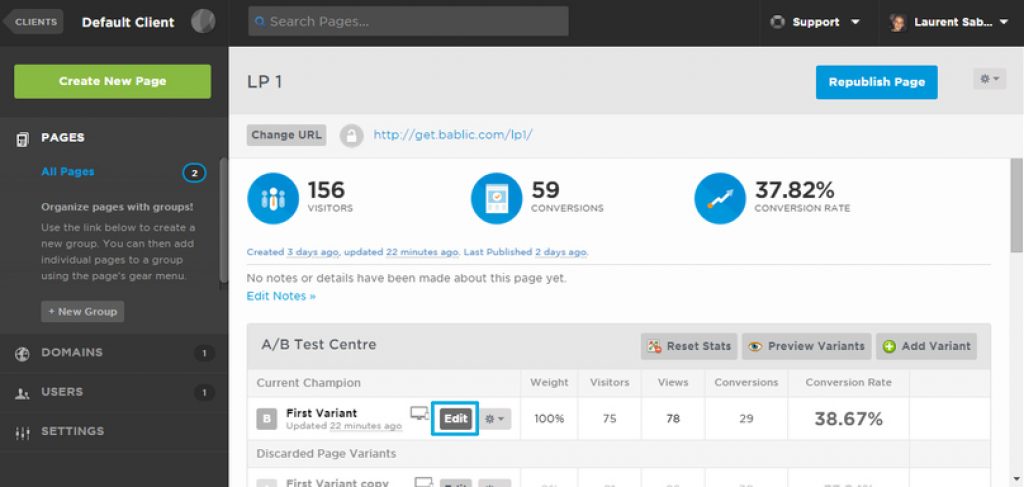 Step By Step Inside Navigation:
As we mentioned earlier, Unbounce is easy to use. However, if you are a beginner, you may feel complicated while navigating this software for the first time.
So, here is the quick step-by-step guidance in six easy pointers.
Step-1: Unbounce facilitates customers' experience of their service by signing up for a 14-day free trial version. So the first step is to sign up with your details in this free version.
Step 2: Unbounce provides 100+ customizable templates. Choose any of the given templates, or you can also choose to start from scratch in the blank. We suggest you select templates in the initial stage. You can click on-start with this template.
Step-3: Further, you will be directed to Unbounce builder. Here, in this step, you can change or add enormous features like text, elements, background images, etc.
Step-4: This step allows you to use exclusive elements in your landing page that will enhance its beauty. You can alter color, text, size, images, videos, etc., by selecting properties on the right side.
Step 5: After you are satisfied with your design, you can save your landing page for further use. The save button can be tapped on the right side corner.
Step-6: The last step in this process is customizing, integrating, and publishing your created landing pages. In this process, after your saving, you will be immediately redirected to the main dashboard. Here, you can look for the choices of creating a version of A/B testing, Integrating with programs, and optimizing URLs. After you are done with this, you can tap the Publish button on the right side.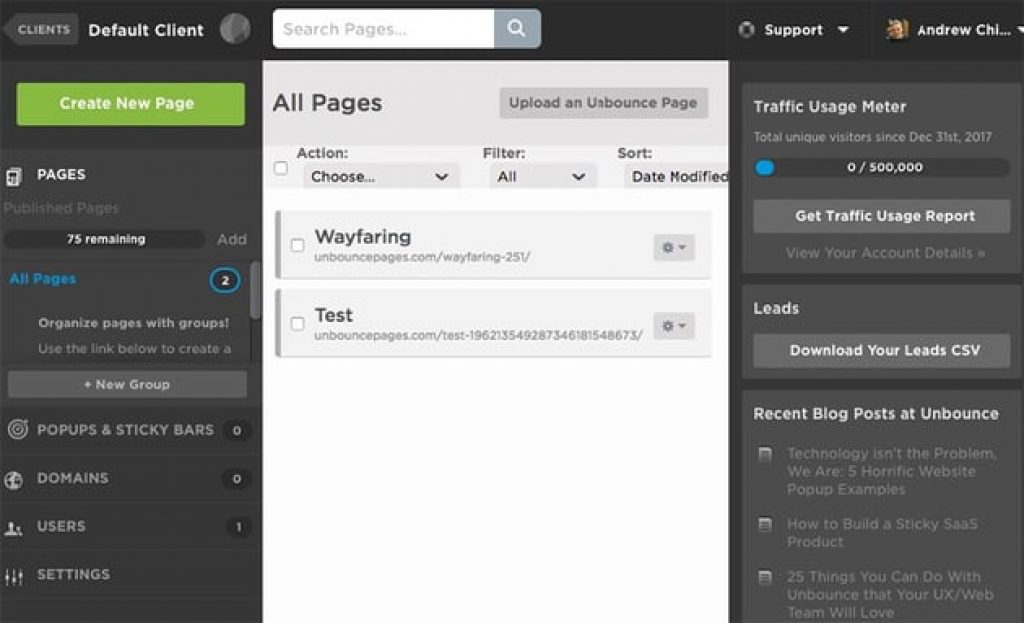 Integrations – Enough and Simple to Set Up?
Integration through Unbounce is feasible with the highest data security for the users as well as visitors of the users. It delivers more than 14 native integrations and more than 100 marketing tools to boost conversion rates through landing pages.
Unbounce offers Script manager support in the analytics of Google. It helps to add a tracking ID and keep a check on your traffic.
Unbounce uses SSO (single sign-on system); your password and usernames are automatically synced. Hence, there is no need to juggle your sign-in information.
Several tools can be integrated into Unbounce. We will mention some essential tools below:
CRM
Zapier
E-commerce
Analytics
Webinar
Google sheets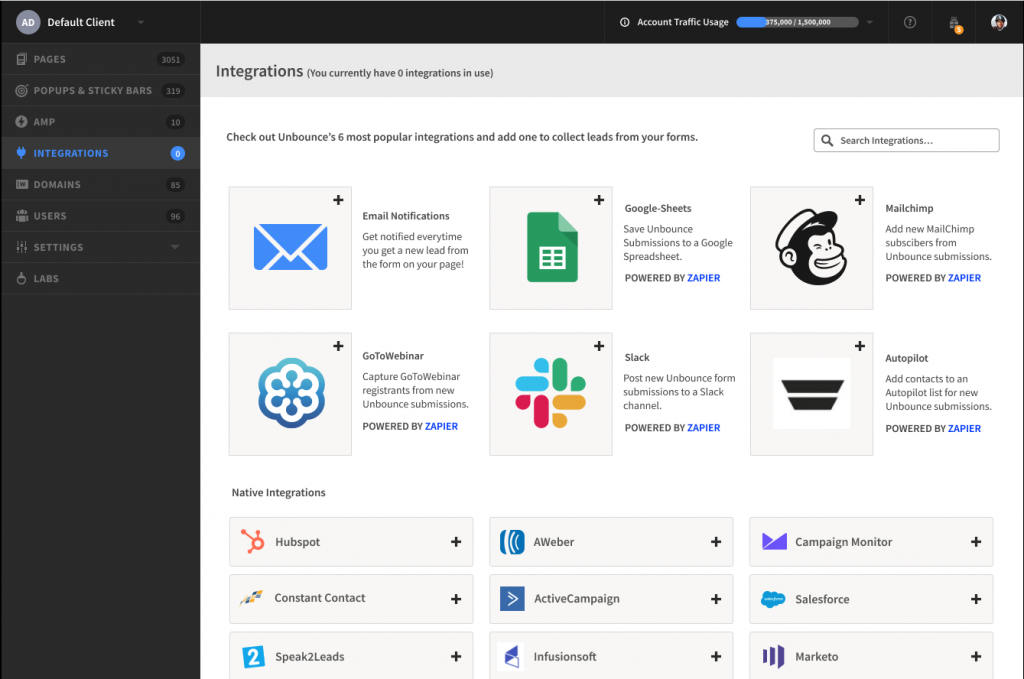 Unbounce Pricing-Is It Reasonable?
Unbounce sets a price for its service in four different plans, which are as follows:
Launch: 90 $/ month and 81 $/month for annual pay.
Optimize 135 $/month and 122 $/month for annual pay.
Accelerate 225 $/month and 203 $/month for annual pay.
Concierge: 575 $/month and 518 $/month for annual pay.
These costs are expensive when compared with other alternatives of Unbounce. However, we recommend purchasing it because of its easy access, good experience, and quality output. Go through the pic below to learn about the value added to each plan.
As we deeply research and compare all the Unbounce plans, all the business owners are recommended to go for Optimize Plan because its features are sufficient for better conversion rates.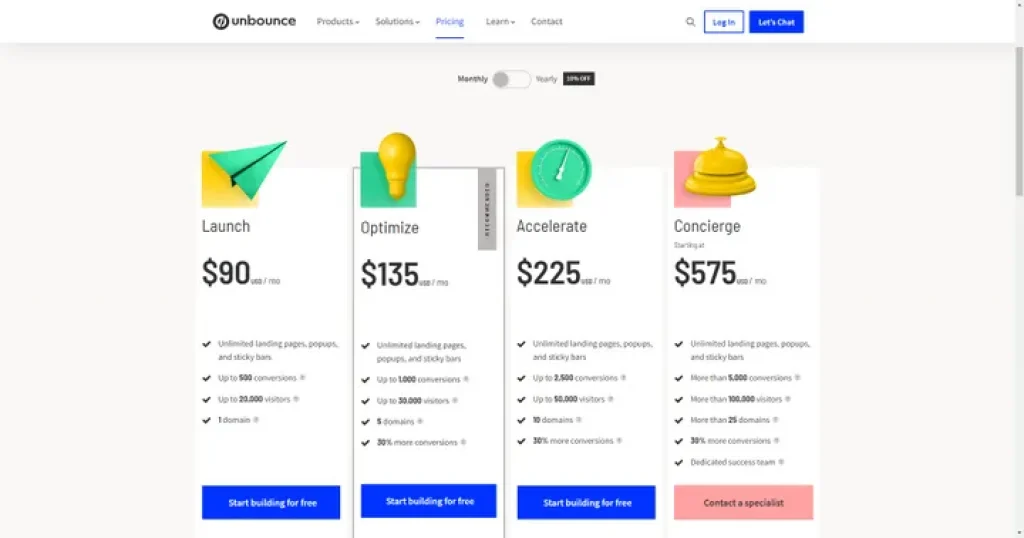 Customer Service – How Much Do They Care?
Unbounce features are unique and sometimes challenging to understand. Though it gives valuable input in increasing conversion rates, users need customer support to solve all their queries. 
Proper use of Unbounce tools will deliver a top-notch end product. While we reviewed this software, we learned that the support system of this software responds to each email they receive within 12 hours.
Unbounce Community is also one of the options to get picture-perfect solutions for your queries. It also supports its users with live chats and calls. However, live support is obtainable on Weekdays from 1 am to 8 pm and on Weekends from 9 am to 9 pm.
If you are not satisfied with the features or if you are not able to afford Unbounce plans, then do not get disappointed. We have made some more effort to provide you with an alternative landing page builder in the below section.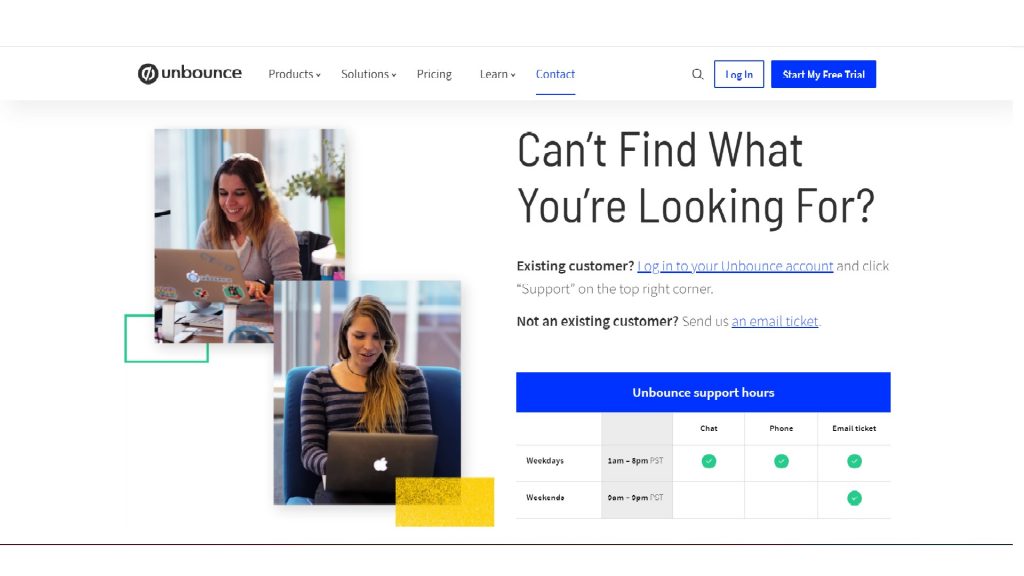 Unbounce Alternatives:
Genuinely, Unbounce is not so beginner friendly builder. So, we have alternatives that can fulfill your requirements with better conversion rates and affordable pricing.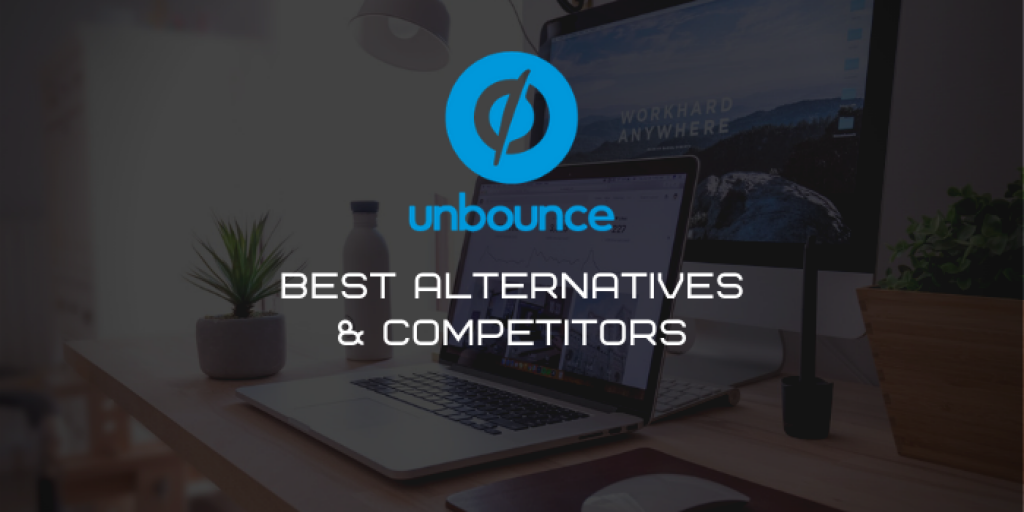 Unbounce had multiple features in its favor. However, we do found other alternatives to it. Get some of them now. 
GetResponse: If you have just started your start-up business, we understand investing in high-pricing tools becomes difficult. GetResponse provides cheap and fast sale funnel-building tools. It works on a simple methodology of drag and drop system. The complete toolkit comprises powerful automation, lead-generating tools, website builder, etc. Paid plan for one month starts from 12.30 $. It is relatively more affordable than Unbounce. In 30 day free plan, they avail with one website, landing page, and email contacts.
Instapage: Instapage is more expensive than Unbounce. Its lowest plan starts from 99 $ for one month. However, the offers it facilitates are higher than Unbounce most inadequate plans deliver. It gives about 40 integrations, 200+ templates, and additional features in its basic plan. 
Its features are almost similar to Unbounce. However, it had gained the highest feedback in the market from their customer. The design sped up the reviews by allowing the users to improve the quality and time of their designs.
Lead Pages: If you are a solopreneur, we suggest you try Lead Pages. It had affordable plans when compared to Unbounce. Despite having low-price plans, this alternative provides massive tools that will support you in building the complete webpage using email forms, pop-ups, landing pages, alerts, and more.
The fast interface is the highlight of this platform. It loads your page within 2.4 seconds. Looking for analytics is also simple to understand and manage automatically by taking care of all aspects to upsurge your conversion rate.
Clickfunnels: It is a complete automatic marketing tool that aims at sales viewers. It provides a complete package to convert your visitors into paying clients. Its goal is to develop a sales funnel and manage its analytics in affordable pricing for all your work progress. The basic plan is cheaper when compared to Unbounce. However, other plans of Clickfunnel may bite your pocket.
Final Verdict: Is Unbounce Worth It?
On the whole, we recommend Unbounce, if you are the owner of a business with a limited lead generated and your products sale is not satisfied. Unbounce will rejuvenate your business with its simple systems, unique features, and tools.
You can design your exclusive landing pages with the support of its ready-to-use templates or make them from scratch. All features are the pathway to get your goal of maximum conversion rates.
There is no doubt to announce Unbounce has the best platform for lead generation. Does Unbounce Review satisfy you with the answers to your query? Still, if you need more clarification, you can comment below. We ensure our support to navigate your business smoothly.
If you are new to the business and feel this platform is not working out for you due to pay, more features, etc, then you can look for any other free alternative. However, we would like to alert you that migration of landing pages will have its respective challenges as per the platform. So, you can give a spin to Unbounce. 
Check out the Unbounce Platform and grab your plan now.
Frequently Asked Questions:
Are you still tangled in taking up the benefits of Unbounce? Here are a few queries that may solve the remaining concerns of this software in your mind.
Q1. Is Unbounce Legit? 
Ans: Yes, Unbounce has gathered popularity among all the business fields through its outstanding services. It has provided exemplary services with positive outcomes through its highest conversion rates.
Q2. Is there any countdown timers feature in landing page creation?
Ans: Yes, Unbounce had added a countdown feature recently through its service due to vast customer demand.
Q3.Can the user have more than one form while creating a Landing page in Unbounce?
Ans: Unbounce has a unique tool called Smart Builder. It helps users to add several forms to their landing pages. It is easy to add the form sections to the page required.
Q4: What is a reasonable conversion rate in Unbounce?
Ans: Unbounce ensures up to 30% conversion rates than previously. However, as per the general aspect, 12% is good enough for maximum lead generation. So, Unbounce plays a vital role in boosting your conversions in a limited period.
Q5: Can the customer sell their products in Unbounce?
Ans: Unbounce helps to promote your business through the landing page and other services. It connects your landing page to the online platform like website, email, etc. Thereby showcasing your products and increasing your conversion rate. 
Q7: Can Unbounce be free to use?
Ans: Yes, Unbounce provides fourteen days of the free version for trial.
Q8: What will happen if users cancel their subscriptions?
Ans: On canceling upon subscription Unbounce withhold the subscription charges and demote the users to a free plan.
Q9: How many customers is Unbounce engaged currently?
Ans: Unbounce is currently providing its services to more than 120,000.
Q10: How can a customer get information about the leads?
Ans: The users will receive a mail for every lead that is generated along with form details and fields.