Detailed Review Of Thinkific – A Great Platform To Create And Sell Online Courses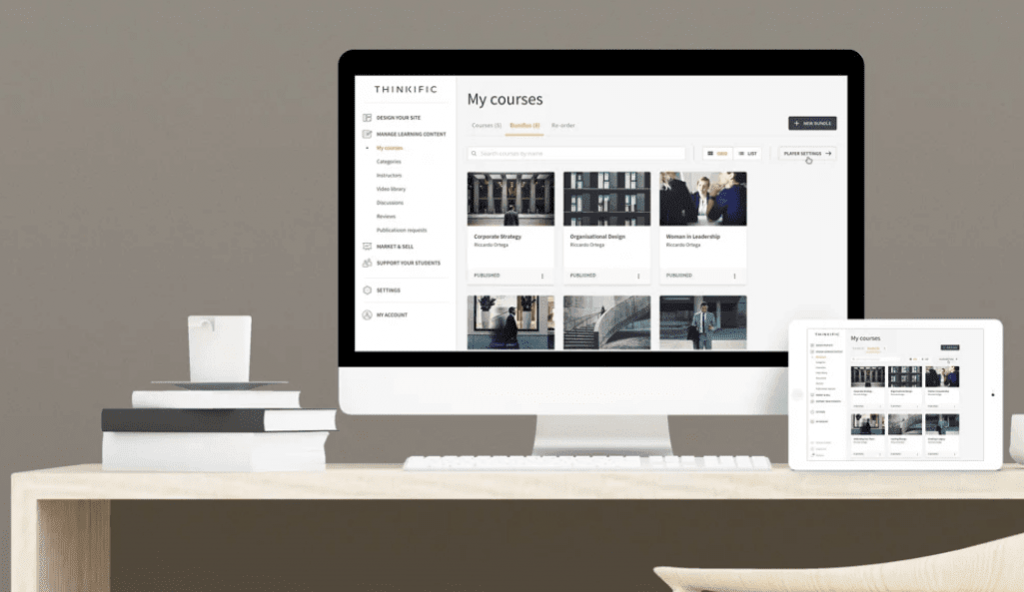 Nowadays, creators and entrepreneurs who are looking to offer and sell courses have a growing number of options when it comes to platforms to promote and sell their courses. While this is generally a good thing, it can also be overwhelming to try and figure out which platform is the best fit for your needs. To make the decision easier, it is important to understand the features that each type of platform offers.  Moreover, having a platform also allows creators to offer their courses at a lower price, which makes them more affordable for potential customers. Additionally, platforms provide creators with the ability to offer their courses for free, which can attract potential customers who would not otherwise be interested in the courses. I got a chance to play around with Thinkific, one of the top options for creators and businesses looking to offer personalized courses to learners. After spending about 1 month with Thinkific, I am sharing my experience and presenting my views on its features, pros, and cons, as well as everything you might need if you are confused about whether to choose it or opt for some other competitor.  
What Is Thinkific?
Thinkific is a software-as-a-service platform to create, deliver, and market your online courses. It offers creators and businesses the tools they need to turn their ideas into an online course, including a course builder, student management, payments and coupons, discussion forums, and email marketing. 
Thinkific also offers a marketplace where instructors can sell their courses. If you talk about the major benefits of going with Thinkific, it allows you to create, market, sell, and deliver your online courses. 
It's simple to use and offers a wide range of features to make your courses look great and run smoothly. You can use Thinkific to sell courses on your website or blog, or use their built-in marketplace to reach a wider audience. You can also use Thinkific to deliver courses in a group or one-on-one setting.


Pros And Cons Of Thinkific?
Compared to other course creation and publishing platforms, Thinkific has the reputation of being extremely easy to use. In my experience, I felt the reputation was right. If you have content creation skills but you don't want to become a full-blown web developer or have relatively moderate knowledge, then Thinkific is a great option. 
It's also great for established brands who want to create branded online courses. Online course creation is always a challenge, but Thinkific makes it easy to overcome these challenges and get your course online.
However, if you're looking for a personal connection between you and your students, then Thinkific might not be right for you. But if you want to develop online courses as a business and scale them quickly, then Thinkific is an excellent choice. Some of the main Pros why you would want to use Thinkific include: –
●     Easy course creation – With a wide range of tools and features, Thinkific helps you to create high-quality online courses quickly. –
●     Sales and marketing tools – This is one of the main advantages of using Thinkific. The platform is extremely well-suited for boosting sales and engagement through a variety of tools. 
●     Branding and customizations – Thinkific gives you full control over branding and customizations. –
●     Course administration features – These features help you to manage your course as it grows.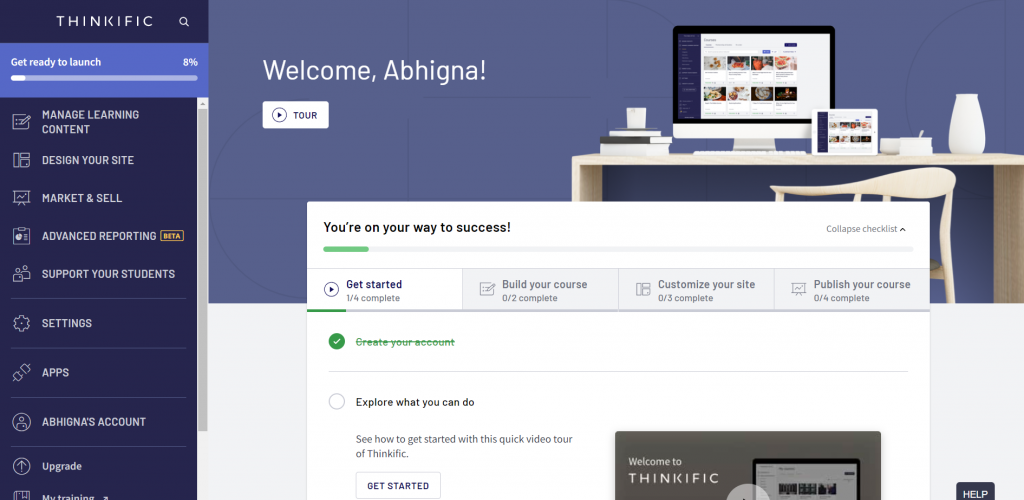 As far as cons are concerned, there aren't many for Thinkific, but a few aspects that can be improved are:
● Free trial should have the option to upload at least 5 courses.
● The customer service is not 24*7 and not even 7 days a week. Moreover, the response to the raised tickets was not fast.
● The pricing can be a little cheaper for the paid subscription plan.
● Currently, Thinkific does not have an email marketing platform which can be a deal breaker for many but it offers 3rd party integrations with Mailchimp, Keep (Infusionsoft), ConvertKit, Constant Contact, Aweber, and ActiveCampaign.
● Thinkific doesn't offer any type of mobile application for smartphones which is a big drawback.


Intuitive And Easy Course Creation And Engagement Features:
One of the key benefits of using Thinkific is that it's extremely easy to create courses and manage the process of content creation. The setup process is straightforward, and you can publish courses quickly. Each course comes with a built-in sales funnel that helps you improve conversion.

An Overview Of The Thinkifc Course Builder:
While having a visually appealing and user-friendly website is crucial to promoting your courses, the courses themselves should take center stage. Thinkific excels in this area.
First of all, the platform offers several pre-configured templates that can be of great assistance to course creators who require direction on how to arrange their content. The templates cover the basic situations you'd usually take into account while creating and offering your course as a product. Which are:
● Blank- Begin from scratch and design your course to meet your specific curriculum requirements.
● Mini-course – Create leads for a more comprehensive flagship course or service by offering a free or low-cost mini-course.
● Flagship Course – Create a comprehensive online course using a strong curriculum outline based on best practices.
● Pre-sell – It can be used To gauge the interest of prospective learners in your course, create a pre-sell landing page and begin building a waitlist.
● Digital Download: To generate revenue or collect email addresses, host downloadable files in an online course.
● Membership Resource Library: Use this template to host downloadable resources that will be included in a membership bundle.
● Webinar Replay: Make your webinar replay video available to registrants so they can review your presentation and offer.

You can edit the sections that are offered, remove portions, or add new sections to any of these to better suit your needs. Thinkific provides "smart coach course-building recommendations" to help you along the way. (I found these to be useful, but you can easily disable them if you don't want them.)
There will be a learning curve if you have never worked with web material before, but Thinkific has made it as manageable as possible. Additionally, Thinkific is simple to use if you are already familiar with other web content management systems, such as WordPress or another course platform.
In conclusion, in my opinion, the procedures for building a course on Thinkific are simple. You choose your course type, give it a name (which can be changed later), and then click "New Course" to start a new course. Next, you include "Chapters" (or modify ones already in the template)
Method To Upload The Course Content :
It is pleasing to know that there are two methods you can use to upload your course content. If you have a comprehensive, well-organized library of training materials, you can save time by uploading everything at once. From the course creation window, select the "Bulk Importer" tab to perform this action. Otherwise, you can use the "Curriculum" tab if you'd rather upload the elements in a more orderly fashion.
Here, everything is pretty simple. To begin, click "Add Chapter" to start writing the first one. Finally, save it by clicking the save button after giving it the appropriate title in the "Chapter Title" field.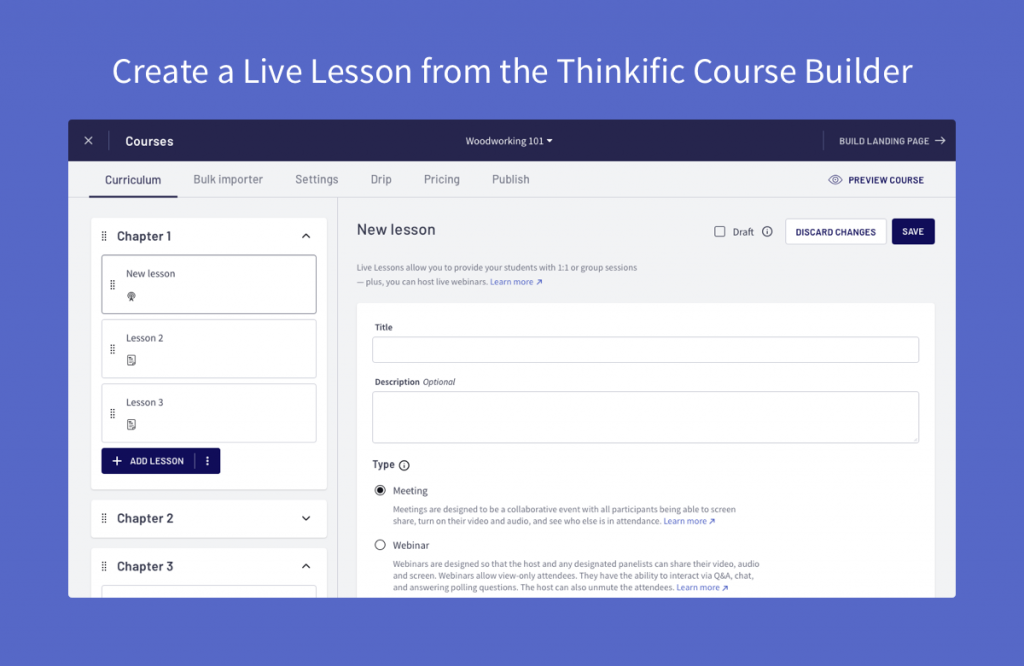 Content Delivery:
 I felt that the Thinkific interface is modern, well-made, and easy to use and met my expectations regarding content delivery when I used it. The course player has a navigation bar on the left that lists all the sections and lessons, and on the right are videos, quizzes, and other content types. Finding the necessary lesson is made simple by the progress bar and search box. Additionally, it has a full-screen feature that disables the sidebar to allow for distraction-free learning.
 Moreover, every lesson on Thinkific comes with a Discussion tab where you and your students can post entries complete with a title, summary, links, and even images. Additionally, you can somewhat alter the course player's appearance and feel by selecting between light mode and dark mode. In addition to the course player, you have the option of building personalized pages and populating them with content. Additionally, you can limit access to the page based on a student's purchase. The platform's capacity to design and deliver top-notch online courses generally impressed me.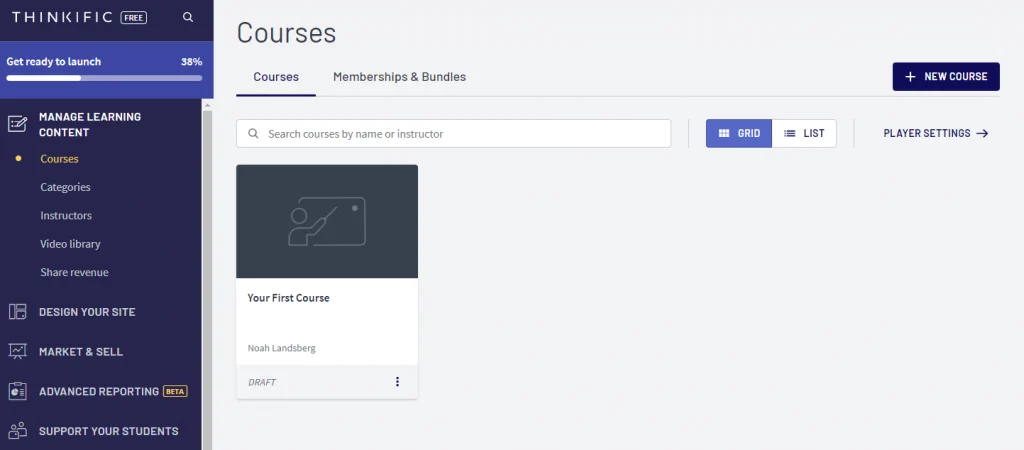 Use of Templates:
When constructing a new course, as a user, you gain access to several course templates (already explained in the overview) to choose from, including:
– Blank Course
– Pre-Sell Course
– Mini Course
– Flagship Course
– Webinar Replay
– Membership Resource Library
Each template (excluding the Blank Course) contains a set of lessons that are put together with learning best practices in mind. 
After choosing a template, you can start adding lessons. As stated previously, Thinkific supports a variety of content types, such as videos, text, pdfs, audio files, live lessons, HTML5, etc. And you even have the option of embedding multimedia files hosted externally as part of your lessons. In addition, you don't need to be concerned about hosting as Thinkific provides unlimited hosting for all content types, including videos.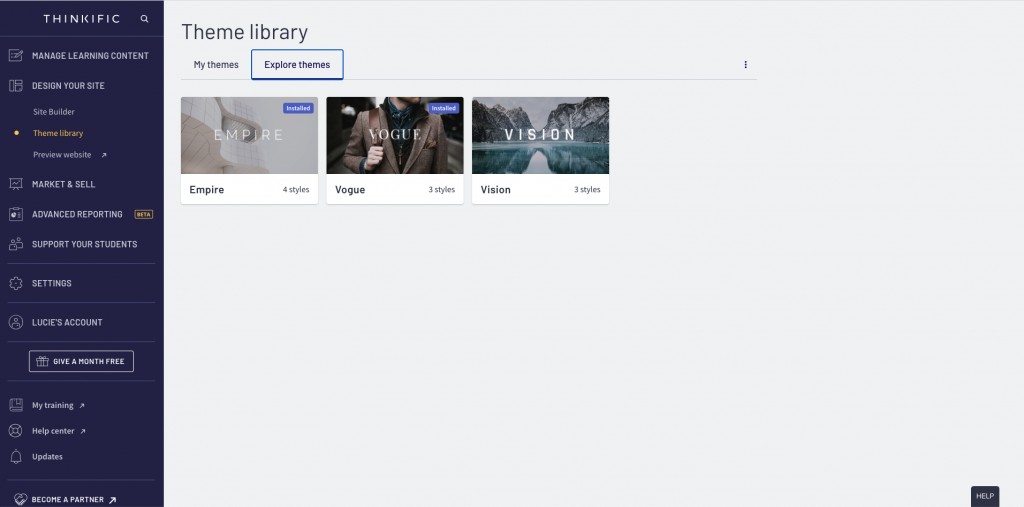 Quizzes Features: 
Creating quizzes is important for any instructor or teacher, and I was specifically interested in how it handles this part. From my observation, Thinkific's quizzing features are suitable for brief, multiple-choice tests. You can choose whether there are one or more correct answers for each quiz question you create.
Along with explaining why a particular response is correct or incorrect, you also have the choice to give students pointers on how to arrive at the correct response. After a student selects and submits their response, this justification is displayed. It is nice to know that you can make quizzes mandatory before students can progress to the next course if you have the paid subscription package.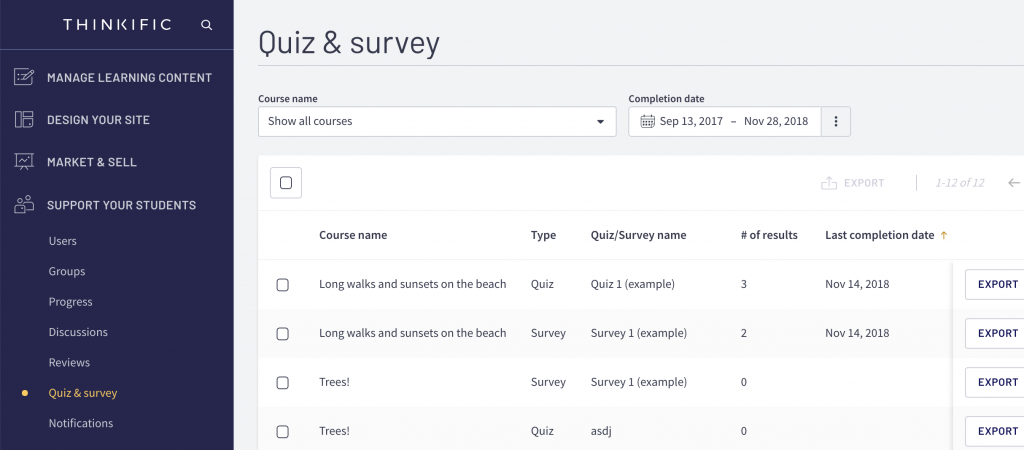 Build Custom Landing Pages:
You can make engaging bundle landing pages with Site Builder. You could, for instance, charge more for bundles and give your students social sign-on options (from Facebook and other platforms). And as per my usage, they look so good!
The benefit of these unique landing pages is that each product (course, community, or bundle) you sell through Thinkific will have its own sales landing page. As a course creator, you have the opportunity to highlight your offering and make it clear to leads why they should click the sign-up button.
It is appropriate to say that you can use the Thinkific Site Builder to develop compelling landing pages, give them customized color schemes, add sections, and write copy that will convert and generate revenue — and the best part is that you can do all of this without having to know how to code.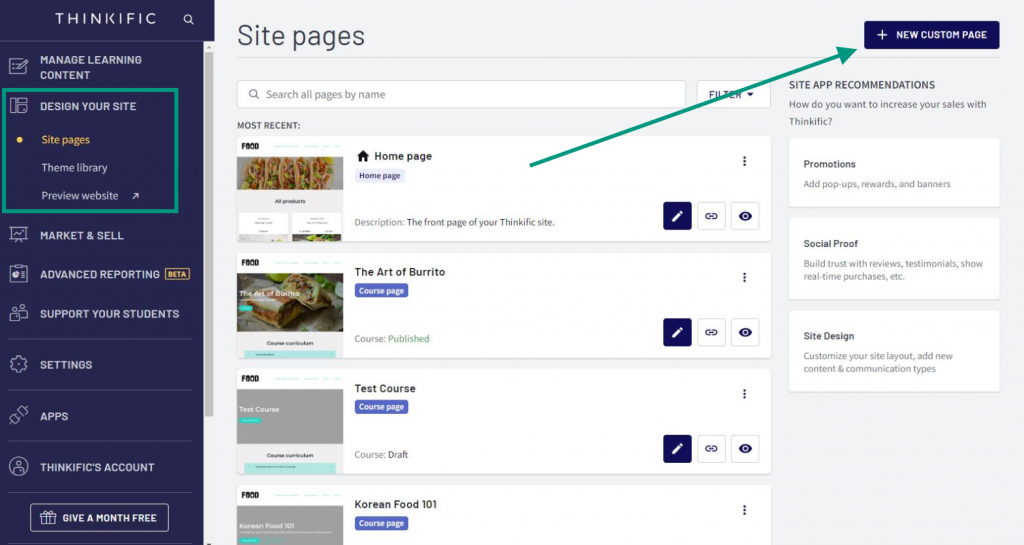 Verdict On Content Creation, Uploading, And Delivery :
The simplicity with which it was possible to add video and audio content, the creation of quizzes and assignments, and the capability to monitor student progress were some of the key features I liked. Overall, I found the platform to be user-friendly and easy to use.
Additionally, you can create and customize landing pages for each course. Once you have your courses published, you can use a variety of tools and features to boost engagement and sales. Moreover, the Thinkific platform is excellent for branding and customization. The site design and customization features are excellent, and you can fully customize your online course platform.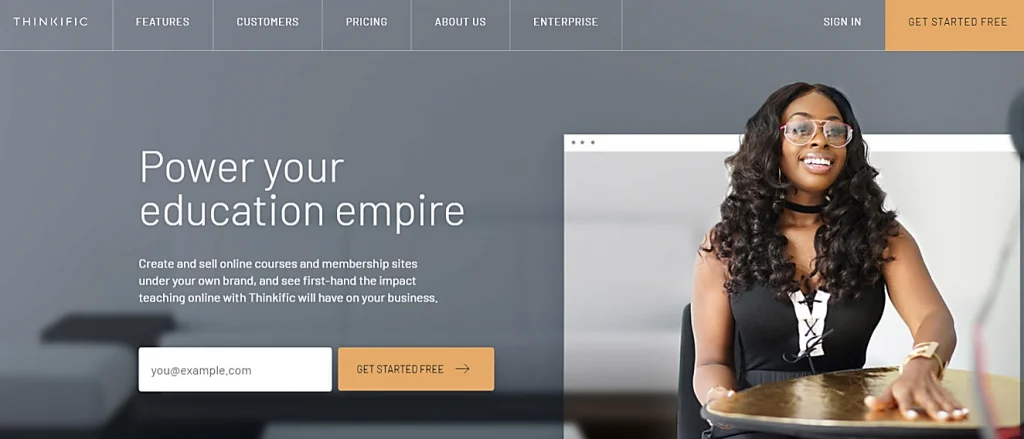 You can create an online course that looks exactly like your company website. It's also easy to change the design of your website across platforms as your company grows. This is a huge advantage if you want to market your online course platform to different audiences
 The website builder also has a visual content builder that allows you to create engaging and interactive content such as quizzes, surveys, and polls. The page builder also has a built-in stock photo library. In short, there is no dearth of options and the platform is full of expected features that helped me give the outlook for the course that I wanted, so I am genuinely impressed.

Certificates:
Issuing certificates is another important feature that every course content creator wants to have on the platform where the course will be delivered. With the Thinkific Certificates feature, you can give students documentation of their successful completion of a course.
 You have the option to upload your background image or choose from a variety of certificate styles. The prefilled information insertion feature in custom fields, such as the student's name, completion, and expiration dates, is modern and user-friendly.
 Additionally, you can include your logo to ensure that all certificate designs correspond with your brand!
 Furthermore, both you, the site owner, and the site administrators can create and assign Thinkific Certificates to one or more courses. It's simple to use the same design for several courses because the students' names, course names, and issue dates automatically populate based on your student and course details.
 However, no problem if you want each course's certificate graphics or text to be unique. The best part that I adore is that the platform subscribers are free to create an unlimited number of certificates.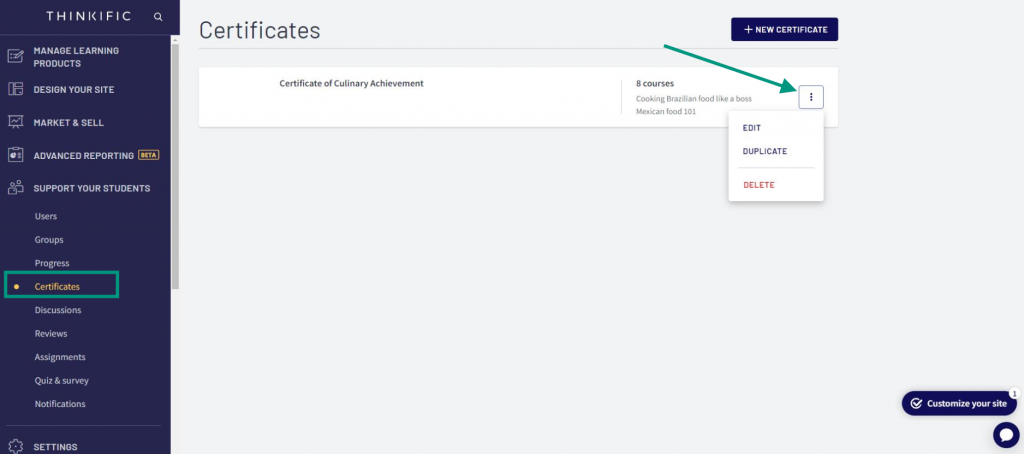 Communities:
The communities were a crucial area I wanted to examine, and it is not an overstatement to say that Thinkific Communities is the ideal feature for establishing and expanding your learning community. It offers coaching, live classes and events, and online courses with members-only content. 
It gives you control over content and business insights into your target audience, and students get an even better learning experience while they learn through offered courses. In short, It benefits both course creators and learners.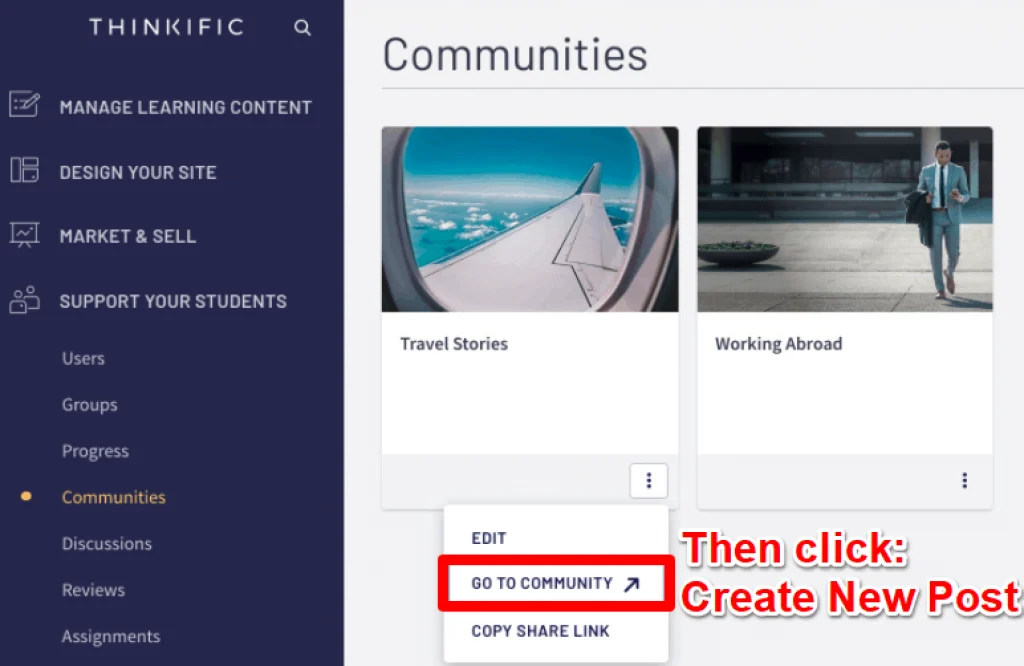 Unlimited Hosting Feature :
The online course creator and selling platform, Thinkific, hosts your website for free. Yes, it does offer free hosting for your website, and I rate this feature as one of the USPs. Furthermore, Thinkifc has included several features in the backend part of the whole ecosystem that you will surely love:
● Free SSL certificate
● Free subdomain (mywebsite.thinkific.com)
● Ability to add a custom domain
● White-labeling
● Modify site language
● Automatic platform updates, backups, and maintenance

Sales And Marketing Capabilities:
If you want to grow your online course business, then one of the best features of Thinkific is its wide range of sales and marketing tools. These tools will help you to boost sales, improve engagement, and increase your profits.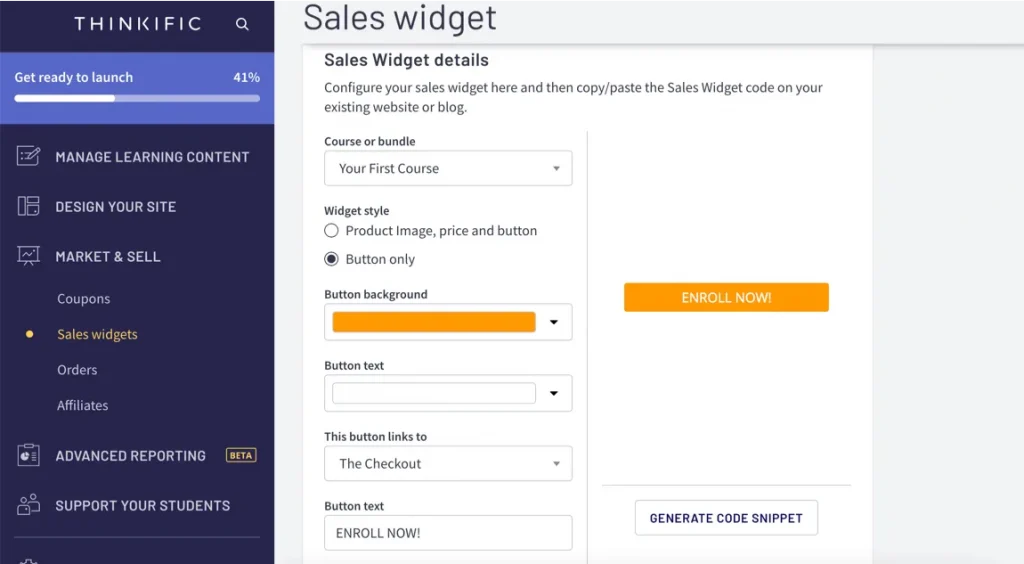 Now that you have created your online course and published it, you can start selling it. You can use your website or landing page to promote your course. If you create an online course, you will have to provide a link to your website. 
The most useful feature for boosting sales apart from landing pages is the "Engagement Bar," which is located at the top of every course. The engagement bar helps to increase conversions by offering free courses, quizzes, and polls that prompt students to take action. If your students take action, then they will be prompted to sign up for your paid course.
Another key feature for boosting sales is the "Course Store". The course store allows you to sell your online courses through a self-built online store. You can also sell courses directly through your website or blog. You can also sell courses on third-party sites like Udemy and Teachable.
Additionally, you can advertise your course by sending emails to your subscriber list and other target markets. Selling your online course through Thinkific comes with several benefits. First and foremost, Thinkific provides an easy-to-use interface for creating and publishing your online course. You can also promote your online course through Thinkific's built-in marketing tools.
From marketing and SEO to payment processors and email providers, there's an app for just about everything(Google Analytics, Mailchimp, Facebook, etc). And the best part is that all of these apps integrate seamlessly with Thinkific, so you can get up and running quickly and easily.


How Useful Are The Reporting And Analytics Tools Offered By Thinkific?
Online course sellers can see their course analytics and the number of sales made through their dashboards. The sales dashboard shows information such as when the course was published, the price of the course, the number of sales made, and more.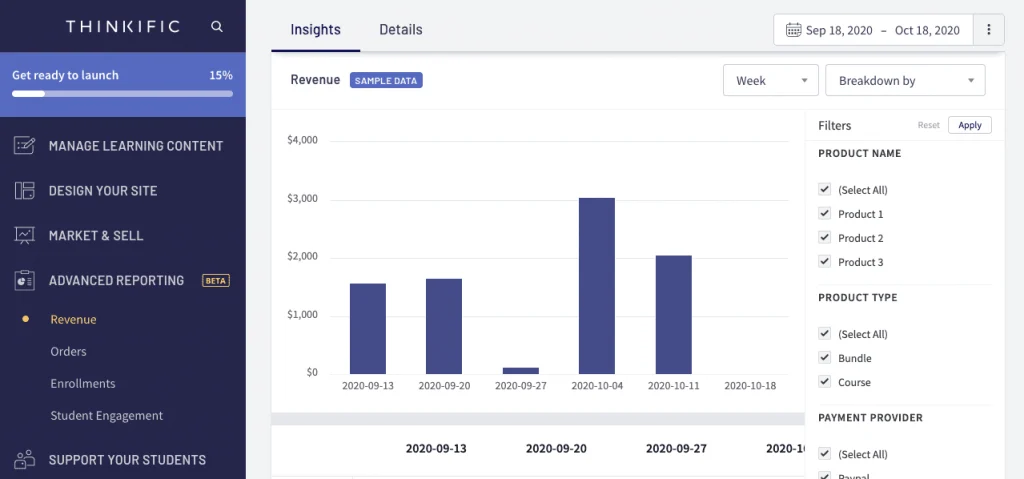 The dashboard also allows you to see the geographical location of your course buyers and their purchase history. Online course instructors can also view detailed information about their students, such as the number of students in each course module and their progress through the course.
You can easily track sales, enrollments, and conversions to understand how your online course platform is performing and even attach your website to Google Analytics to measure the performance. 
It's also easy to create custom reports that help you monitor the progress of different campaigns. The administration tools are also excellent. You can manage multiple users, control access to different parts of the platform, and review revenue and profit breakdowns.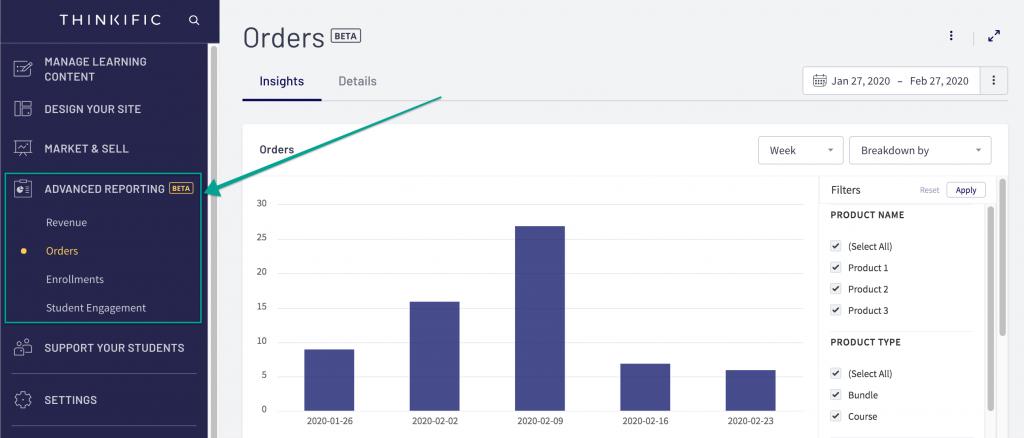 Thinkific App Store:
One of the best features of Thinkific is the app store which I found to be useful. If you want to add some extra functionality to your online course platform, then you can install apps from the app store. 
Thinkific's app store is a great resource for online educators. It offers a wide range of apps and tools that can be used to improve the online learning experience. What makes Thinkific's app store unique is its focus on quality over quantity. 
Unlike other app stores, Thinkific only offers a limited number of apps, but each one is carefully curated and reviewed to ensure it meets a high standard of quality. Each app has been tested by Thinkific, and they also provide support if you need to make changes or updates. 
Some of the most popular apps are integrations with payment providers like Stripe and Gumroad. You can also add a "Thank You" page, email marketing campaigns, and marketing automation tools to boost your course. The app store is a great feature that helps you customize your online course platform to suit your needs. You can choose to install the most popular apps or hire a developer to install custom apps.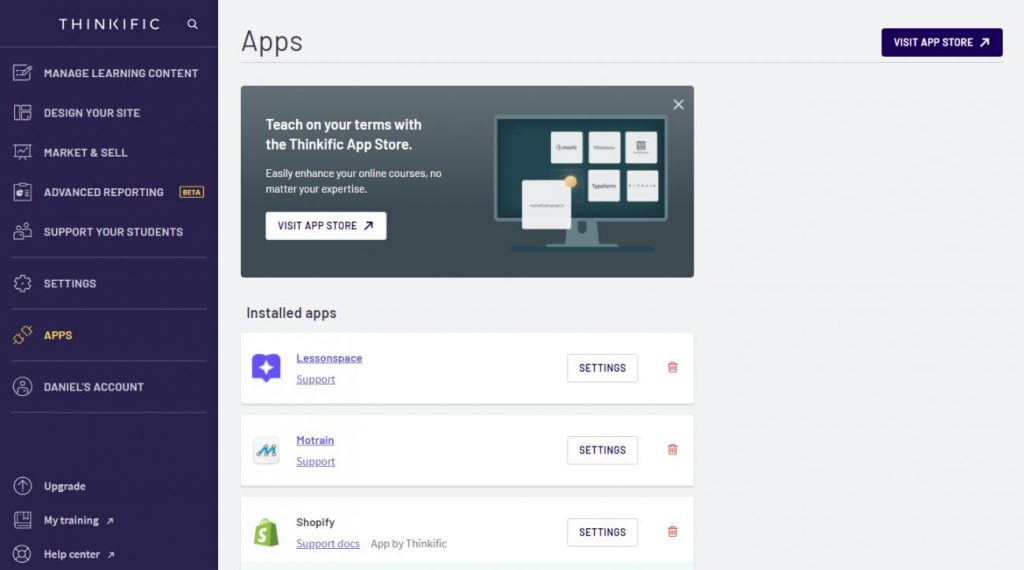 Some of the most popular apps available on Thinkific include:
● WordPress: With WordPress, you can create a beautiful website for your courses.
● Stripe: With Stripe, you can accept payments for your courses.
● Google Analytics: With Google Analytics, you can track the progress of your students and see which courses are most popular.
● MailChimp: With MailChimp, you can promote your courses to a wider audience.
These are just a few of the apps available on Thinkific, but its s app store offers a variety of other apps to help you with your online course business. 
In summary, Thinkific's app store is a great way to find new and innovative ways to improve your online course. With its focus on quality, you can be sure you're getting the best apps and tools to help you deliver an outstanding learning experience to your students.

Customer Support Review:
Thinkific has customer support that is available by phone and email. They also have a well-structured knowledge base with helpful articles and guides. Although Thinkific does not offer live chat support, their email support is available from Monday to Friday. Here are the communication details of Thinkific:
Users can call 1-888-832-2409 and support replies between Mon-Fri from 9-5 PST.
Email info@thinkific.com. 
Additionally, users can submit a support ticket at this link shared by it – https://support.thinkific.com/hc/en-us/requests/new
In my testing, I found that while the replies are always helpful and informative, they are also very slow. To make up for the lack of speed, the company provides a very comprehensive knowledge base on its Help Center. Most of the answers can easily be found by users themselves. 
In addition, the Thinkific Training Center offers a free course called "The Thinkific Fast Track' to teach beginners about creating, promoting, and selling their courses efficiently.

Thinkific Pricing Review: 
The pricing structure of Thinkific is also straightforward to understand. The pricing plans depend on the number of courses created on the platform, as shown in this image:
Free Plan: $0/month
"Get Start" Plan: $74/month 
"Get Grow" PLAN: $149/month 
"Get Expand" Plan: $374 /month
Thinkific's pricing plans—including the free one—offer the following key features:
● Content delivered through native course player
● Website Capabilities
● Hosting for multiple content types, including videos
● Basic quizzes and surveys
● In-course discussion
● Payments accepted through PayPal and Stripe
● Email Customer Support
● Landing page builder
It offers a free trial where you can upload 1 free course. Thinkific's pricing layout has some great benefits. Not only can you start your course for free (unlike with competitors like Teachable), but the additional three plans are sensibly organized. There are also discounts for annual billing.
If you look at pricing closely, the main difference is the number of communities they provide support for and the type of customer support feature. The pricing of Thinkific is not static, as I went through the information online and found that they tend to change the pricing. Therefore, it is recommended that you check the pricing at the time of purchasing the subscription.
Now the pricing is reasonable and all the plans offer 0% transaction fee, and unlimited student but vary in terms of the number of administrators and communities permitted.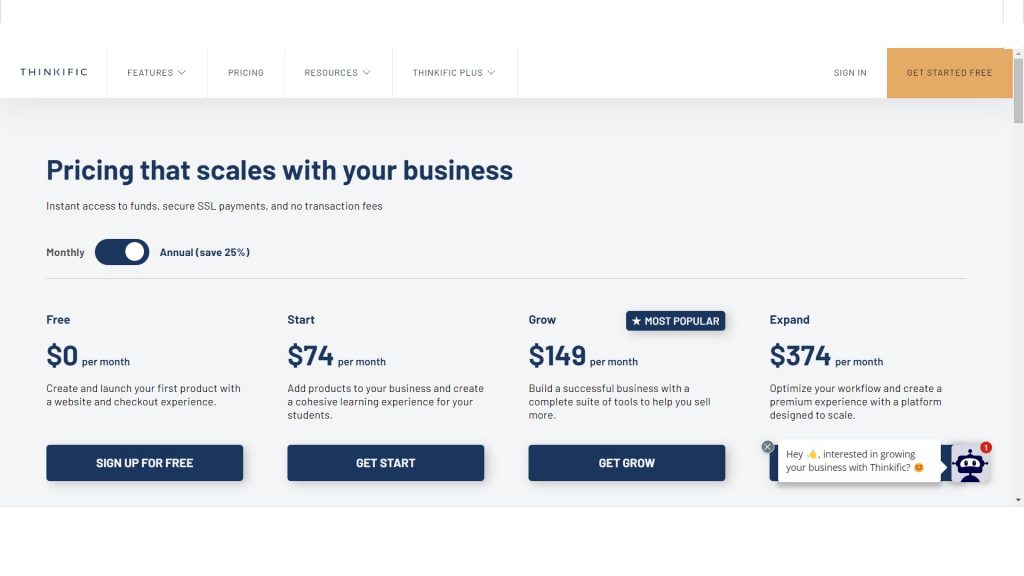 Thinkific Vs The Competition:
The online course platform market is a booming industry with a lot of competition. If you are looking to create online courses, then you will come across many different options.
 There are many online course platforms out there, like Teachable, Udemy, Skillshare, and Skillfeed. If you are trying to decide between Thinkific and another platform, you need to understand your needs and requirements. Thinkific stands out because it's particularly easy to use and navigate. If you're trying to decide between Thinkific and Teachable in particular, then the main difference is in their design and branding capabilities.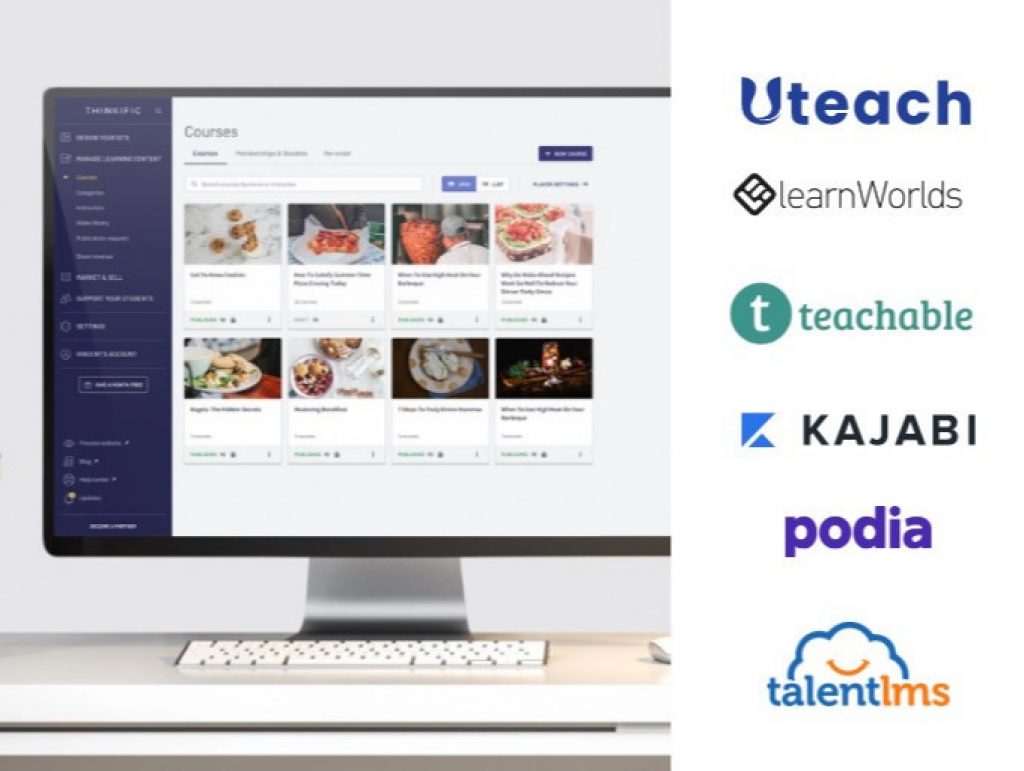 Thinkific is great for single instructors offering multiple courses, and it's also best suited for people who want to create personal connections with their students. Additionally, Thinkific has a lot more flexibility when it comes to customizations and branding.
It also has a lot of great features geared toward online course creators, including sales and marketing tools that help to boost course sales and engagement. As per my time with Thinkific, it is suitable for "corporate training," e-learning, webinars, live classes, "online experiences," course hosting, and podcasts. 
In summary, each online course platform has its unique features and functionalities. There is no "best" platform; it all comes down to personal preference.


Finals Verdict:
Selling online courses can be quite a lucrative business if done right. For this, you will need a website where interested people can sign up and purchase your course. If you are looking for a platform that is easy to use, affordable and has a beautiful design, then you should try Thinkific.
Another attractive part of my experience with Thinkific was having the ability to use the different theme designs and functionality that I could customize at no extra cost. And I don't need to tell you that I was really happy to know that website hosting and domain registration come for free. 
The company also offers social media integrations, automated marketing campaigns, and conversion tracking. Their website builder is also very easy to use and can be customized to suit your needs. You can also choose from a wide variety of pre-made website designs. Overall, Thinkific is a great choice for anyone who wants to sell online courses.
Frequently Asked Questions:
Q1. Does Thinkific offer a free trial?
Ans: Yes, it does offer a free trial and users can upload 1 free course using it. 
Q2. Can I use Thinkific Payments if my students aren't citizens of a supported nation?
Ans: Although students do not need to reside in a supported country to purchase courses from creators using Thinkific Payments, Thinkific Payments is only available to creators based in those nations.
Q3. What distinguishes Teachable from Thinkific?
Ans: Teachable and Thinkific are two well-known companies that make courseware. The main difference between the two platforms is that course creators have more customization options and better pricing on Thinkific.
Q4. Does Thinkific impose transaction costs?
Ans: Transaction fees are not charged by Thinkific, not even on their free plan. They stand out from their rivals thanks to this distinguishing feature.
Q5. What is the most expensive subscription on Thinkific?
Ans: Thinkific's most expensive plan is "Get Expand" and its pricing is $374/monthly
Q6. With Thinkific, can you generate an entire website?
Ans: Yes, the Thinkific Site Builder is a comprehensive website development platform. If you don't have a website already, you can construct one from scratch to host your courses. And you won't need any technical skills to use it.