Review of Teachable: Is it worth using for creating and selling courses?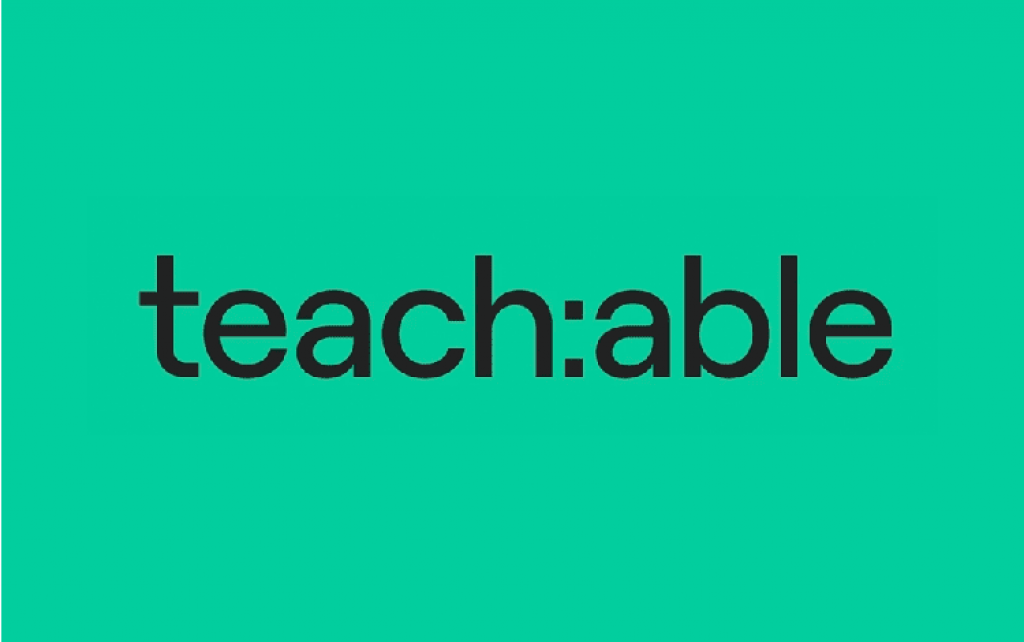 In recent years, we have seen a shift in the way that businesses and individuals create and share content. Platforms like Teachable are in high demand because they provide users with an easy way to create and share online courses and other digital materials.
There are many reasons why enterprises, users, and creators are flocking to platforms like Teachable. For businesses, Teachable provides a way to train employees and customers without having to invest in costly physical infrastructure. For individuals, Teachable gives users the ability to share their knowledge and expertise with the world. And for teachers and creators, Teachable is a powerful tool for creating and distributing online courses and other digital content.
So why do platforms like Teachable continue to be in high demand? There are many reasons, but ultimately it comes down to the fact that Teachable is a simple, affordable, and feature-rich platform for creators and teachers to upload courses, market them and sell them. This post is a comprehensive review of Teachable based on my usage of it, so let's get started with this review of Teachable.

What Is Teachable?
Let's first understand what Teachable is and how it is beneficial before moving on to the rest of the review. It is an online learning platform that allows you to create and sell courses. It is a popular choice for online educators, online trainers, and content creators as it is easy to use and has a variety of features.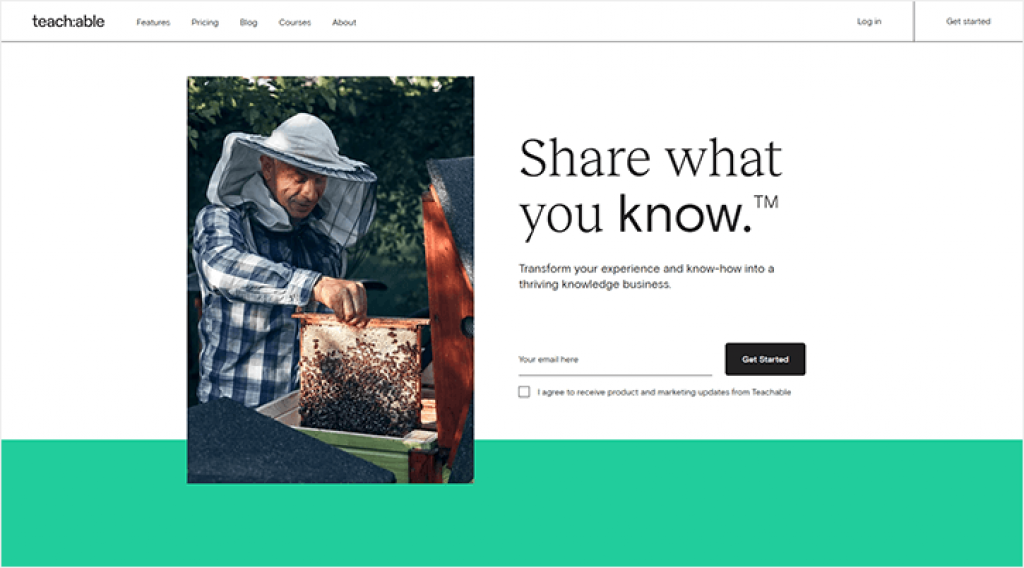 I have been using Teachable for more than 2 weeks, and I wanted to share my thoughts on the platform.
To give you a summary of my review, I am really impressed with this platform. One of the things I like most about Teachable is its ease of use. Adding content and creating courses is a straightforward process, and there are a variety of customization options available. 
Another plus is the price. It offers a variety of pricing plans, so you can choose the one that best fits your needs. And if you're not sure if Teachable is right for you, read ahead to learn everything you might need to make a choice.


Pros And Cons Of Teachable: 
Although I know I have said that Teachable is more than a handful as a course-selling platform, like any platform, there are both pros and cons to using Teachable.
Pros:
● Teachable is easy to use, even for those with no technical background.
● It provides a range of features to aid in the development and promotion of your courses.
● Teachable courses are responsive, meaning they can be accessed on any device. (Though Teachable offers no Android app)
● Another positive of Teachable is that it integrates with several third-party tools and services.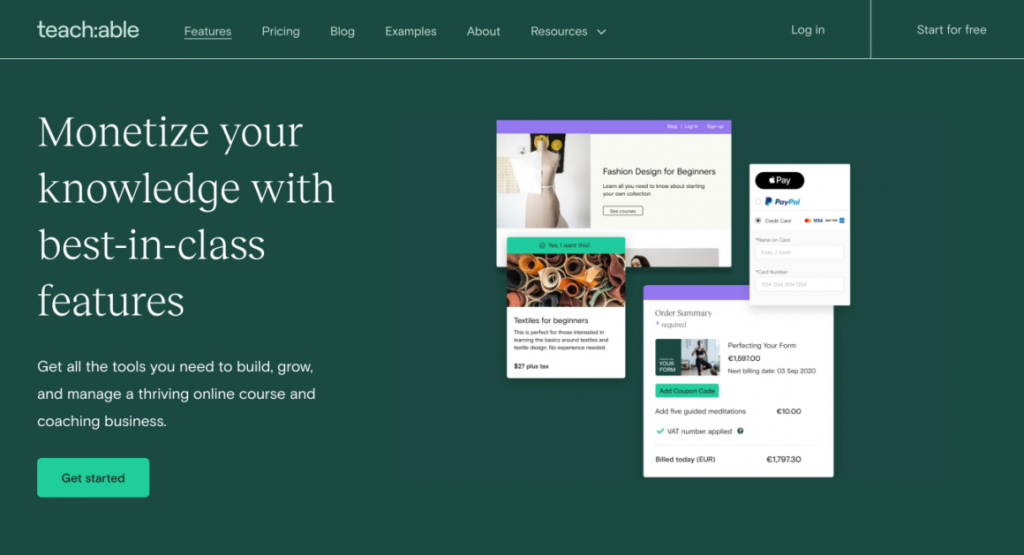 Cons:
There are cons to keep in mind if you're considering using Teachable as your online course platform.
● It has a lot of features that can be overwhelming for new users. There is a lot to learn and digest, and it can be easy to get lost in all the options.
● A custom payment gateway option is not offered.
● It can be expensive. If you want to use all the features and tools, you'll need to sign up for the $199/month plan.
● The customer support provided by Teachable is not always the best. There have been reports of slow responses and unhelpful support staff and even I got a late response from them.
● There aren't many third-party integrations.
● Teachable's platform isn't always the most stable. There have been times when the site has gone down or experienced other technical problems.
● Lower-tier plans are subject to a transaction fee.
● It doesn't offer a dedicated Android app though it is available on the Apple ecosystem in the form of an app.


Ease Of Use:
One of the best things about Teachable is how easy it is to get started. The platform is designed for course creators who want to sell their courses without having to worry about the technical side of things. Teachable is easy to use–you just need to create an account and do some initial setup. 
The process of opening an account on Teachable is quick and simple. The course builder is drag-and-drop, which makes it convenient, and it supports features such as cloud importing and bulk uploading. This allows you to construct your course quickly. 
When your course structure is ready, you need to set the pricing. Additionally, Teachable will create a sales page, a checkout page, and a thank you page for your course without manual intervention. I appreciate that these pages are automatically linked to each other; you don't have to do any manual linking or extra settings. You can simply modify the content on these pages and share them with your audience.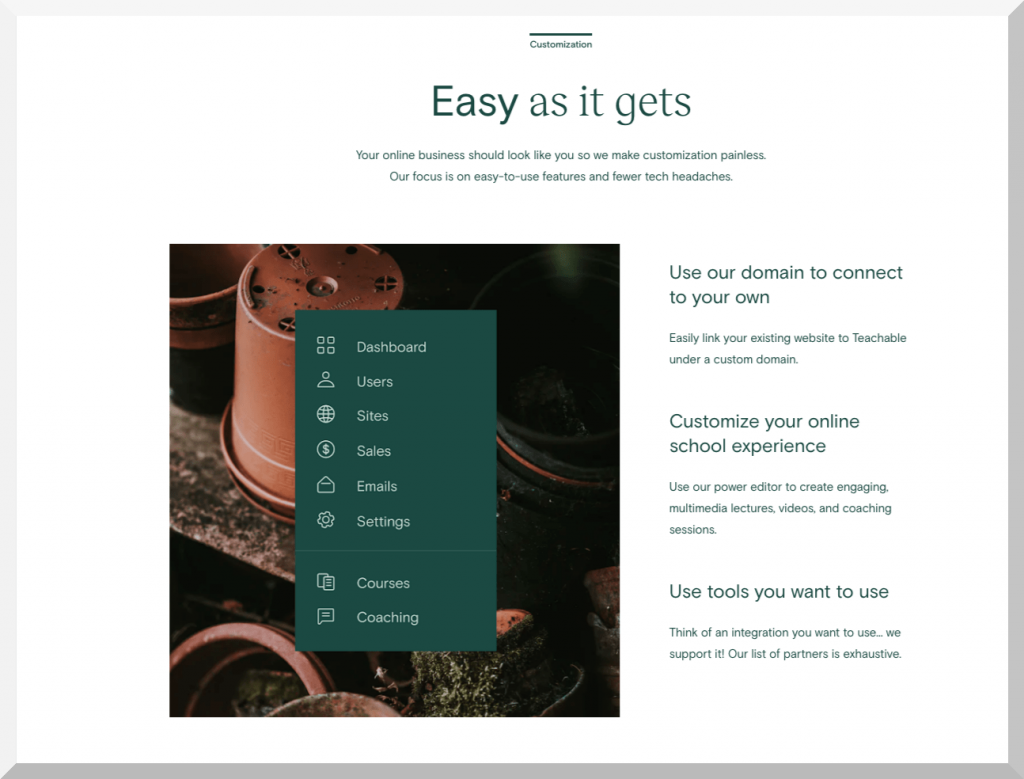 Once you've created your account, you can immediately start creating your course. Teachable provides you with all the tools you need to create a high-quality course, including video hosting, course creation, and more. And if you need any help along the way, Teachable offers customer support. The team is available to answer your questions and help you troubleshoot any problems you might have.
There are enough options and customization tools available that, if you're just getting started, you could rely on Teachable for your web presence for at least a while without much difficulty. Here's a quick rundown of the key aspects of the whole experience of working with Teachable:
Course Creation And Engagement Review:
Teachable has many built-in tools that make it easy for anyone, regardless of their technical or design skills, to create engaging and effective courses. Whether you want to tell a story, walk learners through a process, or even integrate your own assessments, Teachable's features will help you do it. 
Once your course is up and running, it makes it easy to engage your learners, such as with a discussion forum, polls, and quizzes. You can also add in-course notifications to keep your learners engaged. Once you've created your course, you can share it with the world by publishing it on your website or Teachable.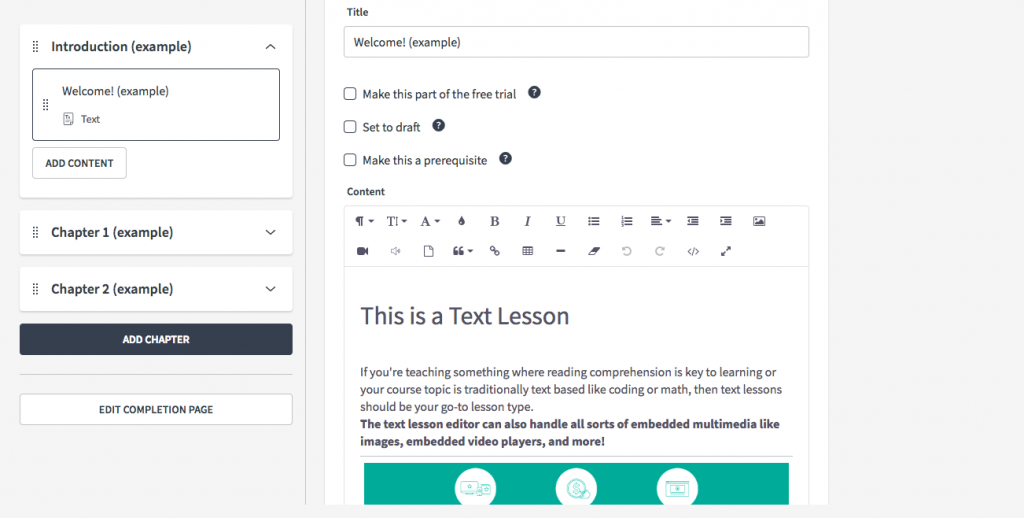 Course Builder:
You can create and publish courses using Teachable's course builder in a variety of multimedia formats, including video, audio, code, and PDF. 
You should first select "Get started" on Teachable's main page to register for an account.
● After logging in, select "Create New School" and enter your school's name.
● After that, answer the questions.
● You'll now be taken to your dashboard where you may build a course.
● Click on the "+" icon next to "Products" or select "Courses" and "New course" to start a new course.
● Choose a title for your course and an author.
● To begin setting up the foundation of your course, click "Information" in the sidebar.
● Your course can be published, previewed, and deleted here.
● You can provide a unique thumbnail logo or an image that is displayed to students in the course syllabus' sidebar.
The content blocks of each course are arranged into lectures. These lectures are then divided into chapters. 

Overall, we found building courses in Teachable to be slightly confusing at first, but intuitive once we realized that courses are edited in the "Curriculum" section. The drag-drop interface is the major feature that helped us get around the whole process like a cakewalk after initial confusion.
As stated previously, Teachable also allows you to include text, a quiz, and coding in your lectures. Additionally, you can directly embed webinars or live video streams into lectures using the "Add Code" feature for lectures. Although this is a useful tool, most course designers might find it too complex.
In general, most creators of online courses will find it simple to upload their first course to Teachable. The final product will have a polished and appealing appearance. But it is be noted that, as per my usage, Teachable's ability to customize individual course pages is severely limited. 


Website Builder:
Teachable enables you to create a brand-new website and host it on a unique domain. Using content blocks, which can be images, HTML, videos, and text, you can edit the pages on your Teachable website. Teachable additionally allows you to center, align, or align to the right the elements contained within a block.
Theme:
 The Teachable theme was to some extent satisfactory, despite its small number. Teachable offers three-course design templates: Classic, Colossal, and Simple. If you are considering purchasing one of the paid Teachable plans, you will be glad to know that all Teachable templates are compatible with desktop and mobile browsers. However, course authors, owners, and primary owners are the only ones who can edit course design templates.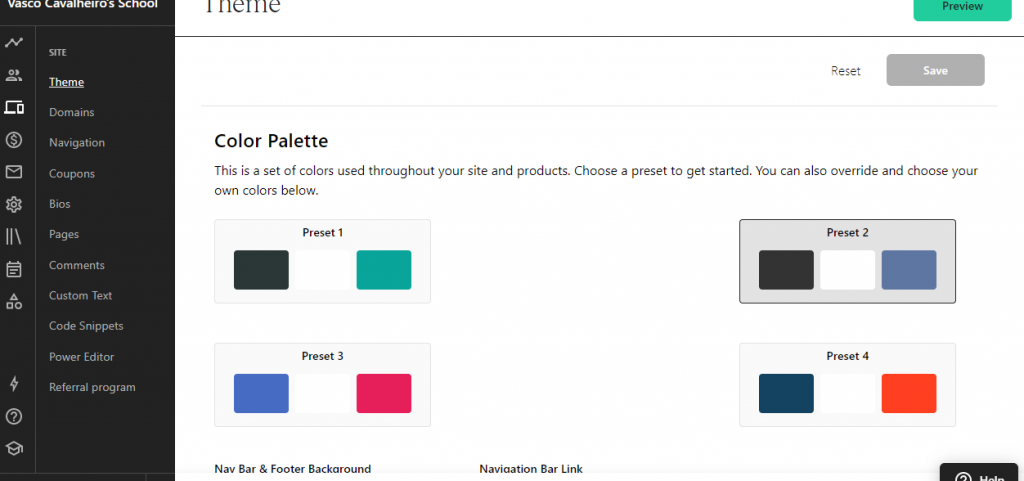 Though picking a theme is a matter of preference, the Teachable website recommends the Classic template for authors who want to start writing lectures right away. The left-side menu contains tabs for an author bio, bundled courses, and a course certificate. The course curriculum serves as the page's primary focus.
Furthermore, it claims that the Simple template, which offers a slick, straightforward viewing experience, is best suited for shorter curriculum courses.
And as per the recommendation of Teachable itself, the Colossal template, the final theme, is best suited for a longer curriculum and features a robust view that displays your curriculum, course details, and the author's bio all on one page.

Quizzes:
Teachable allows you to create and include multiple-choice quizzes in your lectures. Quizzes allow you, as the course creator, to monitor how well your students are learning. Multiple choice tests are easy to build using Teachable. You can provide as many possible answers as you'd like for any question you construct, and there can be one or many right answers. 
Additionally, you can select whether or not a test will be graded. If so, Teachable's reporting section will allow you to view the results.

Although creating quizzes with Teachable is a simple procedure, you should be aware of its limitations. There is no mechanism to give pupils feedback on, say, their answer selections. Furthermore, more sophisticated features like the ability to choose questions at random or save them in a question bank for use in later quizzes are not offered.
 Moreover, there is no way to import test questions in bulk on Teachable. You must enter each quiz question individually into Teachable if you have been using a set of quiz questions.


Site Design And Customization Options On Teachable:
Teachable's drag-and-drop tool makes it easy to customize your site with a branded look and feel. You can choose from different themes (as explained earlier) to match your site's design and branding.
 You can also edit the CSS of each theme to customize it to match your site. If you have design or programming expertise, you can also build your own custom site with Teachable's API. You can use the API to build out your entire site or integrate Teachable's features with a site you've already built. 
Moreover, It enables you to deliver your course material on a predetermined date or based on the enrollment date of your students. You can also create and send an email announcement as soon as fresh course materials are released. 
Live streaming of classes is a big feature that I know is something course sellers cannot afford to miss out on, and Teachable doesn't disappoint in this. It offers live streaming of your classes, but remember that a different platform is needed to do this. To accomplish this, you must add code to your Teachable lesson plan from platforms like Twitch, Livestream, and YouTube Live.

Third-Party Integrations In Your Course:
Teachable offers easy-to-integrate third-party tools into courses, such as Google Analytics, Sumo, Zapier, and Mailchimp. However, the number of third-party integrations is limited in number and has restrictions imposed on them. For instance /google analytics integration is available with all plans of Teachable, but third-party apps such as Mailchimp and FacebookPixel require users to have at least a basic or upward plan, which I feel is not right.
Moreover, the number of third-party integrations is not great on Teachable.
Nevertheless, from the Integrations menu, you can connect any third-party integrations that are offered to your Teachable school. The integrations menu can be accessed by:
Go to the Settings tab on your school admin's website.
Navigate to the Integrations tab.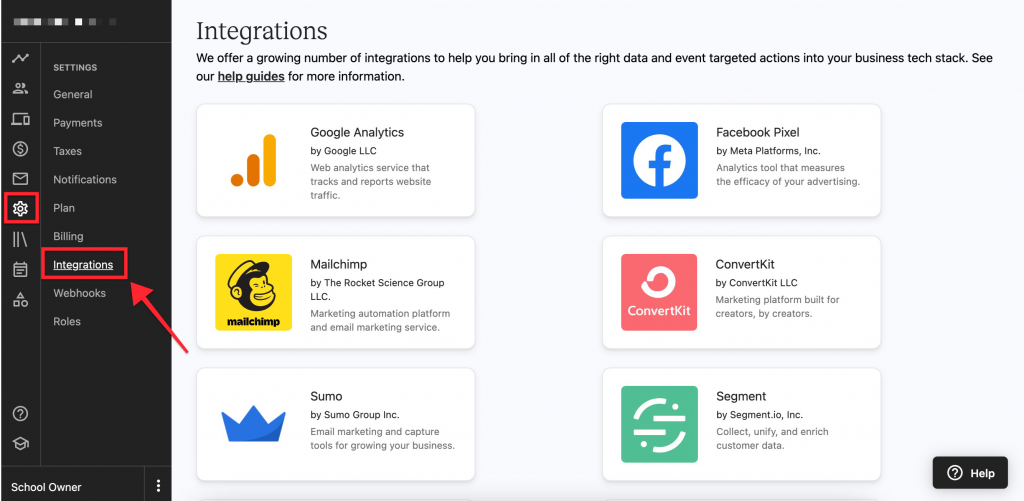 The Sales And Marketing Features Of Teachable:
During my use, I observed that Teachable's built-in features not only make it easy to create a course but also make it easy to market your course to prospective students. Teachable's website features are designed to help you promote your courses and get more students to enroll. 
Teachable's built-in tools help you engage your students and make it easy to sell and track your courses. You can add a sales page to your course so that potential students can purchase it.
You can add a course description and additional details about your course, as well as a course preview. You can also add a cover image to your course to make it stand out. Teachable also makes it easy to highlight your course in search results. You can add keywords and course categories to make your course more discoverable. You can also add a video to your course to show prospective students what your course is like.
It also lets you accept payments from major credit cards and PayPal. You can also integrate your eCommerce for selling courses directly on your site. 
Teachable Upsells:
You can create an upsell card with Teachable. Its upsell card feature allows you to offer your popular courses, products, or coaching at a price that is lower than the original price. You can choose to offer an upsell card for a course or a coaching session. This can be done by editing the details of the course or coaching and adding a pricing plan to it. 
Moreover, with order bumps, bundles, memberships, upsells, and coupons, you'll have more ways to sell than ever before to successfully sell your courses to a large number of learners. You can keep track of the financial health of your courses and institutions using Teachable's sales tracker. You will receive daily summaries of your transactions, refund information, affiliate earnings, chargeback information, payout status; and instructor fees.


Affiliate Marketing Features:
By using affiliate marketing tools to recruit partners to help promote your business on Teachable, you can attract more students for courses. It offers the ability to build and manage affiliate marketing campaigns to sell courses. Instead of a set dollar amount per sale, Teachable affiliates can only be paid a portion of the sales they bring in. 
Additionally, you can offer incentives to current customers to refer their friends to your course, much like the features for student referrals.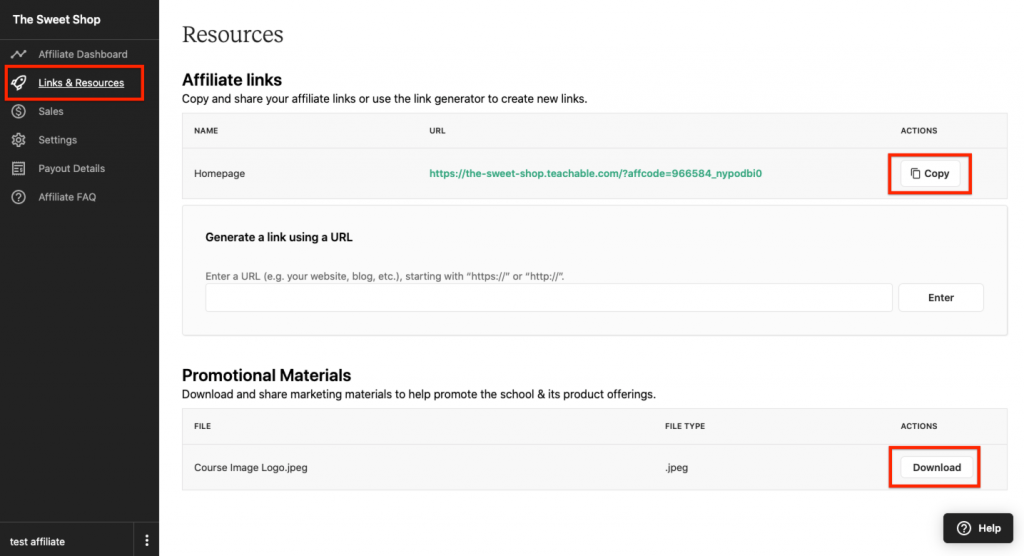 Reporting And Administration Tools On Teachable:
Teachable's admin tools make it easy to keep track of your courses, such as easily cloning and duplicating a course. You can also set up a course calendar to track your course progress and due dates. Teachable also offers built-in tools to help you track your revenue and profits, including a revenue chart and revenue breakdown. 
It offers an expense tracker that you can use to keep track of your spending and add expenses with ease. It also works in conjunction with Google Analytics to monitor the traffic to your course pages.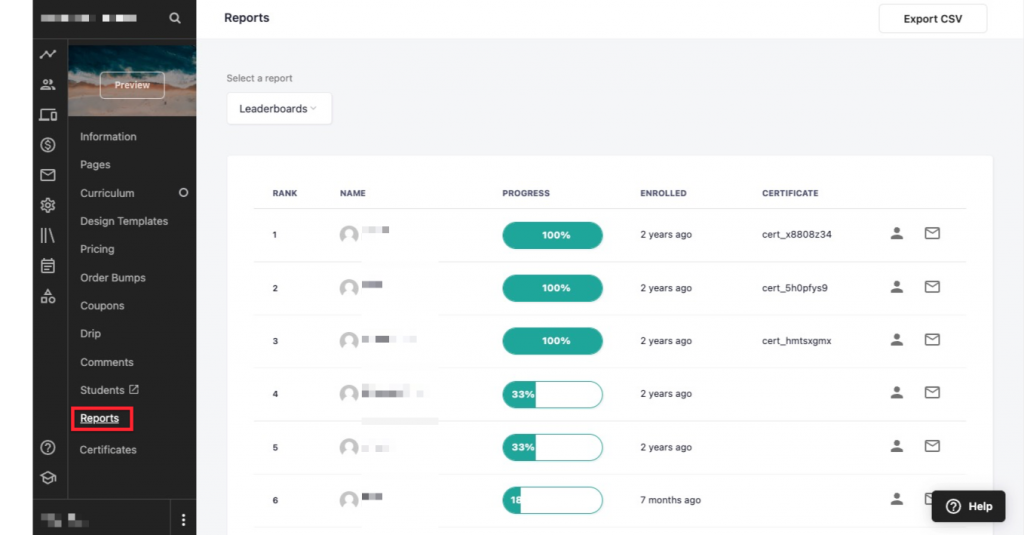 As a course seller, I need to keep a check on my sales history and transaction details, and here I found the sales tab of Teachable to be a really big help. The Sales tab is where school owners can check their sales history for all courses purchased, as well as see a breakdown by day and month. Overall, the information available in the sales tab is quite explanatory:
● The Transactions option lets you view school-wide course transaction history and individual transaction details.
● The Statements option lets you view school earnings statements and payout information.
● The Breakdown option lets you view your school's transaction breakdown.
● The Upsells option lets you view upsell transaction reports to see how post-purchase upsells are performing.
● The Payouts option lets you view payout details and status (only available for Teachable Payments).
● You can view your school's reserve reports by selecting the Reserves option, which is only available to creators who use Teachable Payments to handle sales.
The Pro and up plans allow schools to access course reporting tools. These tools provide more in-depth information about lecture completion rates, quiz scores, video engagement, and student leaderboards. This information can be beneficial when trying to comprehend how your students are engaging with the course material. The following are available: 
●     Lecture Completion– You can see average completion rates for your course here in Teachable. 
●     Video Stats- Observe how videos in your course are performing (including data on video engagement, play rates, etc.). As a course seller, you can also view a retention report for each video you have posted. 
●     Quiz Scores– Check how students are progressing on your course quizzes on average. 
●     Leaderboards– It lets you overview which students have made the most course progress.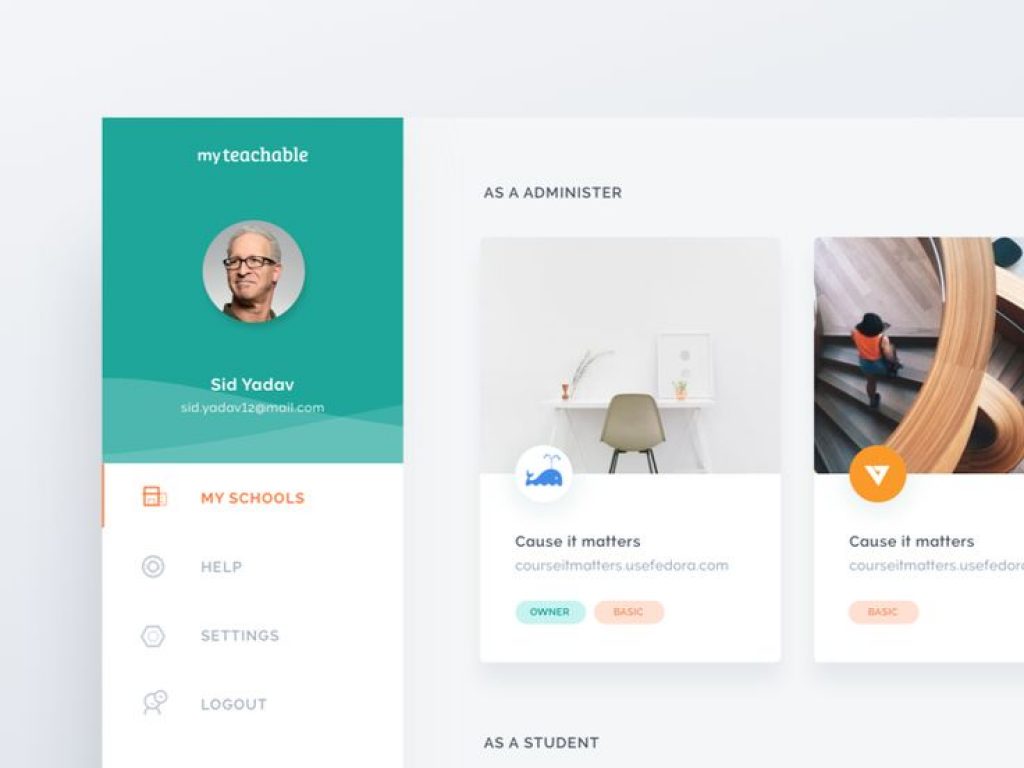 Teachable Pricing Options:
Teachable provides 4 plan tiers, according to the pricing details listed on their official website:
● Free plan that comes with transaction fees-($1 + 10% )
● Basic plan with 5% transaction fees – $29/mo
● Pro plan without transaction fees – $99/mo
● Business plan without transaction fees – $249/mo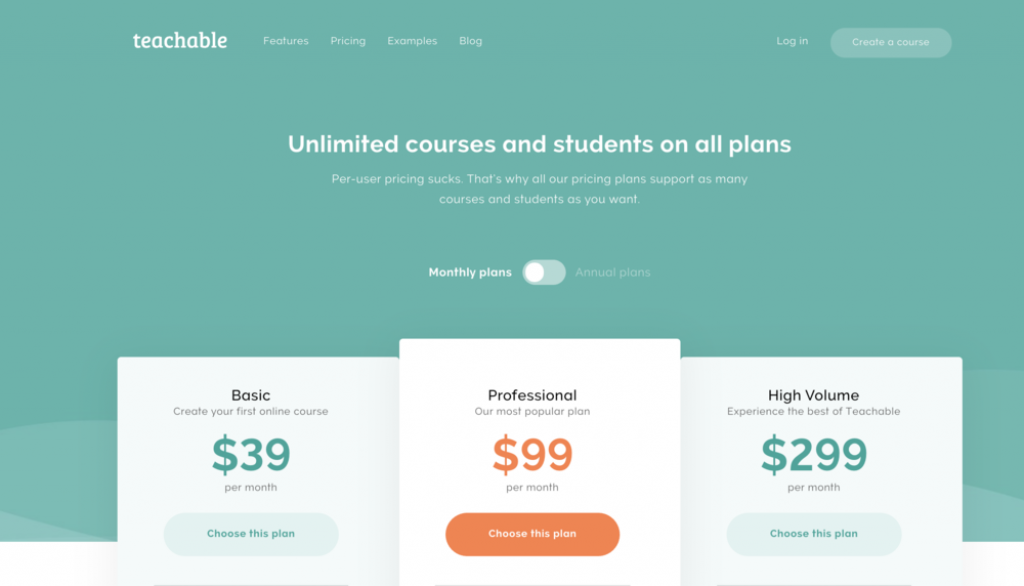 The benefit of signing up for a free Teachable plan is that you gain access to all types of lessons, basic quizzes, and the ability to set up a few integrations. Teachable.com also hosts your website as a subdomain. If you want to remove the branding and have your own domain, you must upgrade to a paid plan.
One significant disadvantage of using Teachable is the 10% transaction fee that they charge on top of the $1 flat rate. This can be quite expensive, but there is a workaround! You can actually sell your course on a different platform with a lower transaction fee, such as Instamojo. Then you can manually enroll your students in your Teachable Free plan.
However, this would mean that your students wouldn't have immediate access to your courses, which is a drawback.


Teachable Payment Features:
With so many ways to pay, using a few payment options through which your learners can pay you is never advisable, but I was pleasantly surprised that Teachable offers a wide range of payment options.
 You'll undoubtedly locate one that satisfies your requirements. As a course provider, you can accept payments in over 130 currencies via Apple Pay, Google Pay, and more. Additionally, Teachable allows you to set up free trials, subscription payments, installments, and more for added flexibility.
One of the better features of the Teachable payment aspect is that it lets course builders go about their business without having to worry about tax headaches. Whether it's remittance or tax forms, it can handle taxes so you don't have to collect them manually.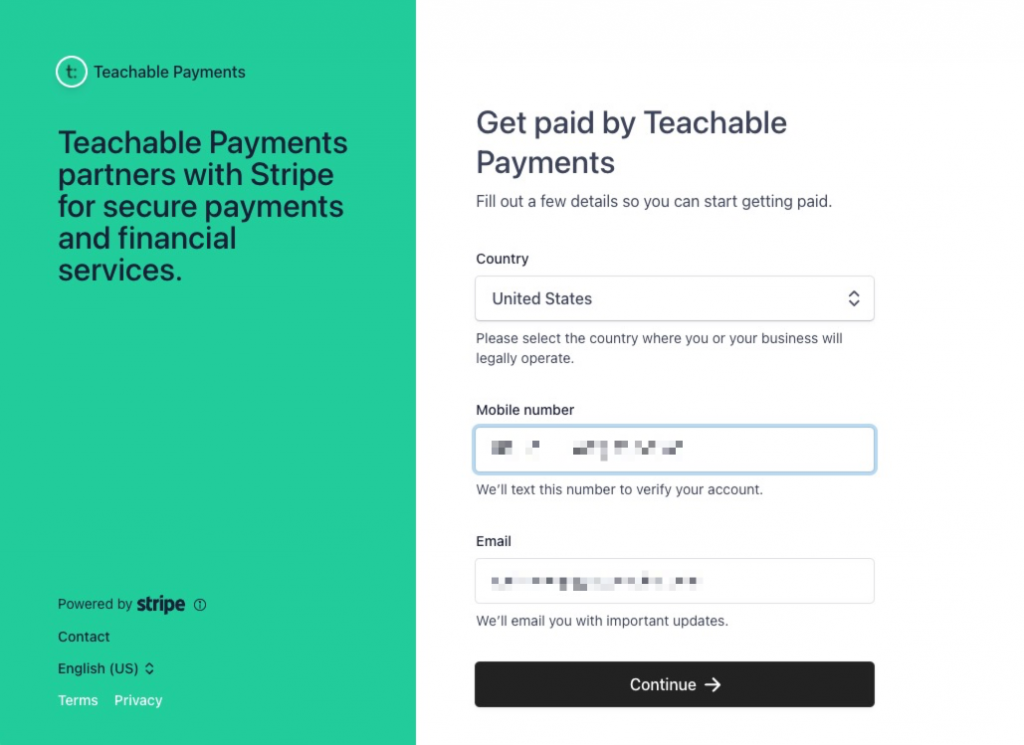 Teachable Customer Support:
Customer service is generally helpful and responsive, but compared to other platforms, it might feel a little slow. I sent Teachable an email with a question, and after two hours, I received a reply.
 According to the customer service experiences of several Teachjale users, if you open a ticket, someone will respond to you within a day. Although Teachable offers live chat support, sadly, it is only accessible to Pro users.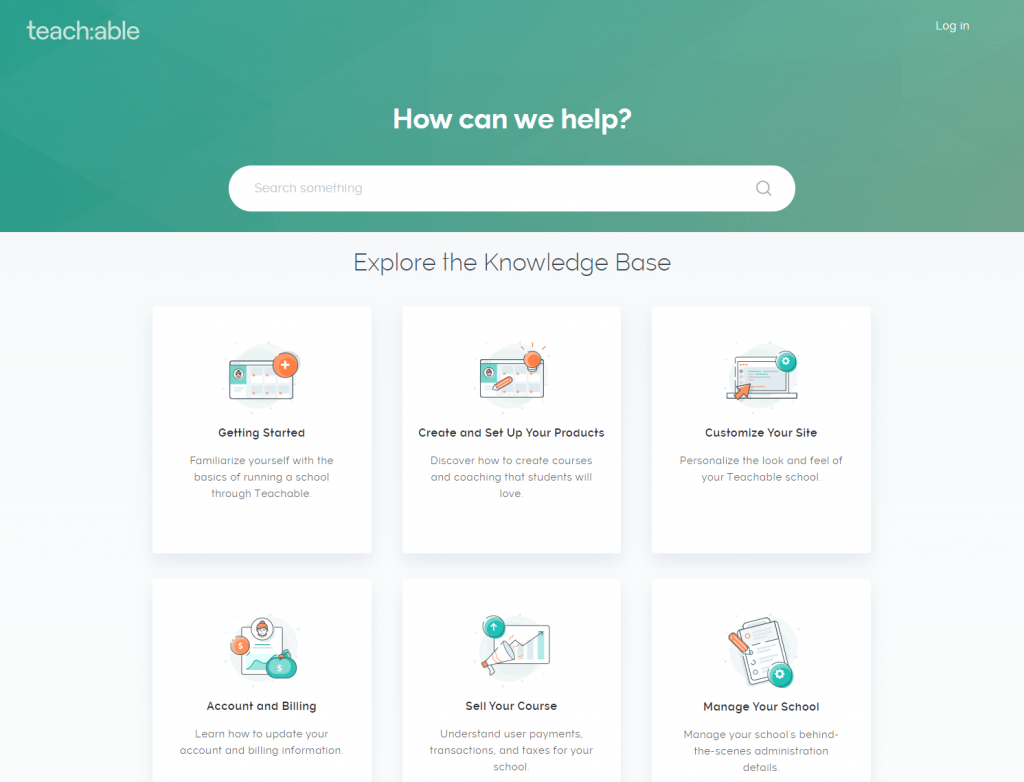 But Teachable provides a comprehensive knowledge base with webinars and online tutorials for frequently asked questions to address this problem. 
Moreover, Teachable's committed customer success team assists you with everything from setting up your school to developing a launch plan. I was pleased to know that every week they hold live group coaching sessions three times.
Community Support:
Another significant benefit of using Teachable is community support. During my testing, there were incidents where I became perplexed about its features. However, the exclusive member community at Teachable helped me. So if you decide to purchase a Teachable subscription, you can rely on its community support to help you connect with peers, build a useful network, and access content that will help you advance.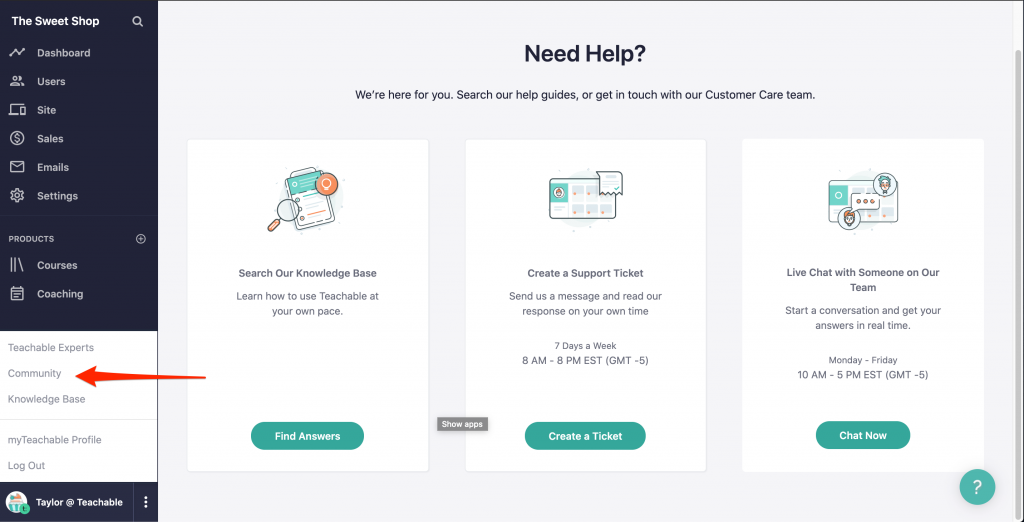 Teachable Vs Competition:
 When it comes to choosing an online learning platform for your business, there are many options to choose from. Teachable, TalentLMS, LearnWorlds, Thinkific Plus, and Kajabi are all popular choices. But how do they compare?
In summary, after my experience with Teachable, I believe that Teachable is one of the best platforms available. However, to say it is miles ahead of the competition is not right. 
Here are some of the reasons why I believe this to be true: For starters, Teachable is one of the most user-friendly platforms out there. It's easy to create and customize your courses, and there are a variety of features to help you promote and sell your courses. Additionally, Teachable has a strong focus on customer support, so you can always get help if you need it.
But if you compare Teachable, it does lack in many areas. I've used Kajabi, but Teachable is a better option if you want something easier to use, more affordable, and better for beginners. But if you want a single platform that manages your course creation, marketing, and selling, Kajabi may prove to be s better bet.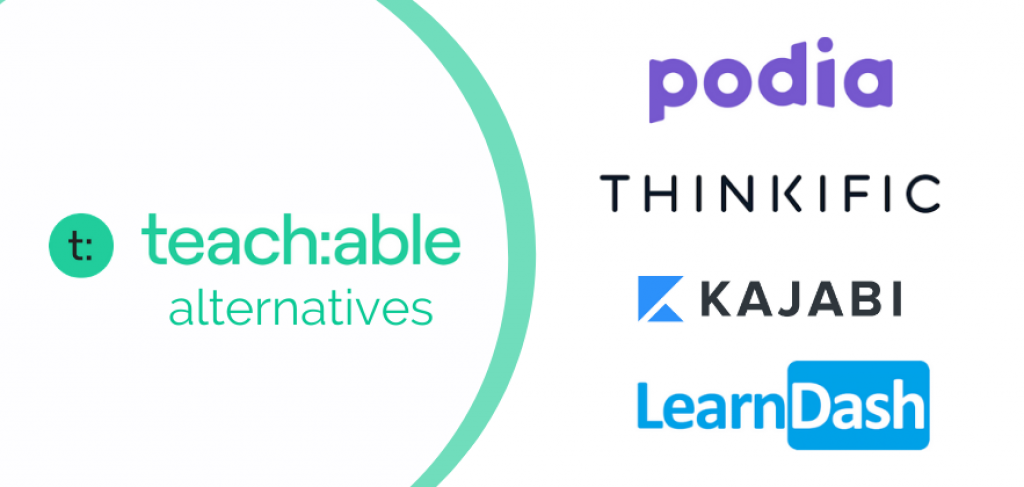 Unlike Kajabi, it lacks advanced marketing features like automation, pipelines (funnels), and an automation builder. However, it has superior course compliance features and in-depth analytics that can help you understand your learner's behavior.
When it comes to pricing, Teachable is on the high end when compared to one of its competitors- Thinkific. Their basic plan starts at $29/month, while their pro plan is $99/month. In comparison, Thinkific's basic plan starts at $19/month while their pro plan is only $49/month.
On the plus side, though, Teachable offers a wide range of payment options. This is important because it allows course providers to accept payments in over 130 currencies. Additionally, Teachable provides a white-label solution, which is perfect if you plan to sell courses under your own brand. 
However, Teachable's transaction fees, which range from 1 to 10% on the free plan and 5% on the basic plan, are a significant disadvantage. Consider using Thinkific if you only need to create one course and don't want to pay any transaction costs. However, with Teachable, you get a lot more features for a higher price tag.


Teachable Review – Final Verdict:
During my time with Teachable, I thought Teachable proved itself as a good platform, but there were a few things that could be improved. I liked that the platform was easy to use and had a lot of features, but I didn't like that there was a transaction fee for every course sale and that there wasn't an Android app. 
Although there weren't many third-party integration apps, there were usable ones like Google Analytics and Mailchimp, so I won't complain about it. Nevertheless, Teachable can still do better in this area. 
In summary, Teachable's feature-rich platform includes simple-to-use tools that help you create engaging courses and make it easy to sell them. Whether you're creating your first course or have been teaching for years, Teachable has everything you need to make it easy to publish your courses online. Overall, I have been pleased with Teachable and would recommend it to others. 
Frequently Asked Questions:
Q1. Do you think Teachable is a good platform?
If you are looking to sell your online courses, Teachable is the platform for you.  The platform offers good marketing features and tools for promoting your courses and increasing revenue! 
Q2. Can Teachable be accessed from a mobile device?
Ans: In the current version of Teachable, the software is only available for iOS devices. However, it also works great on mobile browsers!
Q3. Are there any free plans available on Teachable?
Ans: Teachable offers a free plan, but it comes with the big drawback of giving away a transaction fee of $1 + 10% on every sale.
Q4. On Teachable, what can you sell?
Ans: In addition to online courses, Teachable allows you to sell audiobooks, tutoring services, ebooks, webinars, memberships, etc.
Q 7. Teachable or Thinkific: Which is better?
Ans: Thinkific excels in managing bulk sales and content as well as quiz/testing capabilities, giving it the edge over the competition. Teachable excels in terms of student interaction and engagement, navigational simplicity, sales/conversion tools, and customer service
Q6. What are some of Teachable's primary competitors?
Ans: Kajabi, LearnWorlds, Podia, and Thinkific are some alternative platforms you might want to look into if Teachable is something you're considering.