Similarweb Review: Factual data for a growing business!
Similarweb Review: Factual data for a growing business!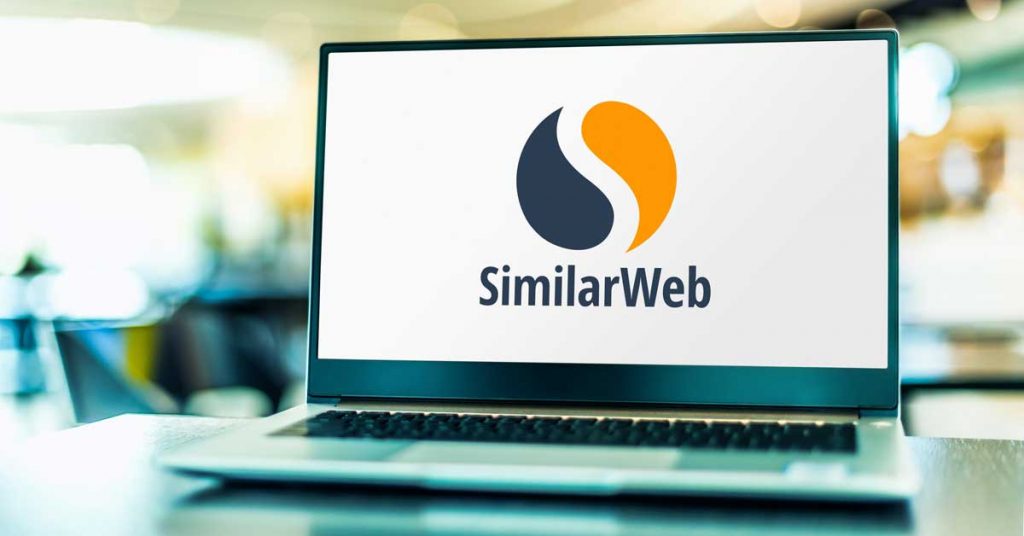 Business leaders, marketers, digital creators, and analysts look for a discovery to ease their critical decisions and boost the market's revenue. These tycoons always look for opportunities to shine their market value and benchmark the business performance alongside the competitors. As a result, your business websites need proper and accurate recognition of traffic. It becomes easy and feasible through the Similarweb platform. This platform permits you to check the source of your competitor's traffic, which includes top keyword searches, social traffic, and referring sites. This is just a small glimpse of Similarweb. I have more detailed knowledge regarding the site through my experience. 
Similarweb is the longest gateway for a complete insight into the rival websites, including audience metrics, keyword performance, traffic sources, and geo profile. In addition, it delivers an advanced version of web-tracking tools which is comprised of most keywords searched to the metrics of total traffic on that site. 
This article uncovers the microscopic information that not all Similarweb users may point to. Because sharing all knowledge may impact the business. It may be the thought of some people, but I am here to share every detail so I can grow with my competitors. 
Do you want to grab the fact while using this site? Do you doubt its genuineness that will affect your business? Similar questions are quite worrisome for every business owner. So, do not step back without knowing the details on Similarweb Review. Below are some enlisted pointers that will help to get a glance shared in this post.
Similarweb Overview
What Is Similarweb?
How does Similarweb Work?
Easy to Use
Why should you use Similarweb?
Similarweb Pros and Cons
Similarweb Features
Similarweb Pricing
Similarweb Alternatives
Similarweb Customer Support
Final Thoughts
Frequently Asked Questions
Overview: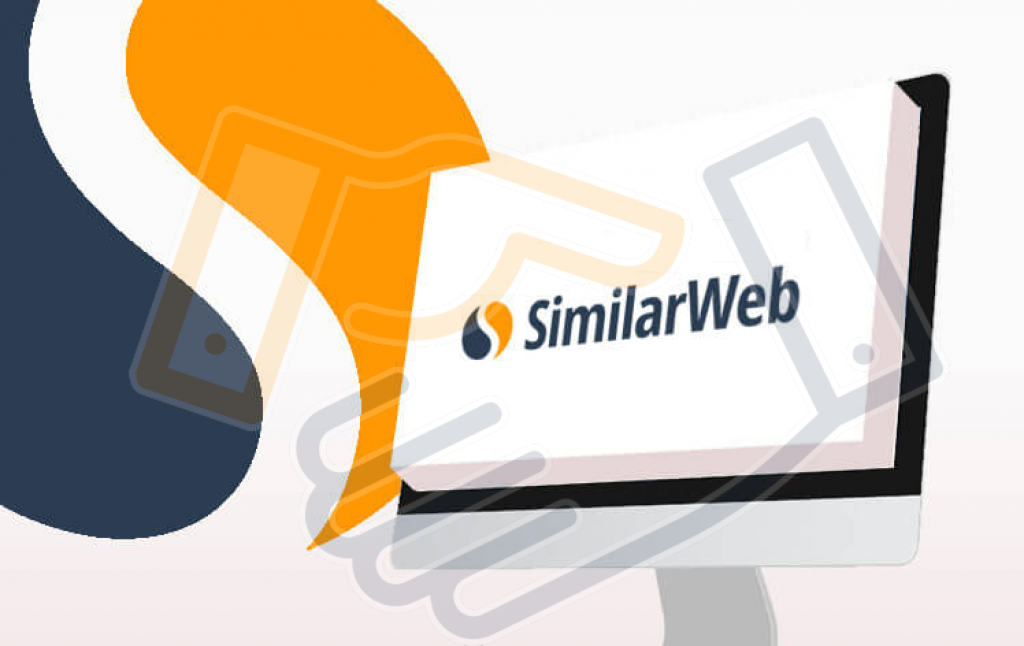 This section will give a glance at Similarweb significance. This summarized pointer gives you a thorough understanding of this tool in a limited time. Check the pointers below.
Similarweb derives essential cache data from a panel.
The Similarweb Digital marketing Intelligence provides the user with reliable data that sets the insights and tools which will be beneficial for optimizing digital marketing strategy.
Affiliate Research can be used for creating referral opportunities that ultimately earn extra user income.
Ad Creative Research in Similarweb will help to modify the displaying ad campaigns.
Discover the traffic that is gained by your competitive business. The top keyword that earned the traffic can also be analyzed.
The organic Search Section displays details of the performance acquired by your domain. This helps to identify the SEO breaks instantly. 
Competitive trackers set-up will avail the user to monitor the rival's trends that will provide a tip to the user for outperforming in the business.
Similarweb provides a 7-day free trial for all first-time users. It has a pro package that costs around 200$ for one month which is explained to the user after contacting the data scientist experts of Similarweb.
What Is Similarweb? 
Similarweb is the tool founded by Orr. Offer in 2007. This web-analytical tool is mostly used to optimize advertisements and boost revenue. In addition, this platform is the discoverer of market intelligence, raising the digital business-standard. It has offices in London, New York, Tel Aviv, and San Francisco. 
Similarweb permits users to learn about competitive performance in online business. It helps to recognize the fresh opportunities that come across. It also avails to optimize the strategic move in the digital platform.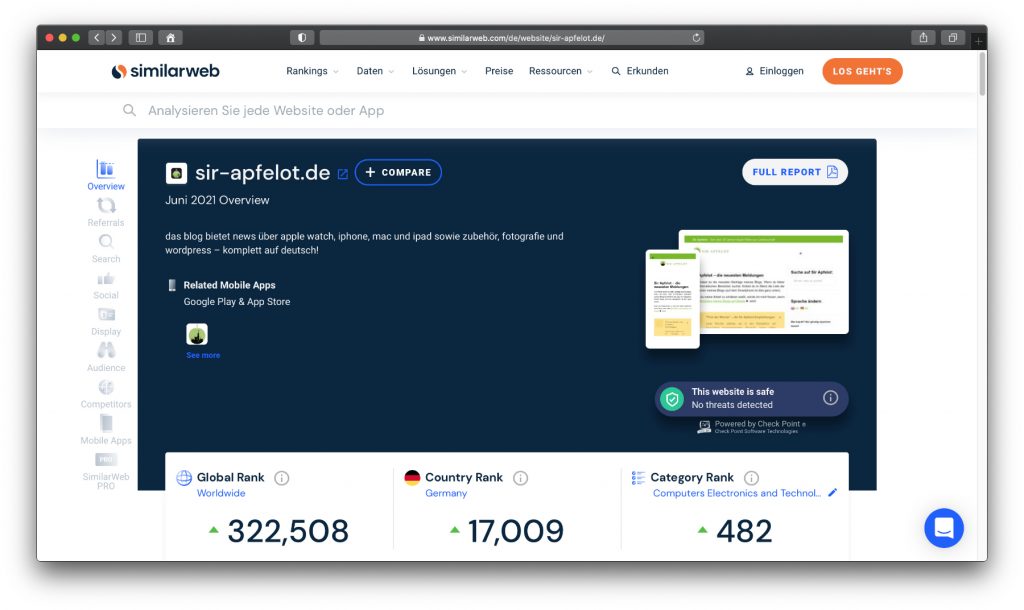 Currently, Similarweb is preferred by many digital platforms like Adidas, eBay, Airbnb, and Walmart. It empowers these huge brands to focus on their strategies and win a digital market share. In addition, the New York Stock Exchange raised public attention with its $1.6 billion valuation.
Similarweb has several awards that prove its immense success. It has accomplished awards like Hedge fund magazine European Technology awards, Best Alternative data provider in 2020, and in 2015, this platform topped the 100 fastest-growing companies in Europe.


How does Similarweb Work? 
Similarweb is the official page for many high-reach sites that gathers all the competitive website data. It rounds its algorithm in-depth to process the inputs, synthesize, match, and clean the data. It is then processed with a special and advanced build machine learning format that delivers the exact knowledge of the competitive site in the digital world over all the periods. 
Similarweb can analyze 2TB of data per day. It generates around 10000+ reports that are developed daily. Moreover, it has gathered around 10 billion digital signals each day. Similarweb analyze these data and are operated by about 200 data scientist. All their efforts work together to provide the user with an accurate source of information. 
Similarweb has taken lots of effort and developed a unique approach to understanding business in the digital world. They aim to empower every business in all fields and support the user to make a proper decision by equipping them with complete insights into the site. Billions of Digital signals are analyzed daily by following a simple intelligence process comprising Data Collection, Data Synthesis, Data Modelling, and Data Delivery. Each step is explained below.
Data Collection: Similarweb collects diversified data signals from the largest data universe. It constructs the statistical analysis that epitomizes datasets from varied groups, industries, countries, and devices.
Data Synthesis: The successful data collection that moves forward to run an algorithmic process for cleaning, matching, synthesizing, processing, and blending for the next step.
Data Modelling: After this, the normal data collected goes through the predictive models and machine learning calibration. This support the users with a consistent and accurate view of the digital world.
Data Delivery: The ready-to-use in-depth data are delivered through API. It comprises Traffic, engagement, Search, audience, display, content, purchase, referrals, a stock Datasets of your rival sites. This helps to grow your site smartly by taking better decisions.
Google chrome extensions are available for Similarweb. It offers every user to use this instantly and get the results of the analyses, thereby improving the performance. If you have wise analytical tools of Similarweb, you get more valuable information from the competitive site. In short, this site supports you in stealing ideas from your competitor's traffic source and using optimization to improvise your platform. Let us check the steps to navigate and utilize Simialarweb easily.
Easy To Use:
Starting to use Simialarweb is easy by just inputting the competitive site in the search bar. After searching, the result will show complete data on the rival site traffic acquisition. In addition, the page shows common details regarding the rival site category rank, country rank, and global rank.
The top results showcase the Traffic Overview details. In addition, it also gives in-depth information on Traffic by country. This provision enables the user to get traffic from the targeted countries by targeting the potential audience. Therefore, Similarweb helps to boost and grab the highest volume of visitors to your site.
The percentage of traffic is easy to find from each Traffic Source in Similarweb. Noticing this percentage will guide the user to investigate it and apply the accurate source that will give the highest conversion rates.
Features like Referrals, search, social, audience interest, competitors, and similar sites are all feasible that support the user in identifying the correct path. Therefore, increasing the opportunity to acquire a decent and potential audience.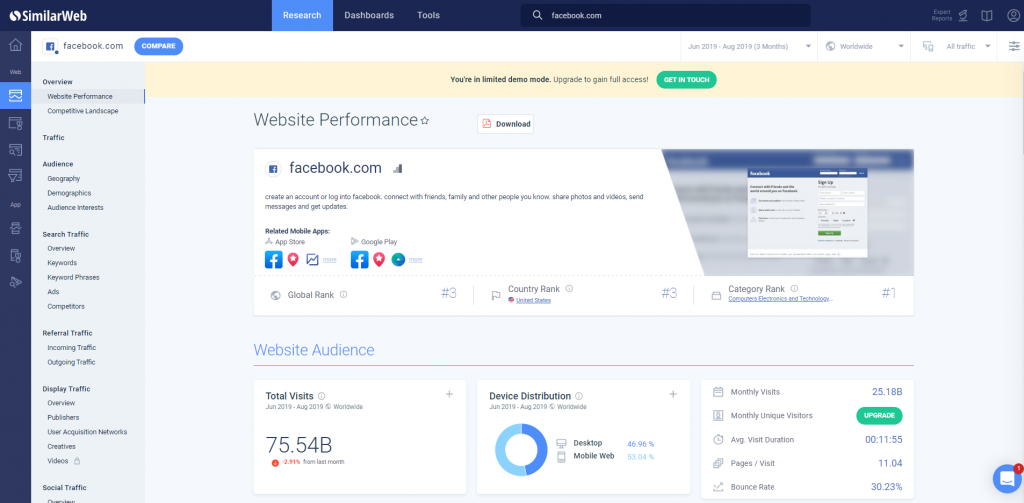 Why should you use Similarweb?
Similarweb is the complete insight for market intelligence in all professions. It estimates the performance and the size of traffic the particular business gain with astonishing accuracy. Furthermore, it collects the competitors' data resources to stimulate the business by optimizing it appropriately with the tactics to acquire traffic. Below are a few pointers that make Similarweb stand out and unique in the digital world.
Many branded users appreciate Simialarweb to identify the accurate competitors in the business and understand their business with the traffic they acquire.
Every granular detail of referral sources of any site is available in a few clicks.
Competitors' advertisement tactics and performance are obtainable to grab the business easily.
Market research becomes easy with this tool that helps adapt your business to recent market trends.
The sales tools confirm the boost in the conversion rates by narrowing the audience and increasing the lead quality.
It prepares the users to think about existing and innovative ideas in real-time. 
It allows you to check the actual viability of a business before investing in any portfolio.
It allows grabbing engagement insights and webpage traffic for all businesses. Thereby, making it the best source for collecting in-depth data.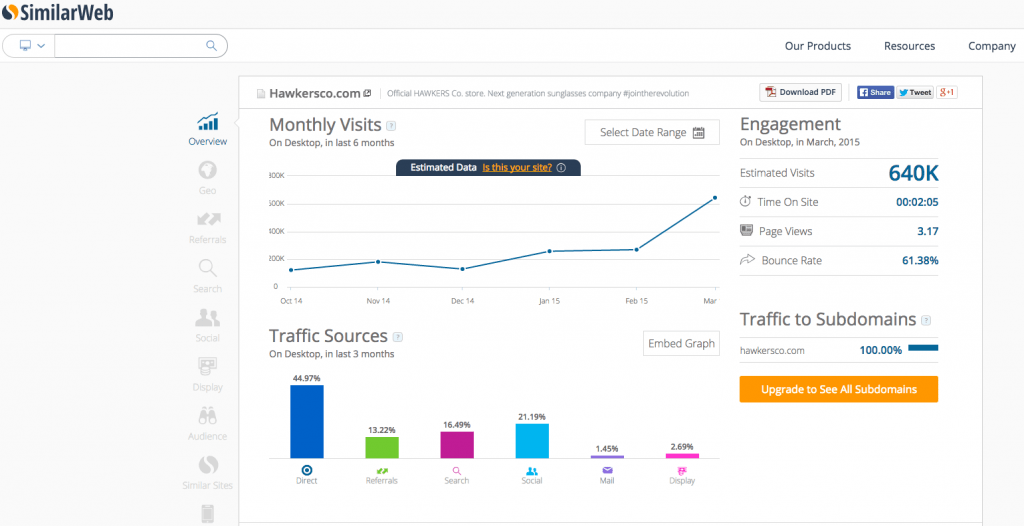 Pros and Cons:
All the platforms have their pros and cons. Though Similarweb is a renowned and preferred platform by branded sites, we aim to clarify some advantages and drawbacks in this review. So let us understand the significance of Similarweb's involvement in your business.
Pros:
First-time users can experience the Similarweb platform with numerous functions in their seven-day free trial.
It provided a comprehensive outline of any data, which is structured well and easy to understand for all the users without experts.
The interface is simple and connectable to all users.
Easy to access all the organic keywords.
It does not restrict itself to collecting data from Europe, Canada, and the US. 
Cancellation of subscription can be made anytime.
Subscriptions are designed uniquely for all users as per the business need.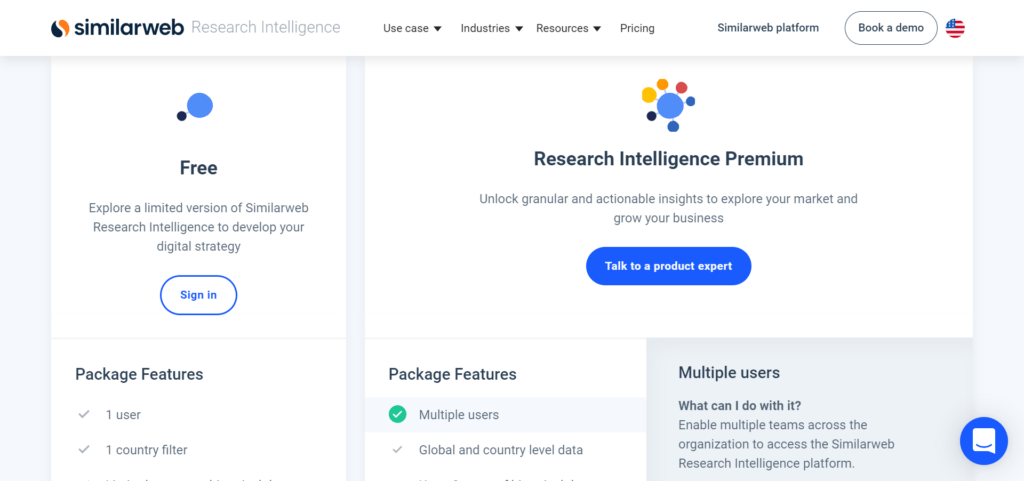 Cons:
Mobile applications are not provided.
The free trial version gives access to only a few features.
Prices are not visible on the sites. Hence, keeping their charges for all the characteristics hidden. 
Unique visitors cannot be tracked easily.
Features:
Similarweb delivers a bounty of features and tools that will make you find a way to benchmark your business. The parts are only available on some of the packages that Similarweb staff provides you. You can make a package as per your requirement. The essential tool for your business needs is required to be identified. 
Look below if you are new and need clarification about what tools and features will suit your business. For instance, marketing intelligence tools, sales intelligence tools, etc., can be used. However, identifying a perfect tool for your business need takes time and effort. You can glance into the feature and identify it rightly for tremendous growth. Below are some highlighted explanations for your knowledge.
Project management: Similarweb offers various tools that will ease your process and boost your business. For instance, marketing intelligence and Digital research tools are useful for standardizing the competition level with other companies through appropriate research. Investor's tools are beneficial for making value according to customer demands and stock management. Sales Intelligence tools are profitable in grabbing potential clients and generating new leads.
Many tools give handy solutions for managing a project in your pocket. The smooth and easy interface adds an added advantage to navigating this tool if you are a first-time user.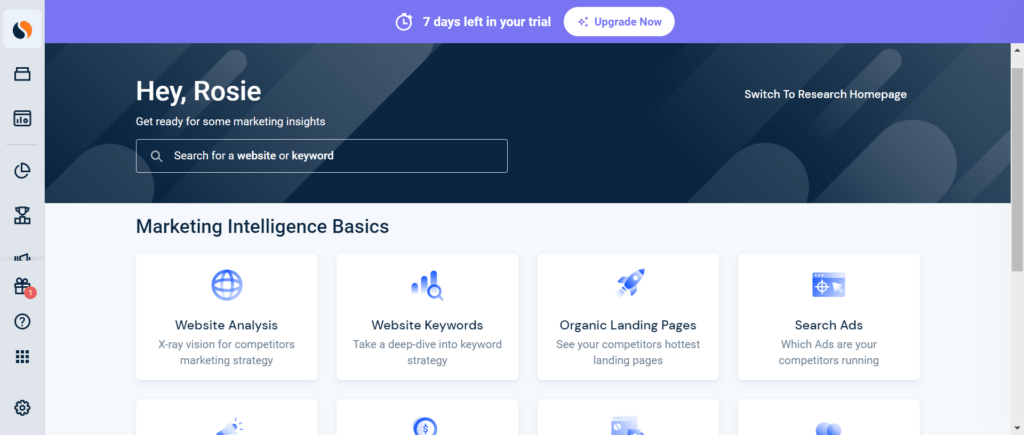 Reporting Or tracking: Similarweb reports key insight on any audience, company, and market. This tracking supports the new sites to acquire an accurate and authoritative view of the competitors in the digital platform. Similarweb claims to have a leading technology that adapts accordingly to the current market. The billions of digital signals are gathered from tracking the records of every site. It is collected across numerous sources that are further categorized into four divisions.
– Contributory Network is the pool of user products that collect behavioral data from the unspecified device. 
– Direct measurement: loads of apps and sites elect to stake their first-party analytics with similarweb.
– Public data extraction is a progressive algorithmic engine that indexes and captures public data from many apps and websites.
– Partnership is a worldwide network that focuses on gathering "digital signals" through the net.
Tools: As mentioned earlier, tools play a crucial role when you select a package for your business. To make it simple, you can learn the details about each of the tools that Similarweb provides. Following are the tools linked with Similarweb.
Traffic Overview: This tool supports capturing the site's rank in domestic and other countries. In addition, it allows looking into the number of visitors in the last six months, bounce rates, the location from where traffic was attracted, and the duration they stayed on the page. Therefore, this tool benchmarks your site against your competitors by knowing their marketing strategies, traffic statistics, and mistakes to overcome.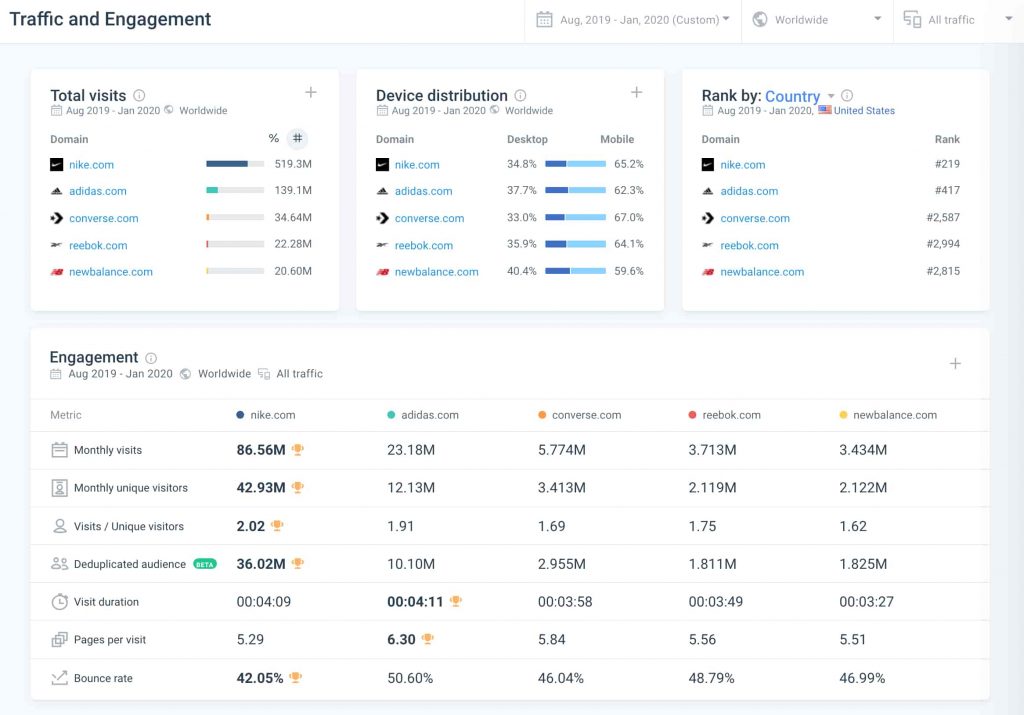 Keyword Research: This tool avails the user to get permission for complete knowledge of more than one billion keywords. Studying a keyword strategy knack from the site's SEO data is helpful. It supports the identification of the keyword that a competitor uses for lead generation. It also flashes unique keywords that boost their business, current trends, queries in search engines, near-word matches, and more that can be identified using the Keyword research tools.
Audience Overview: Spot your competitors' target audience using this tool. This tool supports gleaning the knowledge of the sites your competitors regularly visit, the ranking of the sites, the country in which they are getting regular views, the frequent site visitors, and the accurate numbers. 

Team management: Similarweb empowers every firm team and gives the required support to boost the work balance. It keeps the team informed of every move of the competitors and is helpful for the team to make an accurate decision at the right time. Similarweb avails this support through their solution, which measures every session of the sites in the digital world. The following are the solutions that support this feature.
 Digital Marketing Intelligence: You can make use of this solution to find accurate data on your competitor's website. They claim that this solution is so powerful that you can outperform the competitors in your list. It allows you to target a specific keyword, pick up the scale of your market, and maximize the landing page ROI and advertisements.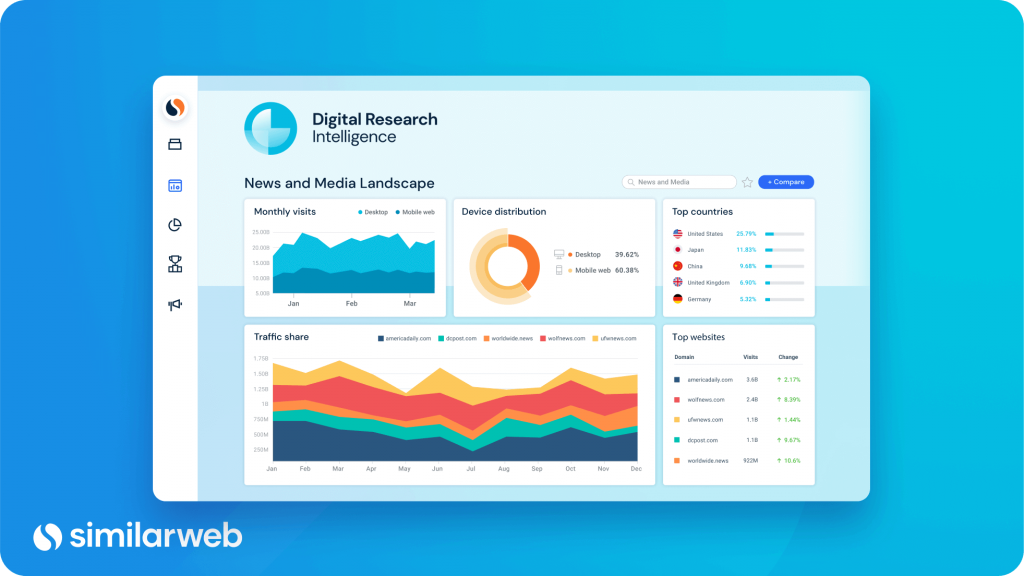 Sales Intelligence: Similarweb's unique engagement and traffic-acquiring abilities endow the sales on condition of complete digital visibility, which includes digital performance and strategy. It provides a source for a new lead across 100 million sites. In addition, it allows one to develop an in-depth knowledge of sales management. 
 Digital Research Intelligence: This solution decreases the risk factor and allows us to grasp the market opportunities. It also helps to count out any threats on the sites. Ultimately, it marks the position of the sites accurately to plan the strategies for growth.  
Shopper Intelligence: This solution gives the idea of what the customer's interest in the current marketplace. It also focuses on the method used by the client to purchase the product. Therefore, the Shopper solution helps track and capture the customer's demand. Moreover, this solution uncovers the shopping behavior and pattern of the customer. Optimization of the search strategy is allowed.
Stock Intelligence: This solution highlights the alternative data that allows the user to make the investment decision smartly. It avails the site used to track down all the digital signals that reveal the secret of stock performance. All the investment ideas are provided in real-time in this solution. You can also validate all the investment strategies before purchasing.


Analytics Reports: Similarweb is continuously working to enhance the exposure of the digital world to users. It is easy to derive cache data significantly from millions of users. These panels of users collect the reports of all analyses through contributory networks, public data sources, web crawlers, and external providers. This helps the user analyze multidimensional data that also include market intelligence. Similarweb, reporting facilities are accomplished only in premium BI products. Customization is simple so that all users can edit the reports per their business requirements.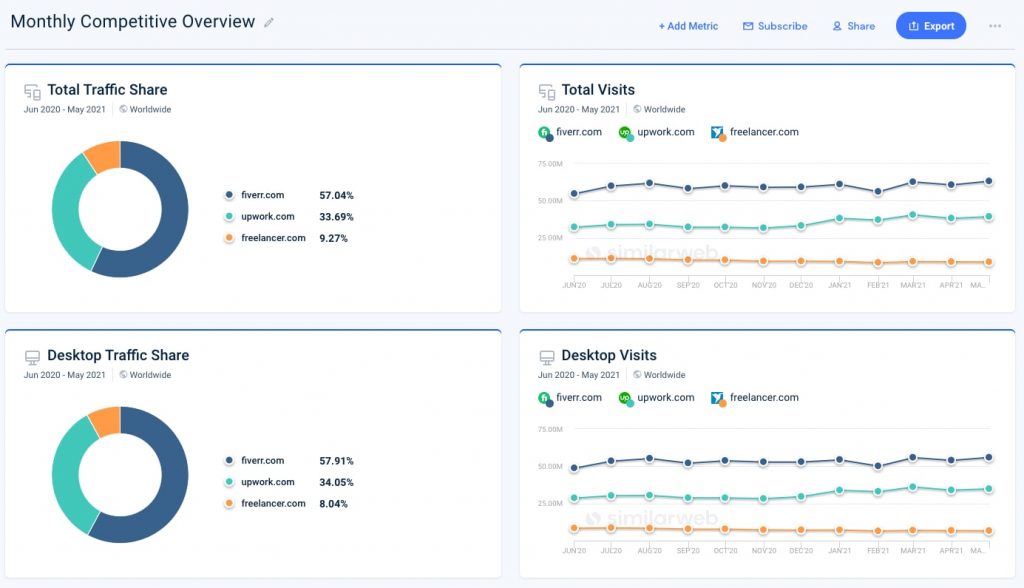 Functionalities: Similarweb is known to support its users with complete insight into the user's competitor's website performance and traffic. It permits its users to check traffic data, monthly visits, bounce rate, page views, and more. Moreover, the site allows the user to display geographic traffic information. 
Similarweb allows access to nine data metrics that are important features for relatable site performance. The nine data metrics are as follows:
Website Overview: Under this tab, you can look into engagement statistics, Website ranking and estimate the monthly visit of the audience. It elaborates to learn about the sites ranking at all levels. Engagement statistics showcase the number of page views, the average visitor time on the page, and the bounce rate.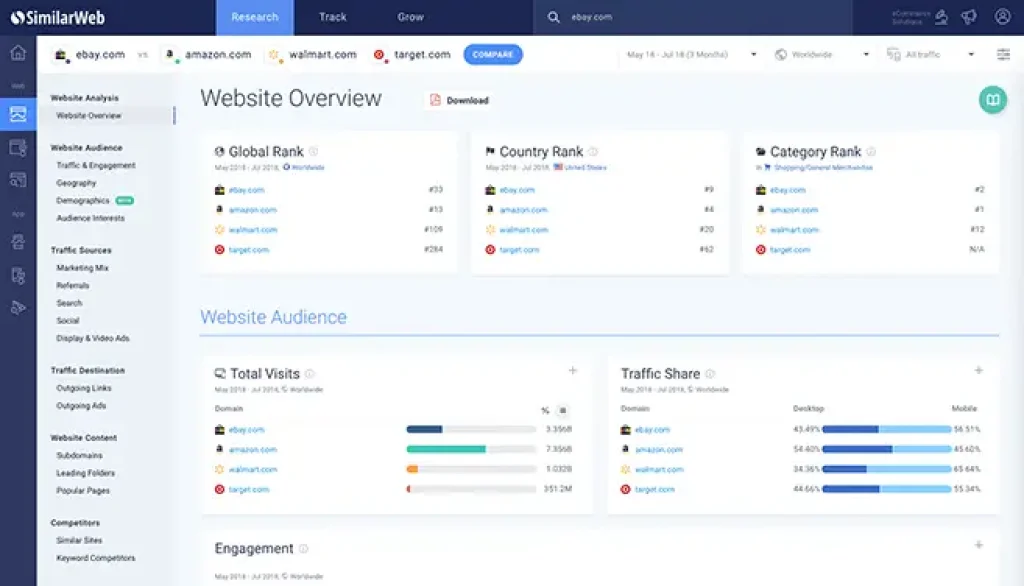 Referrals: It shows the list of the top 10 inbound and outbound referring sites. The data that will appear are collected from the last three periods. Here, you can recognize the total number of traffic that you get from referrals.

This referral tab's in-depth section includes top referring and destination sites. The top referring sites display the source of the visitors, and the ultimate destination sites display the source of leaving the area.
Geography: It displays the actual source of traffic acquired by the site. It focuses on each graph in the chart through numeric, color code, and visuals.
Display Advertising: The display tab of Similarweb showcases their ads and publishers. In addition, it displays the estimated traffic gained by the sites. Clicking on the show the ads button will display a screenshot of the website's advertisement.
Audience Interest: This section reveals your visitors' information other than visiting your site. It will give you the other interested genre of your visitor. Categories also visited websites, and topics are segregated on this page. 
Social media: These sections enlist the top five highest traffic sources in a specific site. It also tells about the total traffic received from social networking sites and other sources.
Related Mobile app: This section reveals the mobile apps that your competitor are using to uplift their business.
Competitors and Similar Sites: It helps to notice your competitor site's social media, SEO, and video marketing details. You can go through all the sites similar to your niche and gain knowledge of their current strategy, traffic, and more. Collaboration, Guest posting, and more are displayed here.
Search Traffic: This tab shows the traffic acquired by organic keywords against the traffic from other sources. Additionally, it displays search queries and other sites' best keywords that are performing well.
Pricing:
Similarweb offers a free trial for seven days. Every first-time user can avail of this and get to know the site process. No specific charges for their packages are mentioned on the site. Instead, they ask the user to contact the consultant for the package details. When I contacted them further about the box, they offered a pro package that cost around 200$ for one month.
Users can get a free trial without the registration of credit cards. It is only necessary when you purchase the subscription plan of Similarweb. In 7 day trial, you will have limited access to Similarweb. If you want to experience all features of Similarweb, you need to subscribe to long-term plan packages. These details are not revealed in the main Similarweb platform. To get to know about it, you will need to talk to the sales team of this platform. Paid packages offer all the powerful tools that instantly surface the actionable insights that will boost your traffic and quickly overtake the business ahead of competitors.
Similarweb Alternatives:
Similar web works on innovative Artificial Intelligence technologies. They aim to deliver the most commanding digital traffic intelligence in the market. Though, not all are convinced about using Similarweb. Hence, they search for an alternative that will provide a similar outcome. Below described are the most prominent alternative of Similarweb.
Semrush: It has been the renowned SEO marketing tool since 2008. Though, Similarweb differs any many ways when compared to Semrush. The pricing plans are mentioned on Semrush, which helps the user to know how much they need to invest for the provided benefits. It also helps to identify its suitability to the user's sites. However, Similarweb does not avail this opportunity to the user. Similarweb also differs in the case of the accuracy of data provided to their users. In this, they depend on the data gained by user panels and web crawlers. However, Semrush has its developed database, which provides its service worldwide. They both have a few similar aspects like they offer massive remarkable tools that give the user knowledge of bounce rate, visitor number, session length, etc. The most valuable difference between both is that Semrush offers a 14-day trial version while similarweb offers just seven days.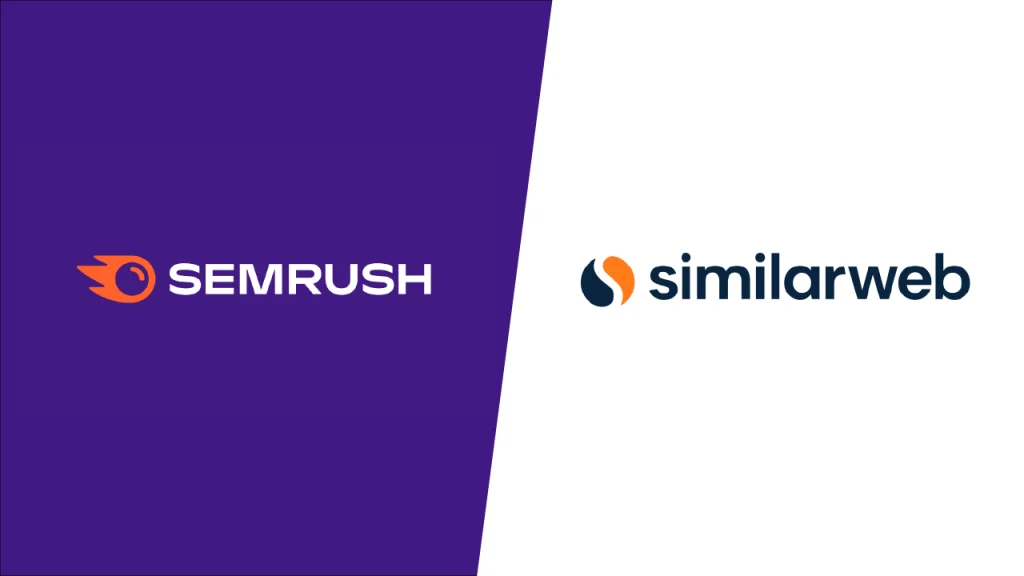 Google Analytics: If you collected and referred to the data from google analytics, you would have noticed that Google Analytics data have a slight difference from Similarweb. The reason here is due to their different approach toward the same goal. Also, Similarweb needs to be more open to algorithms, analytics, and trackers. Although they depend on them for collection, Similarweb ensures that the data scientists' experts thoroughly analyze it. To conclude the comparison, Google analytics and Similarweb can be used on board simultaneously. 
Ahrefs: When compared to other available alternatives like Semrush and similarweb, the price range of Ahref will be on the cheaper side. Ahref has tremendous popularity worldwide among all digital site users. This site gives complete outrage of a URL you mention, like the keyword used, traffic, backlinks used by competitors, site links attached to the competitors, and more. I experienced the Ahref platform to be with an easy interface and set-up.

Similarweb Customer Support:
Similarweb, pricing needs to be clarified on the site. They only mention a free version and ask customers to contact them for other plans. In this case, how is the customer support service in the Similarweb platform? 
The Contact section is available on the site. Please fill up the form provided on this page and submit it. Vast numbers of employees are working in the background to support Similarweb queries. You will get a call within 24 to 48 hours. You can discuss your business and learn about suitable packages for your niche. 
If you are getting any queries while you navigate this page, you can find numerous frequently asked questions on the site itself. Moreover, massive articles regarding the flow pattern of the work are explained with pictures.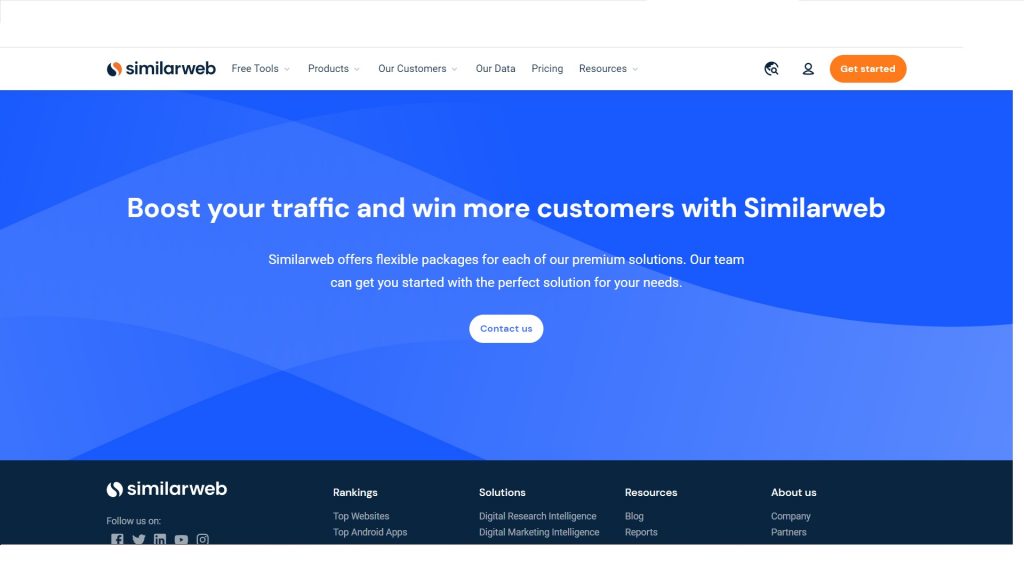 Final Thoughts:
Ultimately, Similarweb is a successful platform used by many large website users. It is because they are unquestionably useful to all digital marketers and site owners. As a result, Similarweb warrants fame against the largest branded sites. It collects and measures the complete data of the rivaling site and provides the user with accurate information. 
Similarweb has a free version to experience the platform, and the plans are available according to the business. You can avail of it by contacting the data scientist of the Similarweb platform. The intelligence machine enables the user to use each feature and sense the business background of your rivals. This will benchmark your site and thereby stimulate your performance in the business.
The reports of Similarweb claim to estimate the traffic of the competitors accurately. However, sometimes it was noticed that they needed to keep up with their claims of accurate results. Hence, I suggest you recheck the information and get the counter report from Google Analytics while you set up your site. But, from my experience, I would ensure that Similarweb supports good traffic volume, geographical Traffic, and the size of the audience. 
Similarweb needs an advanced level of mobile applications, which are in the highest demand from users. But, they had made up these flaws with its outstanding flooded features to match the business's revenue. Therefore, Similarweb is an excellent service in the digital world of competitive metrics.
Now, what's your opinion about Similarweb? Please share with us in the comments section.

Frequently Asked Questions:
Q1. How much accurate is Similarweb data?
Ans: Similarweb advanced machine learning techniques are vastly developed to follow the process and filter the accurate results delivered to their users.
Q2. Is it possible to detach google analytics from the Similarweb platform?
Ans: Yes, Similarweb is easy to disconnect from google analytics.
Q3. Can Similarweb grab the browser extension traffic?
Ans: No, it is because Similarweb does not track any traffic from the browser extension. However, clicking on any link incorporated into a browser extension and leads to a site will direct traffic to a target site. 
Q4. Can a user combine two web pages into one using Smilarweb?
Ans: In SimilarWeb, you cannot combine two sites into one because it considers each place unique. However, Similarweb has one special feature called Company analysis. This feature expresses any company based on numerous sites.
Q5) How does Similarweb classify and track Accelerated Mobile Pages (AMP) traffic?
Ans: The AMP traffic is extracted from the original page using a unique Similarweb algorithm. All the AMP traffic is attracted from the google search engines.
Q6. How can a Similarweb track its data?
Ans: SimilarWeb grabs the data from four different sources. They are Contributory Networks, Direct Measurement, Public data extraction, and Partnership.
Q7. When does Similarweb release data every month and daily?
Ans: Daily SimilarWeb data is released within 72 hours, and Monthly data will be released by the 10th of every month.
Q8. Do a Similarweb have its application?
Ans: Yes Similarweb launched its application in 2017. This application allows their users to keep a timely track of their business performance and statistics.
Q9. Is Similarweb a paid service or free?
Ans: Only students have access to the free trial version, which provide access to many efficient and unique feature of Similarweb.