You have probably been asking yourself all manner of questions in your shopping journey for an ecommerce tool: Is SamCart worth it? Will it solve all my ecommerce needs? How much does it cost?
I feel you. Researching a product before you buy it can be as confusing as it is time consuming. To help you out, I have prepared a deep and thorough written review of SamCart, that is current and updated for your ecommerce needs in 2021.
SamCart provides everything you need to process transactions in your business. It's easy to use, integrates with everything and is backed with awesome support
Try SamCart For Yourself
Try a risk free unlimited 14 day trial of all SamCart features! Click the link below!
Now, let's look deeper to find what SamCart has to offer and whether it is the right solution for you or not.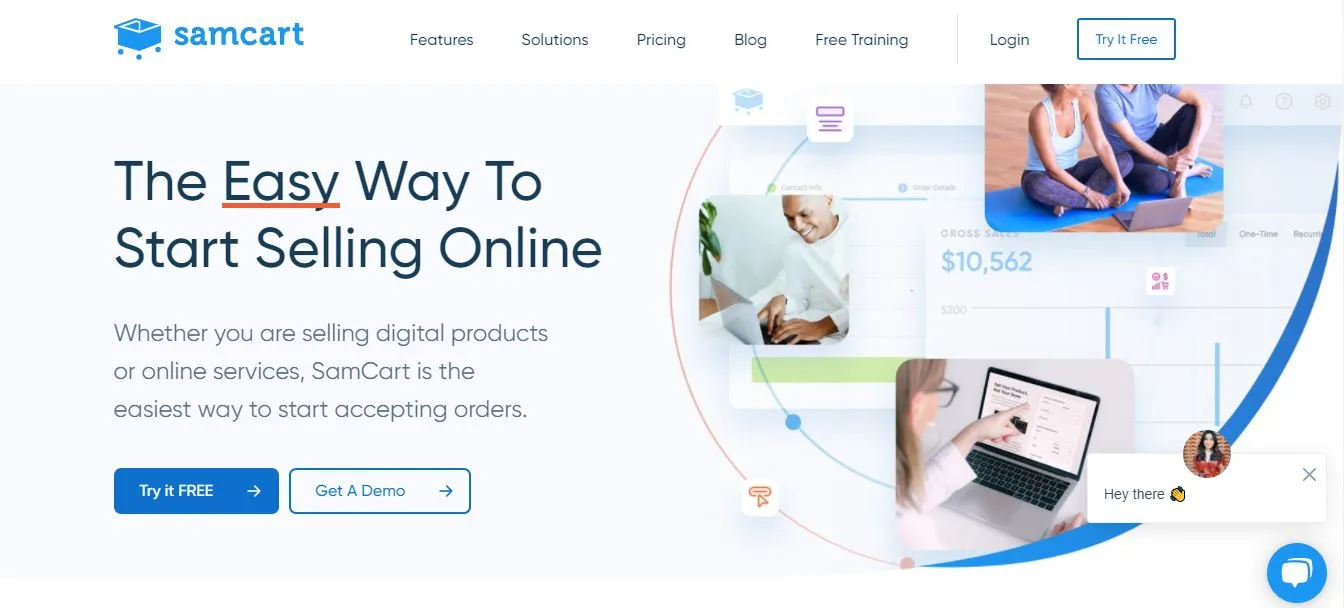 SamCart is an online shopping cart platform. Launched in 2014, it allows users to create product pages, offer subscription plans to customers, and more. Customers can pay with credit or debit cards, PayPal, Apple Pay, or Google Pay.
It has some built-in features, like the Subscription Saver or upsells, to help you to gain more sales and maximize conversion rates.
If you have something to sell online, then SamCart is for you. From physical goods to digital products, to courses, seminars, and events.
The ease of setup makes SAmCart suitable for both beginners to small-medium sized businesses who are looking to streamline their checkout process, increase conversions and boost top-line revenue.
If you offer a range of products, then this web-based tool will allow you to upsell and cross-sell across your product range, moving customers into new funnels and optimizing their experience from the get-go.
The first thing you notice when you log into SamCart is its minimalist design. This shouldn't come as a surprise though, as SamCart's main aim is to help you to "sell your product, not your store". As such, SamCart's dashboard only gives you what you need to build single format product pages.
Creating a product begins from the dashboard where you will see "new product".
Once you click on "New product" you will go through a series of pages where you will provide different details. For instance, in the tab named product details contains information such as: product name, pricing, payment frequency, product tag (for your SEO). This page is also where you will upload your digital product, add your coupon offer and also add a thank you page url.
Subsequent steps allow you to complete your product set up by:
Choosing and editing a checkout design with an easy to use drag and drop editor.
Setting up payment methods (how your customers will pay you)
Designing upsells and linking them to your products
Integrating with other software such as your auto responder
1-Click UpSells
In e-commerce, upsells are a key part of optimizing your sales funnel and creating additional revenue, simply by offering the customer an additional product or service when they checkout.
This can be something of a higher or lower value, however, the beauty lies in the ability to create these upsells quickly and also track the success rate of each upsell so you can perfect your pitch.
Checkout Pages
Checkout pages are the most crucial element of e-commerce stores and online sales. They can literally make or break your business and should be treated accordingly.
The Checkout pages offered by SamCart have been proven to boost sales from existing website traffic. Which is why earlier I stated that you can make you money back on a monthly plan within a matter of days.
Once you've found a design you like, you can take advantage of the Sandbox feature, which allows you to fully stress-test your checkout and cart before 'going live'.
This is a great feature that I have taken advantage of on many occasion and is especially useful when running a paid traffic or email marketing campaign since a broken checkout page could lead to a very costly mistake indeed.
You have an insane amount of control over your SamCart checkout pages, nothing like this is offered with rival products, at least not with the optimization efforts that have gone into making their pages some of the best-designed and best-converting pages you will find.
A/B Split Testing
Once you have an established business and you're making sales, split testing and CRO (Conversion Rate Optimization) are critical to growing your business and can easily be one of the cheapest and quickest ways to increase revenue and conversion rates.
SamCart's A/B testing feature allows you to easily identify your most profitable products/services and upsells and give them the attention they deserve.
From this you can learn key lessons that can be rolled over to other pages and offers, further growing your business.
Template Library
The SamCart template library gives you access to 18+ pre-designed checkout carts and landing pages that enable you to take advantage of their easy to use builder, to get you set up in no time.
No more messing with code or trying to integrate 3rd party apps and services, these templates work right out of the box and have been designed by expert marketers and designers, with conversion optimization in mind.
Payment Options
One of the first things you do when setting up your shopping cart software is to integrate with your favorite payment processor.
SamCart offers the option of using either PayPal or Stripe, which surprised me as I did expect more options..however, given that they are the two most widely used options, it fits most needs.
In addition, there isn't an option for those of you that wish to accept Cryptocurrency or smartphone transactions such as Apple or Android Pay etc.
Payment Plans
Payment plans are another great feature that allows you to offer your customers/clients the ability to pay for purchases over a period of time.
This comes in handy for high-end products and services, where the barrier to entry for many prospects is the price and affordability.
By offering a 'drip-payment' option, you will increase conversions and gain more customers and sales as a result.
You can offer the customer the ability to pay:
One Time
Recurring Weekly
Recurring Monthly
Recurring Quarterly
Recurring Yearly
Recurring Customer Days
It's this flexibility that gives SamCart the edge over many other platforms in my opinion.
Coupons & Trial Offers
SamCart state that 65% of shoppers say the availability of coupons finalized their buying decision. I'm sure you can see that this is HUGE.
By taking advantage of the coupon functionality of SamCart, you can offer discounts at whatever rate you choose to entice buyers who are on the fence. As of April-19, you can now send prospects to a page with a Pre-Applied Coupon, which for those of you that do email marketing is an excellent feature to have.
This also works with trial offers, where customers can take advantage of both free and paid-trail offers, which work very well indeed for service-based businesses and online courses.
Recurring Sales & Subscriptions
Recurring revenue is the backbone of many successful e-commerce businesses, embedding this elusive recurring element into your business is a must in order to move away from the month-to-month rollercoaster of sales.
MRR or Monthly Recurring Revenue allows you to rest easy in the knowledge that you have a guaranteed revenue coming in each and every month.
With SamCart you can manage multiple recurring subscription products and levels, making the challenge of MRR a thing of the past.
Before we continue, the Premium plan includes the Affiliate Center but is only available for Premium plan users. So if you're on the Basic plan or Pro Plan, you won't be able to access it.
So how does it work?
First, you need to get your affiliates to sign up for the program. SmartCart allows you to automatically generate an 'Affiliate Signup Page' where your affiliates can apply.
Begin by accessing the 'Affiliate Center' under 'Apps'.
You'll find the affiliate sign up link just here:
It will look like this.
You can copy the link to your affiliate signup, and send it to your potential affiliates.
Once the affiliate fills out and submits this form, they will see that their application has been sent. And that their account approval is pending.
You can approve your affiliate's status here.
Alternatively, you can also automatically accept affiliates.
Here, instead of receiving a 'pending approval' message, the affiliate will be taken to their dashboard. They will receive a message with a login link.
When it comes to affiliate commissions, your affiliates will earn 50% through their affiliate links for every product in your SamCart account by default.
You can customize these rates if you'd like to.
In your affiliate dashboard, you can change your commission structure by scrolling down to the 'Commission Structure' table.
Here, you can change the commission payment type from 'percentage' to 'amount'. By setting a percentage of 50%, your affiliates will earn 50% of your product's sale price.
But If you're setting a flat rate of $50, your affiliates earn $50 in commission anytime the product is sold, regardless of what this product costs.
When it comes to payments, all you need to do is go to 'PayOut' and upload the CSV File into your PayPal Account.
This way, you can MassPay with just a few clicks.
If you use SamCart, affiliate management becomes easy for your online business.
Courses is SamCart's newest feature that allows you to create unlimited courses and enroll unlimited students.
Courses is supported across all SamCart plans, for no additional cost, and for life. This means that whichever SamCart plan you sign up for, you won't ever need to pay for SamCart Courses again. Just to emphasize, this is what all this really means:
You can create unlimited courses
You can enroll unlimited students
All without having to worry about additional payments
Now if that doesn't help you scale your digital courses business, I don't know what will. And honestly, I don't think there is a platform offering such a deal at the moment, especially considering that the offer is even available in the launch tier (SamCart's cheapest plan).
You better hurry though because this incredible offer is limited; once the offer ends, there will be a cap on the number of courses you can launch and students you can enroll (more on this in the pricing section).
To use courses, go to the Apps drop down, then select courses App.
As you can see below, the workflow in the courses app is sequential and is all contained in the same page to keep things simple for you and guarantee you don't miss a step.
Besides the easy to follow workflow, the fact that courses app comes 100% free with each SamCart plan, or that you can launch limitless courses to an unlimited number of students, you may also find these functions quite useful:
You can add an unlimited number of units and lessons. This allows you to scale your course as much as you want.
You can arrange courses in the course library by dragging and dropping them. This is a simple way to stay organized and to control what your students access first.
You can share your entire course library with just one link. To generate this link, simply click "share course library". Then copy this link and share it via social media, text or websites.
You can add order bumps to every course in your library and increase the value of each order
For your students, the steps from buying to watching your course is fast. Students are routed directly into the course library after they buy.
SamCart can seamlessly integrate with a multitude of other 3rd party apps that as a business owner you are likely to either use currently or have at least come across on your journey.
As an example, you can link your checkout process to apps such as Zapier to automate tasks once an order has been placed or a cart has been abandoned for example.
Infusionsoft for creating funnels and moving customers and prospects through your funnel. There are also plenty of email marketing tools you can hook up to, such as Aweber, ActiveCampaign, MailChimp, and ConvertKit to name a few.
If you run a membership website, SamCart also integrates with a variety of popular software in this area such as WishList Member, Kajabi and MemberMouse.
The ability to integrate SamCart with one or a number of other external applications using their integration engine was one of the key factors that made me choose this tool for my new business.
You can get support from SamCart in the following ways:
Knowledge base. SamCart's knowledge base is a support section on their website that's full of detailed help material to help you set up SamCart, start selling and manage your customers. Before contacting customer support directly, I recommend stopping by the knowledge base as the answers you need are probably already there.
Real time chat (with a human, not a bot). This is great for urgent queries or if you need help troubleshooting any SamCart areas.
Email. For any official communication or general enquiries, you can always send SamCart support an email.
These three options ensure that you always get help whether you need it immediately, within a 24-hour time frame, or if you are a DIY person.
One question many of us have when choosing software to grow our business is, is SamCart worth the price?
Given that they have done away with their original $19 /month Basic plan and replaced that with a Free Trial option (which in my opinion is a must try), and two simple paid plans, not only is SamCart an affordable option, it gives you more than enough features that you can easily earn back 5x or more the subscription price in a matter of days.
When it comes to pricing options, SamCart has three different plans:
Free Trial (14-Days)
Pro ($99 per month)
Premium ($199 per month)
I will dive deeper into what each plan offers below, however, if you already know what you need, feel free to use the quick links above to jump to that plan.
Free Trial
My recommended approach if you're still unsure about SamCart and if it's the right solution for you, is to take advantage of their 14-day free trial.
With this, you can access all of the great features SamCart offers for 2-weeks, put it through its paces and see how it works, all before spending a dime.
In addition, all plans come with the risk-free 30-day money-back guarantee…so you've got nothing to lose by taking the trial or one of the plans below for a spin.
Pro Plan
The Pro plan is $99 per month or you can save 25% with the annual plan, which would bring the price to $888 /year or $74 a month.
The Pro plan includes:
18+ Checkout Templates – Choose from over 18 templates to speed up your checkout page design and build.
Unlimited Products – Sell/offer as many products or services as you need, no limits.
Built-In Credit Card Processing – Use Stripe and PayPal to automate credit card processing and cut down on fees.
One-Time Payments, Subscriptions, Trials, & Plans – Advanced options to hook buyers in and get them onboard.
Advanced Reporting – Understand the metrics and numbers that are driving your business forward.
Cart Abandonment – View abandoned carts and reach out to prospects to rescue the sale.
Webhooks – Integrate with your favorite apps to make your workflow seamless.
1-Click Upsells – Offer an upgrade or option to buy an additional product/service.
A/B Split Testing – Compare product and checkout pages, upsells and more.
Priority Support – Fast and responsive support from trained professionals.
Premium Plan
The Premium plan is priced at $199 /month (1,788 /year or $149 /month with the annual subscription).
All features in the Pro plan are included along with a few additional extras:
The Subscription Saver – Automated solution to help retain subscribers, change payment details, and much more.
The Affiliate Center – Have others promote your products or services by integrating and affiliate center.
Dedicated Training & Support  – Premium members get a dedicated training area and first-class support when you need it.
SamCart vs the Competition
Wow! That is a lot of content to digest. But having read this review, do you think SamCart is the best solution for your selling needs?
Before you answer that question, try out SamCart's 14-day free trial. It's completely free and is available across all pricing tiers. You will need to provide some card details but this shouldn't be a problem because you can always cancel your subscription before the trial period is up.
If, you are still sitting on the fence after your trial period, consider these SamCart alternatives:
ThriveCart. Like SamCart, ThriveCart is a shopping cart packed with conversion boosting features, and it's suitable for selling physical and digital products.
Unlike SamCart, ThriveCart supports more template types. More so, you can access ThriveCart for life for a one-off payment of $690. 
Shopify. Shopify is a full-fledged ecommerce platform and because of this, you can do a lot more with it in terms of inventory management and categorization.
Although Shopify will serve you best if you want to sell physical goods in a store-front format, there's always something for everyone among its pricing tiers and you should explore those a little bit more.
Shopify pricing starts from $9 for Shopify Lite, to $299 for Advanced Shopify, so like I said, something for everyone. 
ClickFunnels. ClickFunnels is a sales funnel builder. With this tool, you can guide a customer step by step through their journey to purchasing that one product that they really need.
Like SamCart, ClickFunnels supports one-click upsells and also allows you to collect payments from within the funnels. With pricing for this tool ranging between $97 per month to $2497 per month, you might find this tool a bit on the costlier side. 
Other rival software to consider include Stripe, Woocommerce and Kajabi which we have fully covered in our in-depth comparison articles available through the links.
SamCart Review – Final Verdict
So the bottom line is, SamCart offers a great shopping cart if you're looking to launch any digital or physical products.
It's easy to use.
Links with different payment processing tools.
Has beautiful checkout page templates.
And helps you upsell products and services with just 1 click of a button.
If you want to sell to more people and increase your average order value…
Start your free trial to use SamCart now!
Looking for an alternative to SamCart? Check out my Kajabi Review.
Try SamCart For Yourself
Try a risk free unlimited 14 day trial of all SamCart features! Click the link below!
Frequently Asked Questions
SamCart takes the hard work out of the checkout experience with an incredible checkout platform shopping cart that makes it easy to offer things like one-click upsells, order bumping, payments plans, pricing options, subscriptions and much more like split tests. Using SamCart, you can build membership sites with solid a payment structure.
Does SamCart offer a free trial?
Yes, you can see on their pricing page, SamCart offers a no-strings-attached 14 days free trial of each of their plans (Pro plan & Premium plan) so no need for a money-back guarantee.
How much is Sam cart monthly?
There are 3 different pricing plans for SamCart which are suitable for every budget. The Launch Plan (basic plan) costs $49 per month and includes everything you need to get started. The Grow Plan at $99 month, adds features like upselling and the most expensive Scale Plan at $199 month includes affiliate tracking.an 40,000 online businesses.
How do I cancel my SamCart account?
Unfortunately, you can't cancel your SamCart account from the dashboard. You either have to use their live chat within the SamCart dashboard or send them an email to support@samcart.com. They are always very responsive so don't worry about that.
Yes. SamCart is definitely legit for SEOs and marketers who want to sell their products or/and services online. SamCart is one of the leaders when it comes to online shopping carts with thousands of people that use it worldwide to boost their sales.
What is SamCart used for?
SamCart is a web-based check-out platform that features high converting checkout templates along with order bump, subscription, one-click upsell and payment plan capabilities that were designed to maximize profits & benefits from every sale.
Yes. SamCart is extremely easy to set up and use. The interface is very user-friendly which make the creation of high-converting checkout pages easier.
Can You Integrate SamCart with Zapier?
You can integrate SamCart with Zapier, which will then allow you to instantly connect with over 3,000 marketing automation tools and apps to help you automate your work, supercharge your productivity, and boost your bottom line.
SamCart helps keep your online tax simple. All you have to do is add your marketplace address and VAT ID wherever applicable, and SamCart will automatically find the right tax rates for each of your customers, and then charge them sales tax accordingly.
Does SamCart Allow Coupon Codes?
SamCart not only allows coupons, but the platform also has one of the most granular control features (compared to other shopping cart software) over the way you use coupons for your products and services. 
For instance, instead of having any one coupon applied automatically to all your products, you have the option of applying one coupon to specific products, and a different coupon to other products in the same sales funnel.
Can You A/B Test Checkout Pages in SamCart?
SamCart has a robust A/B testing feature designed to help you boost your conversions. You can test every aspect of your checkout page to find out which versions work best with your audience. The platform also has in-depth tutorials for those who are new to split testing and provides a step-by-step process to help you hit the ground testing.
Does SamCart have a Money Back Guarantee?
SamCart offers a 30-day money-back guarantee if you decide that the software is not for you. Just make sure you cancel your subscription a few days before the payment is due to go off in order to avoid having to needlessly pay for an additional month. The platform also offers a free 14-day trial, which will make it less likely that you will need a refund since you'll have the chance to get to know the platform in-depth before opting for any of the premium plans.
How Does SamCart Pay You?
With regards to affiliate commissions, SamCart doesn't pay you. Rather, you get your payments directly from the vendor or your affiliate manager on the platform. Payments will be made using any of the supported payment methods, such as PayPal, and Stripe.