Podia Review – Is Podia Worth it?

Podia Review – Is Podia Worth it?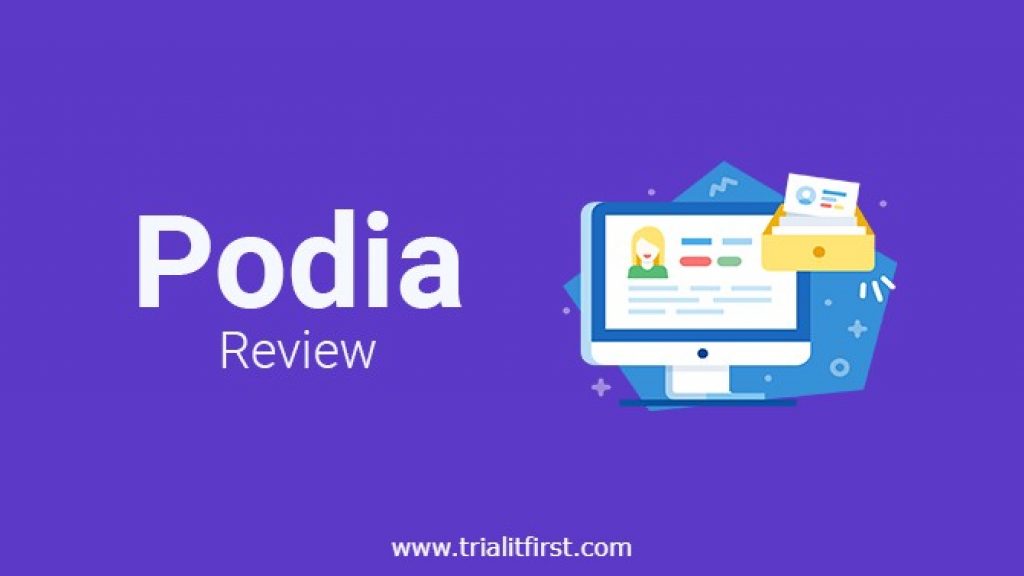 There are plenty of online course platforms nowadays including Kajabi, Teachable, Thinkific, and much more. Podia is one of the online course outlets that is pretty appealing and emerged last year and attained a lot of attention.
There are several details you should know about Podia to realize how to build a successful online business using this platform. By the end of this review, you will get a clear notion of what Podia can give to flourish your business.


What is Podia?
Podia is the nicest online platform that enables you to create and sell digital courses and memberships. Through Podia you can even host and deliver your content. It helps to create an awesome storefront and you can start selling them within a couple of hours no matter if you don't have technical or coding skills. You can accept payments through your website. It offers several features involving site design and customization, course creation and engagement, and so on.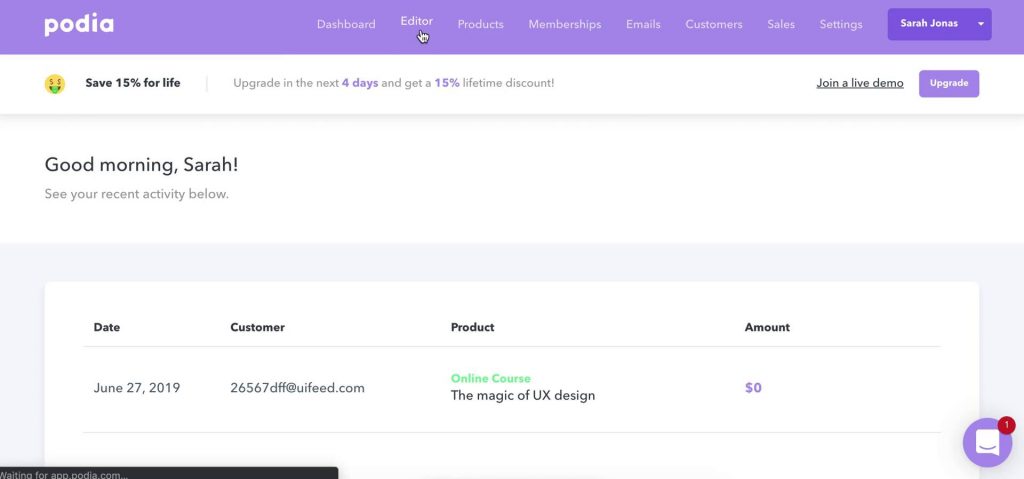 Pros and Cons:
Podia has double sides which you should know about this platform. Some of the advantages offering by this outlet include:- 
● Super easy to use and set up: Every feature is so simple to learn and you don't require any proficient technical skills to deal with Podia. You can operate and set it up in a very easy way.
● Mind-blowing design: They deliver you certain designs which are so unique and attractive. This design is present in both the storefront and the course player which is a clean, stylish design out of the box.
● Individual posts: Podia can build individual "Posts" for your membership. They are so informative and help in marketing and promotion.
● Free Trial: Each plan arrives with a free 14-day trial so you can test out the elements before signing up for a paid plan.
Some of the other merits are:-
● Ability to involve checkout/buy buttons on outer websites.
● Handles EU Digital Goods VAT.
● They have an Inbuilt live chat widget.
● Ability to deliver autoresponders.
● Friendly customer care.
● No transaction fees on all plans.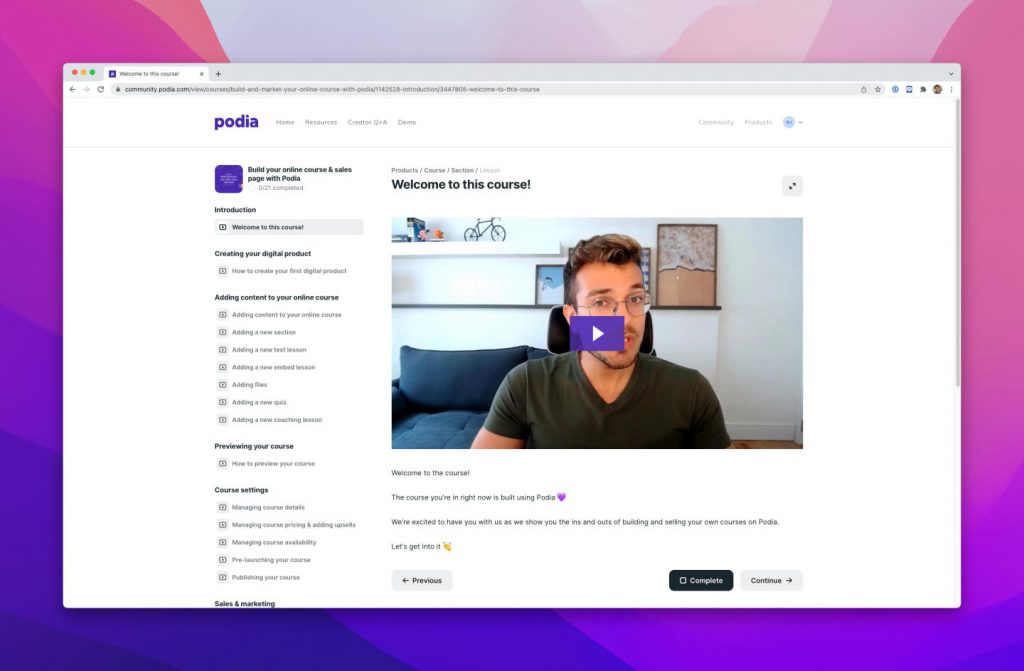 On the other side the demerits of Podia, include:-
● Lack flexibility: Podia has the course builder which lacks flexibility and doesn't help cloud import.
● Lack of essential tools for learning: It requires important learning tools like rated quizzes, assignments, certificates, course submissions, homework, mock tests, etc.
● Inability to build a standalone community: Podia doesn't allow you to create a standalone community region on the outlet and also podia lacks the following aspects. They are mobile app features, and basic reporting tools, not adequate for creating a fully-fledged website.


Is Podia legit?
This all-in-one platform.which offer you to market and sell your courses online. From online courses to digital downloads, webinars, facilitating communities, coaching, and much more is offered by Podia. You can make money with your passion. Whether you're a learner or a trained user, you will be ready and selling in no time.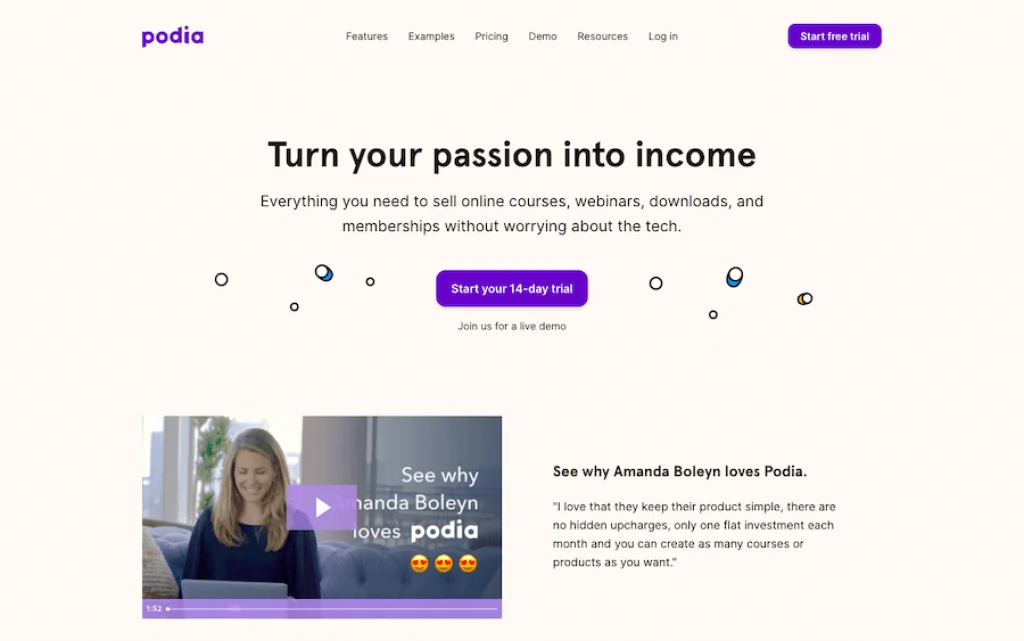 You can build a custom website, add associates, set up paid ads, and deliver email marketing campaigns – all from one suitable place. The platform also comes with a lot of tools to help you along the path, involving a blog, help center, video tutorials, mentors, free tools, live demonstrations, and much more. 
The online course software is presently utilized by over 50,000 content producers who sell memberships, digital courses, and a broad range of downloadable items. Now let's take a glance at what some of Podia's users had to tell about the software: If you're willing to build and sell your online course so you can reap a living from your passion.

Who is Podia Good For?
Podia is excellent for various kinds of creators. The platform has all the equipment you like to sell any kind of digital commodity as you will notice in this Podia review, including:
Online Courses: This aspect allows you to host unlimited videos, site links, tests, PDFs, and several types of files. You can give upsells and payment plans to your learners. You can also drip subjects and use student statements on your pages.
Community: Podia is suitable for you if you like to earn recurring revenue by creating a community around your content. The platform allows you to bring your members, commodities, and conversations jointly in one place.
Digital Downloads: You can sell any kind of digital products you like, including one-off downloads, such as cheat sheets, ebooks, reports, whitepapers, PDFs, inventories, presets, and much more.
Webinars: You can charge for one-to-many or one-on-one tutoring sessions with the help of YouTube Live and Zoom integrations on the outlet. You never again have to worry about giving many various tools to collaborate seamlessly because it's all present in it.
Podia is ideal for you if: 
● You want an automatic, easy-to-use, and cheap all-in-one course platform.
● You like to sell online courses, digital downloads, webinars, or memberships.
● You want to deliver live chat on your own sales pages and storefront.
● You need quick, peaceful, and helpful customer assistance every day of the week.
● You don't want boundaries on any aspects of your plan.
● You don't want to spend transaction fees.

Benefits and features of Podia:
There are many awesome features that Podia offers you. They include,
Ease of Use:
This is a great one, and Podia makes it simple to create impressive school websites or pages even with no previous experience. There's an easy drag-and-drop website builder that even complete beginners can utilize with peace. There are also lots of templates you can select from so you don't have to begin from the cut.
In just seconds you'll have a real school page with all the tasks you need within it. Also, you don't require an outer site since the platform gives you everything you want to build a completely functioning school website.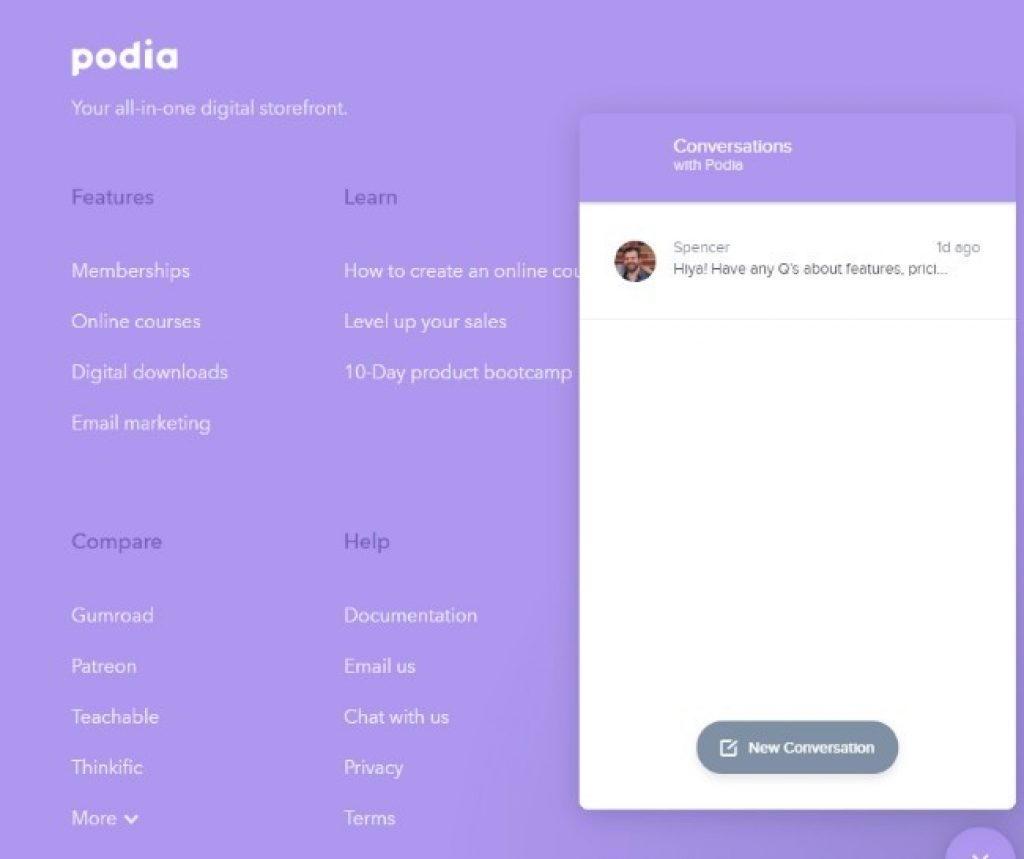 Amazing School Website Templates:
Podia has a vast range of themes and templates to select from. These cover everything from lead generation to deals, and everything in between. 
Template categories contain:
Author and bio landing pages
Checkout pages
Meeting and consultant templates
Event landing pages
Free reserve or download templates
Lead generation and lead capture (opt-in pages)
Webinar and digital event
Waitlist templates
Market page templates
Thank you page templates
You can create gorgeous pages for your school website online course by just choosing the template that fulfills your needs. You can also use the drag-and-drop functionality to expand widgets onto your pages to involve functionality. Customize the page with your pictures, book, videos, etc. You can also choose the colors, fonts, etc., and setups that match your brand. You get: 
Responsive templates
The stock of Cloud template library
18 page-builder components
ESP and CRM integration and much more 
No professional knowledge is needed, and in just a few minutes, you will have a touching design with all the functionality you need, as well as any diagrams and graphic page builder aspects you want to comprise from the outlet's vast library. Here's an instance of a landing page template from Podia that you can customize with your colors, symbols, and pictures.
Create an Engaging Learning Environment:
When forming your online school, you require to be prepared to combine the essential tools to sustain engagement among the students.  Podia makes it simple by giving you a rich set of built-in schooling devices that enable you to give an incredible learning experience and get extraordinary results from learners.
There are also profound integrations among the producer ecosystem that enable you to deliver for your learners and increase your sales. Notice the example of one of the popular school website formations named Natalie Sisson's academy which is developed using Podia's efficient features.
Course creation and Engagement:
In addition to building a school website, Podia also enables you to arrange standalone courses your learners can buy and put up at their rate. You can also provide drip courses to get more supervision over your students' understanding.  Alternatively, you can give a cohort-based course so all your learners can go through the lesson material at the exact time.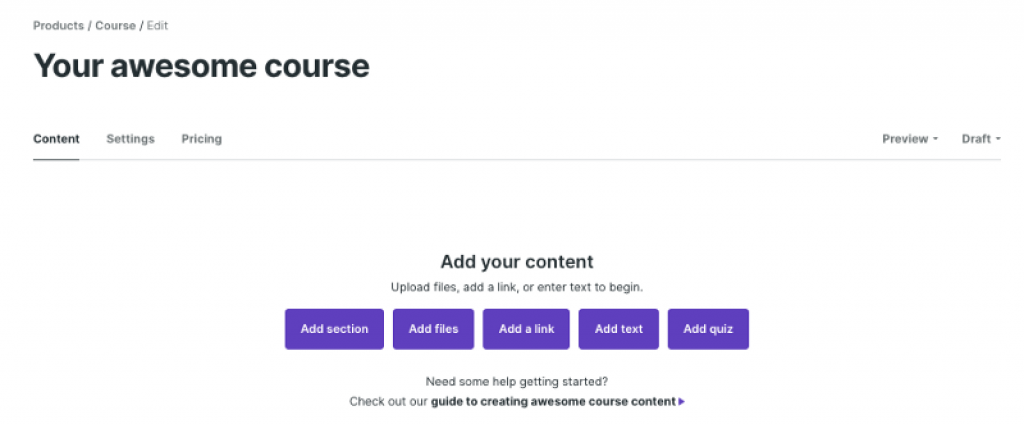 Let's peek into some of the platform's course creation features:

1. Create course easily: To create a course, just go to the dashboard and click on the 'create' option. You'll notice a drop-down menu with choices, click on "Product". Now choose ' online course' and click on the ' Create Product ' option.
In the content area, you can involve sections, upload files, make quizzes, and so on. In the Settings tab, you can organize your course, put a start date, and open/close enrolment. In the Pricing tab, you can set your pricing for your commodity or select to give it away for free. 
You can alter the currency to one of over 20 accepted currency options. Give your customers the choice of dividing the purchase into numerous payments by using the optional Payment Plan feature. You can select the price per payment and the number of monthly payments.
Here you can also give upsells to assist you to increase income. You can deliver any type of digital download at a discounted rate after the customer has bought your online course. Once you're prepared to launch, just click the "Draft" drop-down at the above right-hand side of the page and choose "Published". Some of the additional benefits of Podia include:-
2. SEO-Friendly: The platform arrives with characteristics formulated to assist you to begin ranking your online course or school website rapidly.
3. Mobile Optimized: All Podia websites are mobile-friendly and look wonderful on appliances of all sizes.
4. Live Previews: Can build pages for specific audiences and interests and recognize the differences which help you to add to your page shortly.
5. Course Player: The course player is where your students see your subjects and so its design impacts your students' experience to a great extent. The good thing about Podia is that it has a course player which is very well-designed from a user experience point of view and at the same, it looks aesthetically quite impressive. Your students can see the course in the content area on the right. Then you have the "Table of Contents" in the left sidebar which your students can utilize to drive through the course.  
Also, there are the next and the prior lesson buttons below your content which make navigation further simple for your students. If you have turned "Comments" on for your course, the comments area will seem nice at the bottom so that your users can inquire questions and leave a comment without leaving the course player.
Another beneficial thing about the course player is that your learners can press on the small icon at the prime which conceals the navigation sidebar, and the pleasing area takes up the whole space on your network which is enormous for distraction-free learning.

2. Sell Any Type of Digital Download:
Other than online courses, you can also build and sell a broad range of other digital downloads. You can locate the "Digital Download" tab under "Products". When you press it, you will be sent to the page shown below: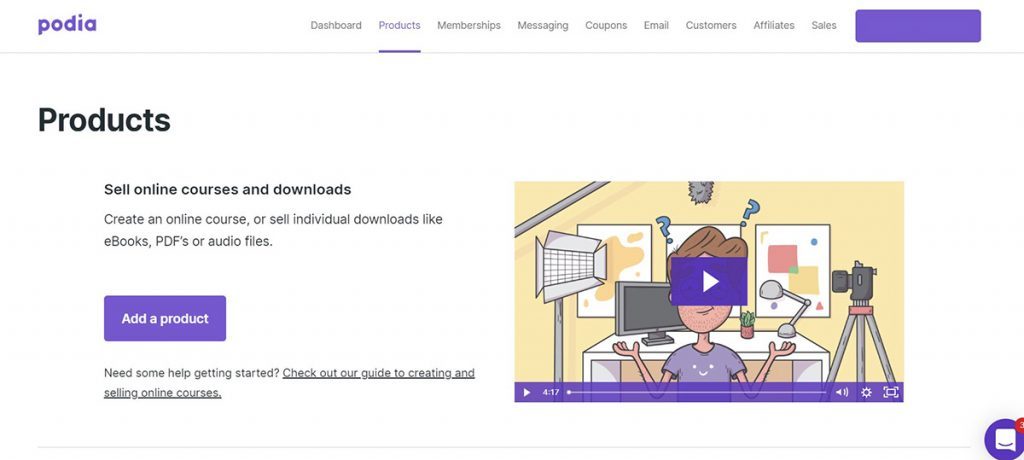 They include,
Digital Download
Alternatively, you can enter digital downloads on the Greetings page, jointly with the "Online Course" and "Membership" tabs.
This characteristic will allow you to sell downloadable content, including:
eBooks
Handbooks
PDF files
Records
Audios
Worksheets
Checklists, etc.
You also have the choice of providing the items for free by thumping the suitable button.
3. Incorporate Quizzes throughout Your Online Course:
You can assess your students' understanding and ensure that they are suitably learning the concepts in your course content by comprising engaging and interactive tests after each of your lesson modules.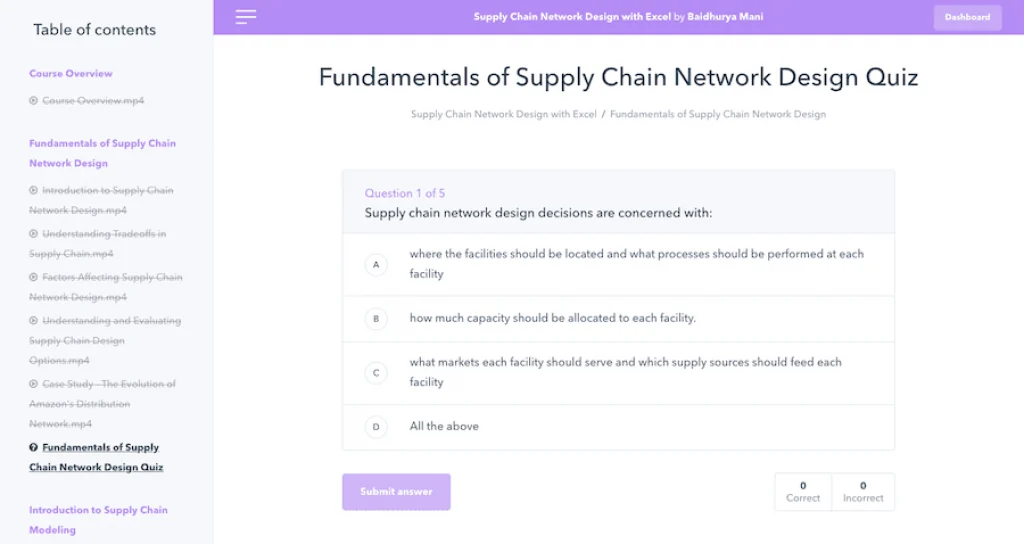 4. Drip feature and Engagement:
One way to keep students inspired to learn and maintain increased levels of engagement is by giving them your lesson content at particular intervals. You can interpret a plan for your course categories and you can build emails that will be mailed to your students automatically when the subject is accessible to them.
You can utilize the platform's drip content characteristic to automatically provide content at restricted times throughout the customer trip. One helpful dripping feature that Podia gives is the capacity to open dripped course modules for particular students. If you like to grant sudden access to certain modules or even the entire course to certain students, you can effortlessly do that.
5. Pre-Launch and Pre-Sell Courses:
These characteristics are incredible to use when you like your course impression to support itself. You'll get sudden feedback from your specific audience and you'll be prepared to create a consumer list beforehand. 
You can utilize these characteristics to create passion and a sense of FOMO which will motivate more people to sign up for your course and, in turn, increase your productivity and inspire you to initiate on time.
6. Package Courses with Other Products:
You can wrap your course with other products as a way to stimulate users to invest. For example, you might give an extra course on a similar topic and then give discounted fees for both courses. You can also give free trials, with choices to select how many days the trial is for.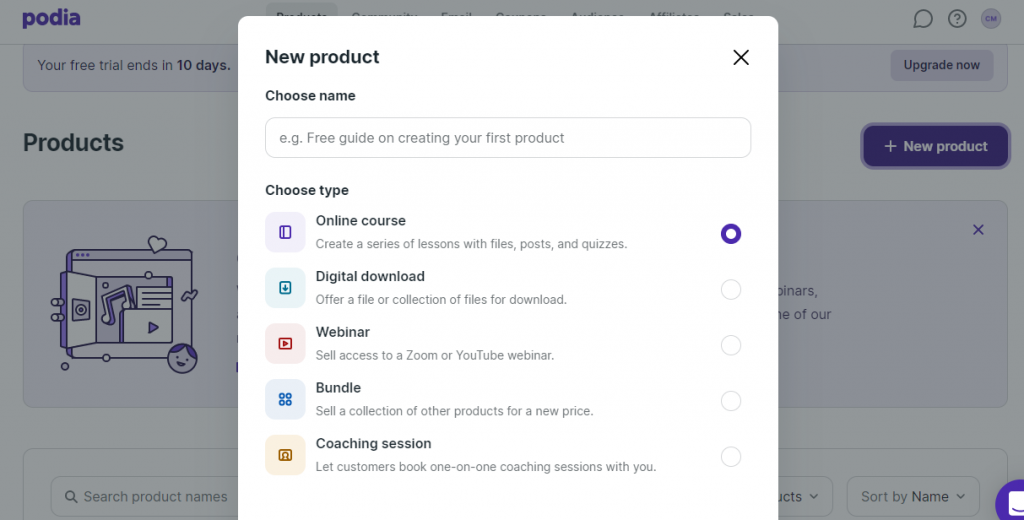 Site design and Customisation:
In this category, you will understand how Podia operates when it arrives to allow you to build your website on the platform. The biggest benefit of utilizing a hosted platform like Podia is that you don't require to buy website hosting or SSL certificates individually or be concerned about any of the technological things like safety, updates, or supervision.
In addition, every school built on Podia receives an unrestricted subdomain (mysite.podia.com) and you also have the choice to utilize your traditional domain (mysite.com). Now let's discuss the tools that Podia offers for creating and customizing your website.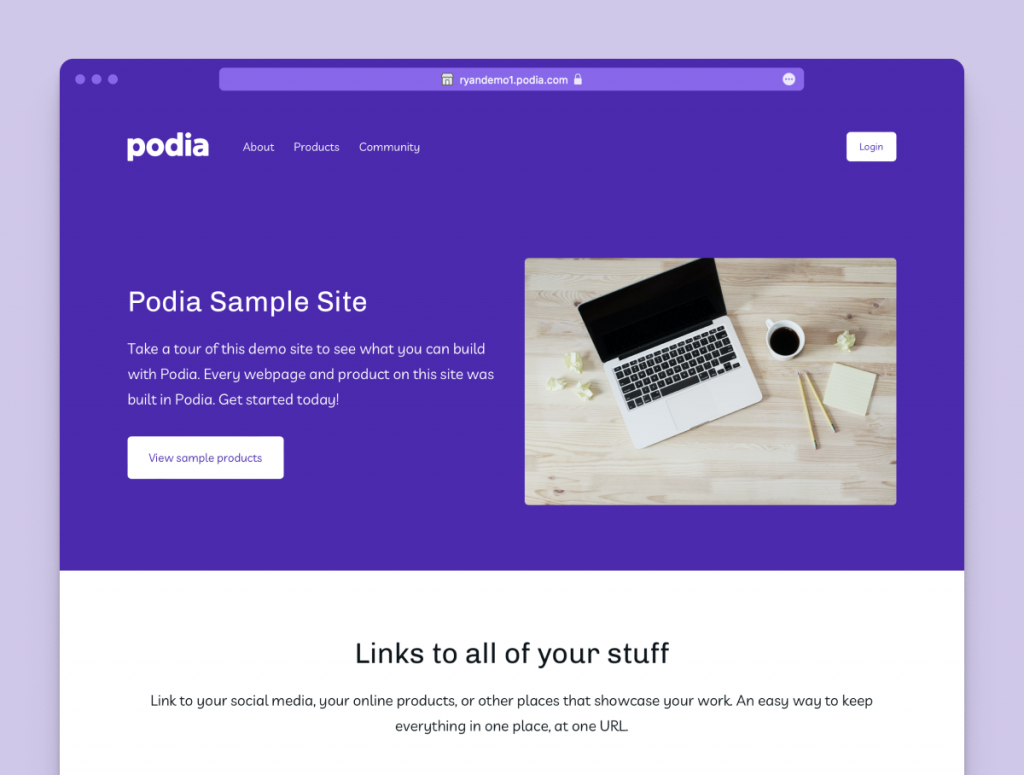 Website Themes:
When it comes to website building, the main feature that comes to my mind is Site Themes. Now, Podia doesn't have any location themes and there is just one template that all the shops built on the platform use by default. The only thing that you can alter at the site level is colors. You can add the main color and also colors for the background, titles, text, and buttons. Also, you can shift the default font for your body text and headings.
Excluding that, you don't have any supervision over the high-level design or technique of your site. For instance, you can't alter the style of your site heading or other components like the navigation menu or buttons. Also, if you're a progressive user, there is no spot where you can enter your website's backend or include some CSS code to revise the styling.
Still, the good aspect is that the default template has a neat, new design, and your storefront and sales pages will look promising out of the box. Also, you'll be able to personalize your pages utilizing their page builder which you will know about soon.

Page Builder:
To customize your Podia storefront and your pages of sales, you'll have to depend primarily on their page builder. The page builder has various pre-built aspects that you can put into your page with one click. So you can effortlessly build a product flag, add course definition, show founder bio, add FAQs, exhibit testimonials, etc.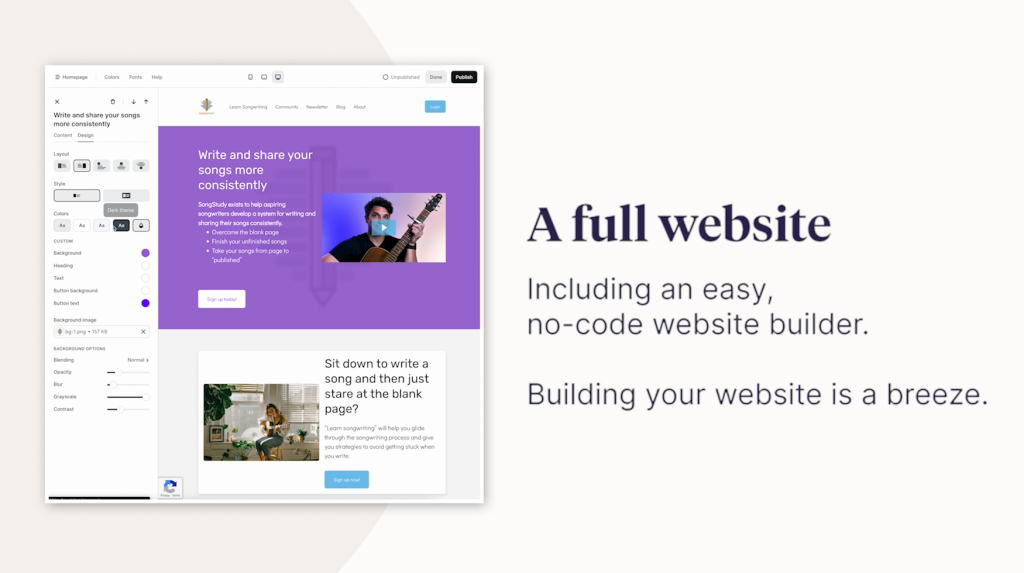 And then there are some important elements like "Image with Text", "Video with Text", "Columns", etc. which can be utilized to build custom categories for your sales page. Also, they have these category themes which enable you to form colors for background and text at the category level and it is a certainly helpful feature. All around, the page builder is super simple to use and you can build a fine-looking sales page very rapidly even if you have no design or coding knowledge.
Still, not everything is so optimistic about Podia's page builder. Initially, their text editor is very restrictive and it doesn't allow you, for instance, to modify text size or, involve images and determine the spacing in between text. Yet, you can't alter the spacing of various aspects, involve animations, show/hide particular elements on mobile vs desktop, etc. An additional thing that I don't like about it is that there is no simple path to involve enroll buttons in the interior or at the foot of your sales page.
So the page builder isn't very flexible and you can't modify the standard design much. Otherwise, the page builder will work well for creating sales pages for your digital products. Another thing that I would like to tell you before we shut this category is site text customization. While Podia enables you to alter the language for your storefront, it doesn't enable you to change the default setting text which isn't good.
Site creation in Podia is mainly about their page builder which is super simple to use and you can establish a beautiful sales page with the least effort. Also, their team takes care of all the technical aspects like hosting, assurance, etc. which is incredible. It is noticeable that Podia is an effective platform for hosting your sales, but it is not much suitable for creating a fully-fledged website.

Email Marketing Tools:
To begin with, Podia gives some fundamental lead generation tools. You can involve a pre-launch signup form to your deal page or you can also comprise a newsletter signup form to the storefront and obtain email addresses.
When it comes to email marketing, Podia facilitates you to send both one-off emails as well as automated emails. So you can mail an automated email campaign to your course customers or those who connect to the course waitlist. Using their campaign builder, you can build a sequel of emails, set the plan for them to drip out, and also define the catalyst for when the emails will be sent.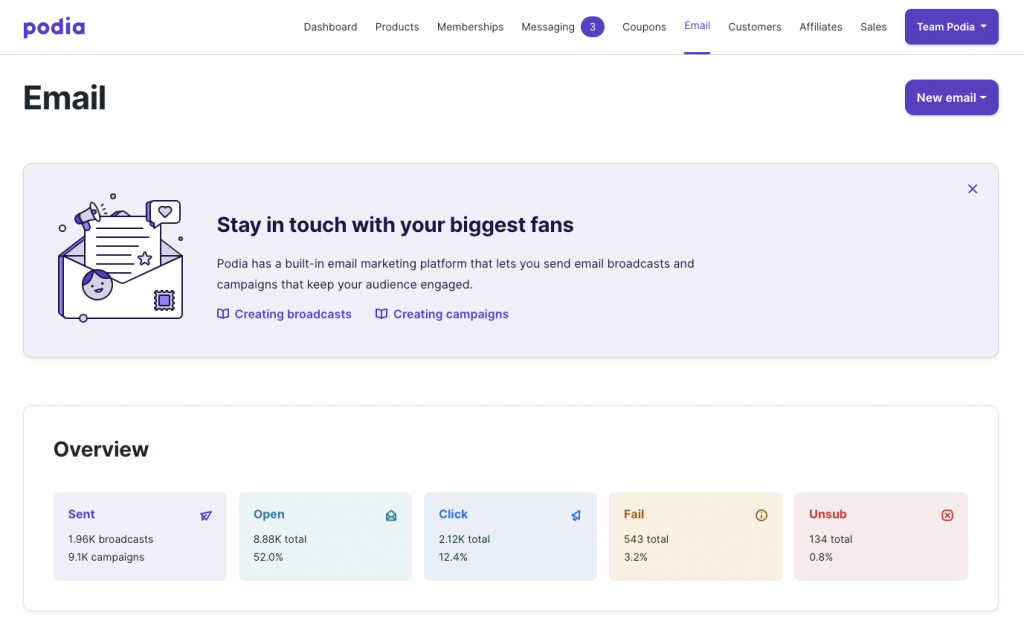 You can also set access conditions and exit conditions for your campaign. For instance, you can sign someone up for the campaign when they join one of the pre-launch or newsletter aspects and unsubscribe them when they purchase one of the commodities. However, Podia's email capacities are fundamental and it's distant from a phase where it can act as your email marketing outlet. It's not implied to rebuild your email assistance provider.
Firstly, you don't have any actual landing page capacity on Podia and if you use an exterior lead generation device like Leadpages, the only path to bring your subscribers to Podia automatically is via Zapier. Secondly, Podia doesn't have any characteristics for list supervision — so you can't label your users or build portions which is an enormous drawback.
Thirdly, you only have the expertise to build basic automation rules with Podia and if you like to do anything beyond expanding someone to or eliminating them from an email campaign, you can't do that in Podia. So Podia's email marketing characteristics are good for delivering notifications to your learners or sending an onboarding campaign but that's pretty much it.

Affiliate Marketing:
If you like to influence affiliate marketing to boost your courses, Podia has got you wrapped up. With Podia, you can add associates to your supply and build different affiliate links for all your products. Also, your affiliates get a personal dashboard where they can enter their affiliate links and trace the sales and commissions. 
Podia Affiliate Dashboard:
When it arrives to affiliate commissions, you can give your affiliates either a specific percentage of the sale quantity or a flat commission. Also, you can customize the commission at a really helpful commodity level.
Podia_Affiliate_Commissions:
Now, there are rare things about affiliate tools that can be enhanced. Firstly, there is no path to upload any swipe files or aids for your affiliates. Secondly, all your commodities will show on the affiliate dashboard by default and there is no way to conceal specific products from showing up. The workaround is to set a 0% commission for those commodities.
Thirdly, you can't alter the cookie tracking period for your affiliate links. Eventually, there is no simple way to gather and organize tax aspects from your affiliates. Distant from that, Podia's affiliate system is easy and has all the fundamental features, so it should function well for most course creators.
There are a pair of other useful sales and marketing tools that Podia appeals to. The first one is the native 'live chat feature which enables your website, visitors, and learners, to start a discussion with you through the widget. The second one is the capacity to build webinars through the native Zoom integration or by entrenching Youtube Live. You can set a rate for your webinar or offer it for free and yet, Podia takes care of delivering reminder emails which is awesome.

Podia Third-Party Integrations:
As the inbuilt email marketing capabilities in Podia are pretty essential, you will in all probability use a third-party email service provider. The good announcement is that Podia integrates with many of the outstanding email marketing platforms.
Podia has integrations with the following email platforms such as MailChimp, ConvertKit, Drip, ActiveCampaign, GetResponse, MailerLite so on. When a user joins one of your courses, you can transfer the user details to your email service provider and add him/her to a particular list or tag.
Presently, Podia has a Zapier integration as well. So if you use any of the email outlets that Podia doesn't incorporate directly with, you will still be eligible to pass user data via Zapier. Also, you can use Zapier to integrate with thousands of third-party apps including Accredible (certificates), FreshBooks (small business accounting software), ClickFunnels (funnels and checkout), etc. Eventually, Podia permits you to add third-party scripts to your website which will enable you to integrate with tools like Google Analytics, Facebook Pixel, ConvertBox, Deadline Funnel, etc.

Sales and Marketing: 
In the section of sales and marketing, Podia gives you the crucial tools to filter payments and sell your courses. It doesn't give a sales funnel builder or a full-blown email marketing solution and it makes sense because Podia isn't an all-in-one solution. With that in mind, let's examine what the platform has to give in detail.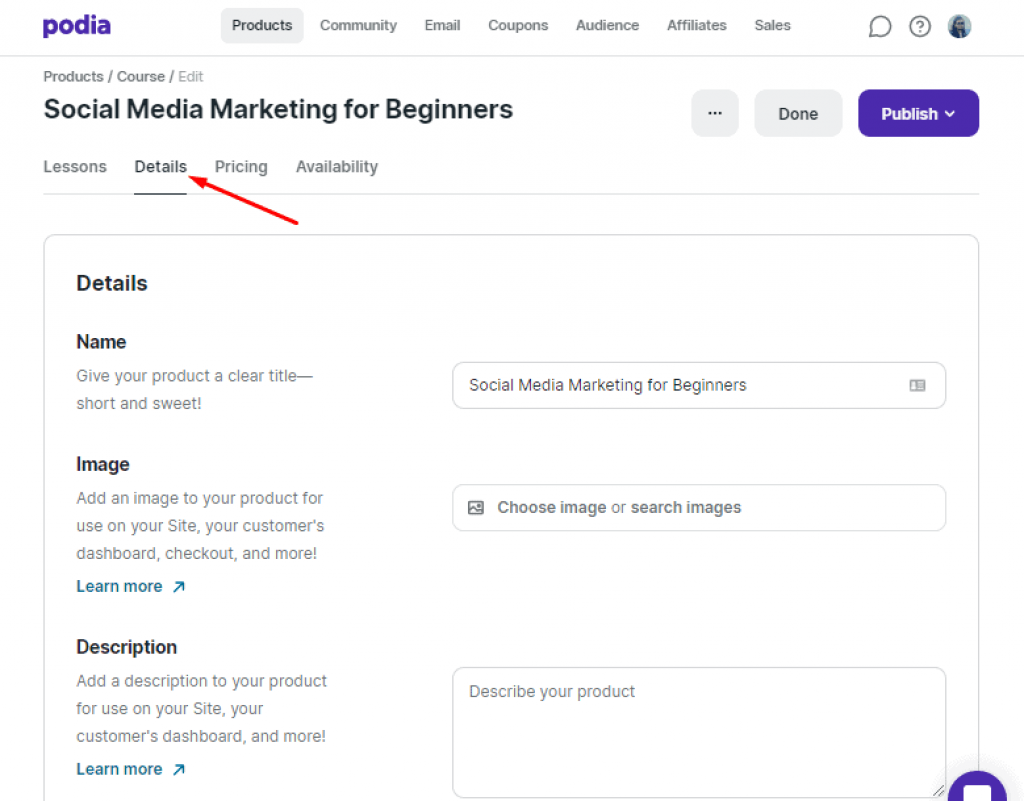 Product Pricing & Payment Processing:
When it arrives for payment processing, Podia benefits both Stripe and PayPal, so your learners can pay via credit/debit card as well as PayPal. Also, the money goes directly into your account (instant payouts).
As far as pricing choices are focused, it helps oppositely with "Products" and "Memberships" in Podia. Your "Products" (Courses, Digital Downloads, and Product Bundles) can have a single-time price and/or a payment agenda.
Course Pricing Options in Podia:
One problem with assigning cos to "Products" in Podia is that you can't have numerous price points. So if you like to sell the basic edition of your course for $99 and the premium version for $199, there is no simple way to do that in Podia.
When you establish a "Membership", you do have the capacity to have numerous plans and select what Products and Posts will be accessible under which plan but that only helps for subscriptions. Also, you can rate your membership either as a monthly subscription or as an annual subscription and even build a free trial.
Membership Pricing Options:
Nonetheless, there are a few difficulties with Membership pricing as well:
You can't implement a setup fee for your membership upfront.
Not possible to give lifetime pricing for memberships.
PayPal isn't used as a payment alternative for subscriptions.
Another restriction of pricing your products in Podia is that you can select the money at a store level only and all your commodities will be priced in the same currency form.
One useful tool that Podia give for product pricing is coupons which allow you put discount your products either by a percentage or by a percentage. You can select to build coupons that connect to all your products or particular products only. Also, you can build direct links to your sales page that automatically pertains to the coupon on the checkout which is awesome.
Checkout Process:
Podia has a multi-step checkout procedure but it's well-optimized. Your customers don't need to build an account before making a payment plus they're expected to only enter a few to finalize the payment.
There is no actual checkout page and the whole checkout happens in a popup. The upside of this type of checkout process is that your user can finish the payment without leaving the page.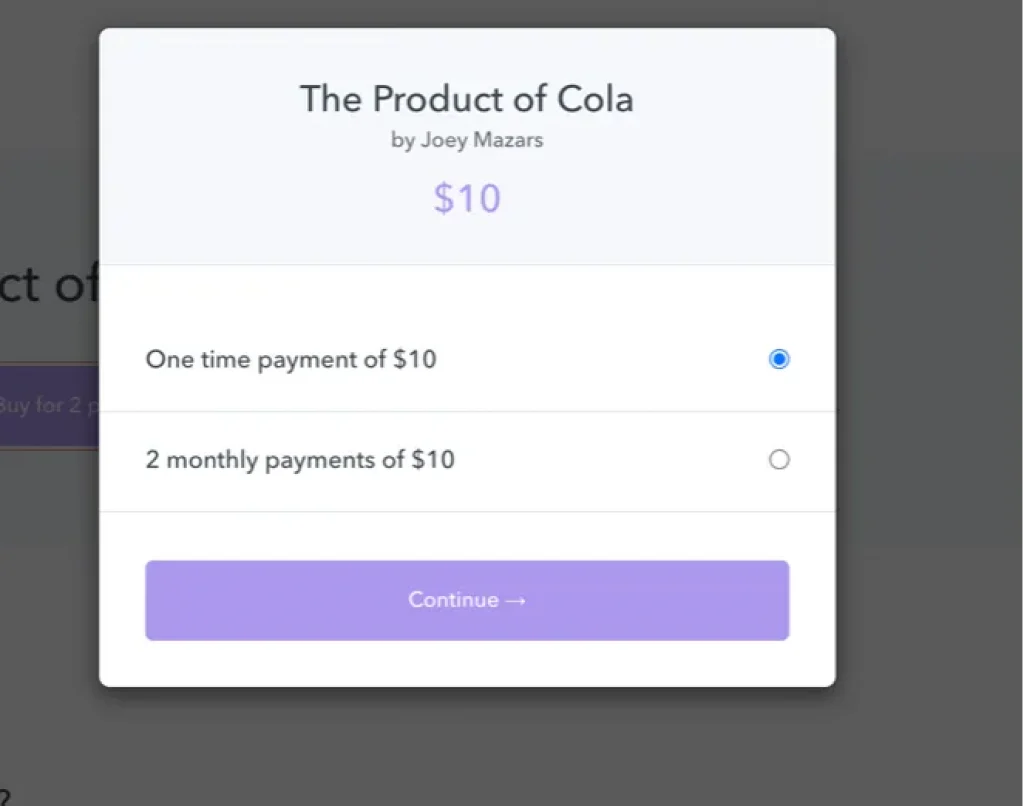 Another thing you will like about the checkout process in Podia is that it enables you to gather EU VAT for your course. Eventually, you can involve a 1-click upsell to your checkout and assign a discount as well. The good part is that you can add many upsells for the same product.
Firstly, you can't put in any conversion aspects like appreciation, money-back guarantee badge, etc. on the checkout page. Also, you can't add any videos, custom messages, etc. on the upsell page.
Another objection to the checkout process and this is completely controversial is that while the popup checkout functions very well for lower-priced digital products, it might not perform well for higher-ticket items.

Podia Customer Support: 
Podia offers various types of assistance for its subscribers. If you'd want to figure things out yourself, then you can rely on In Podia's Help Center or listen to one of its weekly demonstrations.
You can also join one of Podia's day-to-day Q&A rounds. However, if you want someone to talk to, you can use the live chat characteristic to get in touch. Live chat is accessible from 9 AM to 6 PM (ET) on weekdays and from 9 AM to 5 PM (ET) on weekends.
You can also have a touch with customer support through email if live chat is no longer accessible to you. Also, Podia has a comprehensive knowledge library that has a lot of reserves on how to do numerous things on the platform. So you can just search through the knowledge base.
When it comes to course-creating training, Podia has plenty of free guides on its website. So you can discover articles on course creation, transactions, sales funnel, and several other cases.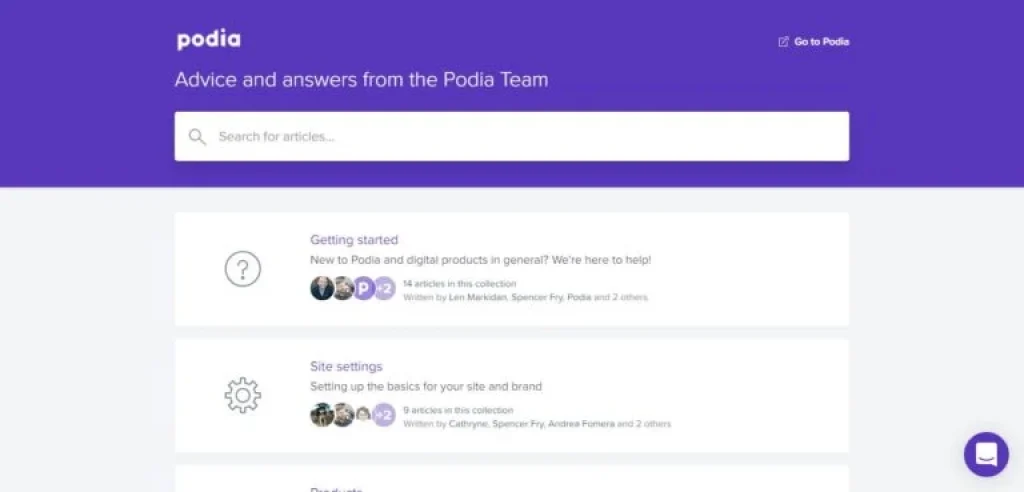 Podia Vs Competition:
While Podia is dominating the field for creators, the space is quickly evolving as a full. The editorial team has surveyed and distinguished almost every course builder out there. Here's how Podia stacks up with some of the better online course platform options:
Podia vs Thinkific:
Thinkific is an outstanding platform if you just like to build courses. With Thinkific, you can effortlessly build well-structured online courses that you can split up into modules or divisions. Still, if you need to host a webinar, you are required to utilize a third-party service. With Podia, you don't have to search for third-party assistance to host webinars. You can handily combine your webinars with YouTube Live and Zoom. 
Thinkific offers a 100% unrestricted plan, You can use this to get begun and sign up your first students before signing up for the costly plans. When we distinguish Thinkific vs Podia then go with Thinkific for a more competent and comprehensive online course platform and choose Podia if you want an easy-to-use accessible platform.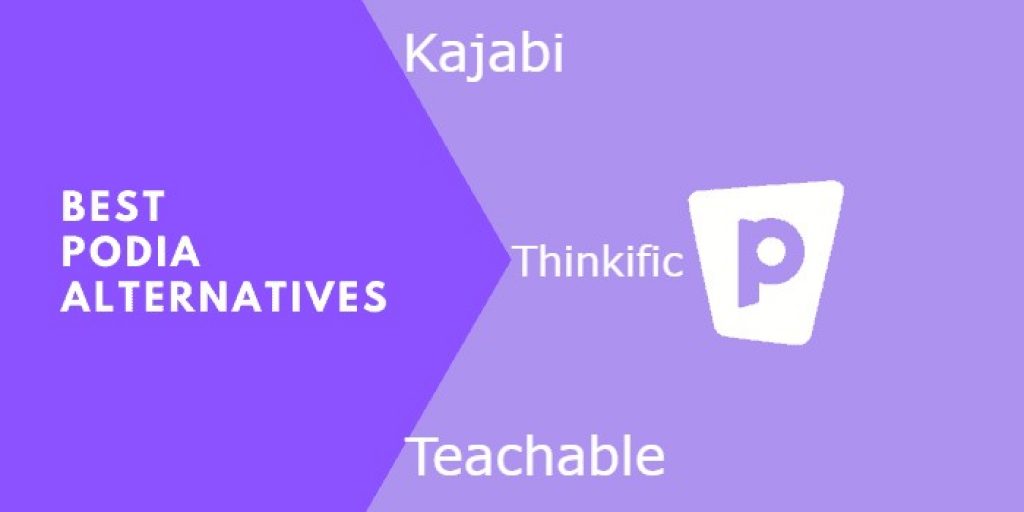 Podia Vs Teachable:
Teachable is an outstanding choice and the most prominent Podia alternative. Teachable gives various progressive features, including a user-friendly interface and wonderful navigation for your backend.  You get developed features from robust analytics tools to course certificates, engagement tools, domains of custom hosts, etc., It is making Teachable one of the best platforms for marketing courses. 
Teachable is the best platform and works great at one thing – online courses. So when we differentiate Teachable vs Podia then go with Teachable for an easy-to-use most beginner-friendly feature-rich platform and choose Podia for an affordable and easy course platform.
Podia vs Kajabi:
The Kajabi is beneficial in the following aspects as Email marketing and advertising choices, Search engine optimization capabilities, Webinars and various course types, Landing pages and sales funnels, Drip alternatives for your content, Integrations with main tools, Analytics and reporting, Online community, Affiliate marketing and much more.
But choose Podia if you have a restricted budget: Podia is more inexpensive than Kajabi, and there are no fees during transactions to bother about. You can start small and work in the way you like. 
Also, choose Podia if you want to migrate to something new: Podia assures you can rapidly and handily move to another outlet with the least issues. You need to expand a community, then Podia is proper at assuring you come out with a platform full of loyal customers.

Podia Pricing Plans:
This Podia review won't be finished without a description of pricing. Because unless you know how much Podia expenditure is, you won't be prepared to conclude it. Podia's pricing plans are pretty straight. It exhibits two plans. They are Mover Plan which sells for $39/month and the Shaker Plan which goes for $89/month. 
The best thing about its pricing though is that there are no marketing fees and you get quick payouts on both plans. In terms of what comprises each plan, the Mover Plan offers you all the characteristics that you need to build and sell online courses and digital downloads.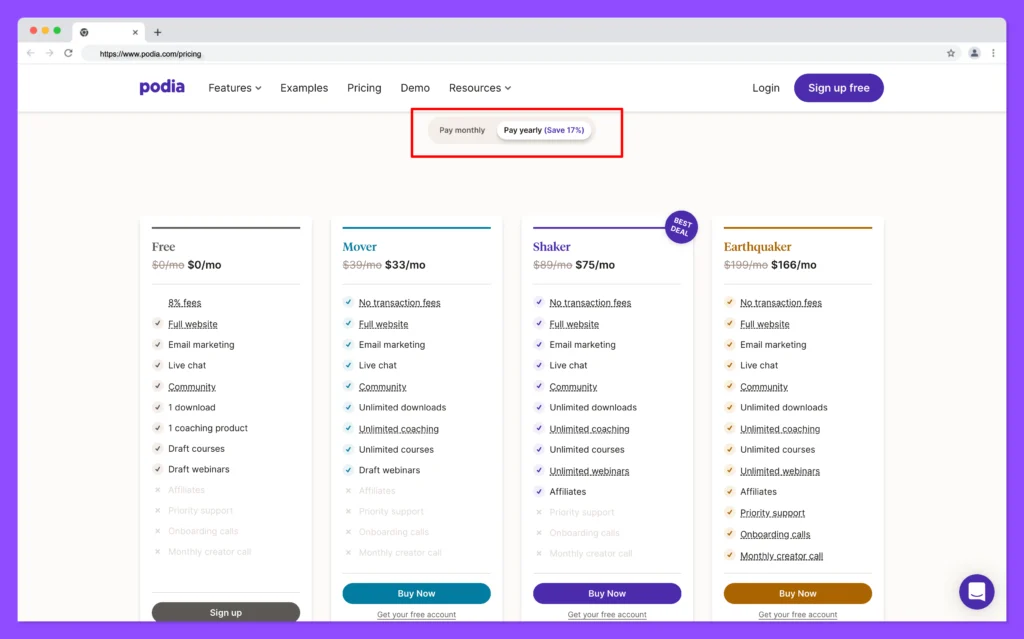 The features you don't get are our Memberships, Affiliate Marketing, Embedded Checkout, Zoom Integration, and Third-Party Code which is only accessible on the Shaker Plan. And free migration is also accessible only on the higher level.
Podia pricing is pretty acceptable and you will like how they have kept aspects simple. Still, there are a couple of things you may not like.The first problem is that neither of these plans offers the capacity to discard Podia branding from your school and you'll have to pay individually for that.
Another problem is that none of these plans allows you to involve your team members in your Podia account. To do that, you'll have to pay $20 per month per customer on top of your monthly subscription. But the biggest problem you may face will be with their pricing is the evidence that they don't enable the use of any third-party scripts on their lower level.
So if you were to use a popup solution like ConvertBox, a countdown timer like Deadline Funnel, or even combine with Facebook Pixel, you can't do it on the Mover Plan. This is something that almost everyone will require and there is no point in restricting it only to the higher level.
If you like to try out the strategy, you can get a 14-day free examination on either of its pricing plans. The good aspect is that you don't require a credit card to begin the trial. You can also get an extra discount by switching to an annual plan where they give you two months available.

Final Verdict :
In this Podia review, we've examined everything that the platform has to give and its drawbacks as well. What stands out the most about the platform is how simple it is to use. Making a course (or membership) is certainly straightforward and the course player looks amazing out of the box.
Moreover, you can create a good-looking deal page for your commodities and begin selling them very rapidly. The checkout process is well-designed and you can put it even on an external website which is helpful.Now, not everything is so nice about Podia. There are quite a few crucial course creation and engagement features like graded quizzes, certificates, community, etc. that are lacking. 
Also, you don't have plenty of design flexibility around how your website and your course area appear. Having said that, if you're searching for a cheap solution to build a membership site or provide a simple online course, Podia must be suitable for you.

Frequently Asked Questions:
Q1. What is Podia?

Ans: Podia is an all-in-one business outlet that allows you to build, sell and share online courses, memberships, webinars, and digital downloads.

Q2. Is Podia easy to utilize?
Ans: Podia has a very advanced UI/UX, and is easy to use. It doesn't have any understanding curve. You'll find it instinctive to set it up.

Q3. Is selling a course profitable?
Ans: Yes, they are. You can earn money selling online courses if you're systematic and make a constant effort.
Q4. Is Podia better than Kajabi?
Ans: Kajabi is slightly more progressive than Podia, with entry to SEO optimization tools, sales funnels, and extensive landing pages to improve your storefront.
Q5. What can you sell on podia?
Ans: Podia has everything you require to sell online courses, digital downloads, webinars, training, and community. Get arranged and sold in just a few seconds.
Q6. Does Podio have CRM?
Ans: Podio is constructed to make tracing your leads and sales as compact and easy as possible. Cooperative with real-time communication and task supervision in one place – Podio is the first CRM your team will like to use.
Q7. Can you perform webinars on Podia?
Ans: Podia allows you to host webinars, sell online courses, and ride your email marketing, all from a single dashboard.
Q8. Will Communities be accessible for all Podia plans?
Ans: Yes! Communities will be available for Movers, Shakers & Earthquakes.
Q9. Do I can form a website using Podia?
Ans: Yes, Podia is an all-in-one platform for creating websites, selling courses and online products, and hosting communities. The free website builder is neat, personalized, and so user-friendly that you can have your website prepared in just 10 minutes.
Q10. Is Podia effective for SEO?
Ans: Your Podia site and pages are presently SEO-optimized and this will enable you to rank outstanding on search engines!