OptimizePress Review: Should Your Business Use It?

OptimizePress Review: Should Your Business Use It?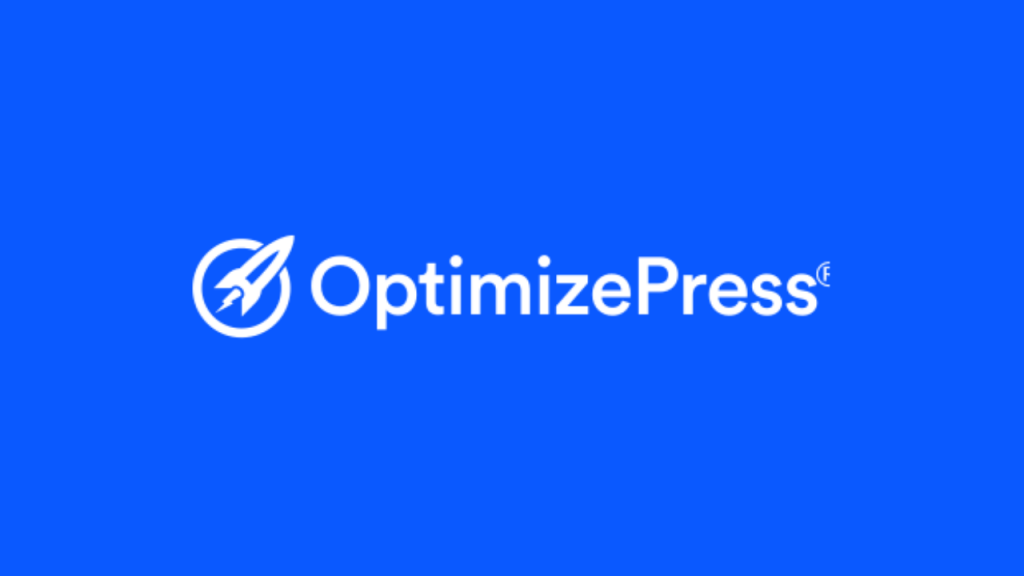 If you've ever owned a business, worked for a digital marketing agency, sold courses, are an online authority, or are a consultant, you already understand how important sales pages are. You will know that if you want to differentiate yourself from the competition. In that case, it's critical that you create engaging and profitable web pages like landing pages, sales and offer pages, checkout pages, and upsell and downsell pages. And on WordPress, the undeniably most popular website builder that has evolved as a content management system globally, you have the luxury of trying out a variety of plugins to create sales and marketing pages. However, if you go through many of these plugins, you will find that most of them are basic or good at specific aspects.  Now the question is- can you find a plugin that will cater to all your complex requirements for creating web pages for the sales funnel, enabling you to gain more subscribers and clients? If you go by the buzz surrounding WordPress, there is one! It is OptimizePress, which claims to be the ultimate plugin that works as a complete WordPress tools suite that enables you to create pages and funnels to grow your list and achieve more sales with conviction. But is OptimizePress as good as it claims to be?
Well, I've been using it for a few weeks, and in this review of OptimizePress, I'll tell you everything you might need to know about it and whether it's a good choice or if it lacks anywhere.
Pros and Cons Of OptimizePress : 
Like any other piece of software, Optimizepress has benefits and drawbacks, and if you're looking for a quick summary of those, the below pros and cons can be of assistance.
Pros of OptimizePress:
● You will adore the fact that by using OptimizePress, you can create landing pages that are optimized for conversions without having to integrate numerous third-party tools.
● Its integration with Zappier helps it integrate with many apps.
● Easy to use with drag-and-drop features.
● Excellent at building landing pages with features such as Email Confirmation Pages, Popup Overlay Forms, and Exit Pop Forms.
● It comes with pre-made sales and offers page templates, and they let you create powerful pages such as video sales pages, entry point offers, eCommerce sales pages, affiliate review pages, etc.
● You can accept payment on OptmizeePress's created web page via credit and debit cards through Stripe integration and collect payments in over 32 different currencies.
● OptimizePress allows you to conduct A/B testing of your web pages to know if they are better at creating conversions and evaluate them against each other.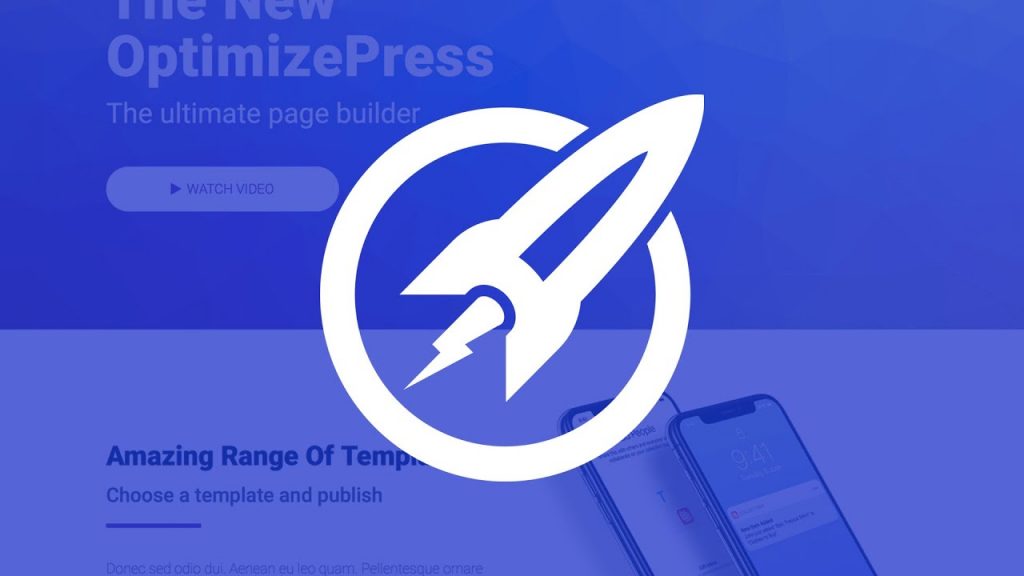 Cons of OptimizePress:
Although Optimize Press is a popular WordPress plugin, it does have some drawbacks. Before using Optimize Press on your WordPress website, consider the below-explained cons.
● The first drawback I discovered with Optimize Press is that it only functions with WordPress, which is both an advantage and disadvantage.
● Optimize Press can be slow to load, and the plugin can be tricky to configure.
● The plugin does not offer a free trial.
● There might be a slight delay when changes are implemented across different platforms. It's fine if you only need to set it up on one website, but it will take time and perseverance to get it going if you do it on several.
● On tablets and mobile devices, it could be better.
● Another issue is that you must pay an annual one-time fee with Optimize Press. The option to use it monthly as a more affordable subscription service doesn't exist as of now.

How does OptimizePress work?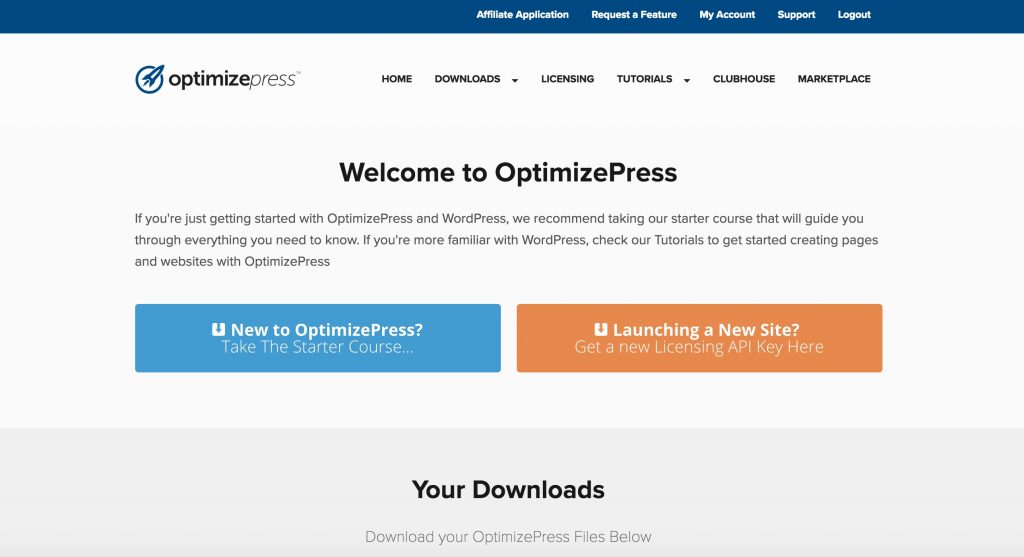 OptimizePress, as stated before, is a WordPress plugin that integrates with your current website, and you can use its website builder. So, how do you start with OptimizePress? Here are the steps:
● Make sure you have purchased the license from OptimizePress's official site. The official version is 3.0.
● Make sure you have a completely built WordPress website or are in the process of building one.
● Now, you need to log into your OptimizePress account and download the" Dashboard Plugin" Once you download the file, let it remain in your system or copy it to a place where you can find it on your computer.
● Get login into the admin panel of your WordPress website and click on Login (On the left-hand), and then click "add new."
● You should see the Plug-In menu, and on the top," upload plugin," click on it and click on the download zip file of Optimizepress.
● Once the zip file is downloaded, you should see the "install file option." You just need to click on this particular file and wait for it when it installs the plugin on your website. 
● You should see the option of "Activate Plugin" click on it, and we are almost done.
● When you tap "Activate Plugin," you will see a page asking you to connect with the "OptimizePress site" to enter the purchased license details. It is simple from there, as you just need to use your email id to authenticate you are the owner of your license by entering your email and password.
● After the authentication of the license, you will see 3 options.
Optimize Builder
Smart Theme v3 and
Optimizer Funnel,
 But remember that access to each one of these options depends upon the license you have purchased.

Easy to use: 
Optimize Press is currently on version 3.0 and is super quick and easy to use. I had no problem with the installation of OptimizePress. The plugin is extremely simple to install, and it is equally simple to use. The good thing is that it has a drag-and-drop feature and a live editor, so whatever changes you make to your page, you can see them taking shape right before your eyes.
Before I explain the benefits of using OptimizePress, I want to tell you from the beginning that OptimizePress has everything you need to build high-converting sales pages. It has 100+ professional, ready-to-use page templates, 20+ pre-designed layouts, 50+ elegant fonts, and many useful features. Moreover, it has integrations with most major marketing and automation tools.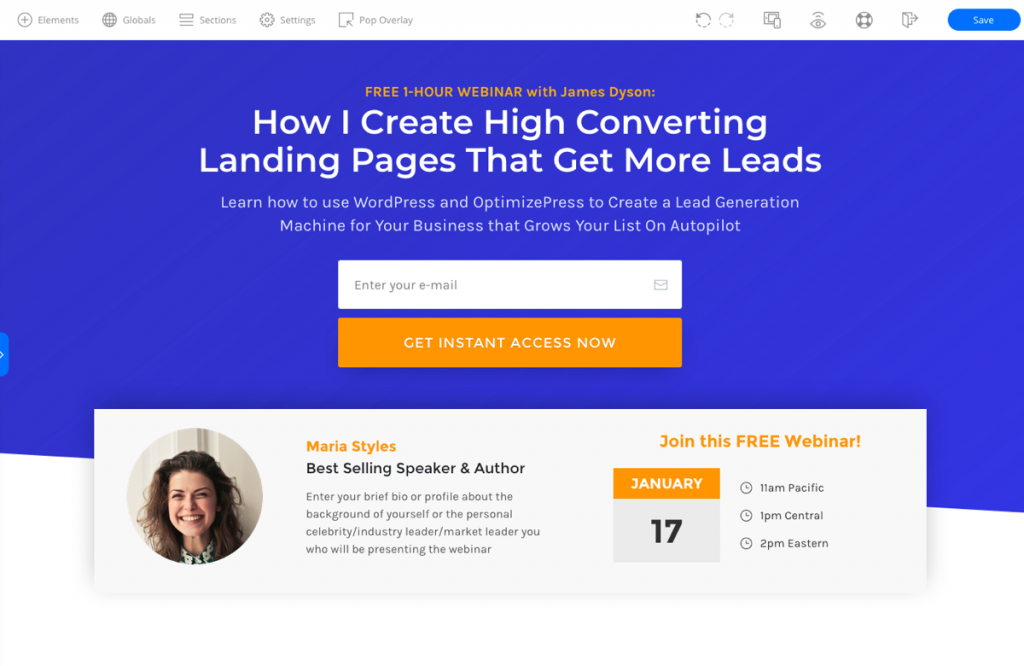 Moreover, I am pleased to tell you that If you want to build high-converting sales or landing pages without hiring a designer, then OptimizePress is the perfect plugin for you. It lets you create beautiful and professional pages with ease. OptimizePress can be used to: –
● Create landing pages and sales pages.
● Import lead generation forms from your autoresponder.
● Create squeeze pages and product offerings.
● Construct stunning one-click upsell and downsell pages.
● Build your email list by creating lead magnets; and integrating them with leading email marketing and automation tools.
● Make lead generation pages and more.
Moreover, you can get your hands on "SmartThemes," which all look modern and feature-rich. Since these themes are WordPress-ready, they come with several editing features that you will admire since you can use those options to tweak the look of your web pages as you want.
There's no doubt in my mind, and there shouldn't be in yours, that both page builders and smart themes have fantastic features like a plethora of well-designed importable landing page templates and conversion-focused elements like countdown timers and opt-in forms. Furthermore, you get access to a two-step opt-in tool, built-in social follow buttons, a script management tool, and opt-in forms.

Benefits Of OptimizePress WordPress Plugin: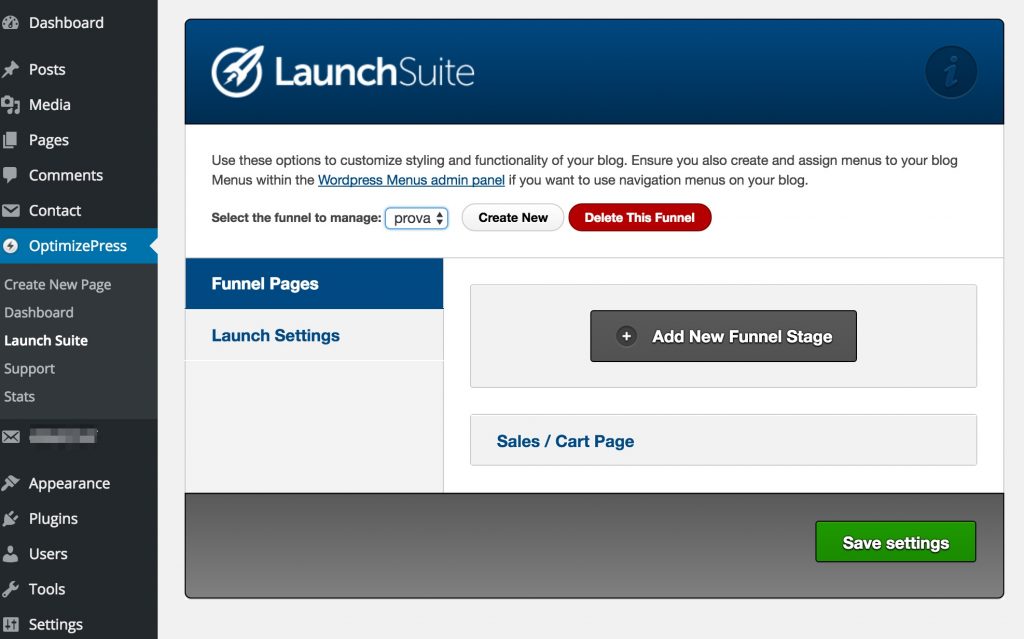 Here are the reasons why you should use OptimizePress for your business website. Do you know why? Read the following benefits of going with OptimizePress.
● Create stunning, responsive landing pages that convert visitors into customers:
With OptimizePress, you can create stunning and responsive landing pages for your products and services. These landing pages can be used to generate leads and increase sales. These landing pages come with ready-made templates and designs. You can use these templates to create awesome landing pages in just a few minutes.
● Easy to design and manage:
In my experience, landing pages sometimes get complex with many additional features like lead magnets, upsells, and down-sells. OptimizePress makes managing all these features easy and allows you to design them the way you want. You can add these elements easily to your page with a few clicks.
● Features like Lead Capture, Lead Magnet Management, and A/B testing tools:
  With OptimizePress, you can create lead capture forms and lead magnet pages. Moreover, OptimizePress lets you access an A/B testing tool, which is great for checking which version of the created website pages is better, and trust me, it is an excellent feature since you get an idea of which version has the better chance of bringing in clients. Moreover, you can use these tools inbuilt into OptimizePress to build your email list. You can also create upsell and downsell pages to increase your sales. These features will allow you to create pages that will increase your sales and conversions.
● Seamless integration with all major email marketing services:
 If you want to create automated marketing campaigns and send emails to potential customers, then you can use the ready-made integrations with all major email marketing services. This will let you design and create campaigns quickly and easily.

The Features of OptimizePress:

1. Drag and Drop Interface with Live Editor:
Using OptimizePress to build and edit the pages is a joy to use. As stated before, it is a drag-and-drop interface with which a user can visually edit the page layout using a host of sidebar options and popup menus. I was relieved to know that OptimizePress uses the editing process inline.
It uses the live editor by which you can customize your layout elements right from the position on the page. The editor in optimizePress enables users to design a website page from scratch, or if they want to, they can choose a template and customize it as per their liking.
If you are wondering where you can find all the standard editing tools you may need to tweak your website's page, they are found on the toolbar, and with drag-and-drop functionality, you won't have any issues using them.
In summary, you will be satisfied with the number of elements that are available in the library of OptimizePress 3.0. With the help of these elements, you can build sales pages, landing pages, and anyone's full website and sales funnel without writing a single line of code.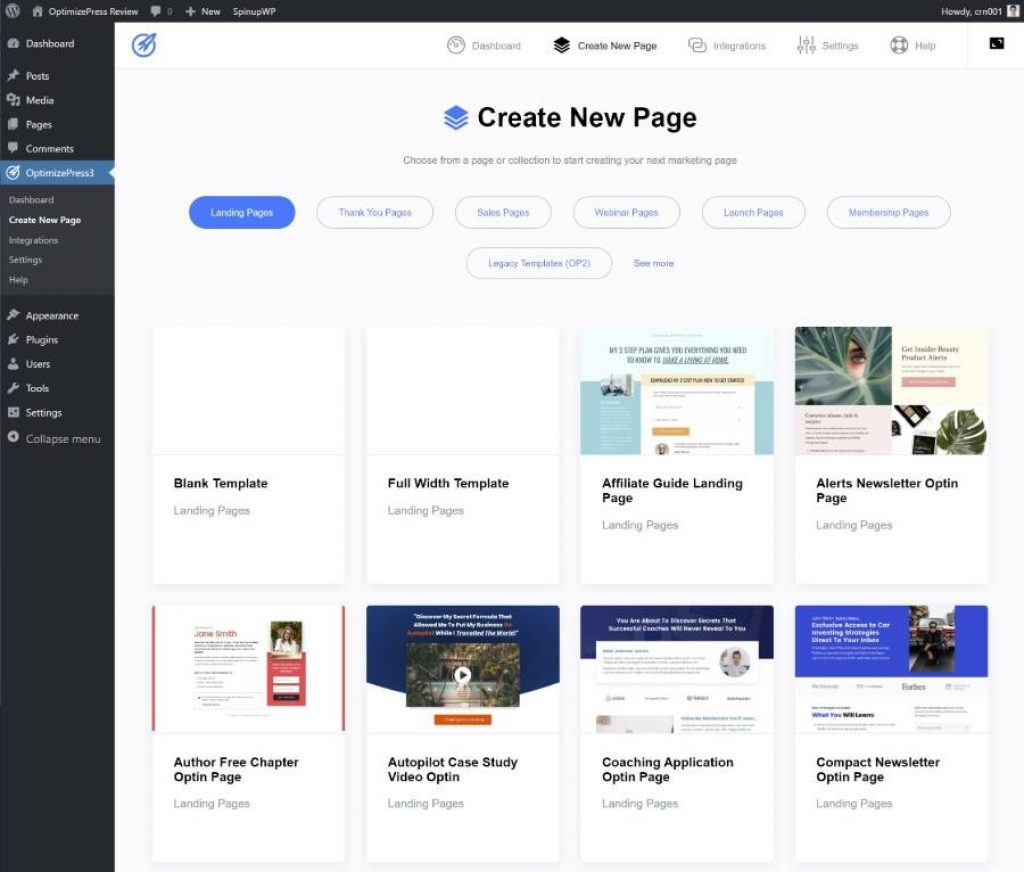 2. Free and Premium Templates:
One of OptimizePress's strengths is its library of templates. You can download over 60 sales and landing page templates with Live Editor.
OptimizePress has focused on creating templates for different types of pages, such as a thank you page template from your website's landing pages, which also include webinar pages. But according to my experience, it needs more options.
However, OptimizePress has built a marketplace for premium templates where the number of templates exceeds 300. These include typical conversion pages as well. Although you will need to pay for these templates in OptimizePress, they are not very expensive—the majority are in their marketplace for between $8 and $15.
Last but not least, these templates are responsive. They work flawlessly on mobile browsers, eliminating the need to integrate a third party to optimize your sales and funnel pages for smartphones and tablets.

3. Create Sales Pages and Landing Page:
Creating landing or sales pages is super easy, and I mentioned earlier that I had a satisfying time with it. You will learn how to create sales and landing pages in OptimizePress from the following information.
●  Download and install the plugins
All of the Suite plan's plugins are accessible through the OptimizePress Dashboard plugin. You only need to install OptimizeBuilder to get going.
●  Pick a template for a page.
To organize your training materials, start with a template for your landing page or make a course in OptimizeMentor.
●  Add your landing page content.
Create your content in the lightning-fast visual page builder. Build your membership by dragging and dropping content, then customize it to reflect your brand!


4. Responsive Design Compatible with All Devices:
The new OptimizePress 3.0 raises the bar for mobile optimization. I found some good features in OptimizePress 3.0 regarding the responsive nature of the pages.
For instance, you can adjust your page layouts for mobile devices and optimize the overall framework for conversions specific to mobile devices. The page builder includes an "Optimize for Mobile" option to take advantage of this. Moreover, another excellent feature of OptimizePress is that it focuses on improving mobile display adaptation and conversion rates. 
Additionally, it allows you to edit the whole layout design specifically for visitors viewing your site on mobile devices. In other words, you can create separate sales funnels for PC, tablet, and smartphone users. Each visitor is bound to load a distinct page version optimized for their specific device, leading to higher conversion rates overall.

 5. Checkout And Payments
Most landing page builders and plugins cannot build checkout pages. This plugin remedies that by adding the necessary functionality in one place. I had read about OptimizePress checkout and payment features that claimed that if you have been searching for a straightforward method to sell your products and services online using WordPress, it is an excellent choice. The claim was somewhat true in my experience. OptimizeCheckouts has been designed to be the premium WordPress checkout plugin, with versatile checkout forms, convenient Stripe integration, and robust checkout optimization features such as 1-click upsells and downsells.
 What is amazing about the Checkout Form plugin is that it integrates seamlessly with the rest of the OptimizePress product line, so you can rapidly add your sales flows to your existing pages and funnels with only a few clicks. With just a few clicks while using OptimizePress, you can connect your Stripe account, and after installation, you can start taking payments in minutes!
It has included a range of ready-to-use checkout templates, and if you're using the OptimizeFunnels platform, each of the checkout funnels comes with a checkout page design that's optimized for conversions. The best part is that it offers conversion-tested checkout form designs that are fully customizable and based on thousands of checkout tests to ensure that they lead to maximum conversions for you. 
Additionally, you will love knowing that you can customize your form fields to keep your buyers focused on the process and only collect the necessary information. Additionally, adding an order bump to your checkout form is a simple way to boost your sales instantly, and doing so is very simple in OptimizPress
6. New Optimizepress Dashboard:
OptimizePress 3.0, according to the company, is the easiest yet most powerful WordPress sales page tool available. It is a powerful dashboard tool that provides users with a wealth of features and options. I went through some reviews and the history of OptimizePress and learned some interesting facts. I learned that it took two years for OptimizePress 3.0 to be developed, and it was released in 2019.
Although I haven't used previous versions of OptimizePress, based on my experience with version 3.0, it seems more dependable than its predecessor because I didn't experience any of the issues that users highlighted as being present in version 2.0. 
Your landing pages can be customized in real-time using a drag-and-drop editor. Furthermore, OptimizePress 3.0 comes with a wide selection of pre-designed OptimizePress templates that are fully customizable. Over 40 custom elements can be added to the page, including testimonials, multimedia, feature boxes, arrows, buttons, etc. Additionally, there are several advanced conversion funnel-building resources included in this package.
Furthermore, if you are considering setting up an all-encompassing conversion framework, OptimizePress 3.0 can be integrated with various analytics, membership site management, and email marketing solutions, just to name a few. 

7.   Membership portals with content Drip support:
If you are familiar with OptimizePress, you will know that it is frequently used on WordPress to build membership sites. Instead of using a different plugin, OptimizePress lets you build a membership website directly from within the plugin. Although it lacks a few features, it has many of the ones we expect from plugins like Restrict Content Pro. 
A crucial component of any membership website is its capacity to provide drip content. With this system, new content is "unlocked" gradually rather than all at once, much like email marketing campaigns. Drip content is helpful for online courses that release new material regularly or provide a reason for subscribers to keep returning. It also safeguards against new members joining, downloading everything, and then leaving. Having checked out the features, I can tell you that both membership portals and content drip support work well without any issues.
 8.   Documentation & Support:
I've already mentioned that OptimizePress is more than just a page builder. The creation of funnels, sales pages, and landing pages is also possible using it. You might be wondering if they offer enough assistance and information. The OptimizePress team ensures that you have a problem-free experience using their product. Their support staff will assist you in resolving any issues you run into while using the tool.
 OptimizePress has a documentation page where you can find information about using the page builder, membership site, live editor, integration themes, Get Started Guide, billing accounts, smart themes, troubleshooting, and other features.
9. Analytics:
If you are wondering about the analytics capability of OptimizePress, you need not worry. It's a powerful tool that allows you to do everything you need for A/B testing and funnel analytics, all in one place. There's no need to use multiple tools – OptimizePress has it all.
A/B split testing feature in OptimizePress allows you to test out various page iterations concurrently to determine which performs best. You can evaluate your site's performance in OptimizePress and improve its ability to meet your conversion goal through split or A/B testing.

A well-planned and executed split test or experiment can considerably impact your marketing strategy, making it more lucrative and successful. You will especially like the ability to track conversions and funnels. The reports are very detailed and give you a lot of important data. Overall, I was very impressed with OptimizePress and its ability to do everything they need for A/B testing and funnel analytics with a single tool.
Third-party integrations:
One of the features that sets OptimizePress apart from other WordPress plugins is its third-party integrations. These integrations allow you to connect your OptimizePress pages with other tools and services that you use, such as email marketing platforms and payment processors.
With 60+ integrations, OptimizePress allows you to use the best marketing tools available to each of your target audiences.
Some popular integrations include Zapier, Mailchimp, Unsplash, Infusionsoft, and Ontraport. Each of these integrations offers different features that can help you maximize the impact of your marketing campaigns. With so many integrations available, you can easily tailor your marketing efforts to perfection and reach your target audience. Moreover, with these integrations, you can automate your marketing, improve your website's design, and easily track your results. Whether you're just getting started with building landing pages or are a seasoned pro, OptimizePress is a great platform to consider.

Pricing for the OptimizePress Plans:
The annual cost of OptimizePress' Essential plan is $99 per year, which is a sweet spot, in my opinion. You are given usage and support for one website, access to all essential features, and the ability to create an infinite number of pages.
Upgrading increases usage and supports up to five websites for the business license, which costs $149 annually. Additionally, it gives you access to over a million images on Unsplash, adds scarcity alerts using the OptimizeUrgency WordPress plugin, and gives you access to the OnePage membership course.
The costs for the Suite plan are $199 annually, and according to OptimizePress, their Suite plan is their best deal. It costs $17/month if you pay yearly ($199/year) or $30/month if you pay quarterly ($90/quarter), and the subscription is valid for up to 20 sites for the clients who purchase it.
Moreover, it expands usage and support to 20 websites, enables you to build marketing funnels using OptimizeFunnels, and comes with the hosted opt-in software OptimizeLeads. All plan holders can access OptimizePress' features, product updates, and webinars. However, there is no free trial for OptimizePress. Instead, if you're unhappy with your purchase, it offers a 30-day money-back guarantee.
 The personal-use Essential, Business, and Suite plans differ from the available agency plan, which is another thing you should be aware of. One of the annual agency plans must be chosen if you want to build pages and sales funnels for other people. The Standard Agency Plan of OptimizePress costs $399 annually and permits installation on up to 15 client websites. For an additional $599 a year, you can upgrade to the Pro Agency plan, which includes 40 client websites.

OptimizePress Alternatives:
I have experience using Thrive Architect, LeadPages, and Unbounce, some alternatives to OptimizePress. You can read ahead to my brief opinion comparing OptimizePress against these options.
Between Optimize Press and Thrive Architect, two popular WordPress plugins that allow you to create custom pages and posts, I found Optimize Press to be the better option, thanks to its ease of use and flexibility. Moreover, at $299, Thrive Architect is more expensive than OptimizePress.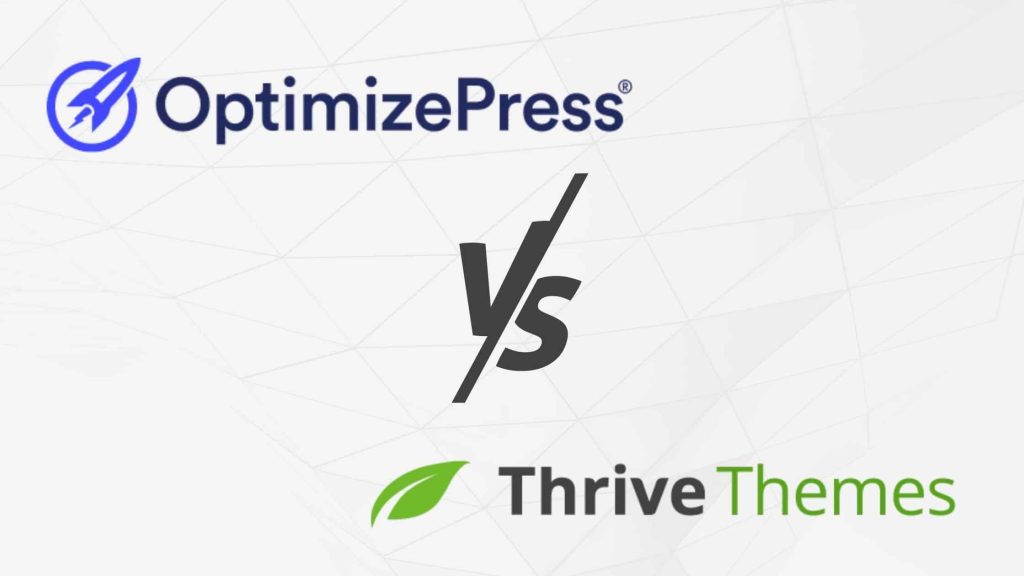 Furthermore, I recommend Optimize Press if you're looking for a plugin to help create beautiful pages and posts. However, if you need something that is more powerful and integrates with other plugins, then Thrive Architect may be a better option.
After comparing Leadpages and OptimizePress, the former is a better option. A beautiful landing page can be quickly created with Leadpages, which is much easier to use. Also, the templates can be easily customized to match your brand and are well-designed. OptimizePress has a smaller selection of templates than Leadpages. However, Leadpages is more expensive than OptimizePress at $19 per month compared to $99/per year. 
Unbounce is available for $99 or $79 per month if paid yearly, which is more expensive than OptimizePress, so OptimizePress has the advantage here. It provides a modern landing page builder, pop-up creator, over 100 pre-made templates, and integration support for dozens of applications and services.
Customer Care Support:
The customer service could use some improvement at OptimizePress. There are articles about the OptimizePress platform in the Optimizers Help Center. Additionally, their knowledge base offers immediate access to your questions, and our OptimizePress members' area contains a wealth of training materials. However, they cannot become substitutes for real customer support according to the website, all purchases of the Core, Publisher, or Pro packages of OptimizePress include a full year of email support that is unrestricted. You should know that OptimizePress uses messenger services instead of the phone at the moment to provide support. They'll chat with you if they're online. They will either create a ticket for you or get back to you immediately if you are still waiting for someone to answer your questions.
Because most inquiries are technical, they believe that having a written log of these inquiries, along with any necessary logins for support access, works best for their support setup. This also allows them to provide quicker service to all of their customers. However, I disagree because customers who are not technically savvy may run into problems, and the lack of direct phone support, even on the paid plan, is a bummer in OptimizePress.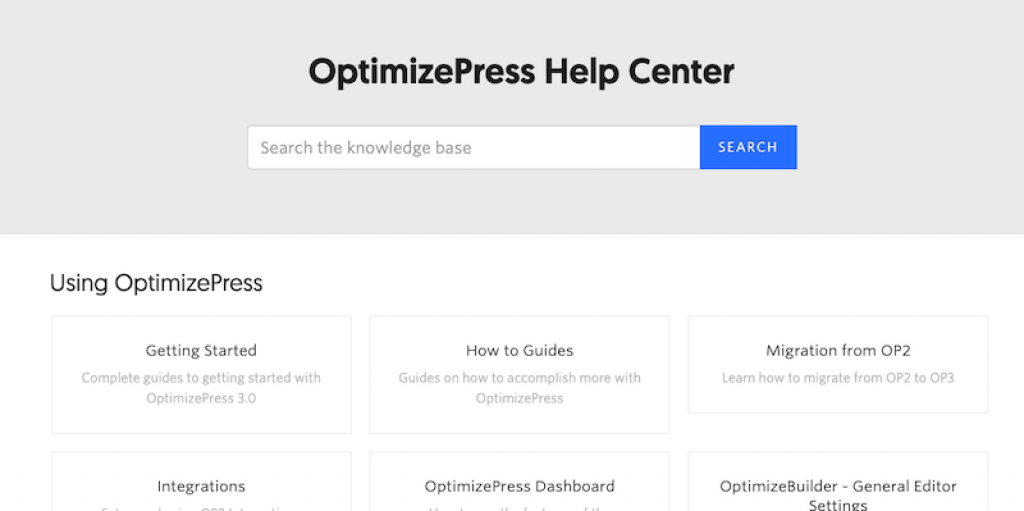 Final Thought:
After thoroughly checking and using it, I can confidently say that OptimizePress is an excellent landing page and marketing solution. After testing numerous landing page plugins, SaaS landing page builders, and page builder plugins, I prefer the new editor in OptimizePress 3. It is the most uncomplicated and enjoyable to use as a WordPress plugin. With this drag-and-drop page builder, you can create stunning and professional pages in no time. You can use these pages to increase your sales and attract potential customers.
Moreover, the latest version of the OptimizePress software is faster, easier to use, and has improved templates. In addition, recent updates have turned it into a full sales funnel builder capable of selling products and conducting A/B tests on pages. Additionally, if you want to build high-converting landing pages (and other marketing pages) using WordPress, then OptimizePress 3 is a great option. 
Moreover, the quality of the pre-made templates included with the WordPress plugin is top-notch, and the page builder simplifies creating and modifying landing and sales pages.
However, as with all products, there are some limitations as well. If you want to create complex landing pages with different sections, look for another plugin. Another con is that it doesn't offer a free trial. But if you want to create simple and engaging pages, you can't go wrong with OptimizePress. 
Frequently Asked Questions:
Q1. Can OptimizePress be integrated with Shopify?
Ans: While OptimizePress is a great online business tool, one of its drawbacks is the lack of top eCommerce integrations, such as Shopify. However, you can choose between other marketing platforms, such as JVZoo, Infusionsoft, and Clickbank.
Q2. What does OptimizePress offer in a $199/ Yearly plan?
Ans: The OptimizePress Suite offers 20 personal websites for just $199/year. Along with everything in the business plan, you'll also receive 15 additional websites and the following effective add-ons:
● OptimizeLeads
● OptimizeCheckouts (includes digital file delivery, bump orders, and more)
● OptimizeFunnels (includes A/B testing + analytics)
Q3. What are the capabilities of OptimizePress?
Ans: OptimizePress is powerful software that facilitates the creation of pages and websites to market your business.
This includes landing pages, opt-in pages, webinar registration pages, thank you pages, sales pages, etc.
In short, any page you need to help grow your list or sell products/services can be created with OptimizePress.
Q4. Does OptimizePress offer phone support?
Ans: Optimizepress doesn't offer phone support, but it does offer email support, and its team is often praised for how well they do it.
Q5. How do I install SmartTheme v3?
Ans: To add SmartTheme v3 to your OptimizePress 3.0 dashboard, follow these steps:
1. Go to the OptimizePress 3 dashboard.
2. Look for SmartTheme v3.
3. Install it by selecting the Install option.
4. After installation is complete, press the "Activate" button.
Q6. Compared to its competitors, is OptimizePress costly?
Ans: When comparing the cost of OptimizePress to its competitors, it is crucial to keep in mind that things are subjective. However, let's put things into perspective.
The Suite, at $199/year, may seem like a lot of money. But when you compare it to its competitors, you'll see that it's a great deal. For instance, ClickFunnels charges $97/month for their basic plan, and LeadPages costs $37/month.
Even though there are differences between all the products, OptimizePress offers excellent value for the price.
Q7. Is the product ( OptimizePress ) offer a money-back guarantee if I'm unsatisfied?
Ans: You have a 30-day money-back guarantee with OptimizePress.
Q8. Is OptimizePress capable of creating traditional pages and posts?
Ans: You can use OptimizePress to create regular pages and posts, just like with any other page builder.