In this review I'll do a deep-dive into what this tool offers, including:
Best (and worst) features
A review of their support
How the tool works
How Mangools compares to other paid SEO tools (like Ahrefs)
Lots more
So if you're considering signing up for Mangools, this review should help you with your decision.
Let's jump right in.
Mangools is an SEO toolset that's great for bloggers, affiliate marketers, SMEs or SEO agencies. It's particularly popular because of the design and ease of use. Key features include keyword research, competitor analysis, backlink analysis, rank tracking and SERP analysis.
Try Mangools For Yourself
Try a risk free unlimited 14 day trial of all Mangools features! Click the link below!
Now, let's look deeper to find what Mangoolsi has to offer and whether it is the right solution for you or not.
Mangools is an SEO software that market themselves as a cheaper alternative to Ahrefs and SEMrush.
They're a toolset that consist of 5 apps:
KWFinder
SERPChecker
SERPWatcher
LinkMiner
SiteProfiler
After you've created an account, you'll be able to log into your dashboard where you'll see all 5 apps waiting to be used, along with usage limits for each tool based on your chosen subscription.
KWFinder Keyword Research Tool
KWFinder is the most well-known Mangools app. In fact, most marketers when they hear "Mangools", they think of KWFinder and are often surprised that there are 4 more apps available.
I know that was the case with me.
Here's how to use this keyword research tool:
First, log into KWFinder and enter in your target keyword, along with search location and language.
Our example keyword is "landing page builders":
As your keyword report loads onto the screen, the first thing you'll notice is that KWFinder's reporting dashboard is really intuitive.
On the left KWFinder spits out a bunch of related keywords to you target phrase + important metrics for each (search volume, keyword difficulty, trends graph, PPC competition and CPC).
Right above the keyword list you'll notice a bar where you have the option to toggle Autocomplete mode and Questions mode.
In the former, KWFinder will scrape Google autosuggest terms related to your target query.
In the latter, KWFinder will show you all keywords that contain your target term AND are also phrased as questions.
Finally you can easily save the keywords you like by checking the box in front of each and adding it to a keyword list.
On the right, your target keyphrase is singled out along with crucial info you need to have.
First, KWFinder gives you a numerical score while showing the competitiveness of your target keyphrase.
Next, you see the trends graph which shows you whether your target keyword is growing or waning in popularity.
This is crucial info to have so you don't end up targeting a phrase that no one searches for anymore.
Below the trends report you can see the SERPs overview and sites ranking in Google.
You can also see some crucial URL-specific metrics you need to know about if you are to compete in those SERPS.
The metrics are:
DA – A ranking score by Moz that aims to predict link-based authority of the entire domain.
PA – A ranking score by Moz that tries to predict link-based authority of that particular page.
CF – Citation Flow shows the "influence" of ranking URL based on the number of links hitting that page.
TF – Trust Flow score shows the strength of the URL based on the quality of links hitting that page.
EV – External Links report you the number of external links hitting the page. By hovering over the number you can see link profile breakdown by number of links, number of unique referring domains, number of referring ip's and subnets.
FB – Number of Facebook shares provided by the Facebook API.
LPS – Link Profile Strength score tells you the predicted strength of the URL. This is a Mangools custom metric.
ESV – Estimated visits per month, based on search volume and position in the SERPS.
SERPChecker Keyword Difficulty Tool
Next, we have SERPChecker.
This tool helps you get a better overview of the SERPs you're about to enter with your page.
To use it, pick a target keyword and input it in the keyword field:
The results SERPChecker spits out are very helpful.
First, you see the keyword difficulty for the target keyword, plus the SERPS Features Impact.
What is it?
SERP Features Impact is a nifty feature that shows you how crowded the SERP is for your target term.
Google has become an answer engine, and some keywords are simply not worth targeting as Google is giving all the answers already.
SERP Features Impact feature shows you exactly what Google features are present on the page.
In the case of our example keyword, there are very few SERP features (Google Ads at the top and bottom + PAA boxes) and the keyword gets a green light.
Next, you can see all 10 ranking sites listed out, along with their metrics (DA, PA, CF, TF, LPS, AR, RD, RI…)
I won't talk about those again because they're the same metrics I covered in the KWFinder section above.
Finally, SERPChecker lets you compare your target URL with the current SERPS. That way you can clearly see the gap in authority between your page and those that currently rank.
Not a groundbreaking feature, but definitely makes your life easier as an SEO.
Overall, SERPChecker is a decent tool that can give you a lot of value if you decide to use it.
However, for the most part, I'd skip it as within the KWFinder dashboard I can already see the SERP overview and plot my ranking stratagem accordingly.
Pro tip: Oftentimes, Mangools and other SEO tools err and show you results that are not 1:1 match with the real SERPs.
That's why it always pays to check on SERPs manually.
And to do it you'd normally need to have one tab open for SERPChecker, and another for Google, but with this tool you can get a live snapshot of the first page without leaving the dashboard.
Simply click on the "Snapshot" tab at the top
SERPWatcher Rank Tracker Tool
SERPWatcher is Mangools rank tracker. You can use it to track your rankings and see the impact of your SEO efforts on your keyword rankings.
For example, you update the post today and predict you'll get a rankings boost from a freshened up page that's also better optimized and now has more high quality content.
But why predict when you can verify?
That's what SERPWatcher is for.
To use it first you need to enter a set of keywords you wish to track. You can add them manually or from a spreadsheet.
And that's it. Now it takes ~30m for SERPWatcher to populate the dashboard with your initial report.
As you can see from the image above, SERPWatcher is a standard rank tracker, in line with pretty much any other tool on the market.
You can see your rank, estimated traffic, whether your keyword is trending up and down, search volume, etc.
On the right, you'll notice the Performance Index, which gives you a generalized overview of how all your keyword rankings are performing.
Below you'll observe your keywords listed out based on ranking gains they've had.
Very useful to weed out those where Google seems to really like you.
Match those terms to their host pages, go and update them by giving Google more of what they clearly love, and see your rankings soar even more.
LinkMiner Backlink Analysis Tool
LinkMiner is Mangools backlink checker.
Unlike SEMrush, Moz and Ahrefs, which all boast their own link indices, LinkMiner doesn't.
Instead, they get their data from Majestic SEO.
This is a good thing because Majestic SEO is a premium backlink checker that rivals Ahrefs in size of their index and speed of their crawler.
The data from LinkMiner is duplicated from Majestic which means you get a ton of value here.
You can use LinkMiner to check backlink profiles of both entire domains and individual pages.
Simply input your target URL and let it do its magic:
Once the results are live, you'll be able to see all links pointing to your site, plus how LinkMiner/Majestic scores your website against their proprietary backlink metrics.
You'll also be able to filter the results based on follow/nofollow link status and also new links won and lost.
Finally, each line you see comes with a set of Majestic metrics for evaluating its strength.
These are:
Citation Flow (CF) – Score that predicts how influential a page is based on how many other pages link to it.
Trust Flow (TF) -Score that predicts the power of the page based on the quality of the links pointing to it.
EL – Shows you the total number of external links hitting that page;
FB – Number of Facebook shares.
AR – Alexa Rank.
HREF – Show you the URL path.
Anchor – Anchor text of the link.
LP – Estimated link power of the link.
Overall, because LinkMiner is powered by Majestic backlink index, the reports are very valuable and LinkMiner can easily replace Ahrefs as your backlink tool of choice.
SiteProfiler SEO Metrics Breakdown
I mentioned in the intro that one of the Mangools apps is a waste of time and just a bloat to an otherwise excellent SEO toolset.
SiteProfiler is that app.
SiteProfile "profiles" a site by measuring its total backlink strength and popularity on Facebook.
And that's it really.
Oh, you can also see the site's top content which is somewhat useful as, if you're aiming to steal content ideas from competitors, you'll want to steal their best stuff that's proven to work.
One nifty feature I love though is the top domains report. It shows you the best sites that link to your target domain, and these are ordered based on their Alexa rank.
This is very helpful info.
Why?
Because, if you happen to run into a site that boasts a really powerful link profile and has backlinks from some of the best websites in the world, it pays to take that domain and plug it into LinkMiner, and then delve deeper into their link profile.
If you can figure out how they're getting those awesome links, it'll be so worth it.
But overall, SiteProfiler seems like it has been added to make up numbers. That said, it has been a welcome addition for existing customers.
Mangools Browser Extension
Yes, similar to Moz, Ahrefs and SEMrush, Mangools also offer an extension for Chrome and Firefox browsers.
The difference is that you can use this extension without a premium Mangools account.
To use this extension, first install it from your Mangools dashboard.
Second, navigate to a page you want to inspect without bothering to go into LinkMiner, and then click on the orange ball (Mangools logo) button in the extension bar.
This will show you the site's backlink prolife plus keywords they rank for and on-page SEO.
Overall, really good stuff for rapid site and page evaluation.
I like it!
You have multiple ways to contact the support team for any queries, after or pre-sales.
The best and fastest way is to use live chat.
Their SEO supervisors are available 24×7 to answer your questions and help you understand the tools.
You can also raise a ticket via email if you like.
As far as my experience goes, their support is always to-the-point and quick to resolve any queries.
If for some reason, you feel Mangools isn't what you're looking for, you can cancel the subscription under 48 hours to get a full refund.
Here's the pricing breakdown for each Mangools paid plan: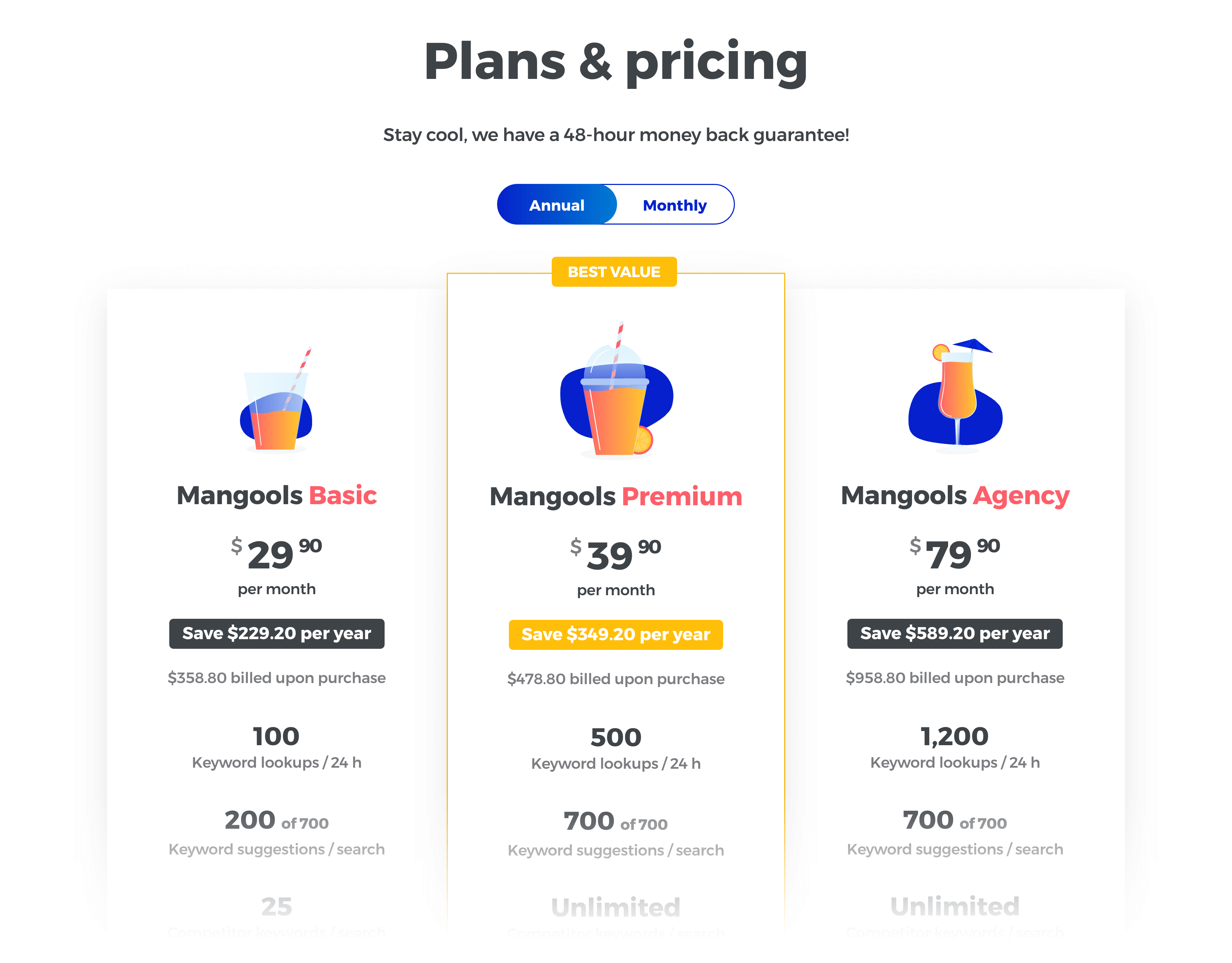 As you can see, their pricing ranges from $30-$80/month.
You get access to the same features no matter what plan you go with. The only difference is the number of searches, SERP lookups, tracked keywords and backlink rows that you can analyze.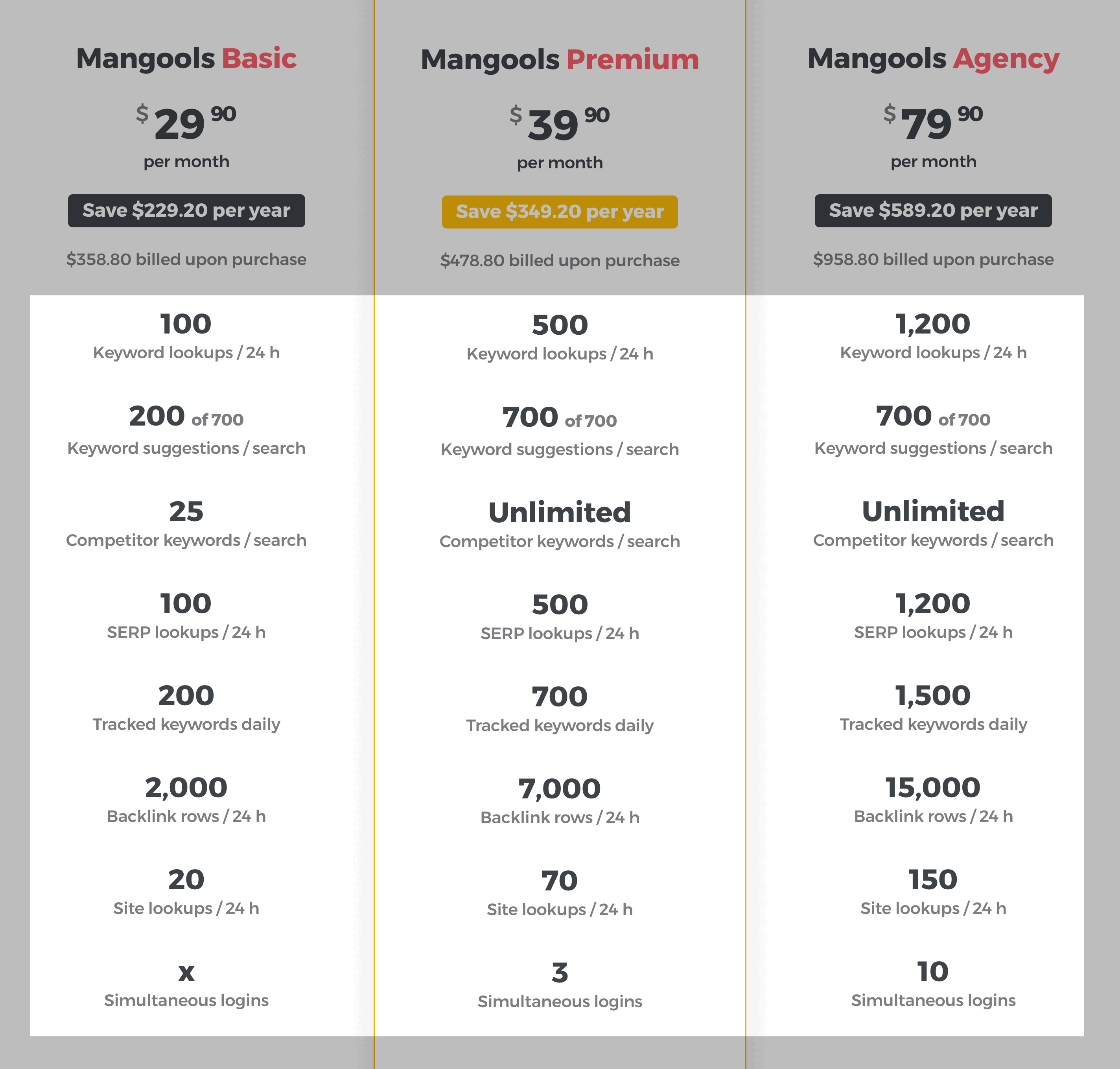 (They also have annual plans where you can save about 40% vs. monthly billing)
If you run a single site, Mangools Basic may be enough for you. But if you're an agency owner or someone that has a portfolio of different sites, then you probably want to go with the Mangools Premium or Mangools Agency plan.
How does Mangools pricing compare to other tools?
So yeah, Mangools is significantly cheaper than most other tools. In fact, Mangools' cheapest plan is 3x cheaper than Ahrefs.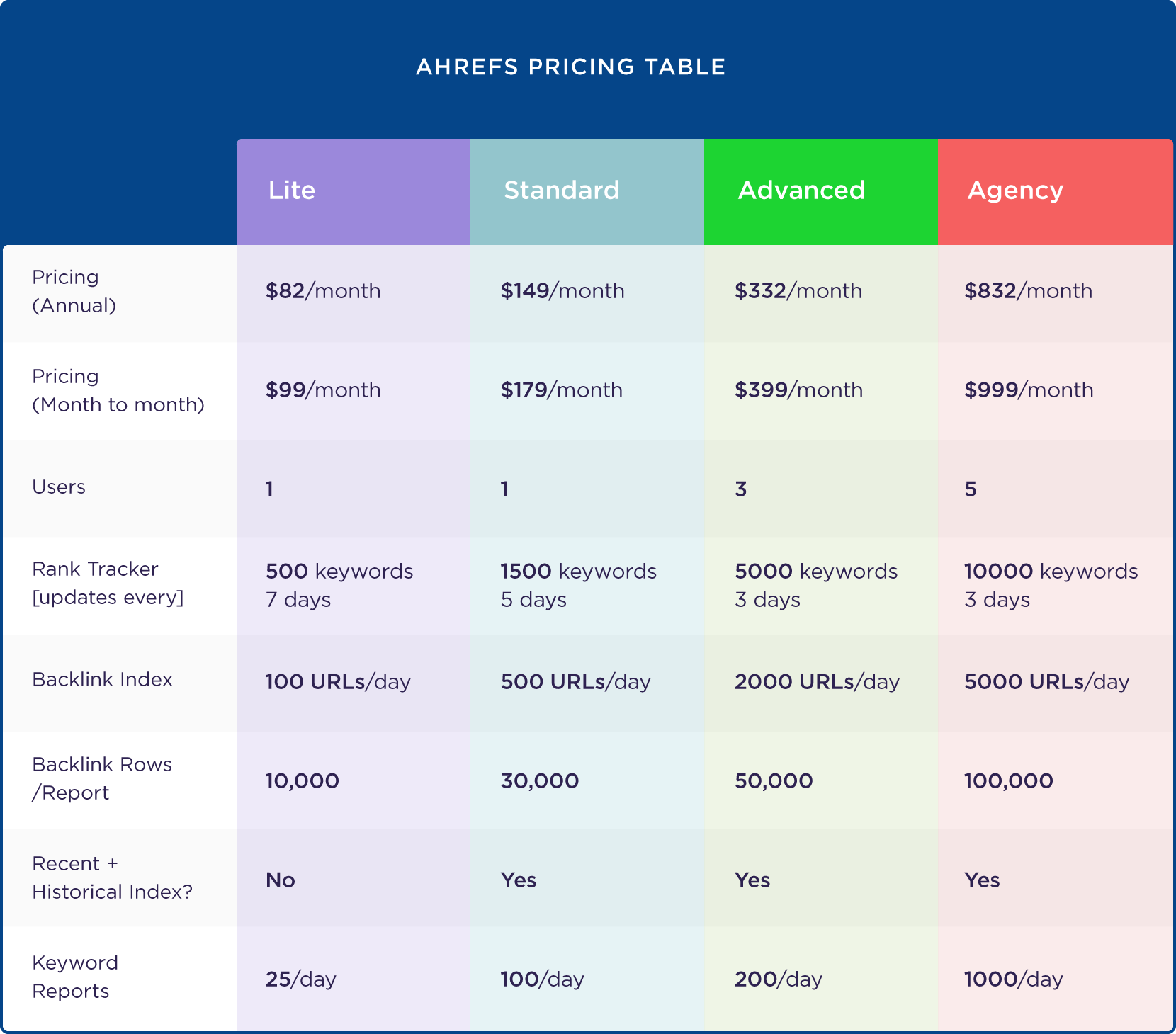 Mangools Review – Final Verdict
Whether or not you go with Mangools depends on who you are. And how much you have to spend on SEO.
If you're a blogger or someone that does SEO on the side, you may not have a huge SEO tool budget. And if you are on a tight budget, you can squeeze a lot of value out of Mangools. At 30 bucks a month you get access to A LOT of valuable features for keyword research, backlink analysis and more.
That said: you can't really compare Mangools to Ahrefs or SEMrush: the two best SEO tools on the market. They're in different leagues.
Yes, you can always spend more and sign up for Mangools Premium. But the tool doesn't improve at each tier. You just get access to more data.
If you're an SEO expert, you're much better off spending the extra money on Ahrefs or SEMrush. These two tools may be more expensive than Mangools, but they are much more feature-rich than Mangools.
Bottom Line? If you're on a limited budget, or if SEO isn't that big of a deal for your business, Mangools is definitely good enough.
But if SEO is super important for your business, I wouldn't recommend Mangools. I'd go with Ahrefs, SEMrush or Moz Pro.
Try Mangools For Yourself
Try a risk free unlimited 14 day trial of all Mangools features! Click the link below!
Frequently Asked Questions
Mangools is an SEO software that comes bundled with five powerful and user-friendly SEO tools: KWFinder (keyword research tool), SERPChecker (SERP analysis tool), SERPWatcher (keyword rank tracking tool), LinkMiner (backlink analysis tool) and SiteProfiler (SEO website analysis tool).
Are Mangools tools free to use?
Mangools tools are premium. You can, however, sign up for a free plan and get 5 keyword lookups with KWFinder, SERPChecker, SiteProfiler per day, 10 tracked keywords with SERPWatcher and 500 backlinks with LinkMiner per day.
When I sign up for Mangools, what tools do I get access to?
With their premium plans, you'll gain access to five of their tools that include KWFinder, SERPWatcher, SERPChecker, LinkMiner, and SiteProfiler.
No Mangools isn't free but there is a free 10-day trial. Mangools' basic plan starts from $29.90 per month when paid upfront annually. Mangools 5-in-1 SEO software is a lot cheaper than Ahrefs, SEMrush, Moz, and Majestic.
What's better, Mangools vs Ahrefs?
Ahrefs is an excellent tool, don't get me wrong, but it isn't cheap. With Mangools you pay less than half the price compared to Ahrefs and you get almost all of the features Ahrefs has.
Is it possible to pay monthly?
Yes, we have both annual and monthly plans. Don't forget that you can save up to 40% by subscribing to the annual plan when compared to the plan paid monthly!
You can choose the monthly option by clicking on the "Monthly" button on the left side of our  pricing.
Do they offer a money back guarantee?
Yes! There is a 48-hour refund policy. To claim the refund please contact info@mangools.com or via live chat.
Can you purchase only one feature of the software?
No, tools are not sold separately. All our tools are included in all the subscription plans. This is because the tools don't work well without each other and are heavily interconnected. For example, running KWFinder without SERPChecker doesn't make any sense, because Keyword Difficulty metric is based on data from our SERPChecker module.
How easy is it to use Mangool's tools?
You can easily use Mangools SEO tools even if you're a beginner. They provide you with apps for each of those 5 SEO tools so you can perform keyword research, SERP analysis, Rank Tracking, Backlink analysis, and Profile analysis really quickly and effortlessly.
What is the best way to get started with Mangools tools?
Mangool's tools are pretty easy to use. To start using all the SEO tools to boost search rankings and sales, click on this link and create an account for yourself.
How is the keyword difficulty (KD) calculated?
Using Mangools' own SEO metric known as Keyword difficulty, you can determine how difficult it is to rank on Google's first page for a particular keyword. The higher the value, the more difficult it is to outrank your competitors.
What sources are KWFinder's data from?
Mangools uses multiple data providers alongside their own expertise and processing to keep the data as relevant and fresh as possible.