The LearnWorlds Review: Does it Live up to the Hype?
The LearnWorlds Review: Does it Live up to the Hype?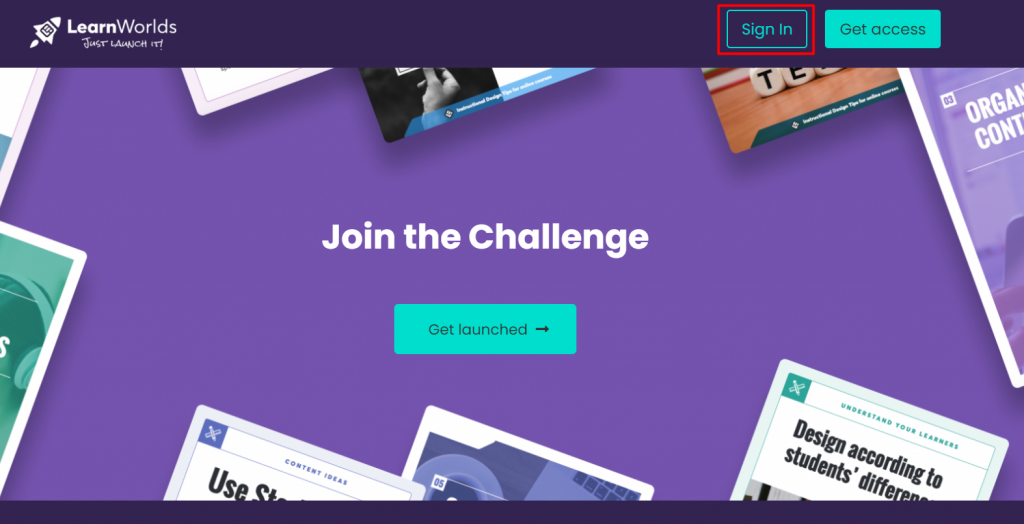 You do have more than enough knowledge and ability to help students who are in thirst for it. But you are wondering here, whether LearnWorlds is a good platform for selling your courses. Indeed you are at the right place to analyze the details of LearnWorlds and can choose a wise decision for your business.
There are some unique features you must notice about LearnWorlds while building your course and engagement process in it. This reason helped LearnWorlds to attain wide popularity in online course outlets. This review assists you to go through an in-depth analysis of this platform.
This review discusses both advantages and disadvantages of LearnWorlds, obtained from various users' opinions, and hence helps you to realize whether this platform is suitable for your online course business. From this review you understand about:-
● What is LearnWorlds?
● Course building and Engagement
● Ease of Use
● Website Design and Customization
● Sales & Marketing Strategy
● Third-Party Integration
● Reporting and Administration process
● Customer Care
● Pricing Packages 
● LearnWorlds Review – Conclusion
Let's get started.


What is LearnWorlds?
LearnWorlds is a simple-to-use, private-label online platform that helps you to instruct your customers, provide training to workers, and most importantly you can easily build and sell online courses.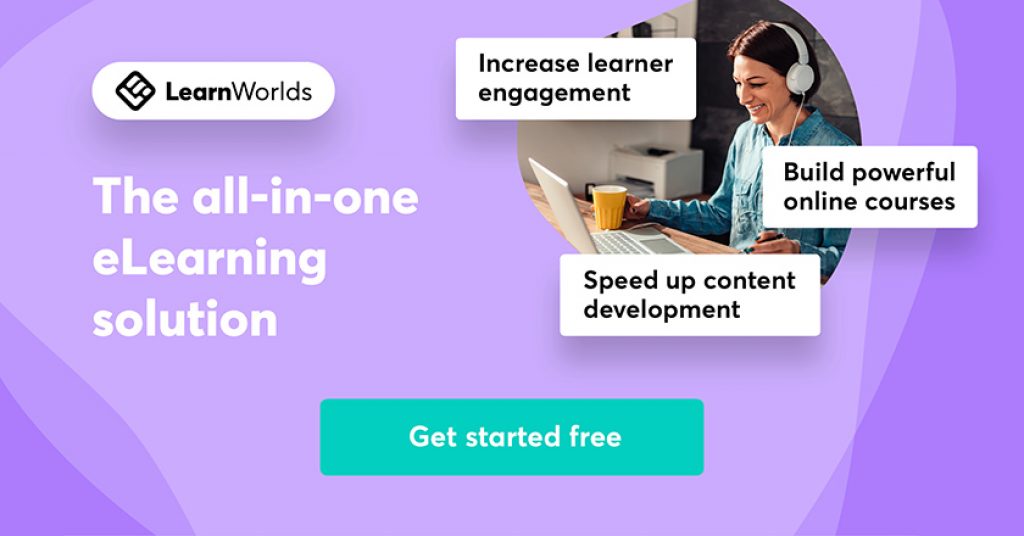 Various sects like Individual creators, micro-businesses, and even entrepreneurs are using LearnWorlds for distributing their online schemes. This is helpful for those who are seeking a suitable space for expanding their knowledge from diverse sources.
LearnWorlds can offer a variety of features like :
● proficiency to build and provide engaging courses with multimedia subjects
● They can provide you with interactive videos and e-books for learning.
● They aid in quizzes, learning ways, question banks, and certificates to boost learning.
● They have a built-in community with social networking aspects,
● a dominant page builder, and a blogging tool.
● eCommerce abilities like selling courses, lesson bundles, and membership plans.
● They have effective integration with thousands of third-party tools.
Additionally, you don't need to worry about things like security, updates, or maintenance. Because LearnWorlds is a cloud-based platform.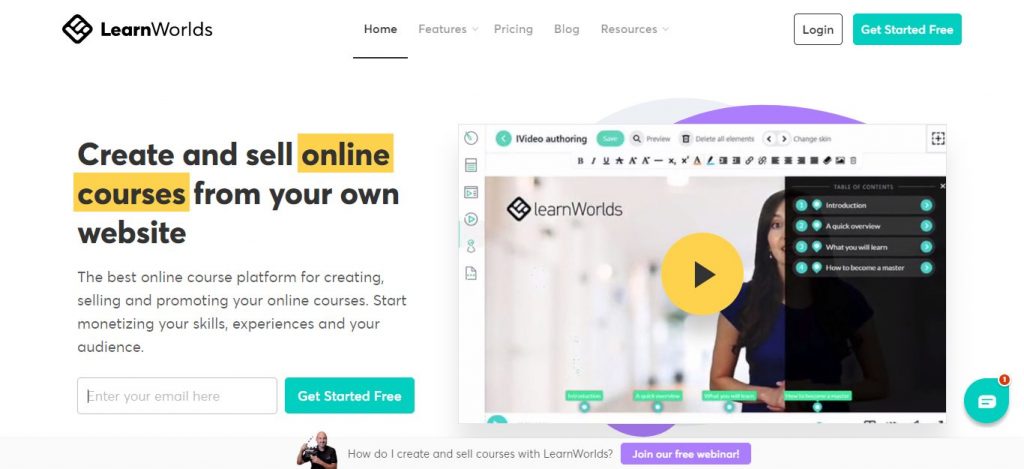 Course Building and Engagement :
LearnWorlds big advantage is that it allows you to create courses with the help of various tools present in it. This area can easily be managed by you for building your specified courses. They offer you amazing tools to design and deliver your particular course content. 
● When it comes to content uploading and structuring, you can use diverse kinds of content in your course and even add all related study materials like video, audio files, PDFs, ebooks, quizzes, surveys, and even HTML files. As a part of your subscription, you get endless video hosting. Additionally, you can utilize other hosted videos from your course lessons easily.
● One of the significant merits of using LearnWorlds is that it can offer effective interactive content in your particular courses. It helps to deliver live content through Zoom. LearnWorld and Zoom have native integration that helps to conduct a live session even from the platform itself. This provides students ease of not downloading the zoom app, rather they can enter it directly from the LearnWorlds platform.
● The next feature is that this platform allows you to edit your videos using interactive Video in live and can add interactive elements to them. With this option, you can easily include questions, titles, buttons, forms, etc above your video. It is so effective for providing an impressive learning experience.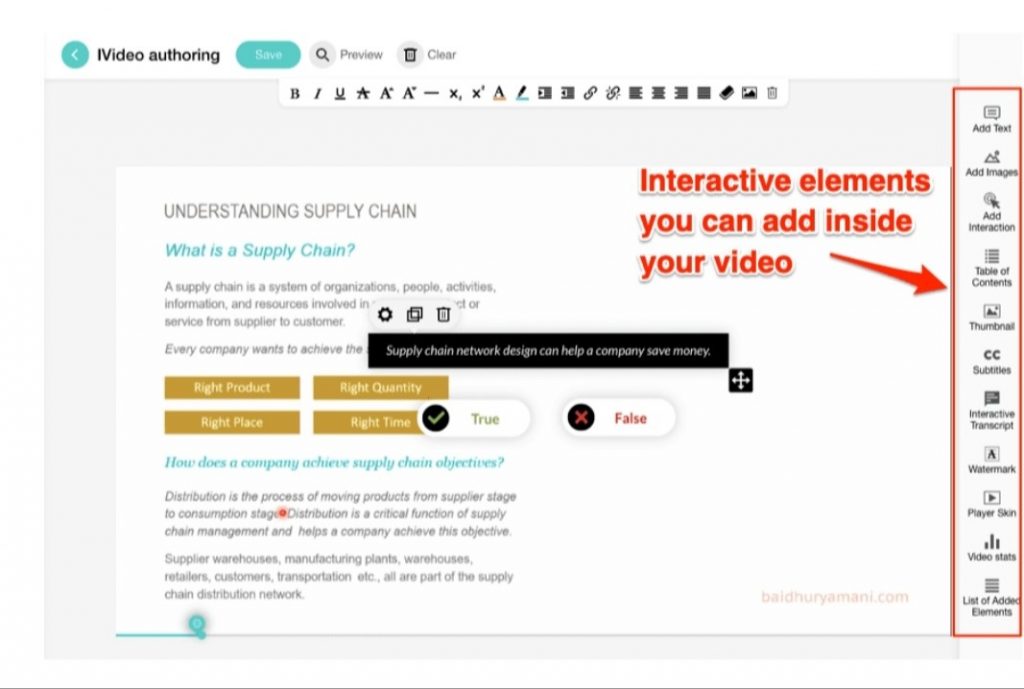 While you create your course, you can use two levels in construction. They are lessons and sections. For organizational purposes, you can use sections. The real content is added in lessons. You can very easily order your lessons or simply move them between various sections by just dragging and dropping.
In course builder, you don't have a lot of flexibility when it comes to adding diverse content kinds in the same lesson. For example, if you wanna include a text or video to a particular lesson you created, you can't just involve it. This is a demerit.
Secondly, you can't bulk upload your content including videos from drives like dropbox which slows down the procedure of course building. But you can make a video library by adding the content by bulk uploading your videos. Only after creating a lesson and then including videos one by one.
The LearnWorlds interface is kind of chaotic and organized. There are too many options that will confuse the user. Different settings are scattered throughout the interface and it wastes your time to figure out aspects of it.

Course player and Content Delivery:
Your students can watch the content through the course player. Its appearance influences the students' understanding. So it is important to focus on the design and delivery of content. It has the default course player theme and is perfectly designed from a customer's point of view. You have a wide content area on the right side where your course videos and related content appears.
The users can even notice the progress as well as begin a discussion from the sidebar on the left. You can even activate the option whereby a user can view all the additional students enrolled in the course. As far as the course navigation is related, your learners can utilize the chart of contents accessible in the left panel. They can also utilize the previous/next button in the up header to navigate.
And then, your users also have the choice to completely keep the left sidebar and go in full-screen mode which is amazing. There are five-course player skins accessible that allow you to change the look and use the player.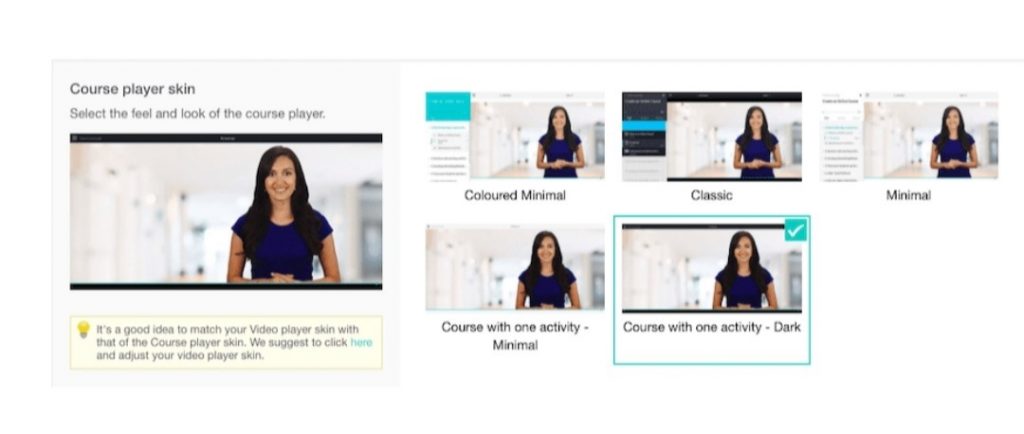 Not only that, you have complete management over what components seem in your course player. For example, you can exhibit/cover the course title, progress bar, rated lecture finishing time, course learners, etc.
Having said that, there is just a single theme for the course player and you can't alter its format. While this will function well for digital commodities with a fixed pattern like online courses, it won't work as well if you're searching for a membership site platform.
Eventually, the course player is mobile responsive by default and your users can see your content from any mobile browser. They do not offer a native mobile app for your learners.
At their highest pricing level, you can buy a custom app designed for your school for an extra cost. There are a pair of other valuable tools that LearnWorlds give for content release. The first one is content dripping. So, apart from the choice of providing sudden entry, you can furthermore drip feed your content based on a plan. The schedule can be based either on particular dates or learner enrollment.
The second characteristic is for building learning ways and course compliance and it enables course producers to govern how students manage the course lessons. And the flexibility that LearnWorlds provides here is effective.
So, you can facilitate Sequential Navigation whereby a student will have to finalize each learning unit before they can move to the following. Or, you can also establish particular lessons as prerequisites.
Moreover, you can distinguish conditions for when a lesson can be marked. For example, you can compel your students to see a specific % of video lessons or clear an exam before they can move ahead.
There is one more element for content release that I want a lot and it has to do with content insurance. So, you can put a watermark above your videos and PDFs and you can exhibit your school's name or the user's email address.
This is a very helpful feature for copyright safety as it prevents file-sharing and not many outlets give such a feature.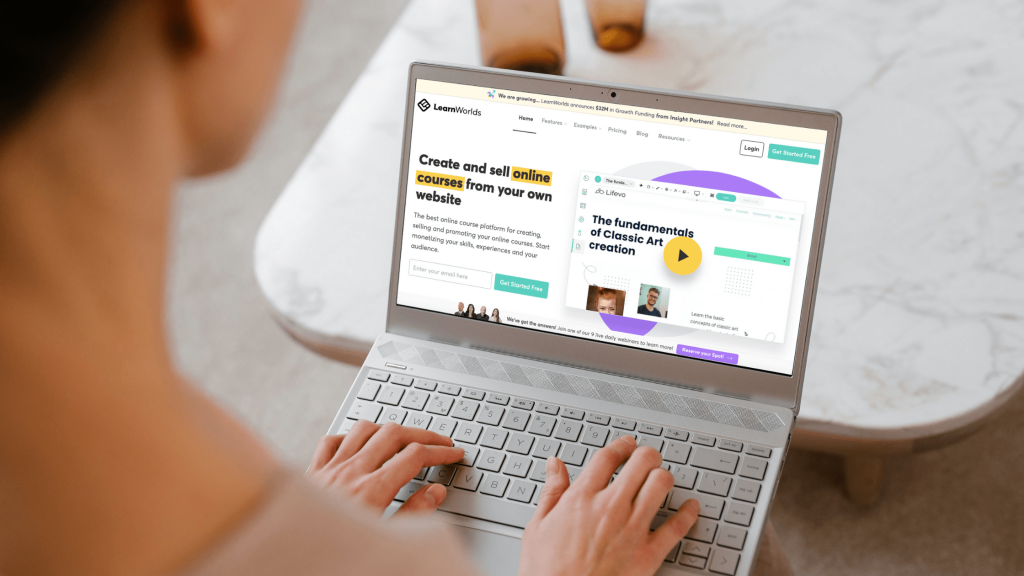 Ease of Use:
You had got an idea about creating a course with LearnWorlds now and realized it is so easy. It can be accomplished by learners, too. Although if you like to jump deeper and build excellent content, you might need some assistance here.
One of the drawbacks of LearnWorlds is that there's no tutorial or presentation available on the outlet. It would make life easier, particularly for learners who are performing this for the initial time. But if you certainly want help with your course-making, you can inquire about customer support, which is incredible. You can also glimpse the "FAQ" category where you can view answers to some of the most popular questions – it can benefit students.
Still, you'll never feel like you're entirely alone with LearnWorlds. You can enter the LearnWorlds Academy where there are a few free courses available that advise you on how to build engaging and quality course content. You can also listen to weekly webinars from LearnWorlds, although you'll have to apply to come to be a part of that.
Another disorganized thing with LearnWorlds is the dashboard and how it's designed. It might be discouraging, especially when we see all the data and the numbers in terms of analytics. But again, don't be frightened by this, and take your time to understand. It won't take you long, even if you're a little of a "noob" person.
The user understanding with LearnWorlds is reasonable, but not fantastic. There are areas where improvement is required. The interface could be easier, and a tutorial or hands-on exhibition would be beneficial. But you can still thump into a great corner of free aids from LearnWorlds indicating how to make a big course effortlessly.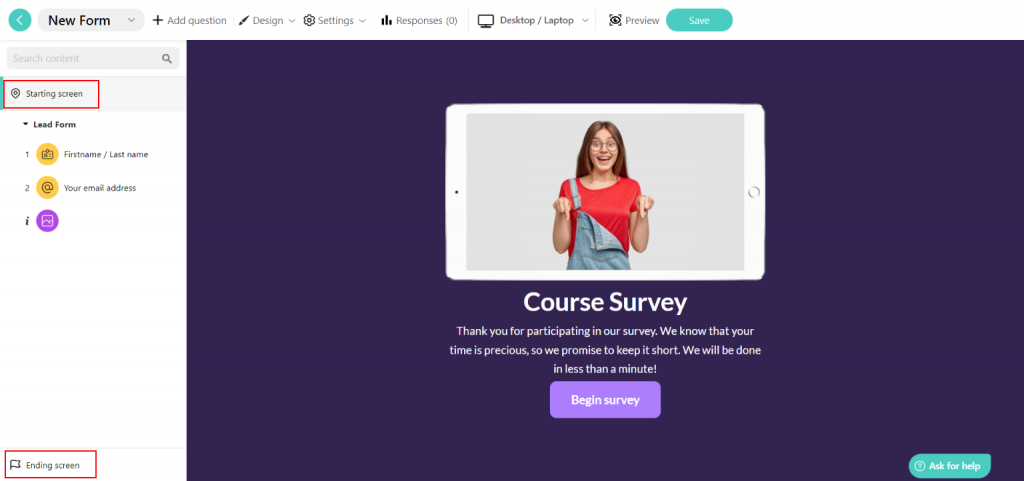 Website Design and Customization:
In this category, we'll talk about the tools that LearnWorlds has to provide for building your school website and for leading your blog. The advantage is that you will get unlimited hosting chances and a free SSL certificate. There is no time, you need to worry about your course. Because the responsibility of keeping your school secure and updated will be taken care of by their team.
The school can use a subdomain of default. But the interesting this is that, you can use any custom domain if you wish to. When we talk about website building tools, the attractive feature is Site Flavours which allows you to suddenly modify the appearance of a website and can feel your customized design.
To begin with, you can choose from a collection of 8 site themes and the style gets related to your whole site in a single click. You can also work on a site theme in the background to add the theme you love and activate it only when you're prepared.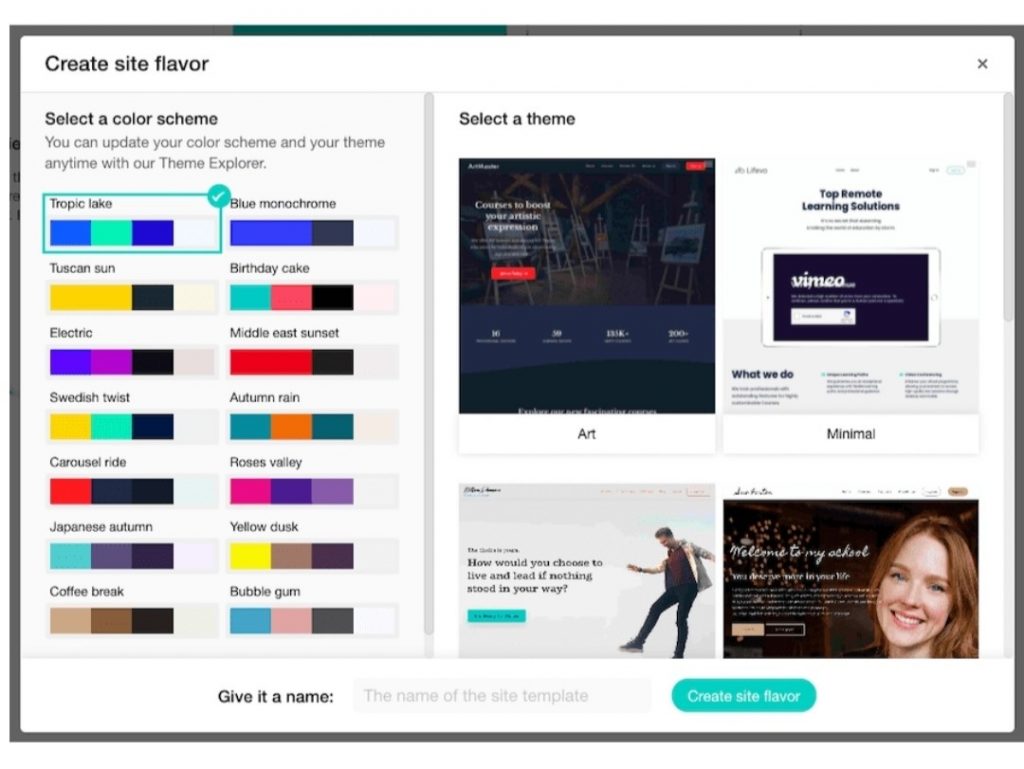 Moreover, LearnWorlds has a drag-n-drop page builder which you can utilize to build recent pages from scratch or customize your existing pages without reaching a single line of code. The merit of the Page builder is that there are various pre-built page blocks that you can use for showing a hero category, course syllabus, testimonials, FAQs, pricing options, email patterns, etc. There are several pre-designed templates that you can add to your page in just a single click.
You can even add essential page elements like text, images, videos, etc. A significant feature called Magic Templates enables you to easily change the template for a page block without really losing the content inside.
You can modify the layout of the page blocks. You can even change the order of the components inside the block and also can add extra text or images within a block.
Moreover, you have entire control over things like colors, fonts, background, boundaries, padding, animation, etc. and you can alter them easily.
All around, LearnWorld's page builder is simple to utilize and provides you with a lot of flexibility to create wonderful pages for your school website even if you have no coding abilities. In addition to the capacity to create a website, LearnWorlds also has an inbuilt blogging characteristic that enables you to build and run your blog on the platform.
To get begun, you just require to facilitate the blog functionality from the settings option and LearnWorlds will build a blog home page for you as you wish. You can customize the blog home page by using the page builder. There are quite a few choices to formulate your blog page header and how the articles will occur on the blog page. Building blog posts is pretty simple as well. When you create a recent blog post, you just need to give the fundamental information, and then you can put in content for your blog posts utilizing a similar page builder.
As far as SEO settings for your blog posts are related, you have management over only the basic components like the URL, SEO, and meta description.
So, while LearnWorlds enables you to build a fully-functional blog for your school, it can't strive with a technical blogging platform like WordPress in terms of functionality and flexibility. In short, LearnWorlds have awesome features that help your website look amazing.
Sales and Marketing Strategy:
One of the main things you need to understand is that LearnWorlds is not on one platform. So you can't make marketing funnels or conduct email marketing. They focus on mainly providing suitable tools for processing payments and putting your courses on the market.
You can conduct an individual course selling or as part of a bundle with LearnWorlds. Along with that, you can charge a one-time fee for a payment agenda or a recurring subscription.
As far as recurring subscriptions are involved, you can build monthly as well as annual subscriptions. You can build a subscription of any duration as LearnWorlds allows you to define a payment cycle in multiple days/weeks/months. Also, you can create a free trial even though you can't involve a custom setup fee upfront.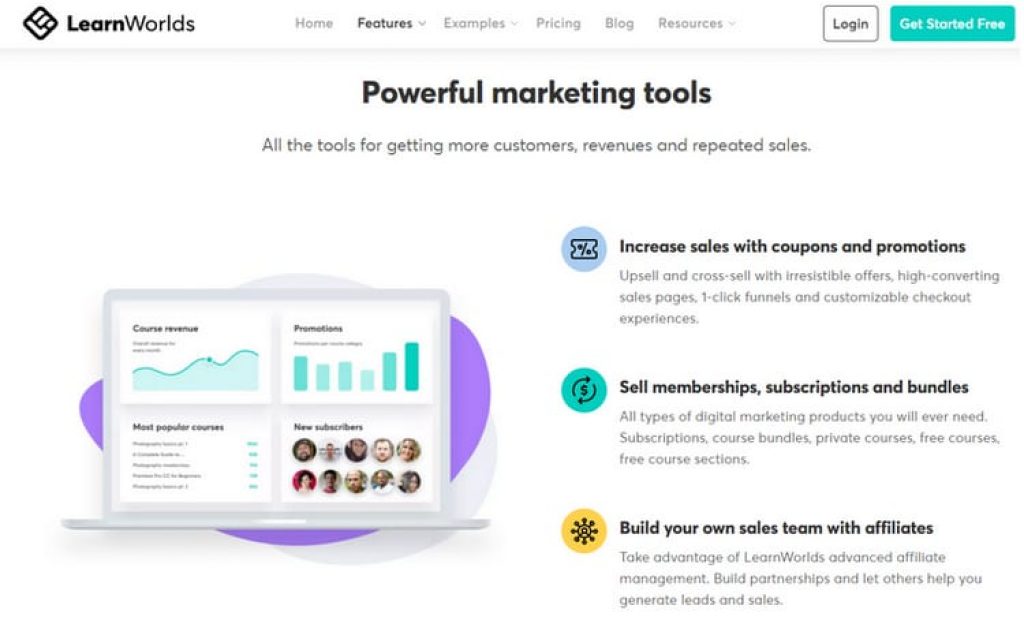 If you want to deduct your courses, you can build coupons. So, you can give an amount or a fixed discount and you can apply it either to particular courses or to all the courses. In terms of the payment currency, you can select from one of the 20+ funded currencies. Still, you get to choose the currency only at your school level, so you can't price your courses in several currencies.
When it arrives at payment gateways, LearnWorlds combines directly with five gateways. They include Stripe, PayPal, 2CheckOut, Shopify, and PagSeguro. So, it provides you with plenty of choices but there are a couple of important problems with it.
Firstly, you can only use one payment gateway at a time which means you can't offer your students the option of paying via card or PayPal. This feature is a noticeable limitation of LearnWorlds for users.
At a time, you can use only one payment way So your students won't get a chance to pay through a card or Paypal. It is a huge limitation. Stripe is the only gateway supported for processing payments here. So if your audience is from another country, it is a limitation when they can't use cards or stripes.
You can make high-converting checkout pages. To begin with, a one-step checkout where your users can complete their payment by buying a suitable course without building an account on your school or you can also do a two-step checkout. You will have unique templates for payments from LearnWorlds. You can even customize the checkout page with page builder.
The demerits of the checkout process present in LearnWorlds are the following. This includes the non-involvement of one-click upsells to your checkout phase. you can add the upsells on your thank you page. But users need to reach the checkout page for completing a payment. This way, no things work.
The next limit is you can't include sales tax on top of your course price. You are required to use a third-party tool for tax management.

LearnWorlds Third-Party Integrations:
For making the user experience even better, you'll have an entry to an entire host of useful integrations on LearnWorlds. One of the most significant integrations is with Zapier. It's a process automatic tool that will enable you to relate LearnWorlds with thousands of other applications and equipment. The best aspect about it is that everything is automated, so you won't have to work a lot.
You can even make live classes with the aid of zoom. It is a crucial integration if you are looking to create live classes. It is a 1-on-1 coaching program or meeting. Then there are integrations with marketing tools such as MailChimp, Aweber, HubSpot, and ActiveCampaigns which allow you to establish the description of your course or website.
Also, there are integrations with Google Analytics and Google Search Verification. This helps your website rank better and can analyze the data of your website. Several other integrations are also present. They are Google Tag Manager, Mixpanel, Facebook – pixel, Intercom, Sumome, ReferralCandy, Fresh chat, and so on.
LearnWorlds Integration:
The features depend on the kind of subscription you select. With the basic plan, you're getting limited features, and you also need to pay a $5 fee per course sale. The custom domain detail is a good feature that is accessible in all plans. With this characteristic, you can utilize whatever domain you like for your course, and you can furthermore use a domain of an existing site. This makes marketing much easier.
With every plan available, you can also enter the option to have a drip subject in your course. This is tremendous if you want to maintain your users more involved and you want to disclose the content over some time.
The Learning Center Plan is incredibly outstanding as it's the initial plan that gives you 24/7 customer support which is something that doesn't provide.
With costly plans, you're receiving the choice of including more admins (20 or more), more learners, entry to SCORM content, invoicing, free calls, interactive videos, more valid hosting (99.95% uptime), no marketing fees, and much more.
Let's look at the list of features in each plan. Each plan provides specific features of integration. It is according to plan.

LearnWorlds Reporting and Administration Process:
When it comes to course reporting, LearnWorlds has plenty to give. You can effortlessly watch your learners' growth or course fulfillment rates or even test scores.
If you want to see an overview of your student's performance and their average scores. Select the 'user progress' section. Also, you can recognize their improvement and performance course-wise.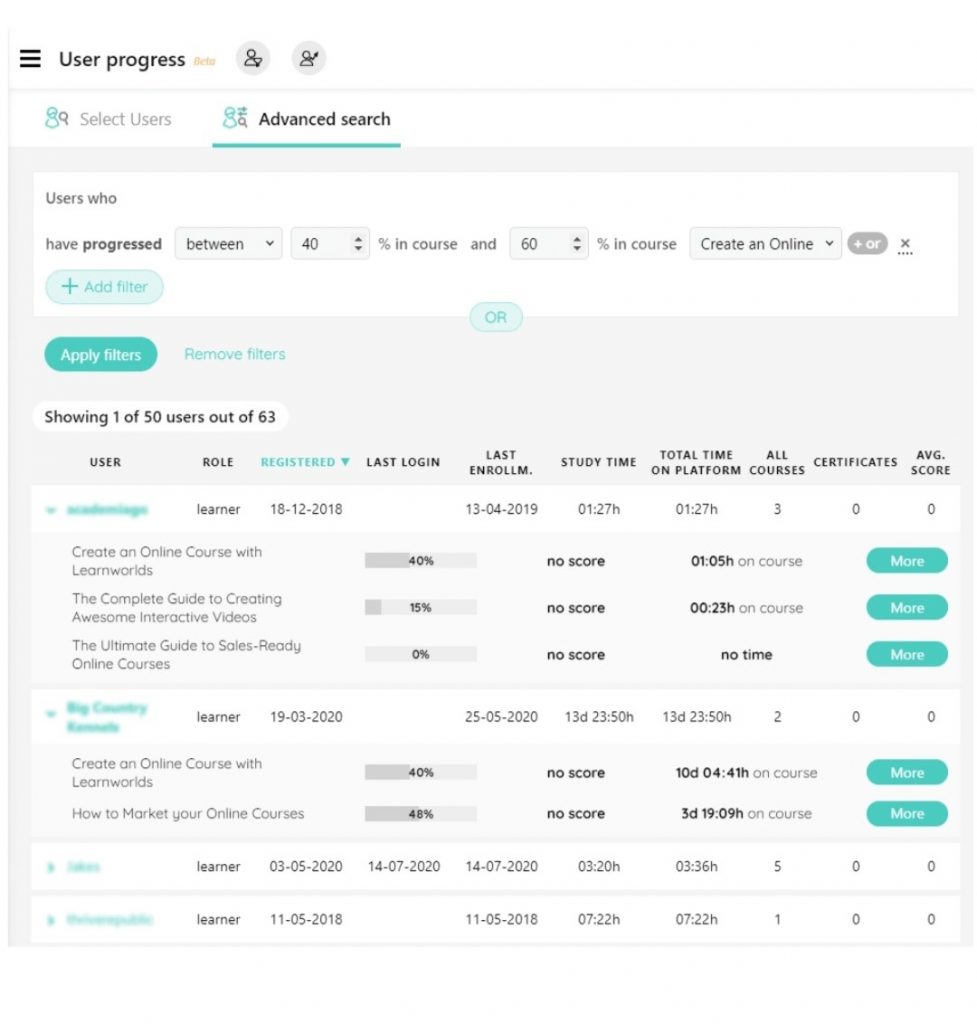 Here you can also screen your students based on various standards like their name, email, course, improvement %, achievements, etc. One aspect worth mentioning here is that you can label your users in LearnWorlds and utilize that to organize them.
For instance, if you sell to corporate clients, you can put unique tags on their workers and then use that to run custom improvement reports and share them with your customers.
Eventually, LearnWorlds provides you with inbuilt video analytics tools, so you can trace metrics like average engagement, whole plays, play price, etc. Also, you have pictorial tools like engagement graphs and heatmap to also analyze your videos.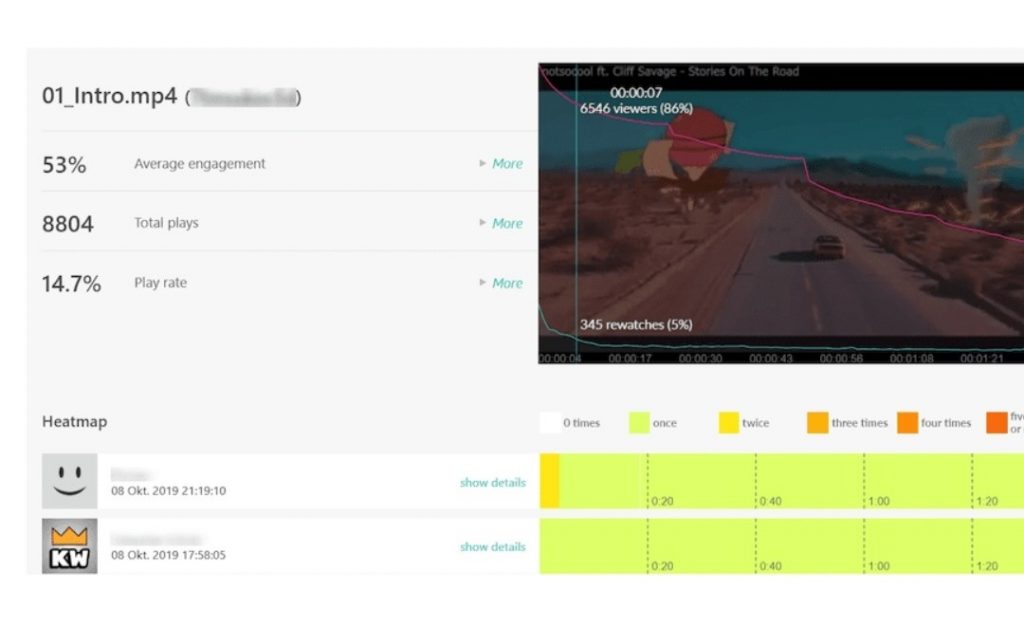 Let's talk about sales reporting. With LearnWorlds, you can trace personal orders as well as earnings for your courses and your teachers. But that's a pretty good feature.
So, there are no pictorial reporting tools to help you, say distinguish the performance of numerous products or watch the month-on-month sales performance. There is no path for you to follow subscription metrics like revenue and monthly income. 
When it comes to student supervision, you can screen users based on their registration, and then for personal users, you can trace their growth, their actions in your lessons and the organization, their assets, etc.
Moreover, you can do particular actions like altering their profile, shifting their password, delivering them a message, recruiting them to a particular course, eliminating their access, or simply canceling their account. You also can introduce multiple users to your school.LearnWorlds enable you to involve admin users in your school. They are two kinds. Admins and instructors. Admin has control over your school and instructors have authoring rights for your courses.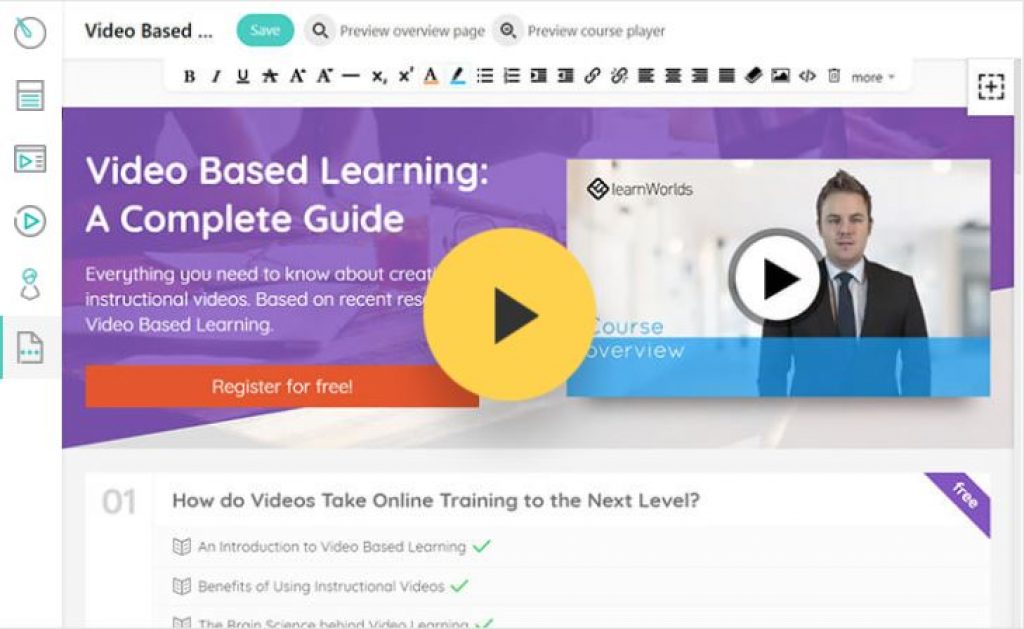 LearnWorlds Customer Care:
Customer support is a significant factor to examine while selecting an online course outlet. Based on the feedback from LearnWorlds users as well as my interactions with their support, their customer service is pretty effective and the team looks after their customers.
With the low pricing tier, you get 24/5 email assistance from them, while on all other plans, you receive 24/7 email support.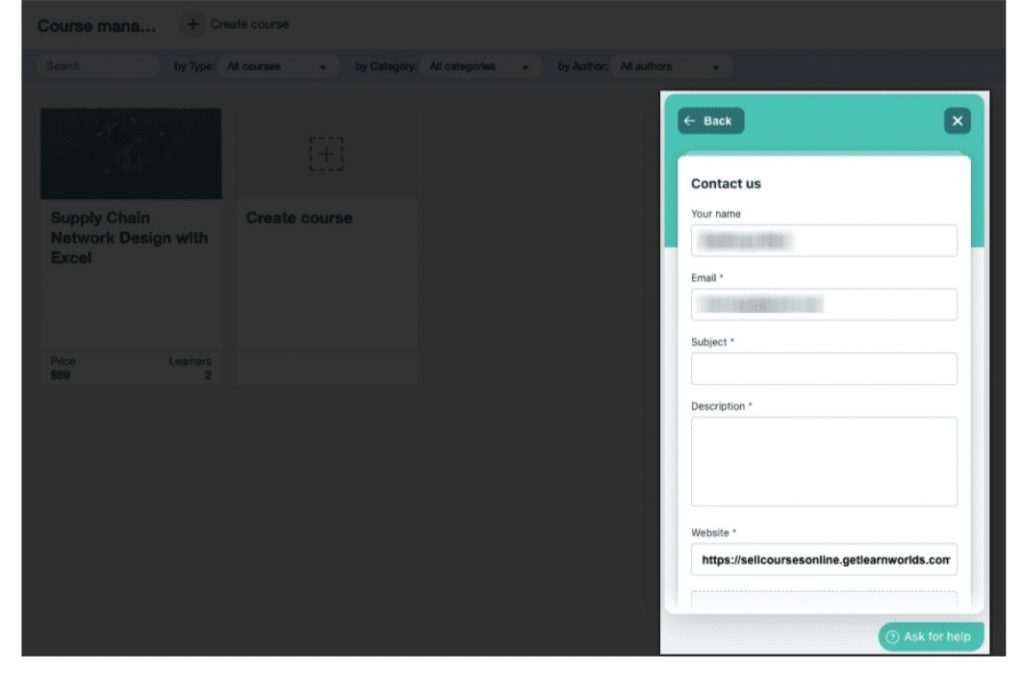 To get their support, you require to choose the "Ask for help" option on the right bottom of your admin dashboard and you can send them an email through it.
However, you don't have any live chat or phone support alternative accessible on any of the publicly usable pricing schemes which aren't so great.
If you're someone who wants to find answers to questions yourself, you'll be pleased to know that they have an extensive understanding base with tons of how-to articles and video tutorials.
As far as customer training is involved, they build helpful blog posts and do live activities from time to time. With specific pricing levels, you also get free entry to the LearnWorlds Academy where you will find a lot of classes for course creation and marketing. Finally, LearnWorlds doesn't have an online society on Facebook or another forum for its users. They do have an online community for LearnWorlds Academy but it isn't effective at all.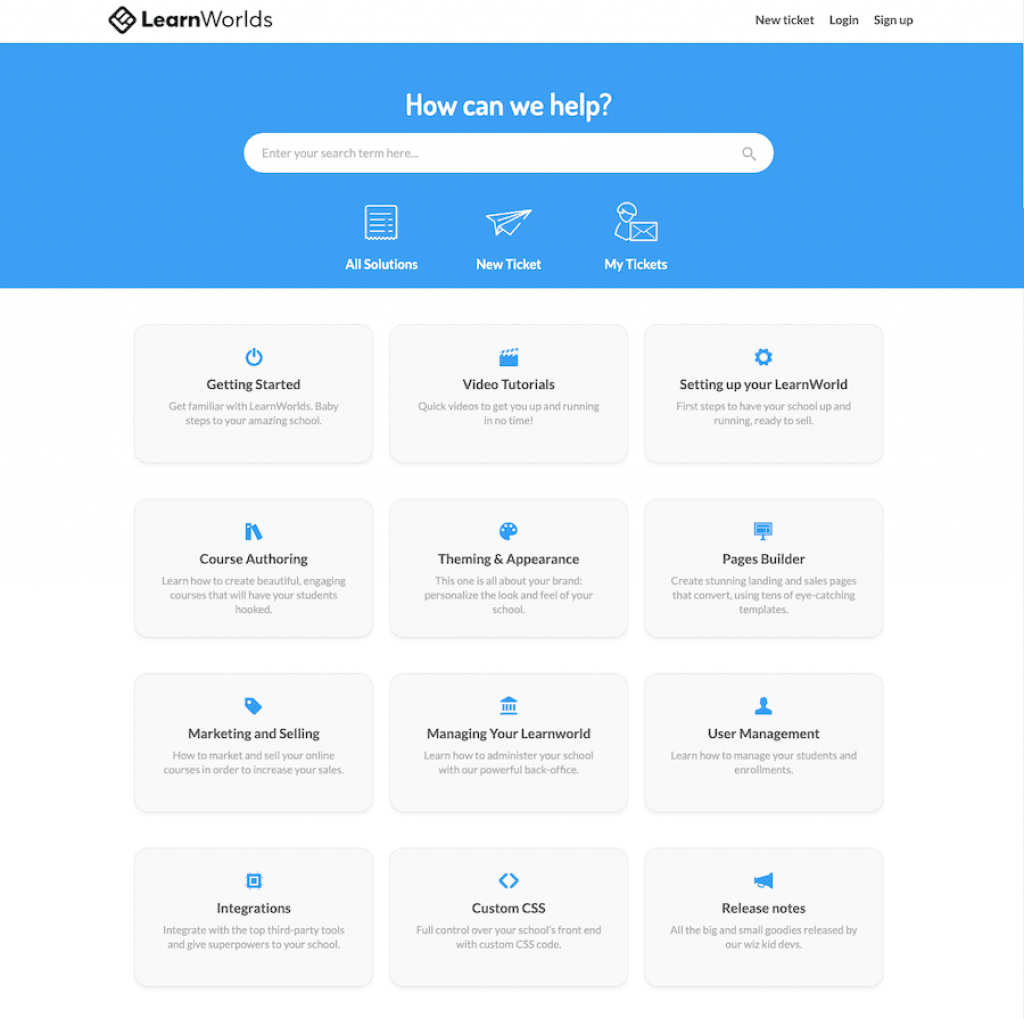 LearnWorlds Pricing Packages:
The pricing plan is a very important section in the learning world review. LearnWorlds initiates a friendly pricing plan, especially for beginners.
and it gives numerous pricing plans for its clients to choose from. The first level is the Starter plan and it goes for $29/month. Also, you'll pay an extra marketing fee of $5 per course sale. 
The starter plan provides you with many features which include custom domain, endless courses, tests and quizzes, content dripping options, page builders, and so on. The Starter plan is an excellent plan for you if you're just getting to try this and possibly want to try the platform or even initiate your first online course.
The next tier of pricing plan is the Pro Trainer plan and it sells for $99/month but there is no marketing fee. Also, you get entry to extra details like blogs, proficiency to create payment plans and subscriptions, certificates, question booklets, associate management, Zapier integration, etc.
The Pro Trainer plan has the highest of the characteristics that LearnWorlds has to provide and so, it should function well for a majority of course builders.
The third level is the Learning Center Plan ($299/month) and it gives extra features like white-labeling, bulk learner import, Interactive Video section, Copyright safety, etc.
You have a fourth tier as well which is more for businesses and you'll have to get in touch with their assistant to get the pricing details. LearnWorlds pricing is its "spend as you grow" pattern which helps both learners and progressed users alike.
However, their most outstanding plan, the Learning Center Plan is costly and some of the most crucial features that make LearnWorlds stand out from the game like Interactive Video and Copyright Protection are accessible only on this plan.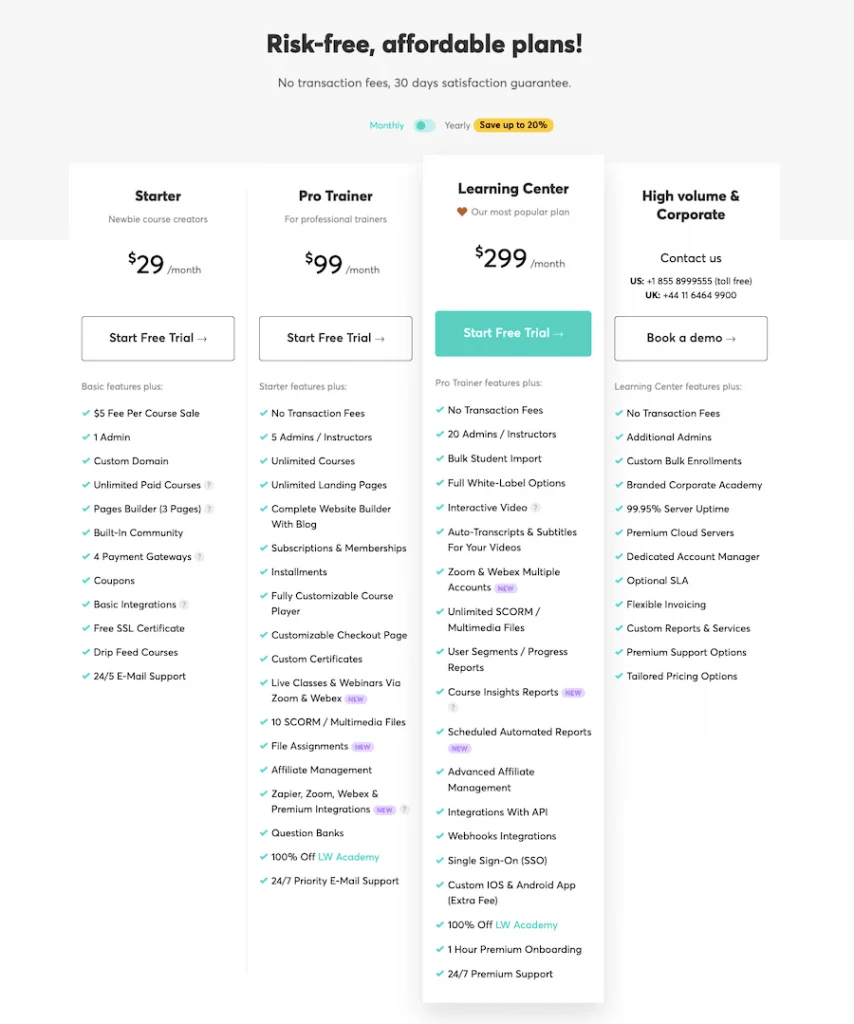 LearnWorld Review: Conclusion 
From this review, we realized the important features of the Learn World platform and its drawbacks in certain areas. The most appealing feature involves course creation and engagement tools which are outstanding. The significant features like the presence of course builders, tests, certifications, customized designs, program tracking options, etc…
The powerful benefits of LearnWorlds include live sessions, interactive options through video, question booklets, quizzes, online society, and copyright safety. They also provide essential selling tools such as the ability to make your website and sales page, run your blog, and conduct payment and affiliated transactions.
All around, LearnWorlds is an incredible online course outlet choice and it should function well for a variety of course producers. However, it will be suitable for you if you like to provide an interactive learning occasion for your learners.
I hope this LearnWorlds review enables you to make a verdict about whether it is a good online course platform for you or not.
Frequently Asked Questions:
Q1. How can you build an online course free of cost?
Ans: If you want to build online courses for free, LearnWorlds provides you with a 30-days free trial. You will have entry to the limited authoring and marketing tools during the free session. Still, you can understand more about their pricing plans in the pricing section.

Q2.What things make a promising online course?
Ans: A good online course comprises the succeeding features: It is a self-learning technique, Cognitively it is challenging, It is interactive, and also, a reasonable online course gives users a great knowledge experience with measurable goals.

Q3. Can I earn money by selling online courses?
Ans: Yes, you can discover many ways to earn money by selling your courses online. For example, you can earn money in the following ways;
Online enrolment of students
Pre-sell your lessons to the audience who asks for it
Offer unrestricted courses, then start giving paid assistance or products
Sell courses usage license

Q.4 What is the path to building and launching an online course?
Ans:  Experts divide the standards into several steps to drive an online course:
Select a particular topic for your course
Perform market research and analyze the chosen course demand
Understand the learning outcomes
Jot down the content for the course
Proofread or edit to upload your lesson
Comprehend monetization methods
Initiate your course
Start marketing or facilitating your courses

Q5. How to share or spread my courses online for sale?
Ans: By following the given marketing or promotional methods, you can sell your online courses effortlessly and efficiently. First, you need to develop a Blog. Then you can sell your courses through it. Use other social media channels such as Facebook or YouTube channels to facilitate your courses. Involve in affiliate marketing to sell your online courses.
Make use of email marketing to popularise your online courses.

Q6. Do I get a free plan from LearnWorlds?
Ans: No, You can't. But to get a free 3–day trial, you can sign up there. Don't expect an option to use the platform free of cost beyond that.
Q7. Is SCORM supported by LearnWorlds?
Ans: Yes. It is one of the limited platforms in its class that does. Thinkific, Teachable, and Podia do not. 
Q8. Does LearnWorlds combine with Zoom?
Ans: Yes, LearnWorlds established Zoom integration in 2020.
Q9. Which are the main competitors of LearnWorlds?
Ans: If you are considering LearnWorlds, the three other alternatives suggested are Thinkific, Podia, and Teachable.
Q10. Do LearnWorlds offer any Corporate Plans?
Ans: Yes. LearnWorlds offers corporate plans for minor or even bigger organizations or companies. There are 4 plans here:
Small Organization
Medium Organization
Corporate
Enterprise
These plans are for bigger companies and businesses looking for vast access and thousands of active users at the same time.