Landingi: Pricing The Ultimate Landing Page Builder Software Comparison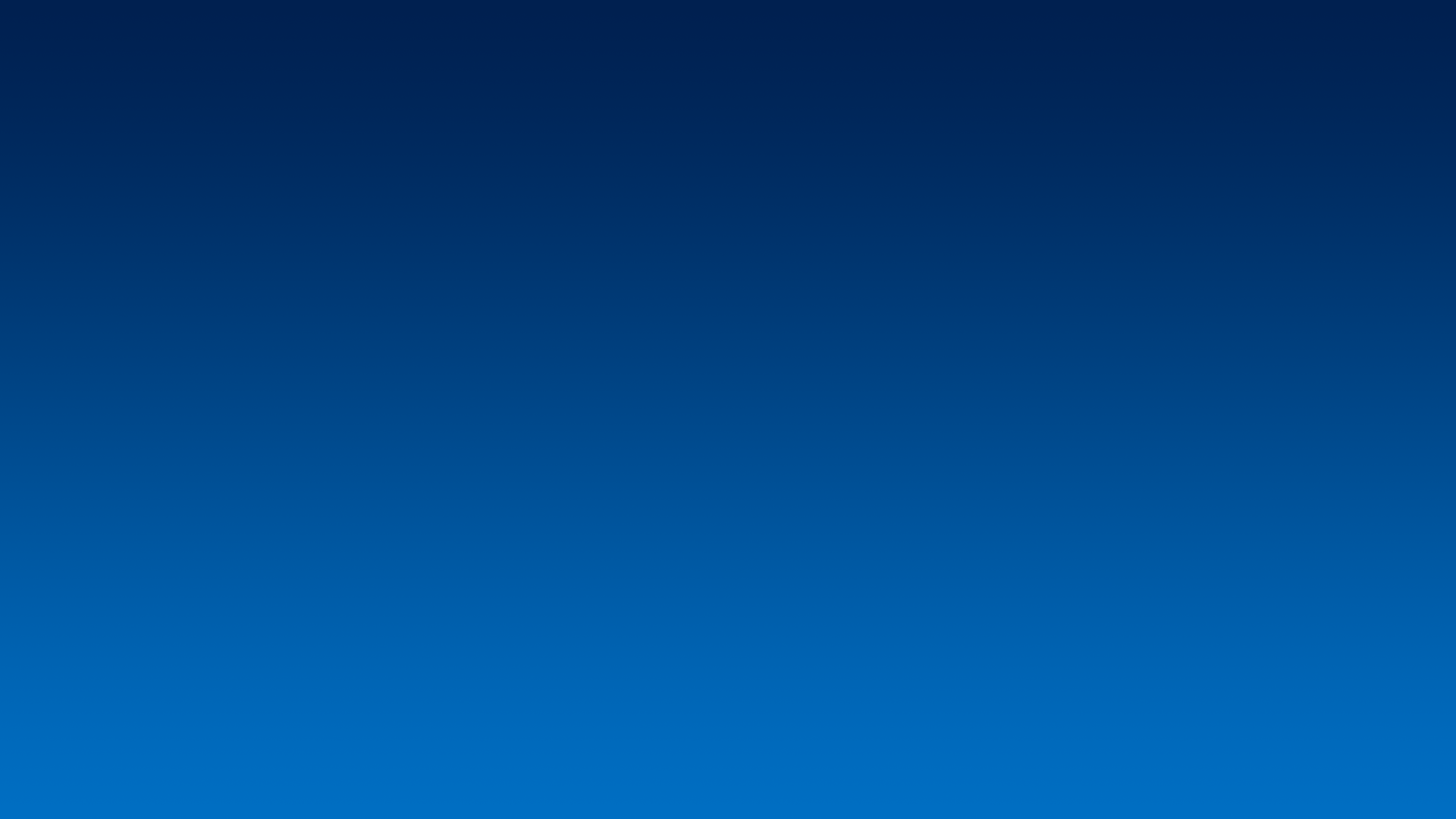 Landingi: Pricing The Ultimate Landing Page Builder Software Comparison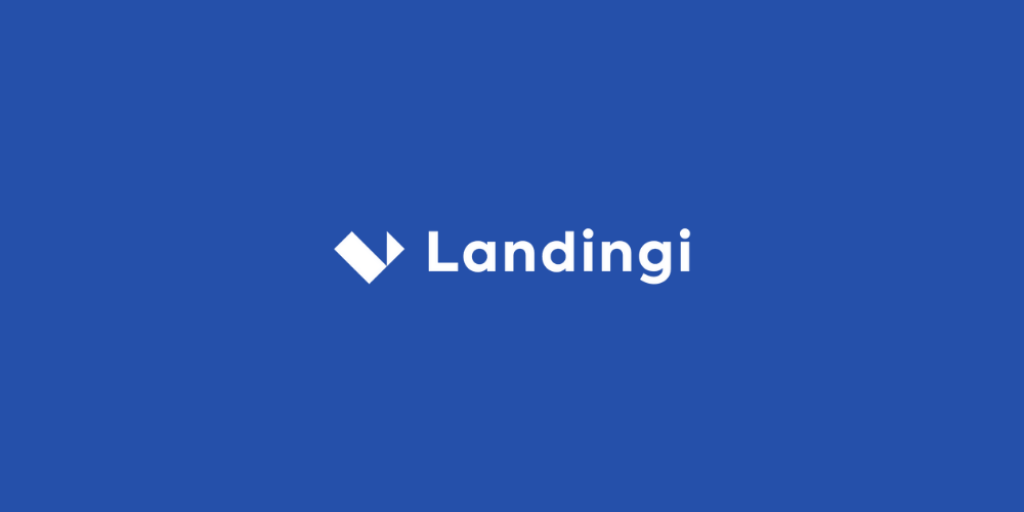 Anyone who works in online marketing will tell you how important landing pages are. A landing page is a single web page created for a single purpose(mostly marketing). When a user lands on a landing page, their attention is focused on a single action, like signing up for a service, purchasing a product, or whatever action you want them to take. Landing pages are essential for improving your conversion rates. They are designed to convert your visitors into customers by highlighting your product or services through persuasive and direct marketing. A poorly designed landing page will leave your visitors confused about why they landed on that page in the first place. A well-designed landing page, on the other hand, will have a positive impact on your conversion rates. There are a lot of landing page builders on the market these days, and one of the most famous ones is "Landingi," which I am going to review in this blog post. I used the software continuously for 15 days to get a sense of how it works and to try to understand and use its features.
I'm going to explain everything you need to know about this software and will compare Landingi with some of the most popular landing page builders on the market. I will also give my opinion on whether or not Landingi is worth its price tag. In this comprehensive review of Landingi, I'll compare the pros and cons, pricing, features, and more, to help you make the most informed decision possible.
What is Landingi?
Landingi is a free and simple landing page builder. Landingi's main USP is its ability to create beautiful and professional landing pages. The best part is that you don't need any design or development skills. With Landingi, you don't need any coding skills — all you need to do is drag and drop the elements you want on your page, and you're good to go. You just need to select a template, edit the content, and add images. You can create one-page or multi-page campaigns with Landingi. It offers a wide range of templates for product launches, marketing campaigns, webinars, surveys, etc.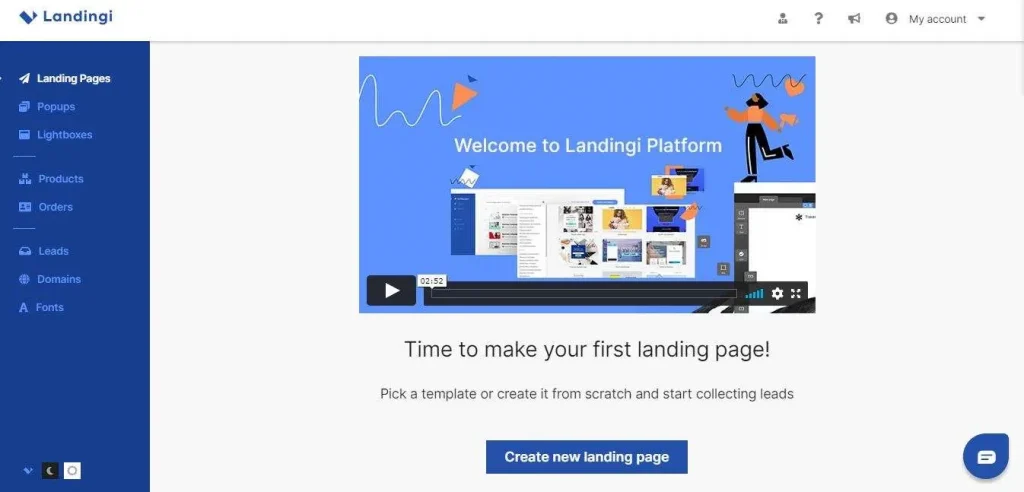 You can also create your templates with Landingi. Landingi also offers its analytics feature, which tracks important metrics like traffic, conversions, etc. It also has a split-test feature to help you test different variations of your landing pages.
Another positive aspect of Landingi that I appreciate and that any beginner will like is that it is incredibly easy to use, and you don't need any design skills to create a landing page.
Summary Of Landingi Review:
If you don't have much time to read through everything Landingi has to offer and are looking for a quick summary of my experience using the software instead, I can say that I am very impressed with what Landingi has to offer. In short, Landingi is an affordable and simple landing page builder with a minimum learning curve. Landingi as a professional landing page builder allows you to create beautiful and professional landing pages. Unlike other page builders, you don't need any design or development skills since it's a drag-and-drop page builder that lets you drag and drop design elements like headers and footers.
 It also offers its analytics feature, which helps track important metrics like traffic, conversions, etc. It also lets you split-test your landing page designs to find out which page is performing better. Hence, if you are looking for an effective and affordable landing page builder to create a professional and impressive landing page, then you should go for Landingi.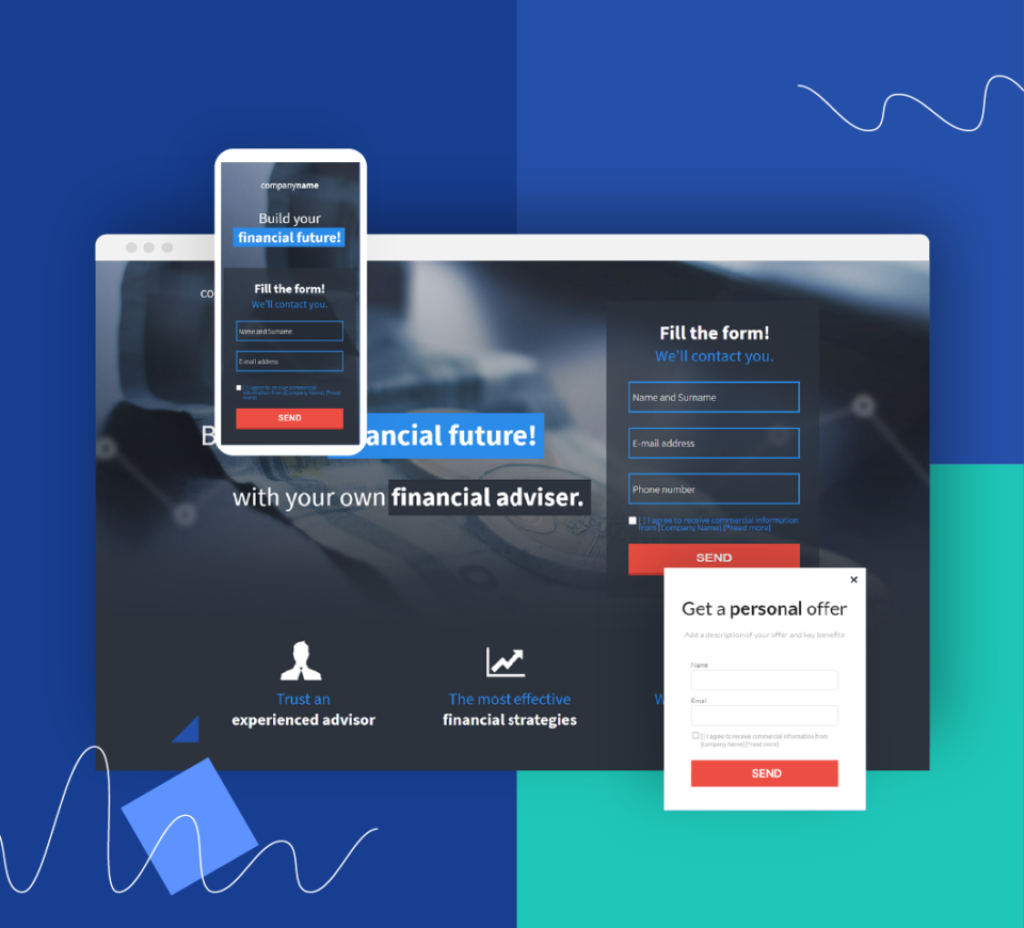 Pros and Cons:

Pros Of  Landingi:
1. Easy to use.
2. Efficient customer support service.
3. Straightforward and beginner-friendly.
4. Landing pages can be exported directly to WordPress, as well as shared with other Landingi accounts.
5. Like other types of software, it offers a free trial.
Cons Of Landingi:
Although Landingi is a powerful and user-friendly landing page builder, it does have some cons that users should be aware of.

1. Landingi only integrates with a few third-party services, so if you're using other tools that aren't on the list, you'll have to find another solution.
2. Unlike many other landing page builders, Landingi does not offer a free plan, it offers only a free trial of 14 days. After the expiration of the free trial, the signed-up user will have to sign up for a paid plan if they want to use it.
3. A few powerful features are missing from the Core plan, such as custom fonts and icons.
4. Landingi has a limited selection of templates, and it seems many specific industries are left out.
5. For desktop and mobile, the landing page editor has two different pages, so you have to switch between them constantly.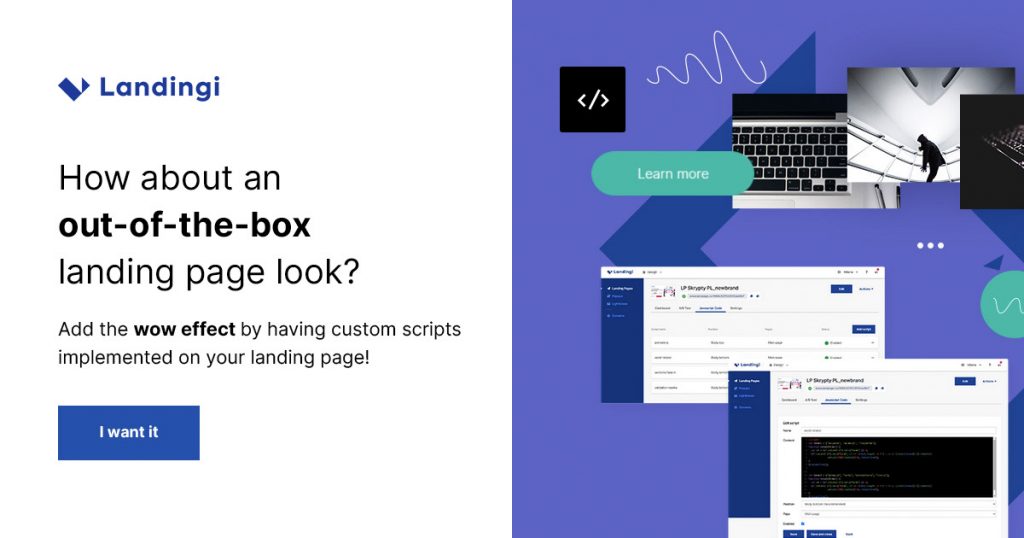 Features:
Landingi has several top features that I thought I should share with you all so you can get a good idea of what it is all about.
1. Highly Usable
When it comes to setting up your app, some of the older app builders might be more complicated than others. You would often need to go deep into their code to make your desired changes.
On the other hand, with Landingi, you are given access to the full range of functions, from instant page creation to all advanced customization options. The software offers easy functionality to carry out several important tasks, such as building pop-ups, doing analysis, checking conversion rates, etc. You can even edit your content, words, and even multimedia files!
Adding one-way or two-way data attribution to your campaigns is another plus point for landing pages created by Landingi. On top of that, you can configure your page as per your requirements. It is easy to integrate your CRM and email marketing software with Landingi's created landing pages.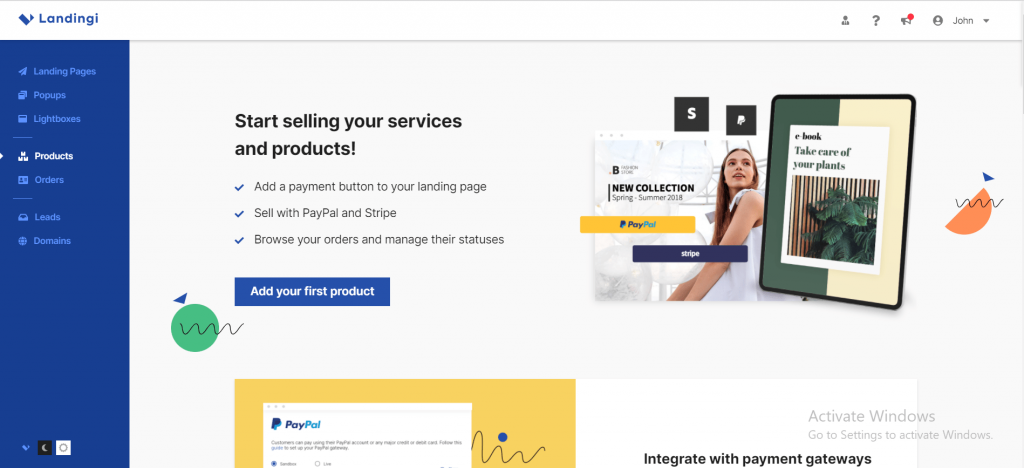 2. Very Attractive Page Layout ( Designs Your Module, Headers, Etc. )
There are a lot of landing page builders available out there, giving users all kinds of customization options, each built with UI/UX in mind. A lot of them are geared towards small business owners, allowing them to build very advanced landing pages.
I found Landingi's offer of a free, customizable landing page to be very attractive. Designing my modules, headers, and other components was an easy and appealing prospect for me, and I found the customization feature just good enough in terms of numbers. However, some professionals might still find the customization options provided to be too limited or unsatisfactory.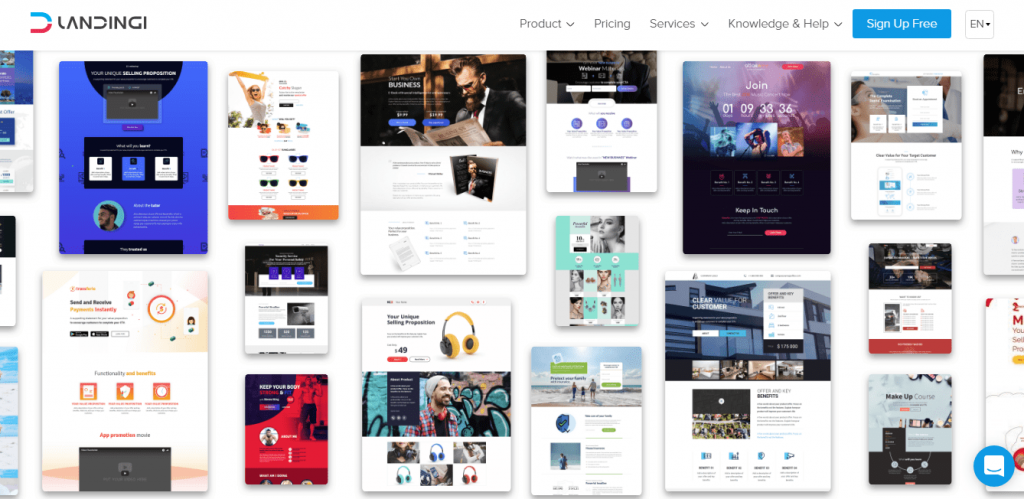 3. Get Rid Of The Complexity For You
As per my experience, the Landingi user interface is super easy for us and it is also its main USP. I would even say that a landing page builder app like Landingi is easier to use than building your landing page. As a user, you will love to experience that it will require little to no programming to create attractive, practical, and successful landing pages. From creating the landing page to monitoring the performance, you can do whatever is needed via Landingi.
Landingi takes the back-end complexity off your hands for you, so you just have to focus on your conversion criteria.

4.  It Comes With Tons Of Features And Is Easy To Use
Landingi is currently one of the best solutions for marketers who want to start easily creating landing pages with easy-to-navigate forms and lead magnets.
The creation process is easy as it doesn't require any coding. Upon creation, you have the option to adjust your tools once you go live.
Even though the majority of landing page builder tools have probably been used by most of us, we occasionally get complacent because we inevitably only come across solutions that perform the same functions with minor adjustments.
As per my observations, with Landingi, you can quickly alter your landing page header, the home page, the form section, the footer, and more to better suit your audience. Additionally, your landing page can be designed in an infinite number of ways because you can always change the fonts, colors, headings, text, graphs, charts, and words. You can also create new forms, areas, and checkboxes at no extra cost.
You also have the option to level up Landingi according to your sophistication. You can perform your optimizations when activated at different levels with advanced tasks that contain additional functionality.
With premium choice, you may customize the look and feel of your landing page and apply ecstatic visual enhancements.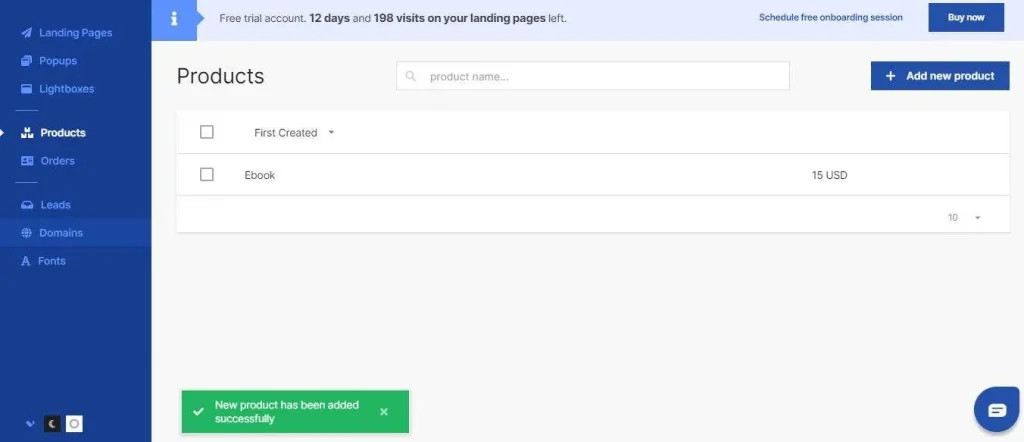 5. It comes pre-styled and ready to upload
With the incredible pre-styled and pre-uploaded landing pages that Landingi Builder creates for you, you should check them out. All you need to do is insert your product, name the marketing pages, and have your landing page.
People will be impressed by the many amazing pre-designed templates that Landingi has to offer. They are all professionally-written emails that you can edit and customize to fit into every niche.
Also, the builder is entirely customizable. It is very easy to add any type of feature, change the size of your image or make the copy easier to read. Another great feature of this builder is that it automates your marketing funnel through its powerful integration points.
6.  Pop-ups
One of the most popular features of Landingi is the ability to add pop-ups to your landing pages. Pop-ups are a great way to capture leads and get visitors to take action, and with Landingi, it's easy to create and customize pop-ups to fit your needs. Pop-ups are also mobile-responsive


7. Marketing Funnel
Landingi creates marketing funnels to categorize and gather the most engaged leads from the visitors. I absolutely enjoy using this marketing tool as it helps me create stunning marketing funnels that capture the attention of my leads. Plus, the automation features are top-notch and help me save a ton of time in my marketing efforts.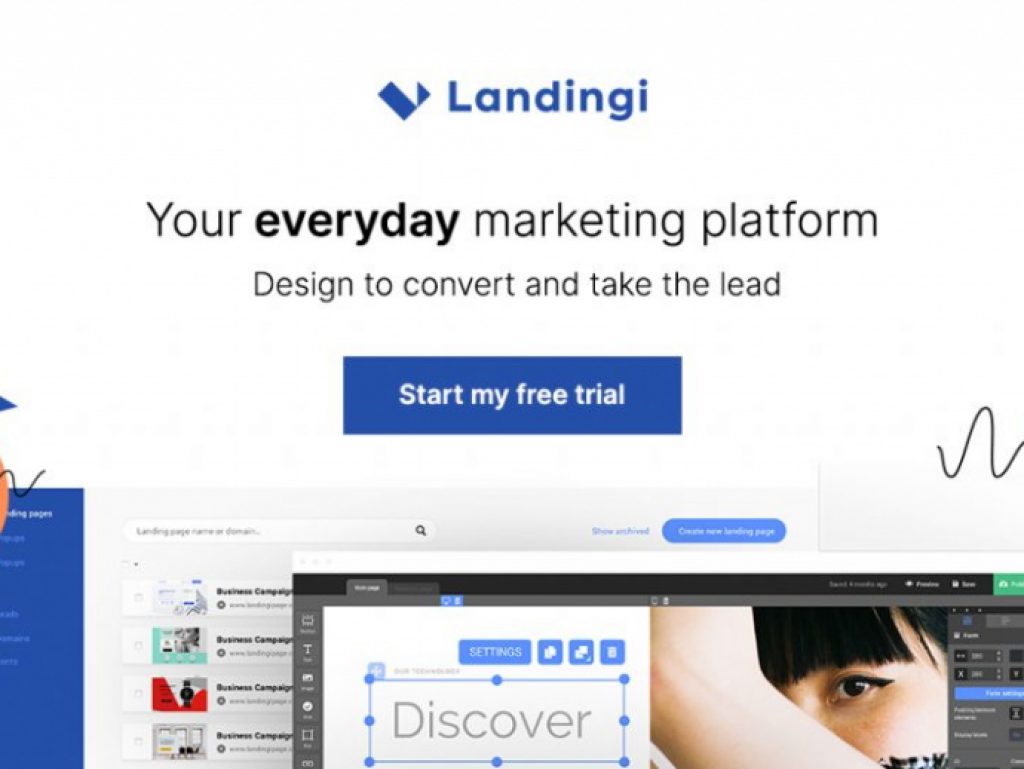 8. Custom Code
We have been discussing how Landingi is powerful, yet easy-to-use, landing page builder that lets you create beautiful pages without needing to know how to code. However, if you do know how to code, or if you want to include custom code on your landing pages, you can do so with ease. Landingi is HTML and JS ready, so all you need to do is add your code and you're good to go.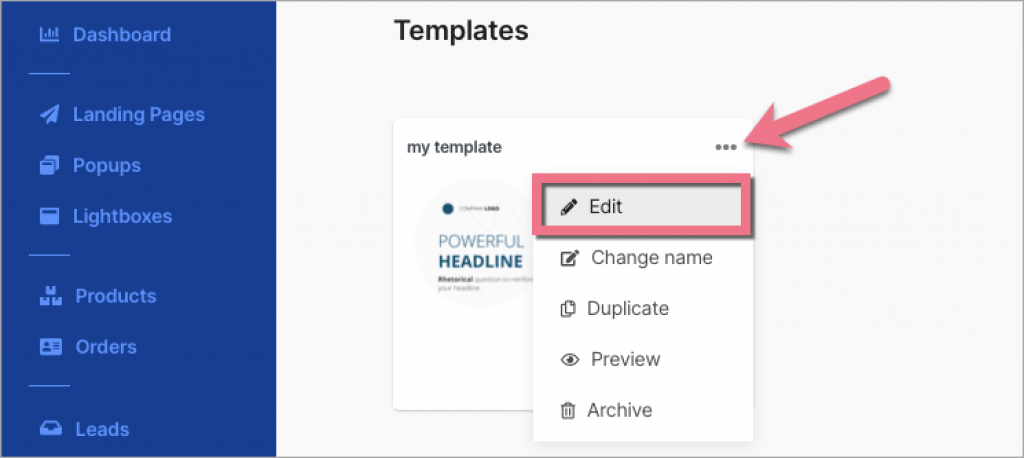 9. One-Click Duplication
I love the one-click duplication in Landingi as it lets you create landing pages for different purposes and duplicate them. One can copy the whole landing page or the actions and utilize them on other landing pages. which I found useful. This particular feature of Landingi is very user-friendly and saves a lot of time. 
10. Custom UI and Pageinsider
Landingi software lets users create custom UI elements like text boxes, images, or videos in seconds (or even less) by just dragging them into the element of choice! They can even build multiple layouts at once if they wish! This means no more wasting time building one layout only to have to re-do it again later, which is a useful feature.
I found the Landingi PageInsider feature useful as it uses AI to give lots of useful information. It analyzes the visibility of a page using a smart map and shows the Clarity Score. This helps understand how well a page is performing and what needs to be improved. It analyzes the visibility of a page using a smart map and shows a Clarity Score too.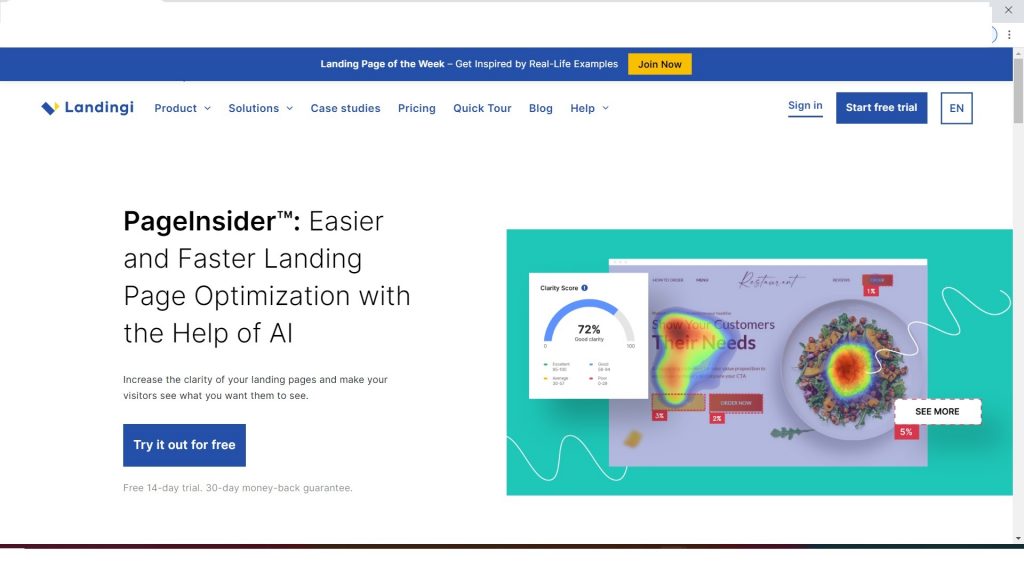 11. Dynamic Content
I found Landingi's feature of dynamic content useful because it lets you choose a specific text field and make it display differently. Users can make the content displayed according to certain conditions. This is a great way to customize your content and make it more engaging for readers.
A/ B testing:
A/B testing is a process of comparing two versions of a landing page to see which one performs better. You can test things like the headline, the call to action, the images, or the layout of the page. Landingi makes it easy to set up A/B tests with its built-in testing tool.
I love that Landingi makes it easy to test different versions of my landing pages. I can quickly see which version is performing better and make changes accordingly. This has helped me improve my conversion rate and grow my business.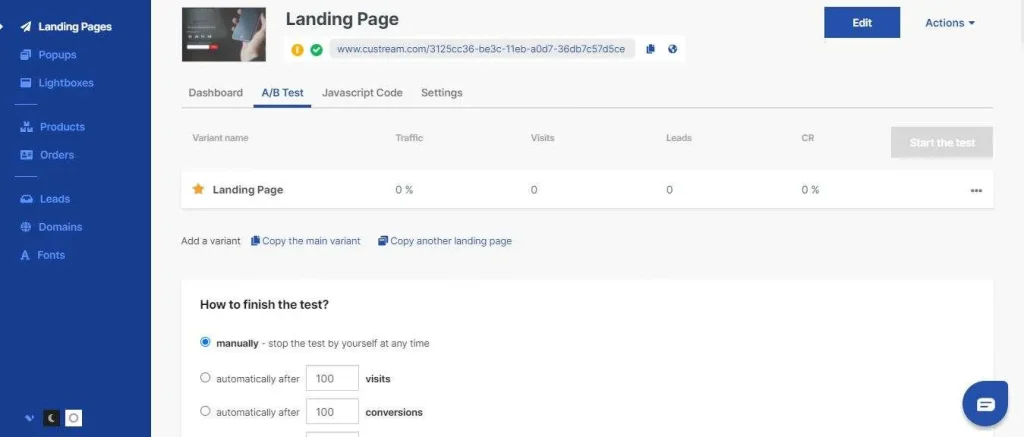 Analysis and Testing Overview:
The Landingi's analytics and tracking features allow users to see how their landing page is performing in real time. Users of The Landingi can monitor the performance of their created landing page in real-time thanks to its analytics and tracking features. It also provides insights into which buttons and links are being clicked on the most, how long users are spending on the landing page, and where users are coming from. This information can be used to improve the landing page design and user experience.
Some of the key features of Landingi's analytics and tracking include:
A/B testing:  We have already touched upon this feature and in Landingi, it lets users test different versions of your landing page to see which one performs better.
Conversion tracking: See how many visitors are converting on your landing page and track your conversion rate over time.
Heatmaps: As a user, you can check where visitors are clicking on your landing page and make changes to improve your conversion rate.
Page performance: See how fast your landing page loads and make changes to improve your conversion rate.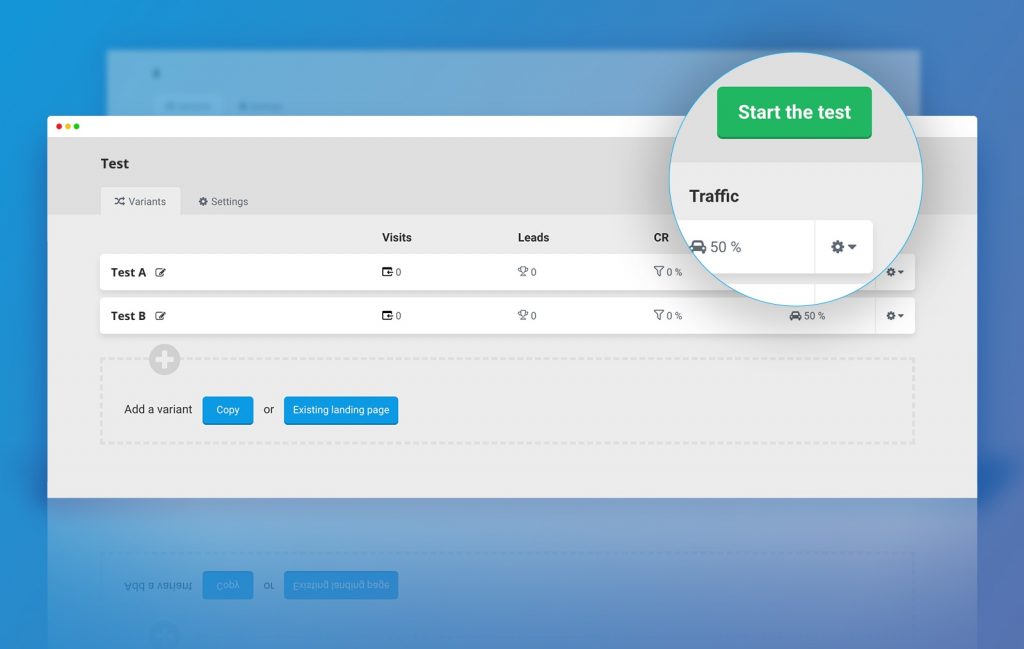 Landingi Integrations:
One of the great things about Landingi is that it integrates with a wide variety of other software programs. This allows you to create a seamless workflow and get the most out of your Landingi account. Here are some of the benefits of the integration capabilities in Landingi:
– Save time by automating tasks.
– Streamline your workflow.
– Get more out of your Landingi account.
If you're not using integrations, you're missing out on the full power of Landingi. So be sure to take advantage of all the integrations that Landingi has to offer. Integrations are a vital part of any software platform, and Landingi has a wide range of integrations available, including:
 Google Analytics
 Facebook Pixel
 LinkedIn Insight Tag
Hotjar
Crazy Egg
 Optimizely
 Visual Website Optimizer
I was really happy to know that Landingi also has an integration with Zapier, which allows users to connect Landingi with over 1,000 other platforms and apps. With so many integrations available, Landingi users can get the most out of their landing pages. On top of that, they can analyze, track, and improve the created pages.
Landingi offers a large number of themes that users can choose from. Their themes are responsive and mobile-friendly, which makes them easy to use on any device. You can customize the theme using their admin panel or by using one of their predefined templates, or you can create your custom design from scratch.
Landingi's themes have been well documented so that you don't need to spend hours trying to figure out how things work to get them up and running quickly!

Information About the Landingi Affiliate Program:
If you are looking for a way to earn some extra income, the Landingi Affiliate program may be a good option for you. With this program, you can earn a commission by promoting Landingi products and services to your friends and followers.
 To join the program, create a Landingi account by clicking the "Join the Affiliate Program" button, and then create a free account in the Landingi Affiliate Program on the PartnerStack platform. Then, copy the referral link and share it with your friends and followers to encourage them to use Landingi solutions. You will receive a commission of 25% on each sale made as a result of someone clicking on your link and opening an account on Landingi.
Landingi appears to understand the value of affiliate programs as a means of increasing sales, as evidenced by the careful consideration given to the development of their affiliate program. It has implemented specific measures and provides some distinctive features, such as ready-made promotional materials that affiliate partners can find on the PartnerStack platform ("Resources" tab), and an Affiliate Program Coordinator on staff to assist them in growing. Moreover, it offers a "90-day Cookie Lifetime", which means that customers have 90 days to open a Landingi account after clicking on the affiliate partner's link.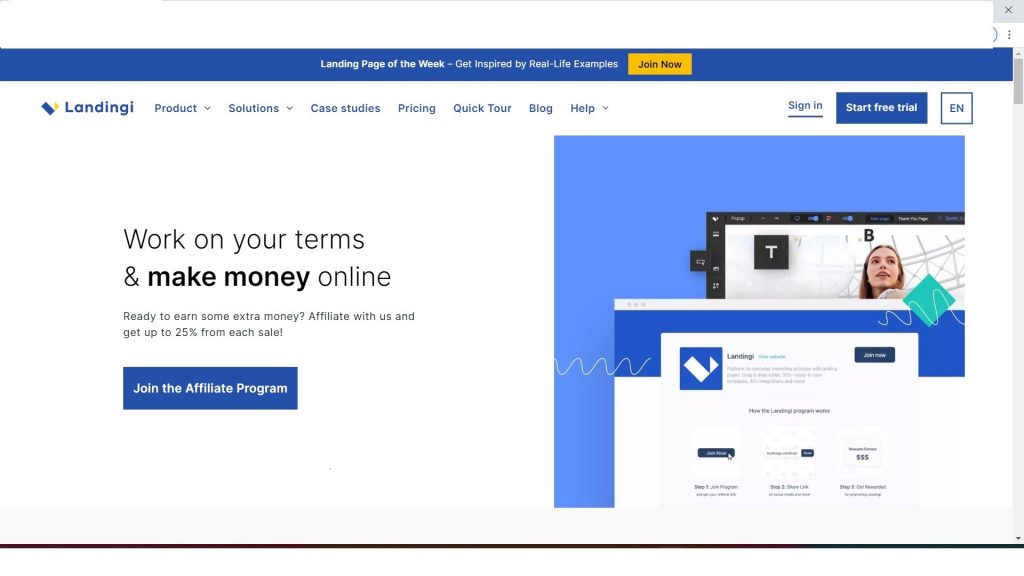 Cost (pricing):
Landingi users can choose from four different offered plans based on their needs::
 Core
Create
Automate
Agency
 Each plan has different features and pricing. The Core plan is the most basic and is priced at $29 per month. The Create plan is more robust and is priced at $65 per month. The Automate plan is the most full-featured and is priced at $89 per month. The Agency plan is designed for agencies and is priced at $109 per month. All of the plans come with a 14-day free trial, so you can try out the builder before you commit to a plan.
The Core plan is the most basic, and it is ideal for businesses that are just starting with landing pages. With the Core plan, you get access to all of the essential features, including customizable templates, A/B testing, and lead capture forms.  In addition, all plans have no capping, which allows users who have paid their subscription fees to create an unlimited number of landing pages and generate an unlimited number of conversions. This is the best thing about the pricing, aside from the fact that it is reasonable.
Another aspect of the pricing is the top-up. Each plan has foundations in terms of unique visits and the number of custom domains and SSL, but if someone is looking for more unique visits and custom domains+SSL, they can go for a top-up that starts from as little as $5, which is a good thing about it.
The Create plan is designed for businesses that need a little more than the basics. In addition to the features in the Core plan, the Create plan includes integrations with popular marketing and CRM tools, as well as priority support.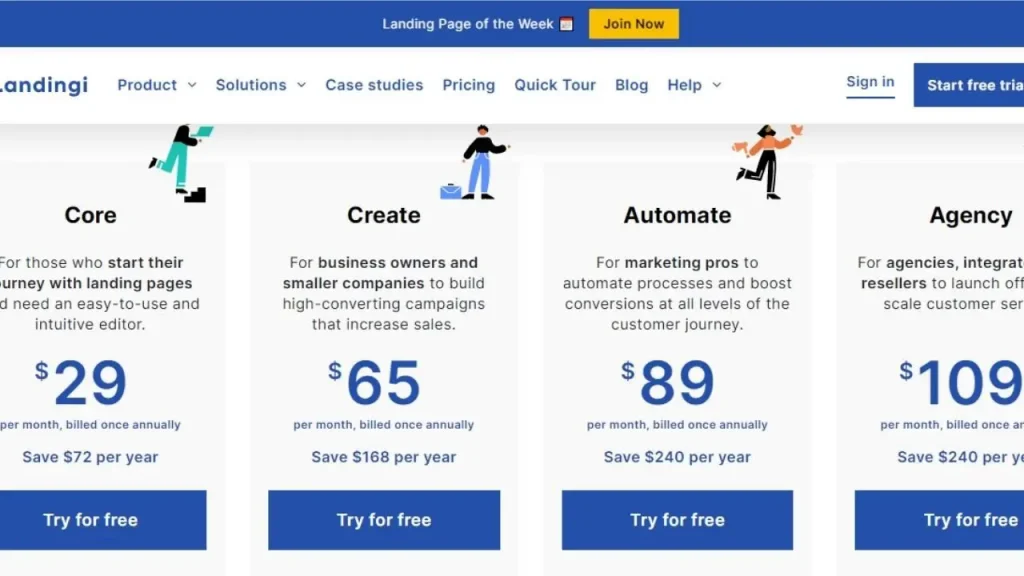 Landingi VS The Competition:
Here is the comparison of Landingi with some other famous landing page builders available on the market:
Landingi is a better option because it has more features and integrations. Leadpages is cheaper but has fewer features, while Landingi is more expensive but also offers more functionality.
Unbounce is a better choice if you want to be more flexible with your landing page. It has more customization options and it's cheaper than Landingi. However, Landingi has an easier interface to use and its features are better than Unbounce.
In terms of features, Landingi has a better interface and more integrations. It also offers more themes and landing pages. However, it is still catching up to Instapage in this regard.
In conclusion, while compared with other famous competitors' landing page builders, Landingi is one of the best landing page programs available, with a great interface, attractive themes, numerous landing pages, and simple integration.

Customer Support:
Before I started using Landingi,  I had gone through online reviews and Reddit, where one of my concerns was about the quality of support. Especially as a new user, there is always a possibility for me that I might encounter issues or become confused with something. However, it was good to see there weren't many major complaints about the Landingi customer support online, and in my testing, I had a similar experience.  I know there were some complaints about the chat support initially that were discussed on various platforms online,  but the company addressed this issue by adding a live chat.
One can also contact them via email or phone. To check the quality of support. I raised a query to a live chat and received answers in a timely and satisfactory manner, but when I sent an email, the response time was too slow. Additionally, if you don't want to deal with the hassle of an agent, you have a comprehensive Help Center that can help you find answers to any questions you may have.
Furthermore, Landingi's phone support was prompt and courteous. It displays the contact number of the USA and it is divided into parts, i.e., for support tickets, New Business. For Marketing Partnership, it has provided only email support.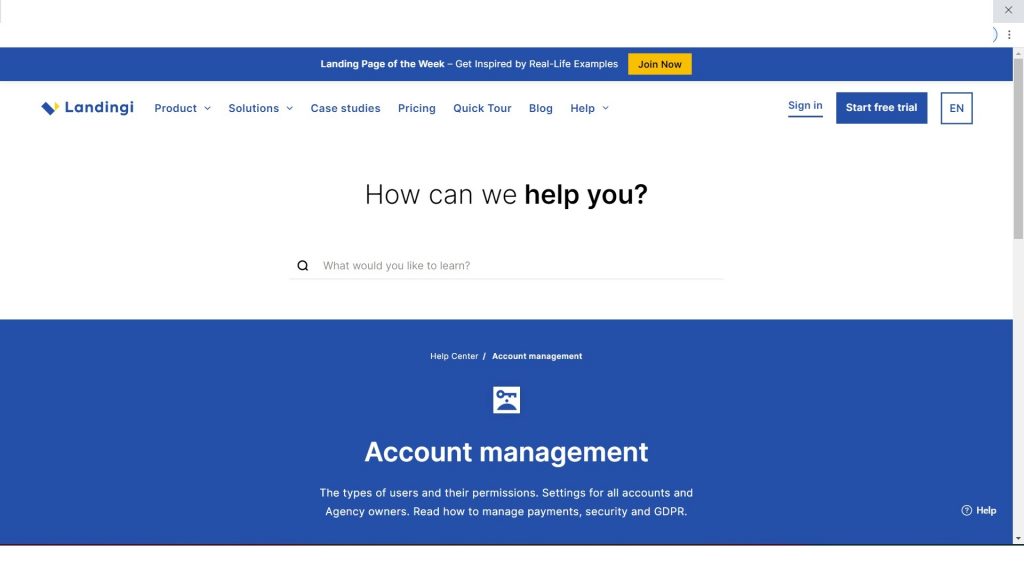 Wrapping Up:
In my experience, I found that Landingi is truly one of the best landing page builders available today. It's a tool that lets you create landing pages quickly and easily. You can use this tool to create landing pages for your marketing campaigns. Landingi has been around for a few years now, and the service has gone through a few iterations. The latest iteration of this tool brings with it a bunch of new features and improvements. If you are looking for a landing page builder, then you should give Landingi a shot.
 It's a great tool that can help you create effective landing pages quickly and easily. Moreover, the software supports multiple languages like English or German, along with many other popular ones like Spanish, French, etc., which makes it perfect for international clients who want their site translated into different languages at no extra cost to them!
In short, Landingi software is one of the best on the market for building customizable and performing landing pages, and I would highly recommend it to anyone who wants to start their own business or is looking for an easy way to build new pages for their business! 
Frequently Asked Questions:
Q1. What is Landingi's purpose?
Ans: For online advertising, people frequently use the Landingi landing page builder. You can use it to increase consumer engagement, boost conversion rates, and draw in sales leads.

Q2. How long does Landingi's free trial last?
Ans: Once you register with Landingi, you can try it for 14 days for free.

Q3. How much does Landingi cost, please?
Ans: On Landingi, you can choose from three paid plans with monthly prices ranging from $29 to $109 per month. The packages are covered in more detail in this Landingi review.

Q4. Does the user need to have coding knowledge to create landing pages?
Ans: No, as a user of Landingi, one can create beautiful landing pages with the drag-and-drop feature.

Q5. Does Landingi offer analysis and testing capabilities?
Ans: Yes, of course. With Landingi, you can monitor the performance of your landing pages since it includes A/B testing, PageInsider, and many other tools.

Q6. Isn't that a content management system?
Ans: This is not a CMS, it is a landing page builder. You can usually use it to create landing pages only. A CMS (like WordPress) has much more extensive content management features.