Hive Review: Does It Stack Up?

Hive Introduction – What is Hive? And An Overview of Hive History: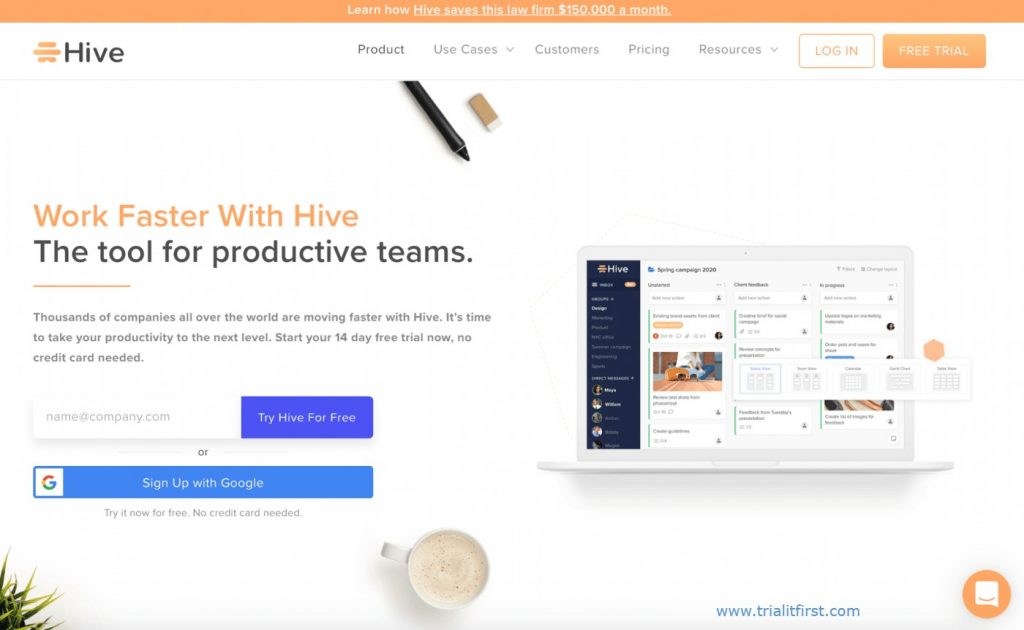 The need for productive and skilled workers is nothing new, but the way businesses achieve productivity has changed dramatically in recent years. In the past, companies would invest in hardware and software to help their employees be more productive. Today, however, businesses are increasingly turning to productivity SaaS platforms to help their employees get work done. This review is based on such a SaaS platform called "Hive", and we know later why it is so popular in the market.
There are a number of reasons why businesses need productive SaaS platforms. First, these platforms can help businesses save money. Businesses can avoid investing in expensive hardware and software by using a productivity SaaS platform.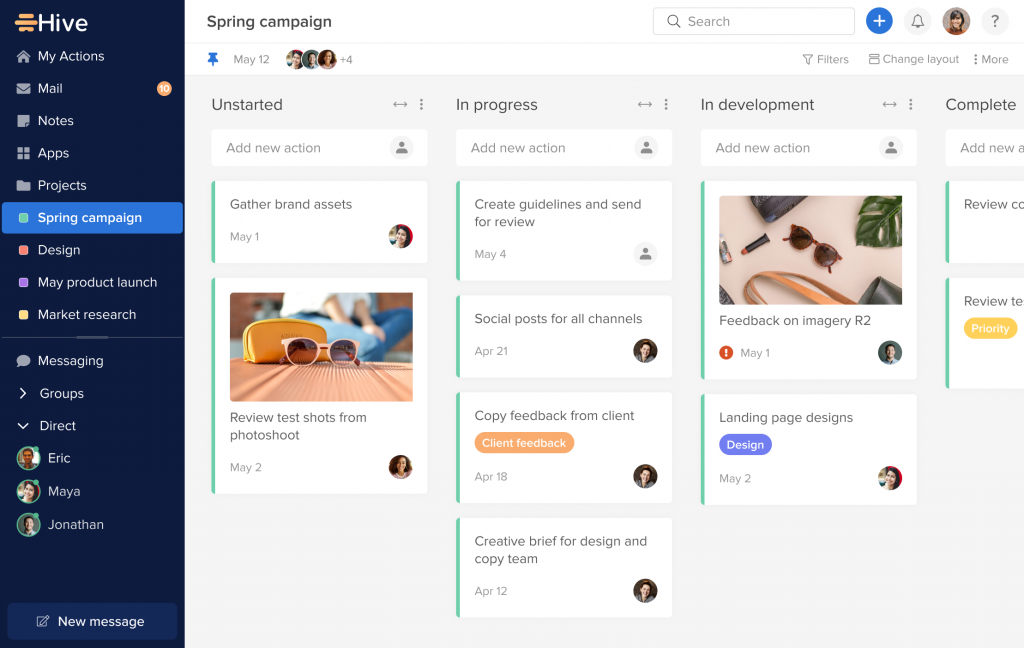 In today's world where things happen fast, and business organizations desire to work quickly and efficiently to stay ahead of the competition. That's where productivity SaaS comes in as an aid. By bringing in automation for routine tasks and processes along with the capabilities of cloud computing into the projects, SaaS can help businesses save money and increase the speed of their tasks significantly.
For these reasons, more and more businesses are turning to productivity SaaS platforms to help them get the most out of their workforce and achieve better productivity.
Several cloud-based project systems are available on the market; each has pros and cons. In this blog, we will review "The Hive Project Management System, " which is one of the most popular SaaS project management systems available on the market.
What Is The Hive Project Management System?
Hive is a cloud project management platform (SaaS) that offers businesses of all types and all sizes the ability to coordinate, manage, and monitor their projects effectively. The Hive cloud platform was designed with the integration of AI to make it easy for businesses to keep track of all aspects of their projects, from conception through completion. By combining several everyday tasks and providing ample flexibility, this platform makes project management more efficient and increases productivity.
Workspaces in businesses often struggle with scheduling, tracking, and reporting among team members and different teams, but Hive overcomes this. It also has features to help teams collaborate on projects.
Pros Of Hive :
1. An Excellent project management system for organizing and keeping track of large projects.
2. It offers a wealth of features and tools that make it easy to get your work done and collaborate with others.
3. Even for those without prior project management system experience, this platform is user-friendly and easy to learn.
4. Integration is undoubtedly its strongest point, as it integrates well with other software and tools, making it easy to use in conjunction with other productivity tools.
5. It fully supports Kanban, Gantt, Calendar, and Table View formats.
Cons of Hive :
It may look a little complex to first-time users.
Lack of phone and email support
Pricing is weird (explanation of it given ahead).
The smartphone app of Hive is not up to the mark
 History Of Hive:
Before reviewing the Hive thoroughly, there is no harm in looking into the history and trying to know how it came into being. So here's what we know: Hive, one of the newest project management tools on the market with advanced features of the cloud, was created in 2015 by Eric Typaldos and John Fourneau. They both realized that there was a need for a tool that could work for both startups and enterprises and make project management more effective. The Hive project management tool was their answer to fill this gap, and they created it as a productivity tool that users loved and leaders needed for their success.
They created and evolved Hive in such a way that it can meet the needs of today's businesses all over the globe and scale up if needed. Therefore, integration with apps and platforms and automation were their priorities.
Ease Of Use:
Hive takes pride in itself by proclaiming that it has been created by users and is for users. Well, after using the Hive, one may clearly get the feeling of why the Hive said it. It certainly feels that lots of thought have been given to ease of use for the users. The Hive program's interface is straightforward to navigate. It makes it easy for project managers to get started with the software and to get the most out of it.
During my use of this platform, I found that the user has the ability to create a project and add subtasks, supporting documents, and team members with ease. It didn't take me long to realize that it is great for someone working in the capacity of a project manager. 
The project manager can monitor the project's progress and make changes as necessary. The software is web-based and can be used by project managers to plan, track, and monitor all aspects of their projects. In order to understand how easy it is to use Hive and how it has been conceptualized, one has to review its panel, and this is what I did. Look at the overview of Hive panels ahead.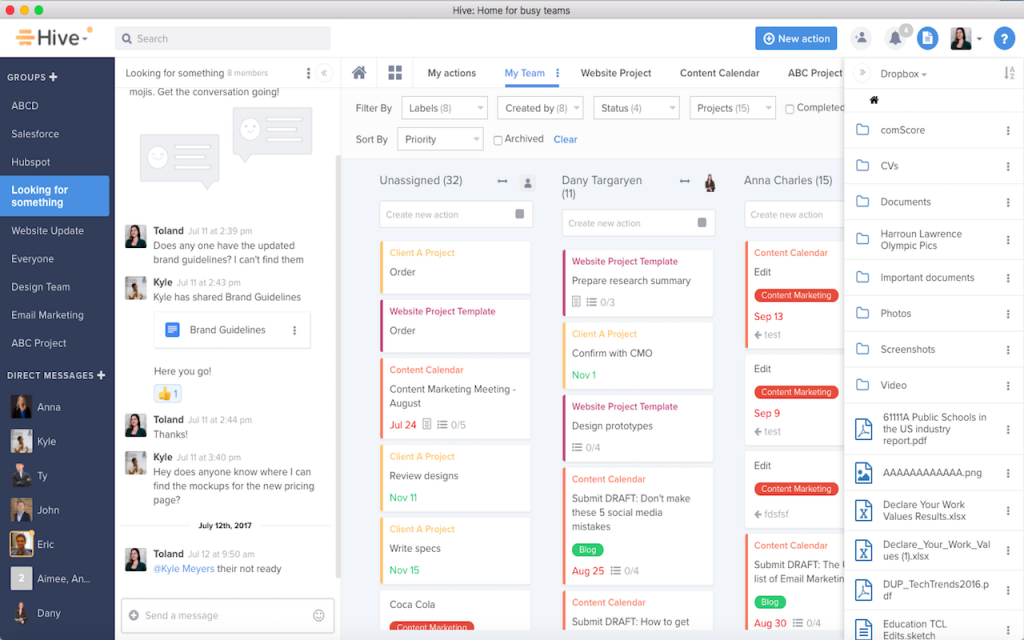 Overview Of Hive Panels :
The Hive consists of 5 panels that let users work on it and make the best out of its features. Here is an overview of Hive's 5 panels.
1. Hive's Messaging Panel Details
It lets users send and receive messages with team members and clients and communicate seamlessly. It resembles Slack in many ways, and if you are someone who has used Slack, there should not be any problems getting on with it. Tasks like setting status, creating a group, and inviting people to join via email are easy with it.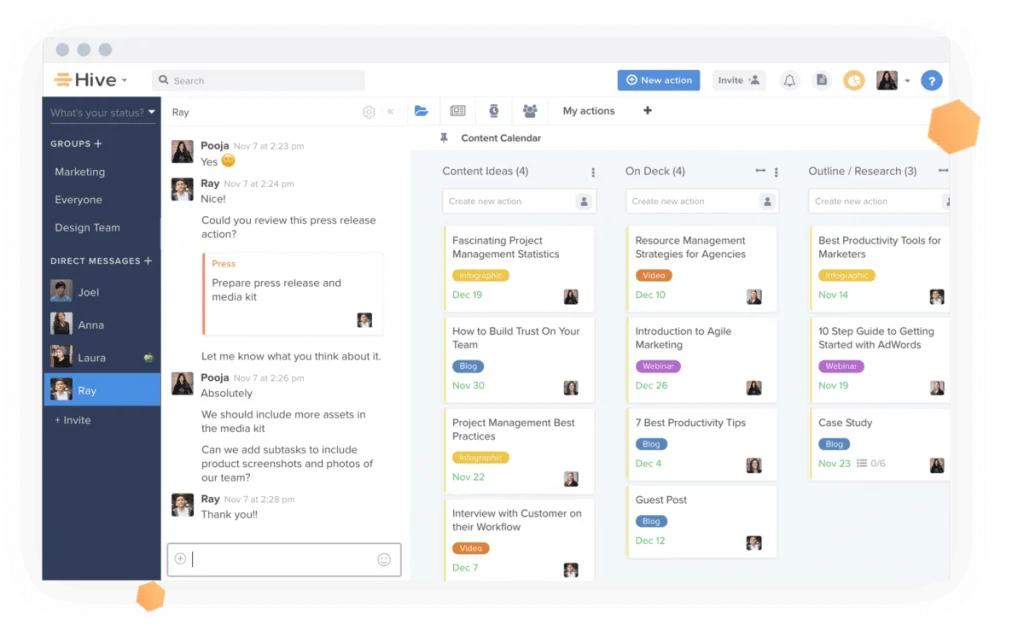 Moreover, during my testing, I found that it can be used to send messages, make calls, and connect with other members of the projects. In short, the messaging panel is a great way to stay in touch with your team and keep everyone updated on the project's progress. Users of Hive can also use the messaging panel to ask questions and get help from other project members.
2.  Messaging Board
The message board and the message panel are linked. One can keep it visible or hide it to make more room for the project window according to the requirements. As previously stated, many of the features are similar to Slack, so one can add reactions to messages, share files, and invite others to join.
I learned that it also works as a forum where users can post and view messages posted by other users. The message board can be used to share topics and information. It also allows users to post messages and view messages posted by other users. Both message boards and message panels help maintain effective communication while using Hive.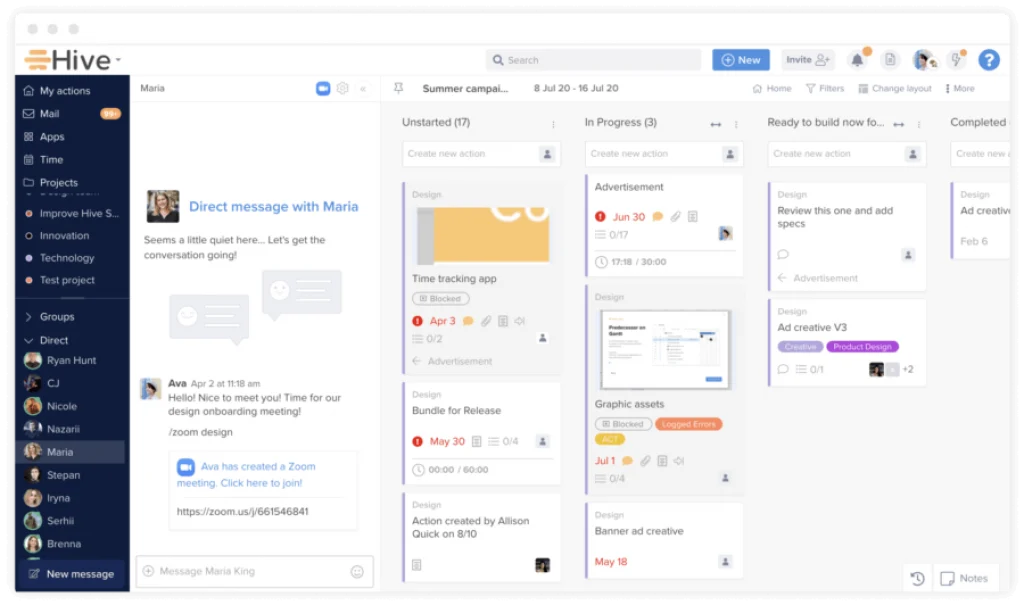 3. The Hive's Project Panel Overview:
Hive's Project Panel is another highlight, and it works as a tool that helps users manage and collaborate on projects. During my testing, I loved the Project Panel. It provides an overview of all the files and tasks associated with a project and a way to communicate with other project members. The panel is a great way to stay organized and on top of your project deadlines. It provides a visual overview of the project's status and history.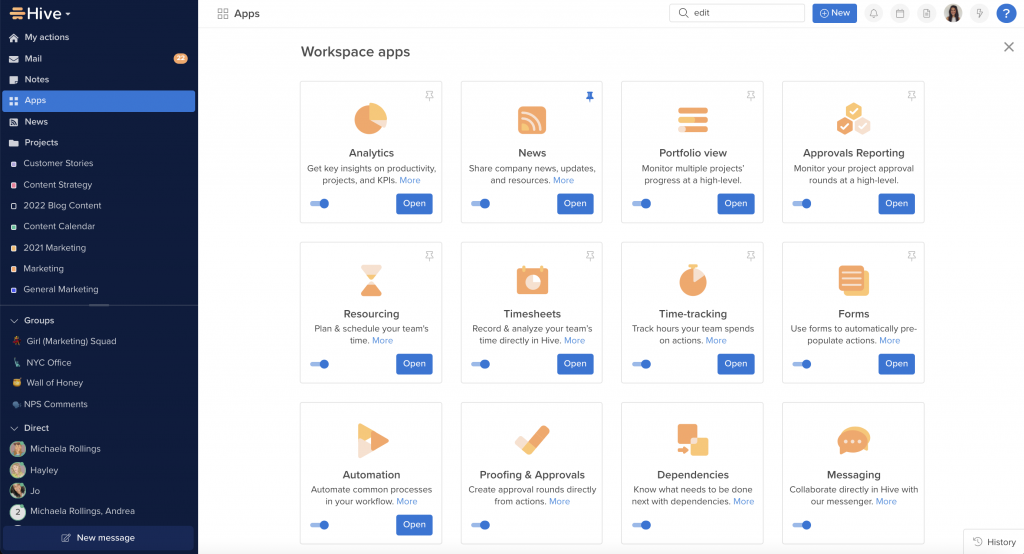 4. Your Board:
Your Board section displays all of the tasks assigned to each user and the teams with which they collaborate.
On your board, each task shows the details, like the project name, due date, and status. It enables project managers to view an in-depth project summary of their entire team.
5. The Top Panel In Hive
The Top Panel is the central command center for the whole project in the Hive project management system. From here, users can access all of their project's features and tools. The top panel is further divided into 4 sub-sections:
The Project List: All of your project's documents, tasks, and notes are accessible here. One can also start new projects by using it
The Project Dashboard: It is where one can see an overview of the assigned project's progress. It displays the project's timeline, recent activity, and upcoming tasks to the users and managers.
The Activity Stream: It is the location where one can view every activity taking place within the project. It lists each task that has been started, each file that has been added, and so on.
The Notifications Center:  It is where one receives notifications and remains updated.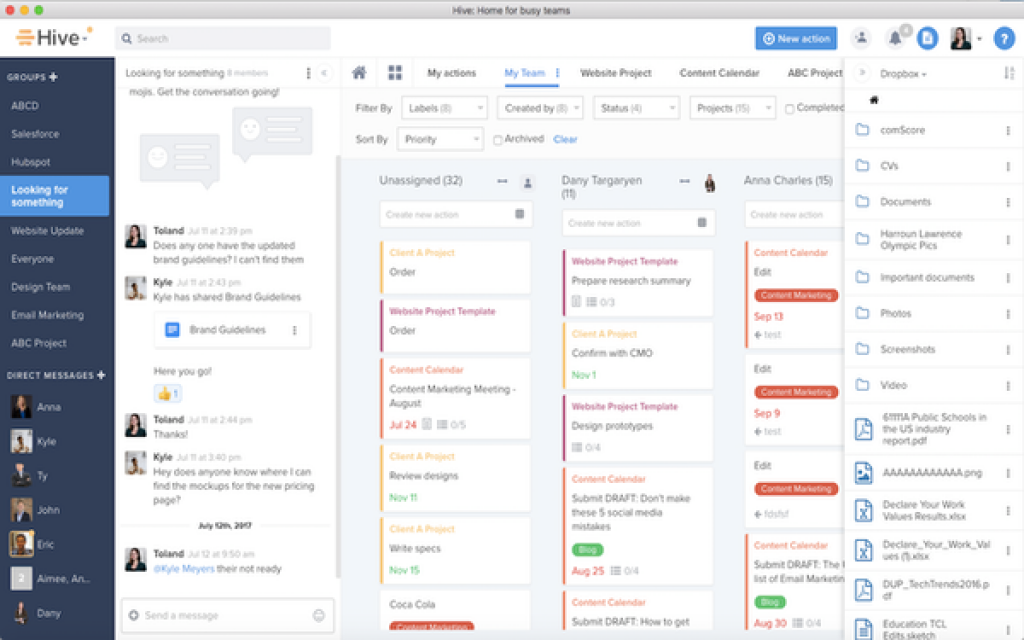 If one carries out a Hive comparison with other project management software, Hive stands out. It looks more modern and definitely polished because of the different panels on its platform and their functionalities. One might get confused at the start with all the elements – tabs, windows, tasks. However, the deeper you delve into Hive, the more functionalities you discover that make it unique.
Use Cases Where Hive Is Really Good:
In my testing and doing a little bit of research, it is a no-brainer to understand that Hive is the perfect tool for:
Nonprofits,
Startups
 Marketing agencies,
Operations management,
Creative agencies.
Since with Hive, managers can manage projects, track progress, and collaborate with team members all in one place; it should be equally suitable for small, medium, and large projects. Additionally, this platform is scalable and can be customized to fit the needs of any project.
Some of the best use cases for Hive include:
– Large-scale projects that require complex workflow management
– Projects of any size that need to be organized and managed across multiple teams
– Any kind of project that needs a lot of data and resource management
– Team projects that need to be monitored and reported on in real-time
The Most Loved Features of the Hive Project Management System:
I found that the Hive project management menu is the easiest way to manage projects. Its features make it a compelling product :
Flexible Views – Users on Hive can view and edit their projects from different perspectives, such as all projects or current projects, which makes the workflow smooth for them.
Hive Chat -This part of Hive is significant as it lets it work as an instant messaging platform that allows its users to communicate with their team members easily using HTML5 technology. A plus point is that it also works with Google Hangouts. I found it really useful since the communication flows and, as a user, I can be assured that I am not going to face any issues while working with my team members.
Action Cards – Another helpful feature that adds to the overall functionality of the Hive as a centralized hub for a project manager is Action Cards.
In our testing, we experienced "Action Cards" as an essential part of Hive's overall interactive environment, as they allow users to keep track of tasks that need to be done for each project in the prospective lists. The action card makes it easier for everyone on the team who needs information about any part of their assigned tasks or anything else related to their respective assigned projects to get information about it. Users who have worked on Trello will find it familiar.
4. Hive email (SMS) Integration – If someone emails users while they are working on the Hive project management system, then they can respond with an SMS message within seconds via this feature, which will appear right at the top right corner of the screen when they click on the icon button.
5. Hive Proofing And Approval Tools:
Proofing and approval are two features where Hive really shines. It allows users to send a file for approval directly via Hive itself. It means a project member or managers do not need to use email or send separate messages if they want someone to do proofing or send the approval. The Hive offers complete functionality to complete such tasks within itself.
Customer Support
Customer support service Quality can make or break a product, and Hive is no different. Over here, Hive did not disappoint, as we found that Hive offers a 'Live Chat' option for users, which is really impressive. In my review, I did try the feature, and it worked flawlessly. However, a minor drawback is the lack of email and direct call support. But I believe the quality of chat support is good enough, so it shouldn't bother most users.
Moreover, the intent of Hive to address any possible issues with the system's functioning is evident right from its official website. It presents users with an informative knowledge base available on the Help Page, and here anyone can get access to various articles, video tutorials, faq sections, and webinars.
 Additionally, I learned that Hive has a dedicated YouTube channel where users can find a lot more to get deep into Hive system features and find solutions if they encounter any particular issue. In a nutshell, this platform doesn't leave its users high and dry at any moment if they need support, and the company is clearly dedicated to providing quality support.
Third-Party Integration
One cannot think of using a project management system without the proper support for third-party apps and software integration. Here, Hive did not leave me disappointed. In my testing with Hive, I got to know that it integrates with more than a thousand third-party integrations. Typical applications like Dropbox, Gmail, Google Drive, Zoom, Outlook, Jira, Slack, and many more were available to get integrated. I tried some of them and did not encounter any issues. So, as far as third-party integration is concerned, this platform comes out as one of the better options available on the market, and it does better than many of its counterparts.
Benefits Of Using Hive Project Management System
Among the many benefits of using the Hive Project management platform that I felt, as a reviewer, I should tell you about are:
●      It Helps To Get Started With A Few Clicks :
Setting up Hive is very easy, and it is an ideal project management tool that helps businesses start and staff projects in a few clicks, which leads to less stress and more productivity. I feel that it's designed intelligently to give business managers an easy way to allocate the best talent for their projects and track project progress and performance in real-time.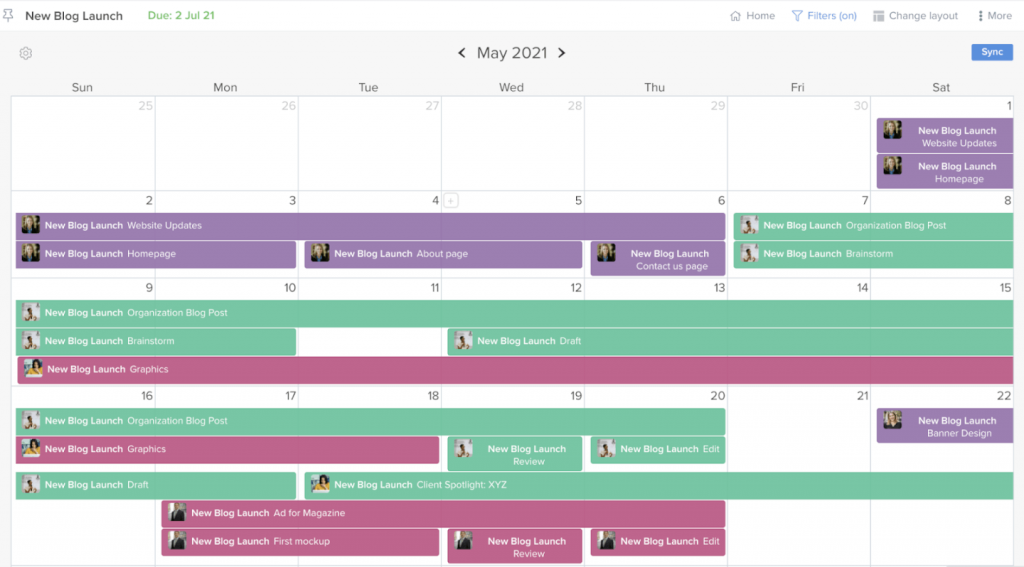 It's a great tool for businesses of all sizes, from startup to enterprise level, and it's particularly helpful for businesses that need to staff multiple projects simultaneously. If you're looking for a tool to help you manage your numerous projects at once but with better results and efficiency, Hive is a great option.
●      Real-Time Timeline And Workload Are All On The Home Page:
One of the best advantages of using The Hive project management tool is that it offers timesheets, time tracking, and workload all on the home page for users, which is excellent as it allows users to see what is being worked on, by whom, and the progress of each task in real-time. Companies utilizing Hive can use the Gantt chart feature integration to help with project visualization, which helps with tracking and productivity.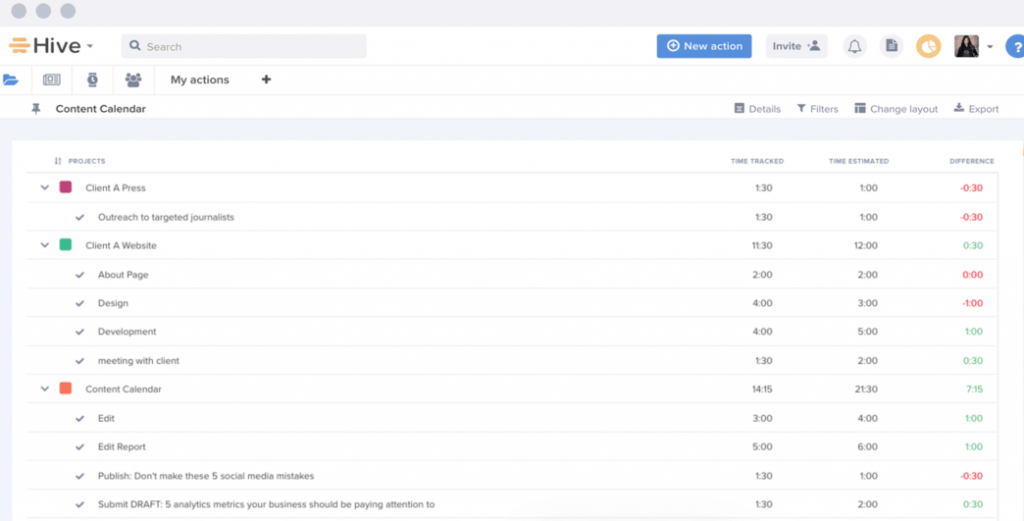 ●      Hive Notes For The Meetings :
Another feature users must use and be aware of is Hive Notes for meetings. It is a feature that lets users jot down ideas and share them with their team. It is a great way to keep the coordination going and bring smoothness to the process.
Task tracking in Hive is yet another helpful feature. It enables users to keep track of every task that needs to be finished for a project and guarantees that nothing is overlooked.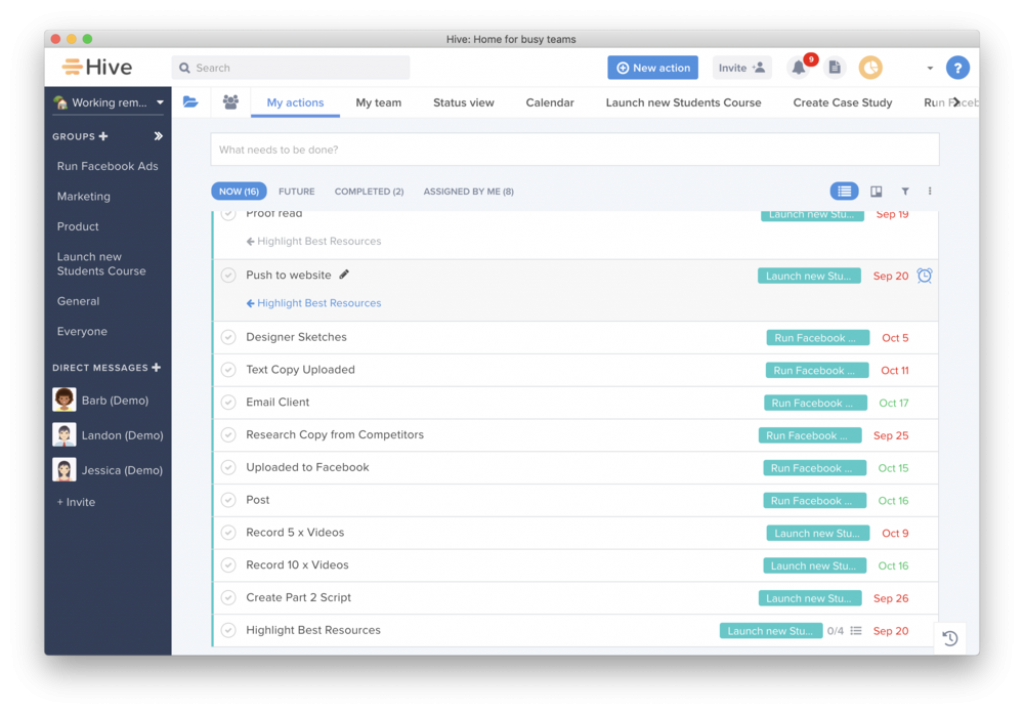 ●      Available Use Cases For All Types Of Teams :
Hive as a project management tool is really flexible and can meet the needs of multiple types of organizations. It offers use cases for marketers, agencies, startups, education, and anyone with a need to get organized and efficient. The tool is among the first to provide use cases for particular businesses and industries aiming to become more productive and organized. In doing so, users are able to solve their particular problems. This platform additionally provides templates and tutorials to assist users who have started their projects or need help at any time.
●      Birdeye View:
As a manager, you wouldn't be worried about not having a detailed overview of your project and its progress. In my opinion, it is a great tool for project managers who want to get a bird's eye view of their projects. As a manager, you will have all the functionality available to keep a close eye on the proceedings.
With Hive, you can:
– Users can view all of their project data in one place.
– Whether your team is making use of integrations that are available to them
– See and carry out analysis to know where bottlenecks are occurring.
– Access project data from multiple applications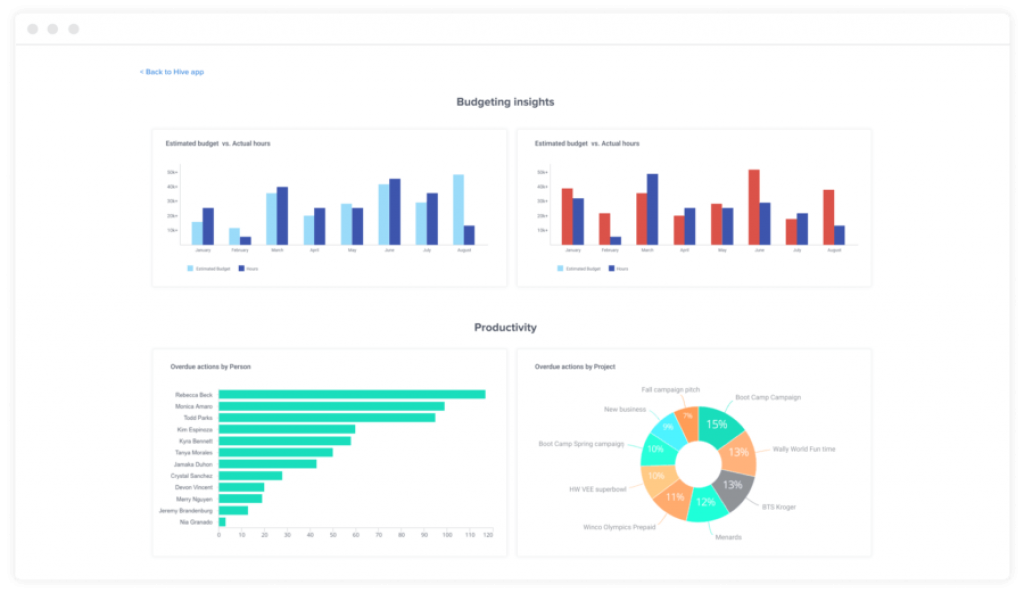 ●      A Complete Integrated Project Management Software :
In my testing with Hive, I have no hesitation in saying that the Hive project management platform is one of the most comprehensive cloud-based modern project management platform solutions on the market. It integrates with other workspaces seamlessly and makes routine but important tasks like scheduling, tracking, and reporting easier with project management automation. It is clearly one of the better project management systems that I have come across that lets organizations keep track of several projects at once.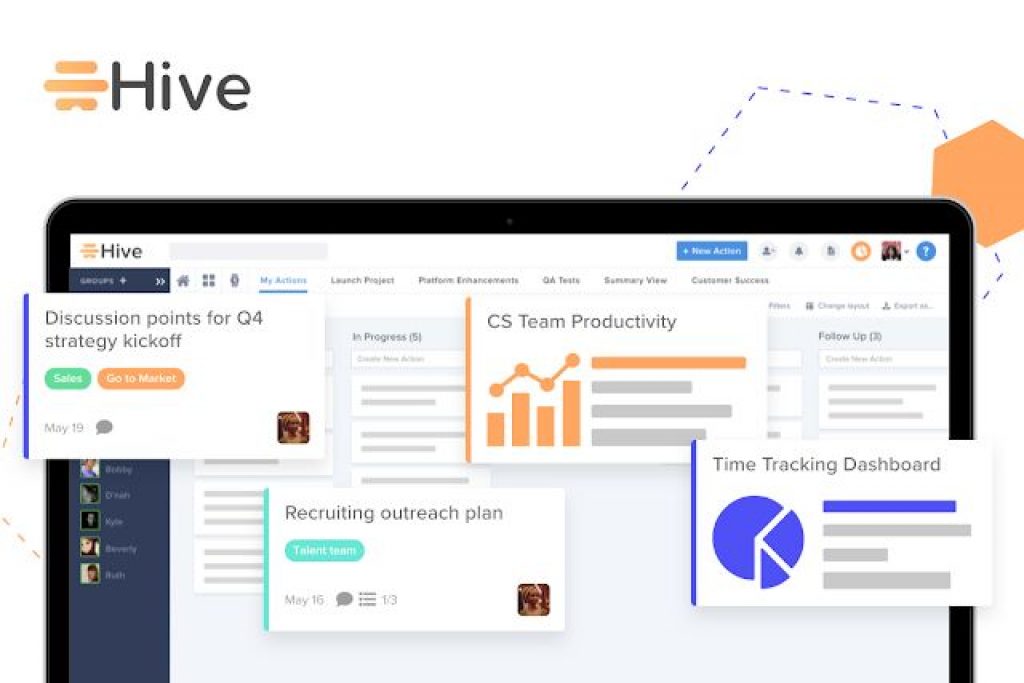 ●      Time Savings :
Again, I want to reiterate that automation and third-party integrations are the best things about Hive. It also ensures that all relevant project data is accessible from a single platform, and combined features lead to time-saving and definitely higher productivity in the assigned projects.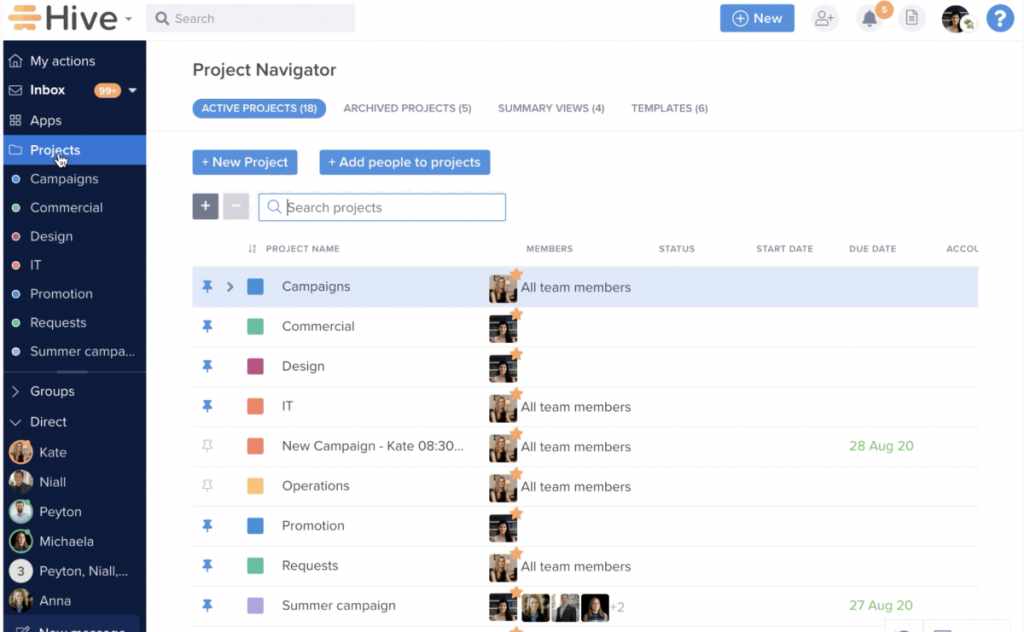 Pricing:
Hive offers affordable pricing, and businesses from small scale to enterprise level may choose one as per their needs. The Basic Hive plan, which includes all the essential features, starts at $12/user/month or is billed annually. A business wants to get work done using Hive, including task management, team chat, file sharing, and other features. If more advanced features are required while using it, there is always an option to opt for custom enterprise plans.
These plans are tailored to fit an individual or company's specific needs and can include features like enterprise integration, custom branding, and more. These plans offered by Hive are tailored and flexible to meet a company's specific needs and can include features such as enterprise integration, custom branding, and more.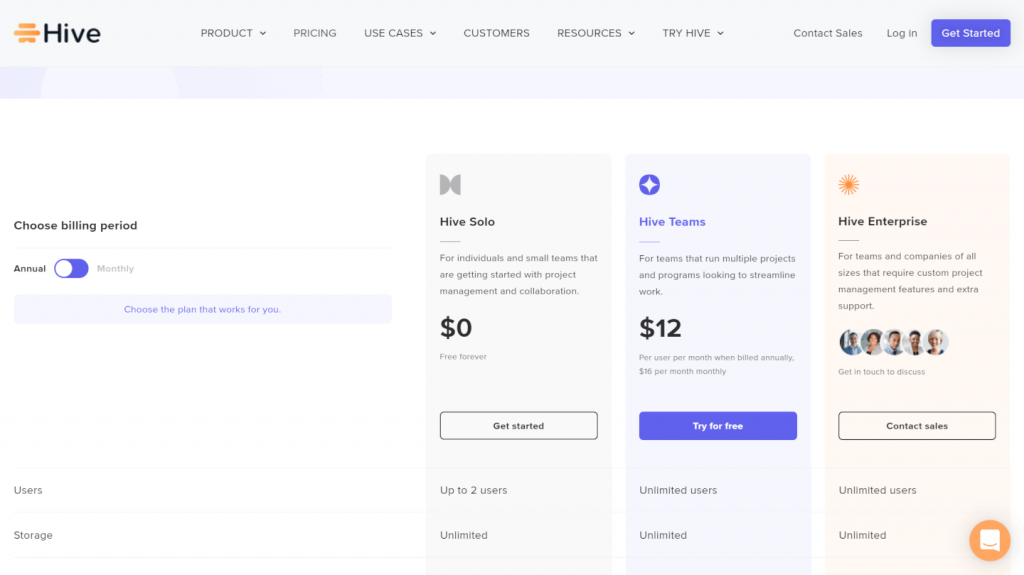 What I Don't Like About Hive Pricing
At first glance, it seems that the $12 / month billing for the base version of Hive is very low, and it really is a catch at such a low price point as a fantastic cloud-based project management system. But once you dig deep, you understand that anyone looking to use Hive effectively will have to shell out at least $25 /month. Why is that? Mainly because essential "workspace add-ons" like resource management, timesheets, and analytics are not included in the $12 basic plan. The users of Hive will have to pay extra for these. It is a major shortcoming of this platform. Since, without these ads, the Hive does not feel complete and looks like a stripped version of a complete one.
 Some workspace add-ons, such as timesheets, are very much needed to perform basic tasks on Hive. I feel the company needs to look at its pricing once again and offer the necessary add-on in the base pricing so that users who are just joining don't think they are using a stripped version and not a fully capable one.
Hive vs the Competition
Before anything else, we must understand who Hive is up against. Here are some of the names:
Asana.
Smartsheet.
Monday.com.
Aha!
Kanbanize.
JIRA Software.
Wrike.
Slack
Priority Matrix
In comparison with other project management tools on the market, Hive definitely stands out. Hive analytics is the first feature that distinguishes it from the competition; project managers can create up to three dashboards to track KPIs such as workspace productivity. As a result of this feature, productivity gaps and bottlenecks are identified. Alerts are sent to the project manager, who can look into them and take corrective decisions.
Secondly, the Hive is a project management tool designed to help you organize tasks, conversations, projects, and more so that you can always stay on top of your projects. Moreover, since Hive is a cloud-based project management software that has a lot more flexibility, it is not surprising that thousands of teams and organizations use it worldwide. Due to its complete set of features and ease of use, it generally ranks higher than its competitors like SalesForce, Trello, Slack, etc. In summary, it brings together many features of its competitors on board and works like a digital hive with lots of capabilities.
Final Verdict:
What I discovered is that the Hive is undoubtedly a notch above the first when one looks at the set of features and ease of using it. In this digitalized world where big enterprises may have people working from all over the world but at the same time work together using several other applications such as Gmail, Google Docs, Gantt charts, and much more, cloud-based software like Hive is certainly a boon. Moreover, the affordable pricing that Hive offers makes it an even more compelling option.
Hive is one of the first AI-powered management platforms on the market that brings together custom workflows, messaging, templates, and collaboration, so it feels like a more contemporary product than its competitors. With Hive, as a manager, you can manage your team, projects, and clients in one place. Plus, you can use Hive's AI capabilities to automate tasks, and it offers the flexibility to integrate with tons of applications, making it perfect for managing projects for teams whose members can be anywhere but can still work as one cohesive unit. So, in my review, this platform certainly gets thumbs-up as project management software, and companies looking to try a modern cloud-based system to manage multiple projects should try it.
Frequently Asked Questions?
Q1. Does Hive charge a monthly subscription fee?
Ans:  Yes, Hive charges a monthly fee that begins at $12 per month.
Q2. Is Hive suitable for big enterprises?
Ans: No, it has been created to meet the needs of the smallest to biggest businesses.
Q3. Is Hive difficult to use and learn for its users?
Ans: No, the Hive project management system is not difficult at all. Though there is a small learning curve, it is evidently easier to use. If you have used Trello, you will understand it very easily.
Q4. What are the main benefits of using Hive?
Ans: The main benefit of using the Hive is that it lets teams work together seamlessly from anywhere, and managers can keep an eye on the progress of various projects easily. For users, the this platform works like a centralized hub where different tasks can be performed, communication flows without interruption, and tasks get automated, leading to a high level of performance.
Q5. Does HIVE integrate with others: applications and platforms?
Ans: It is one of the strengths of Hive that it integrates with more than 1000 applications and platforms, such as Google Drive, Dropbox, Github, Slack, Jira, Outlook Calendar, and many more.
Q6. Is Hive a cloud-based system?
Ans: Yes, it is a cloud-based system that lets teams work together from any corner of the world as long as the user is connected to the internet and has Hive installed on their respective systems.
Q7. Does Hive offers a smartphone application for its users?
Ans: Yes, Hive's smartphone application is available for users, however, users may find its functionality limited in terms of use.