Convertri Review- Learn it and then Invest!

Convertri Review- Learn it and then Invest!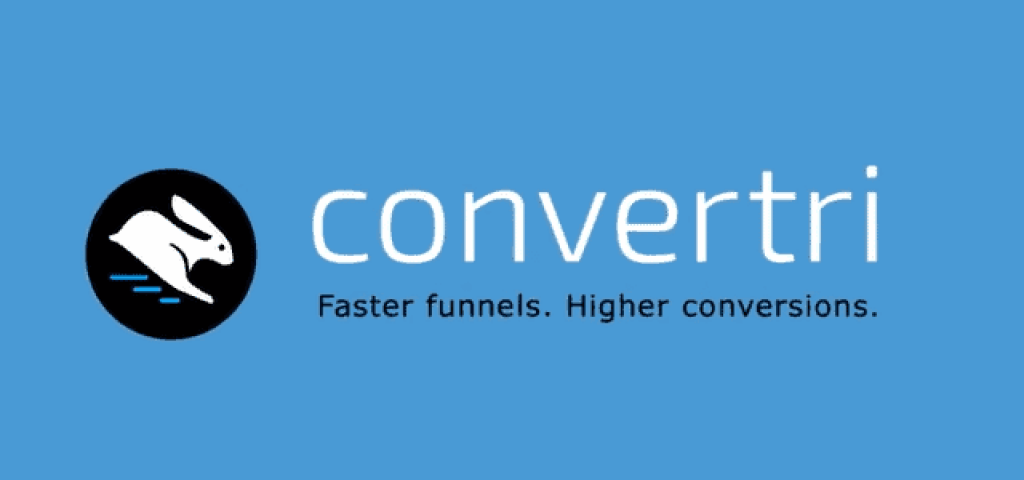 Have you nailed the basics of funnel and page builder platforms? These editorial and building platforms are in massive usage among business owners. Internet is widely used to upgrade business with this type of platform. But, not all the funnel and page builder platform is reliable to induce your conversion rates. So, I am introducing you to the fastest loading capacity platform named Convertri. Many businesses had picked up in no time after using this platform's unique technology-based customization. Before you decide to use Convertri, I recommend you take a look into the advantages and disadvantages of incorporating the design prepared with Convertri into your business sites. This Convertri Review will help you to make your right judgement.
Convertri is the builder platform for acquiring appealing funnels and pages. It has accelerated technology that provides their customer to load their page in just a three-second timeframe. Therefore, it claims they are the fastest loading sites in the market. This reliable platform work with Content Delivery Network to achieve this growth. 
As I understand the fundamental need of the upcoming and experienced business owners, I had shared my thoughts on this Convertri Review. This post unravels the complete knowledge of this funnel and page-building site.
You can accomplish the importance and the process to achieve the final destination using Convertri. I have enlisted the pointers that will be covered in this post. Stay till the last line of this post to get wholesome knowledge. 
Convertri OverviewWhat Is convertri? 
How convertri Work?
Why should you use convertri?
Convertri Pros and Cons
Easy to Use
Features
Third-party Integration
Pricing
Alternatives
Customer Support
Final Thoughts
Frequently Asked Question



Convertri Overview: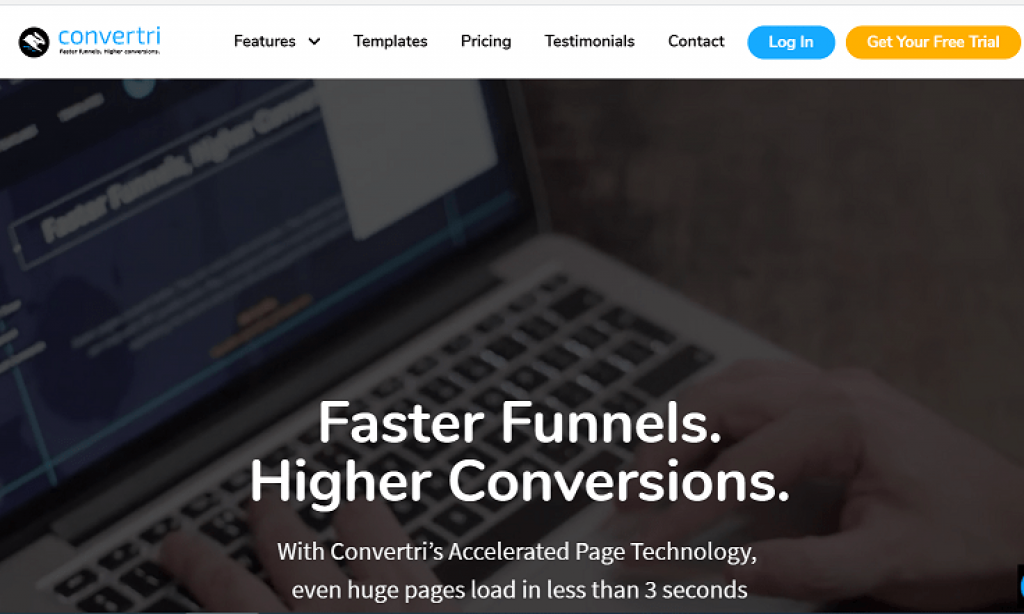 If you are in a hurry and searching for short notes on Convertri, I will give you a summarized version to gain your confidence in using this platform. Understand Convertri in this overview pointers for a thorough and short glance inside this site.
Convertri is known for its fastest loading capacity (less than three seconds) than other funnel and page builder platforms.
The pages built can be customized with its unique CDN (content delivery network) technology.
It stands out with its free-form page editor, which enhances the client's expectations by efficiently incorporating creative ideas for building pages and funnels. 
The additional standout feature of Convertri is that it supports video functionality. This gives a clear understanding of the visitor's engagement with that video.
Shopping-cart is in-built.
Integration is allowed with most third-party services.
It allows building sub-accounts with management and marketing agency plans.
It provides a free trial version for 14 days with two plans for all business owners 99$ for the monthly plan and $75/month for a yearly plan. 


What Is Convertri?
Convertri is the funnel and landing page-building platform developed by Andrew Fletcher. This platform, launched in 2016, focuses on optimizing the design with rocket speed consistency.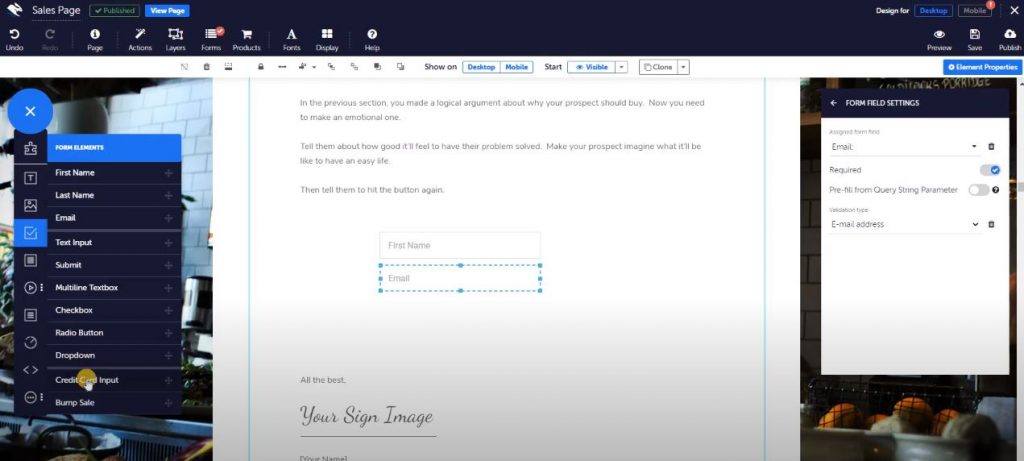 This platform is, of course, for the one who does frequent online business. It is the best platform for marketing owners because Convertri permits them to extend their products to millions of customers worldwide. Therefore, it increases the revenue, conversions, and business to the next level. Do not worry if you are a non-techie individual because Convertri endeavors to understand all the creative designing methodologies.
The users are enabled with amazing experience with this Convertri's build pages, marketing strategies, and fast loading capacity. All the tools stand unique with distinctive touch in every aspect of impressing the customers.


How Do Convertri Work?
Convertri is a platform that works on various systems to develop unique funnels and pages for business owners. It has varied template collections that support the easy acquisition of customers. To know the flow of Convertri-developed pages and funnels, you need to follow a few simple pointers below.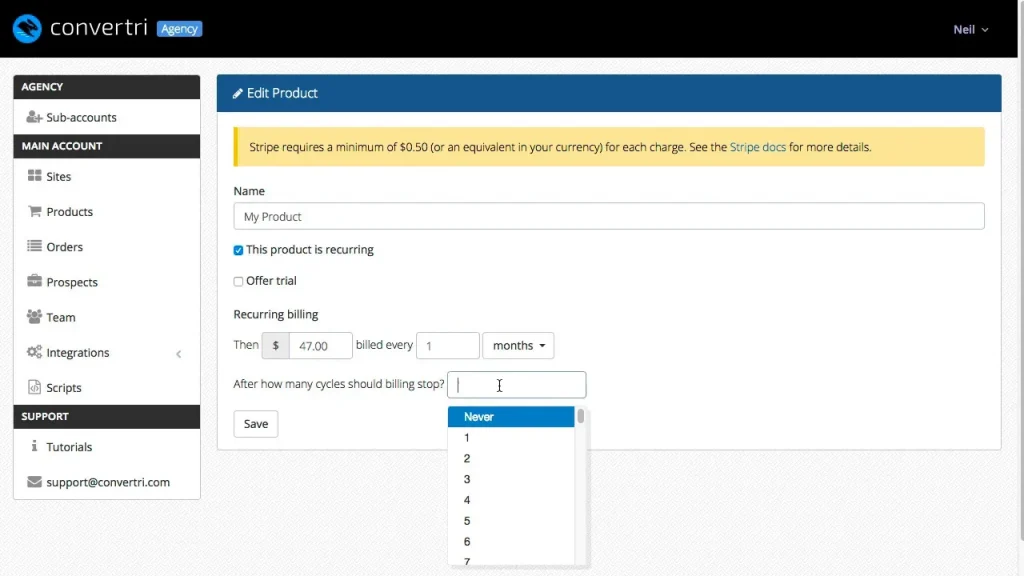 Go to the main dashboard of the Convertri platform. Sign up for your account by selecting the appropriate domain name. You can choose anything that relates to your products or brand name. Tap on Create button. The created domain is the sub-domain of Convertri. Now, you are ready to create pages and funnels for your business.
The below steps will guide you in building funnels and landing pages using Convertri.
After logging into the Convertri account, the primary interface will ask you to start creating your funnel. You can type the name of your funnel and set the domain.
Landing pages are the one that is created inside the funnel. Hence, funnels are a group of pages created together. This funnel creation allows customization, template selection, and more. You can create a funnel for the opt-in page, upsell page, coming soon page, and more.
Before you set up a final funnel for your webpage, you need to create some pages to grab your customers' attention. So, let us know to create pages in the next step.
Tap on this creates page button. You will get multiple templates to choose from it. Select anyone according to your choice and move it to the editor platform. As mentioned earlier, Convertri allows the creation of a page from scratch. But, preferring to use provided readymade templates will be the wise decision for newcomers. There are several options for templates. But, this interface does not give any filter section to select among massive templates. 
After selecting your template, you will be directed to the page editor or builder platform. If you are new to this platform, you can refer to the welcome video, where simple steps for using the editor are provided.
This point will give some highlights for using this page builder platform. Here you can use drag and drop system to design your page.
– Drag the building blocks to the left for convenience.
– Place each element as per your choice. Place it appropriately with the correct spacing and location. Guideline and ruler are provided for support.
– Tapping on each element will allow you to style it with fonts, colors, borders, shadows, and more. Customize it, referring to the niche of your business.
– Additionally, in the right corner, you can refer to general page styling, script customization, SEO, undo or redo button, checkout settings, and more.
Similarly, you can customize and design your page with a unique personalized touch. Building a page in Convertri is simple and easy with a modern interface and without the need for expert consultancy.
After creating all the required pages for your website, you are ready to create a funnel. 
– Connect all the pages created together in such a manner that it will boost your conversion rates. 
– You can look into the final look of all the pages designed in the developed funnel. Convertri allows you to drag and drop in this stage to finalize the pages with a perfect fit.
– Now, you need to prepare a sequence of each page. Make sure to enter the right URL in the sequence settings. If you want to recheck the entered URL, you can refer to the form settings, which are found underneath the Thank you page URL. 
Convertri has lots of in-built features to develop a business and conversion rates. But keeping track of each step in your website is essential. So, it helps to track each page's performance for editing it efficiently. You can click on each page's conversion details to understand the ability of each of the elements placed. Editing it may help to improve the conversions gradually.
Convertri also has a reporting page that overviews the entire funnel's revenue, page views, and prospects. Unfortunately, there is no provision for comparing reports with other funnels.
We now know to work on Convertri. But, I would suggest you go through some of its advantages and disadvantages and learn the requirement of this platform for your business.


Why should you use convertri?
Convertri is well worth lots of effort and time. If you know about it in-depth, you will find it easy to get valuable output from their service. Hence, you must learn about its unique features that set them aside from its competitors.

In the internet world, few platforms support fast loading capacity with all the creative themes incorporated. Some sites allow it to load faster by compromising themes and features, while Convertri supports exclusive features with high-quality themes and more. It also functions smoothly and loads faster with the video on your sites. It is easy to use with its drag-and-drop feature for all users. Hence, making this platform easily familiar with its tools. Convertri is a client-friendly platform that can be used on big-screen and mobile devices.
Convertri allows their customers to keep their mobile site friendly with the active participation of creating customized sales funnels and landing pages. With enormous features and the freedom to integrate the third-party easily, Convertri has become a favorite for all customers using this platform. 
Convertri support is available 24 hours a through their email and Facebook community. The price plans are level-headed for all the upcoming and well-versed businesses. It is the boost-up tonic for all users to convert their leads efficiently. 


Convertri Pros and Cons:
All the platforms in the digital world are filled with both pros and cons. It will support the buyers in deciding their destiny by selecting an appropriate platform for their business. Below enlisted are some pros and cons of Convertri.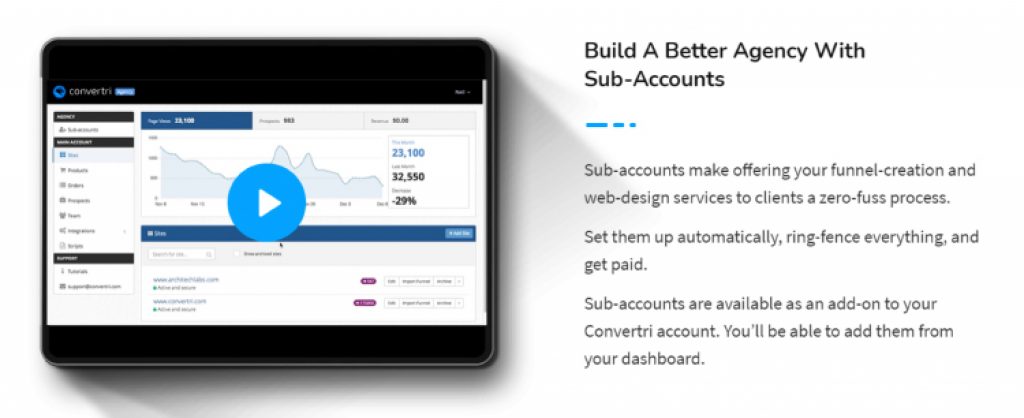 Pros of Convertri
The free trial is handy for 14 days.
Loading of each page is faster than normal.
Two pages can be imported easily.
Design templates available are more than hundreds.
All renowned marketing platforms can be easily integrated with Convertri.
Customizing the pages are easy on mobile.
Pricing is the cheapest for the tremendous value provided.
All domains are provided with free SSL certification.
Funnels and landing pages can be developed with a unique touch.
All clients' accounts can be managed with all agencies with the Sub-accounts feature in the agency plan.
Cons of Convertri
There is no provision for an affiliate marketing program.
No support for email marketing. It means you need to purchase another service to grab your customer email list.
Live chat support is not provided.


Easy to Use:
Convertri is the platform that accomplished its pride for developing the fastest loading ability for each page, funnels, and more. Apart from this ease of customer acquisition ability, customers have gained other vital features. 
Convertri supports the users in designing their templates using the blank set-up. It allows you to fit the elements in the correct location with the help of the drag-and-drop feature. It eases the building process with no need for experts. In addition, the easiest thing users can avail to build funnels is through the pre-designed templates provided. Here, users must design it to fill the space according to their business. 
There is no need to worry about security because Convertri offers 100% security for selling with an in-built shopping cart.
Some business owners appoint a separate individual to manage their sites. Convertri allows a simple click to understand the analytical charts of the sites. It also eases the process of tracking business performance by analyzing leads and conversions statistically. It is easy to edit any elements whenever the user observes low engagement of customers. 
Therefore, Convertri allows users to have an easy interface without involving technicians. Before concluding to purchase the Convertri plan, look into the detailed information on each feature that will support you in building an effective sales funnel and landing pages. 


Convertri Features:
Convertri is the platform leading in their business by allowing vast options for creating a page builder. It has deadly infrastructure for accommodating all the third-party integration like PayPal and any shopping cart.
Fast Page Loading Speed: Research has proved that a loading page between one to three seconds has a lesser bounce rate than a loading page that goes beyond three seconds and has a higher bounce rate. So, to make your page with less bounce rate percentage, Convertri provides the fastest loading page feature. It uses APT (Accelerated Page Technology) that safeguards the loading time within three seconds. Therefore, increasing the conversion rates by acquiring organic traffic. This technology supports the fastest loading by storing all the images, videos, text, etc., in super-fast servers. It allows each webpage of the users with fast hosting service with the benefit of accomplishing potential customers and a good sale.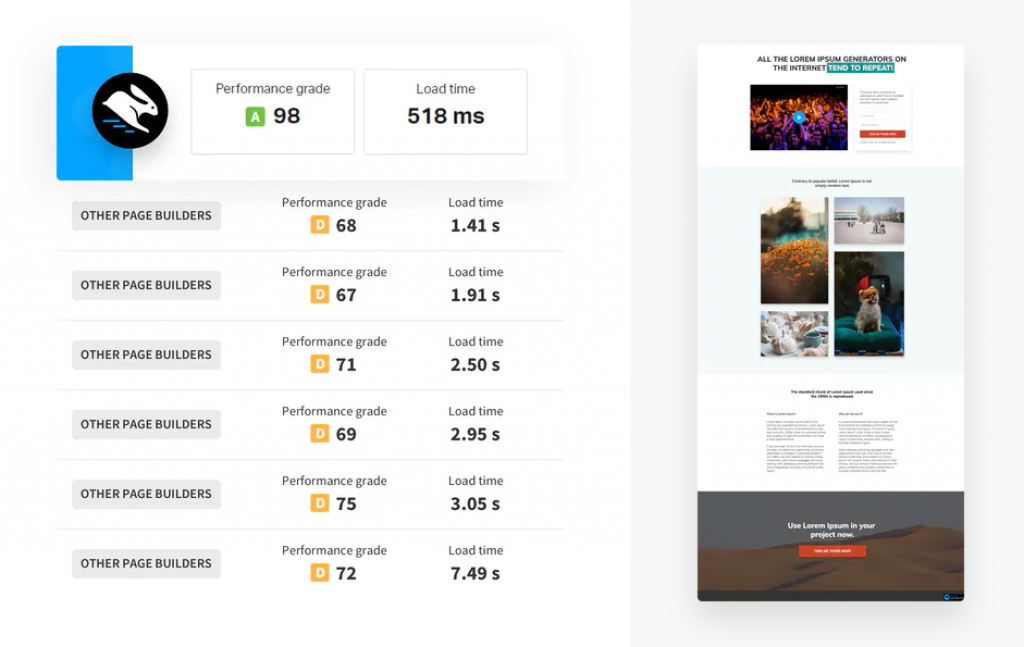 Drag and Drop Page Editor: Convertri users describe it as the best page builder in the market. It gives users a blank page to create a design of their choice and ideas using varied elements. The drag-and-drop feature makes the customization personalized and easy with no support from technicians. Users can drag and drop the elements like testimonials, forms, or menus into the page without any trouble. The need to look for an expert is zero. Edit your build page anytime according to the traffic and targeted audience to improve your sales as per season.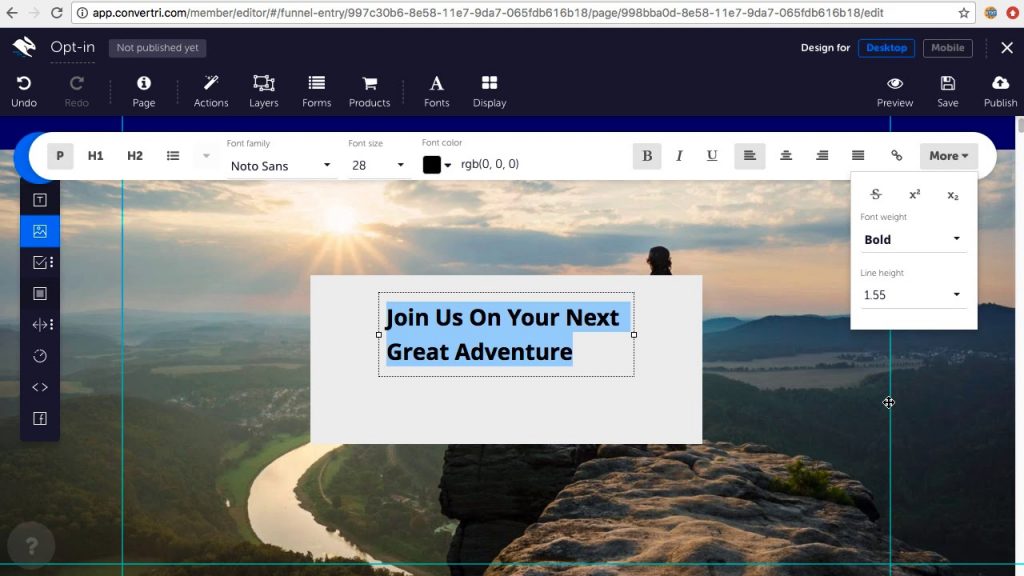 Page Importer: This feature in Convertri allows the users to transfer all their created pages with simple steps. It helps to import the exact data by just pasting the URL in the space of the page importer. It automatically transfers the build page into the selected funnel. There is no data loss through this process.
This feature is worth using for every user because of the easy transfer of the already-designed pages, thereby saving heaps of time. Users can edit their pages after transferring them to Convertri.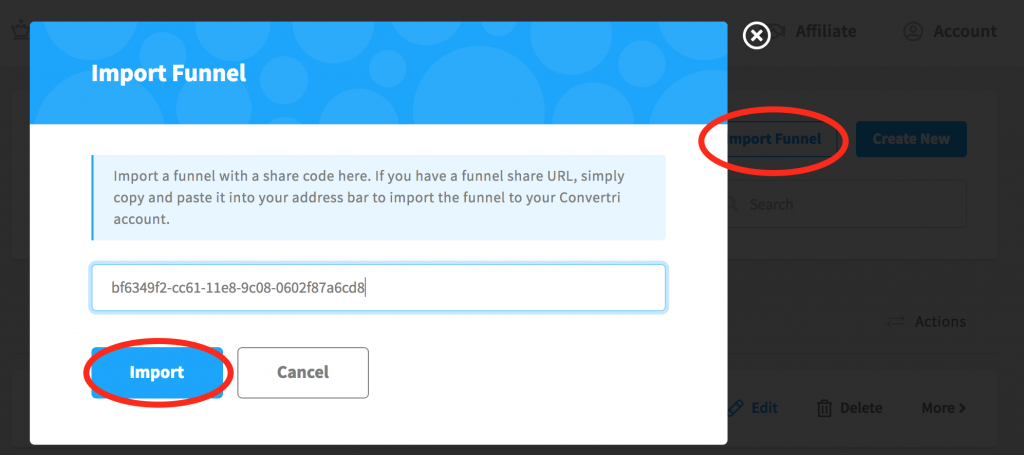 Sub Accounts: Convertri offers agency and marketing business owners the ability to scale their business to the next level by creating more than one sub Account. These are beneficial if you have clients who rely on you to manage their web pages with high conversion rates, funnels, fastest loading, and good-looking pages. If you get the agency plan in convertri, you can manage around 25 sub-accounts under one main account of yours. This plan offers a bonus by allowing you to enable choice to charge your clients from this account, add automation tools, and more to manage a decent webpage.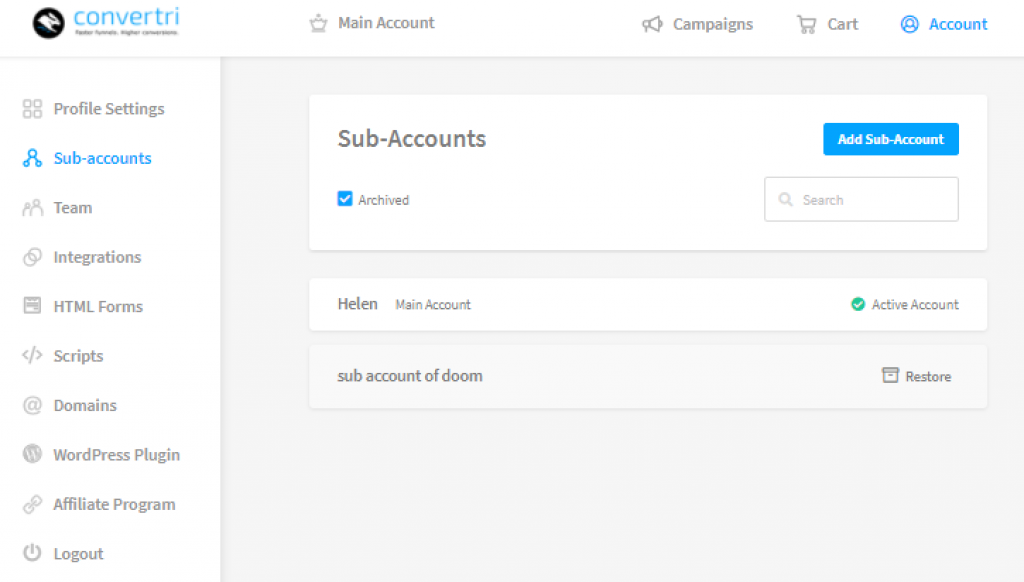 Shopping Cart: Most page and funnel builders first look for a shopping cart facility. If you are also one of them, then Convertri is a good option to integrate your shopping cart. This allows the users to work for 24/7 service, collect pay and build sales efficiently. Convertri support with integration of an in-built option and the shopping cart service, which is not allowed in other page builder services. Its shopping cart services include checkouts, upsells, buyers' data, bumps, pop-ups, and more.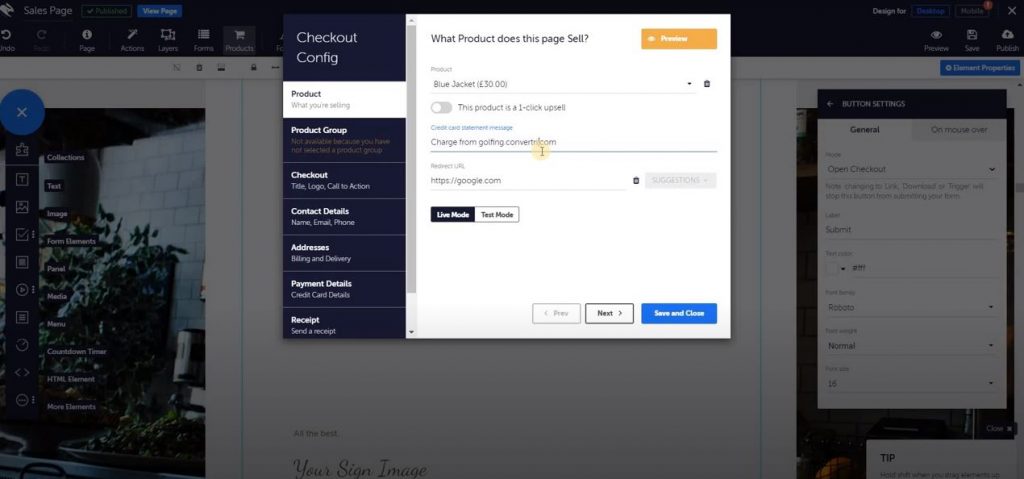 Funnel Builder: Several templates are available to develop a funnel in Convertri. It is the specialized forte of this platform. The template is pre-designed for software funnels, lead generation, and info funnels. Regrettably, this platform fails to avail email marketing funnels. To make this availed, users need to integrate with third-party services.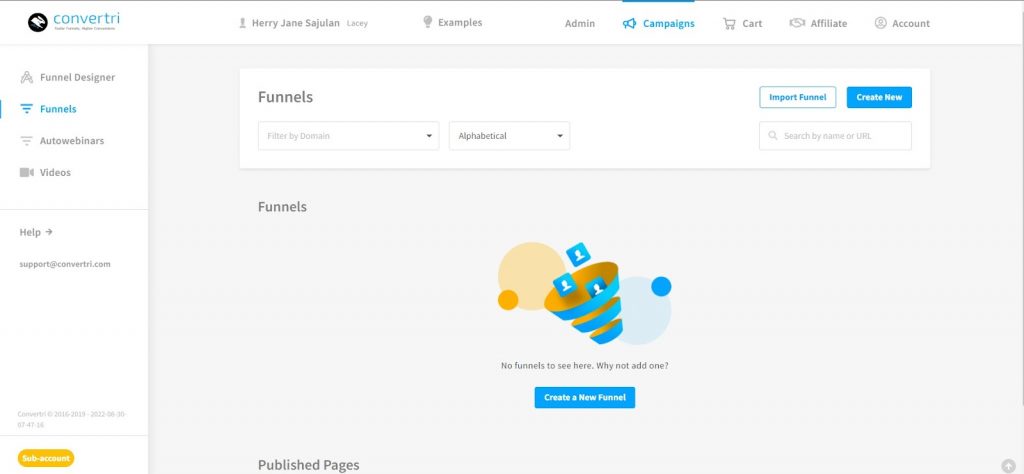 Templates: Convertri has pre-designed 400+ templates. Though you want to personalize your templates by building from scratch, you can get great ideas from the available templates. These pre-built templates are available for both sales funnel and page builders. The sales funnels templates like website funnel, software funnel, and page templates like opt-in page, thank you page, coming soon page, etc., are all available.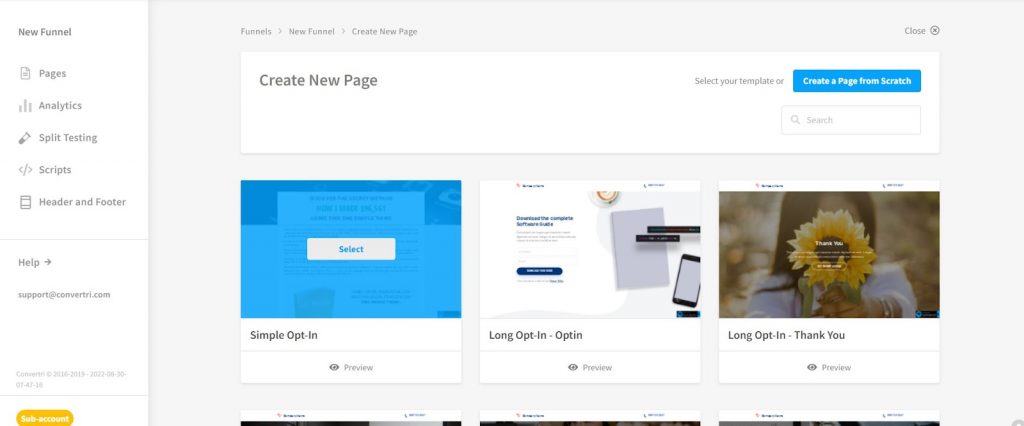 Video: Convertri allows users to embed a video into their page. This function offers to input the impact for the buyers through a landing page, mobile autoplay, and desktop. It claims to be the fastest host for video embedding. To make this feature successful, convertri uses the fastest CDN (custom content delivery network) and adaptive bitrate techniques.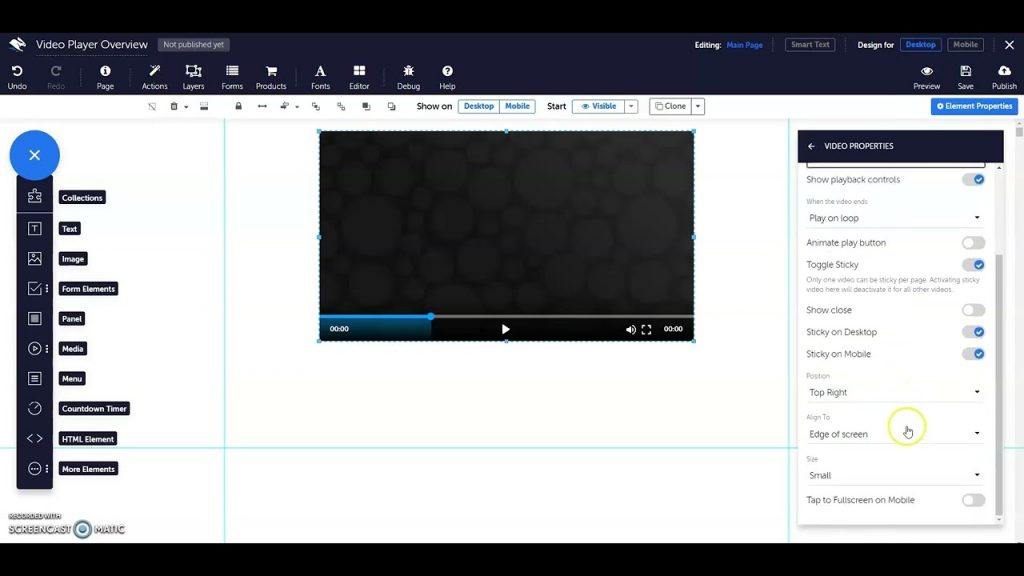 A/B Testing: It is also known as split testing. This tool is in-built and offers service to all users of Convertri. It supports the users in verifying what is working for their business and what is not. The users can split the acquired traffic into two sales pages, landing pages, and sales funnels. Whichever section is gaining high traffic or conversion rates that build strategy works in your favor for developing your business. It is very useful for all marketing business owners by saving time in selecting the best approach for marketing their products.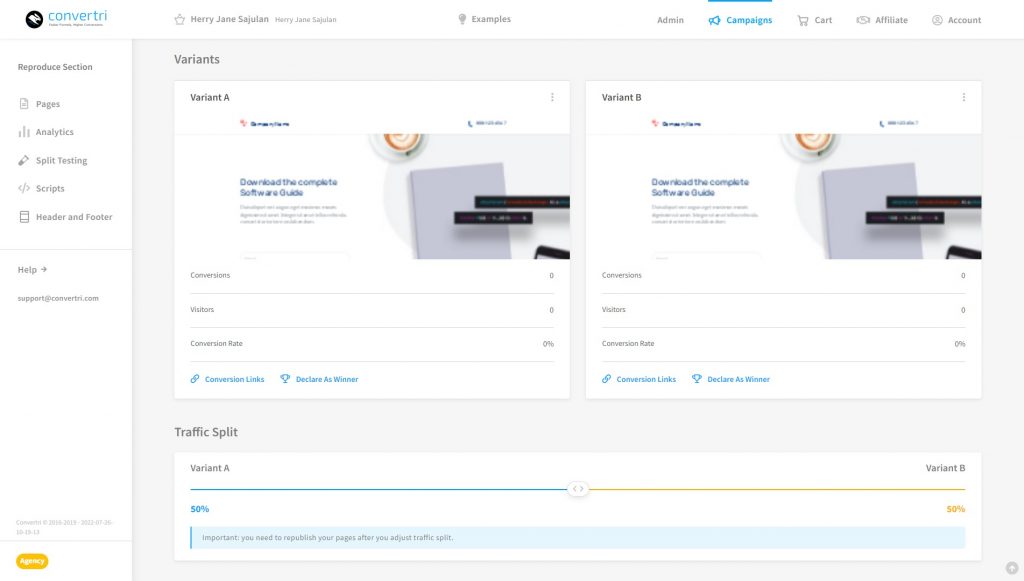 Maintain Control at all conversions: Convertri has an additional benefit with the SnowPlow monitoring system. This system helps the users to use easy GPS tracking of their service. It is not available in all building platforms. It plays a crucial and useful role in providing users with live conversion and other analyses. The SnowPlow monitoring system is leading in the market and is only available with Convertri, Bauer Media, and Dollar Shave Club.

Convertri is the best platform for building funnels and pages by allowing required integration according to the business. In addition, the Convertri plugin can be connected to the WordPress platform to display the superb design of your built page.

Convertri Integration:
While creating any sales funnel for a particular site, every business must ease its process and develop the most effective outcome by using tons of services needed. Convertri supports the application programming interface with HTML forms integration by enormous services in the market.
Convertri cart is accessible to all users. However, What if there is any need or you are unsatisfied with this feature? Convertri gives a full assessment to integrate other shopping cart services with their platform. It will ease the procedure of paying and also connect with massive subscribers. Bump offers are also be integrated easily with simple clicks. Users can also code and customize your script at the domain, page, and funnel levels.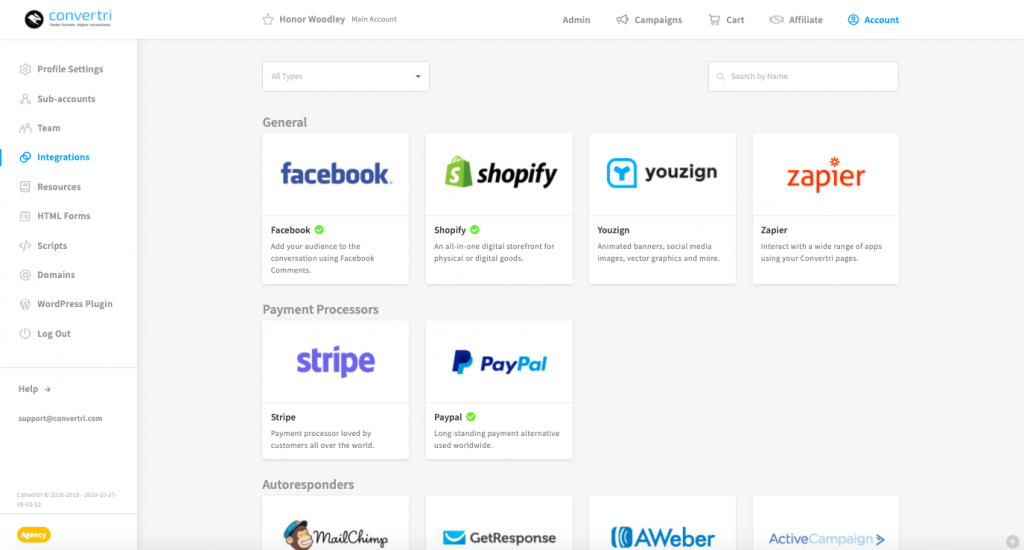 Email marketing is not available directly with the Convertri platform. However, you can prepare an email list by marketing through other email integration platforms like ConvertKit, Mailchimp, and more.
PayPal and Stripe are not linked to Convertri. However, third-party integration with such platforms is allowed on the site. Payments plans are feasible to personalize in any difficulty of paying procedures. Integrate with any webinar application for enhancing your client's view. It includes WebinarJEO and DoToWebinar.
Zapier integration is also simple into C­­­­­­­­­­­­­­­­­­­­­­­­­­­­­­­­­­­­­­­­­­­­­­­­­­­­­­­­­­­­­­­­­­­­­­­­­­­­­­­­­­­­­­­­­­­­­­­­­­­­­­­­­­­­­­­­­­­­­­­­­­­­­­­­­­­­­­­­­­­­­­­­­­­­­­­­­overtri which allows multiple applications integration for easy building of funnel and landing pages.


Convertri Pricing:
Convertri is the platform that allows each customer to experience their interface for 14 days. This trial is free of cost. After going through it for 14 days, you can choose this sales funnel platform for your work.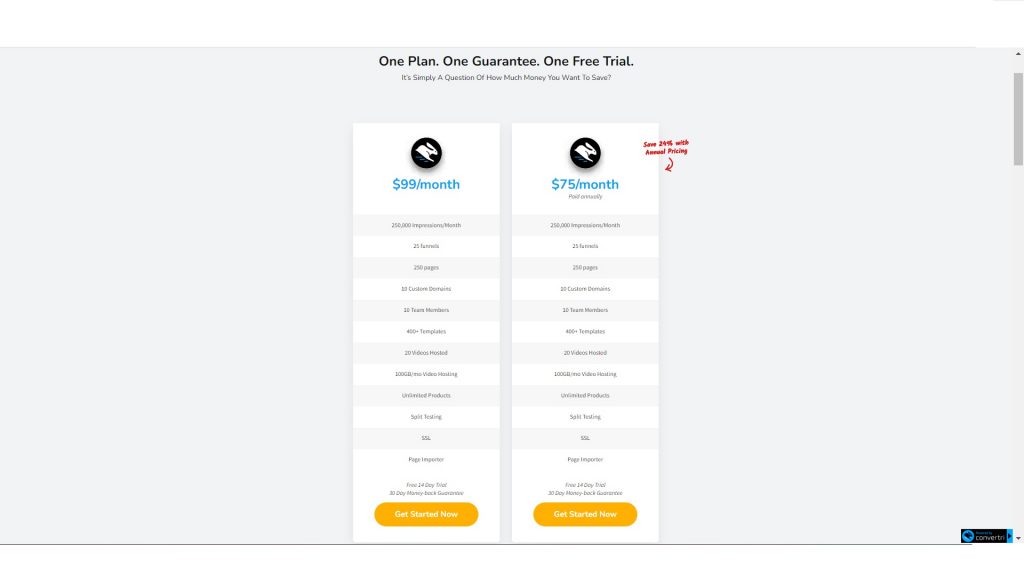 To purchase this, you can subscribe to this platform for 99$ per month (1188$ annually). If you are confident enough, you can also purchase an annual package for 75$ per month (900$ annually), which saves you 24% of that monthly package.
Both these plans avail similar features; they are
– 250 pages and 25 altered funnels
– Select 10 team members to add
– Impressions of 250,000 per month
– 100GB space for uploading up to 20 videos.
– 10 custom domains can be added.
– Page importer and SSL is available
– A/B test is available
– Unlimited products can be displayed, marketed, and sell.
The only difference between the two packages is the price benefit for the similar value. If you want to add more value to your package, you can opt for the Convertri Agency plan, which will cost you 199$ per month.
Convertri Agency plan will support you with additional value with the following:
– 25 sub-accounts can be used.
– 10000 pages and 1000 funnels can be built.
– Added API Integration permission
– 400000 impressions for each month are provided
– Additional 195 templates are provided
Convertri agency plan is easily available. You need to raise a request for this plan with relevant business details.


Convertri Alternatives:
Multiple identical platforms of Convertri are available in the market. You can refer to the alternatives below if you doubt and need similar value with additional pointers. I picked up a few sites that are very close competitors with Convertri.
Clickfunnels: Convertri is a newly developed site that is gathering customers in a wide range. Clickfunnels are a well-established platform, and many users prefer it for this. However, both convertri and click funnels lack one or the other feature from each other. Convertri adds limitations for the impressions, which are unlimited in Clickfunnels. Moreover, Convertri are just into developing funnels, whereas Clickfunnels work on their hands on all the digital services for developing a site and landing pages. Simple email follow-up automation is supported by Clickfunnels, which is not accessible through Convertri. In addition, It does not offer to start a membership site while charging for each online course, webinar, etc.; it is provided in Clickfunnel. However, Convertri's charges for their plan are cheaper than Clickfunnels.
Unbounce: Both Convertri and Unbounce work for different purposes. Convertri is a funnel generator for landing pages and sites that can also be built by this platform. However, Unbounce is specific for landing page generation and cannot be used to generate a funnel. You can consider Unbounce a Convertri alternative due to its unique features like dynamic text replacement, page imports, subaccounts, and more at a lower cost. When I compared both, I found the larger advantage of Convertri over Unbounce. It offers building sites, pages, and funnels at the same price, which is not feasible with Unbounce. Therefore, choosing Convertri will be the smart choice over Unbounce.
XFunnels: Convertri and xfunnels have very few identical features like funnel builder with visual impact, A/B testing in the build pages, and designs templates. However, xfunnels has an automation system that will drag any tool to the appropriate place. Xfuunels offer the added advantage of A/B testing, heatmaps, and mapping. Xfunnels offers three plans of 29$, 39$, and 59$ for each month. All three charges in xfunnels are far cheap than Convertri. However, xfunnels charges a few additional bucks for permitting a membership site, webinars, and automation.
Kartra: Many platforms compete to offer the best price and value to the client's business through their standout marketing tools. When I referred to Kartra, I was slightly shocked by its features. It was a big whale compared to all the other marketing tools available, including Convertri, clickfunnels, etc. Kartra's features are almost similar to Convertri. But, it takes a step forward to avail their users of affiliate programs and email marketing. It also offers its users a choice of membership and all the tools necessary to increase conversion rates. However, Convertri has an added advantage over Kartra in terms of the loading speed of each page and the price for a package offered.
Instapage: Convertri and Instapage are significant competitors among each other. Instapage is more costly than Convertri due to its comparatively additional service. It is a popular for its speed of uploading a page. Moreover, Instapage does not offer variety in the template and page-building options. Hence, making Convertri a more obvious choice for every business owner.


Convertri Customer Support:
Customers can raise Convertri queries by emailing them at support@convertri.com. The users can take a screenshot for more clarity and attach it to the mail. An in-depth explanation will make your query understandable; hence, the experts will assist you without further explanations. The problem will be resolved in a few steps.
Moreover, if you want immediate solutions to your problems, you can refer to two hundred more articles published in the knowledge base section of Convertri. This section explains each step of the process with respective images. Thousands are experienced users connected with the Convertri community through Facebook. Users are free to post their queries here for quick response.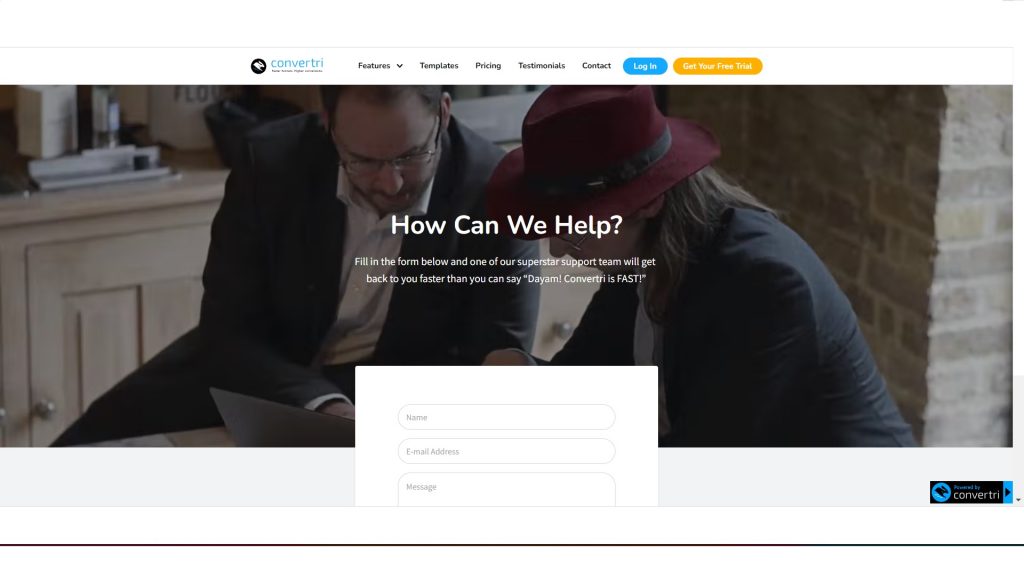 Final Thoughts:
In conclusion, the streamlined process and automatic methodologies are vital in uplifting a successful business. Convertri fulfills all the requirements for achieving this goal through its unique characteristics. This ultimately contemplated many customers working in business, marketing, and digital creators. 
It is widely known for building funnels with its excellent tools available. This platform builds pages within the funnels by giving complete freedom to their clients to build their creative sites. This developed site can be edited at any time after looking into customer engagements for your service. Convertri service prides itself on its fastest loading capability with whatever themes, elements, etc. It also adds an advantage by loading videos in just seconds. Thereby attracting their customers to balance their bounce rate.
If you want to revolutionize your business with simple steps, I suggest using Convertri. But, if you are looking for more complex features that can provide a little complicated funnel with all the tools and features, look for another alternative. If still, you have doubts about investing your money and time in Convertri, then I would advise you to experience it once through their 14 days trial version. If your experience is satisfactory, you can opt to get the plan as per your business need. What is the thing that you like and does not like about Convertri? Please inform us in the comments section below.
Frequently Asked Questions:
Q1. Can a user build a Website using the Convertri platform?
Ans: Yes, users can develop websites as per their purchased plan.
Q2. Does Convertri integrate with all tools?
Ans: Integration is possible from the list of tools available on the site. Additional tools can be integrated through Zapier.
Q3. Can Convertri use WordPress?
Ans: Yes, the Convertri plugin is available to download for free from its account. Display of Convertri is easy on all WordPress websites.
Q4. What will happen if traffic is overloaded?
Ans: Automatic Cut-off is not linked to your service. You will be intimated via E-mail as soon as the traffic is overloaded on your site. For additional traffic, you will be charged 30$ for every 250K impressions.
Q5. Does users have permission to launch their items on Convertri?
Ans: Yes, Convertri can launch as many items as the business owners think per their package.
Q6. Is there any lifetime deal available?
Ans: No, Convertri offers only annual and monthly packages.
Q7. Who are the frequent firms that Convertri works with?
Ans: Converttri work with all types of business, including Enterprises, Mid-size business, freelancers, small business, government, and non-profit.
Q8. How to cancel the subscription plan of Convertri?
Ans: you can contact Convertri through its email Id for cancelation. You will need to provide them with your login mail ID and last transaction details.
Q9. Does Convertri allows one to use own domain?
Ans: Yes, your domain can be used. You can manage it directly within the site, use CNAME setup, or transfer it to Convertri nameserver.