ClickFunnels Review : Is It Worth The Investment?

ClickFunnels Review Summary: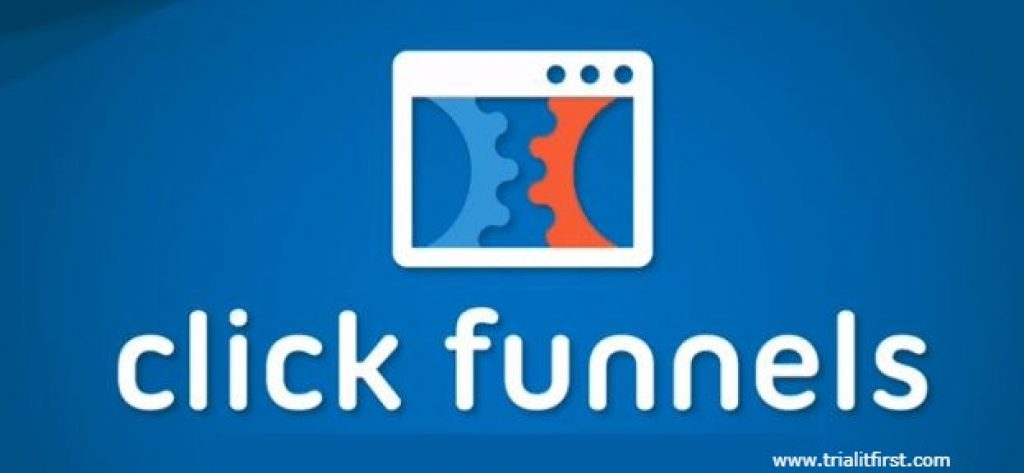 To evaluate software, we should completely analyze every aspect of it. The first thing you need to stop doing is believing in some inaccurate opinions associated with any software. Here, I am giving you my honest review guide of the famous software ClickFunnel to clear every question in your mind. It is important to know every side of the software ClickFunnels to give it a suitable grade and to make a proper decision for your business. Now let's know how kajabiFunnels provides you with helping hands towards an entrepreneur like you.
ClickFunnels is a famous business helping software that is used by thousands of customers to create every kind of funnel including product launch funnels, webinar funnels, lead capture funnels, etc. to promote their business digitally.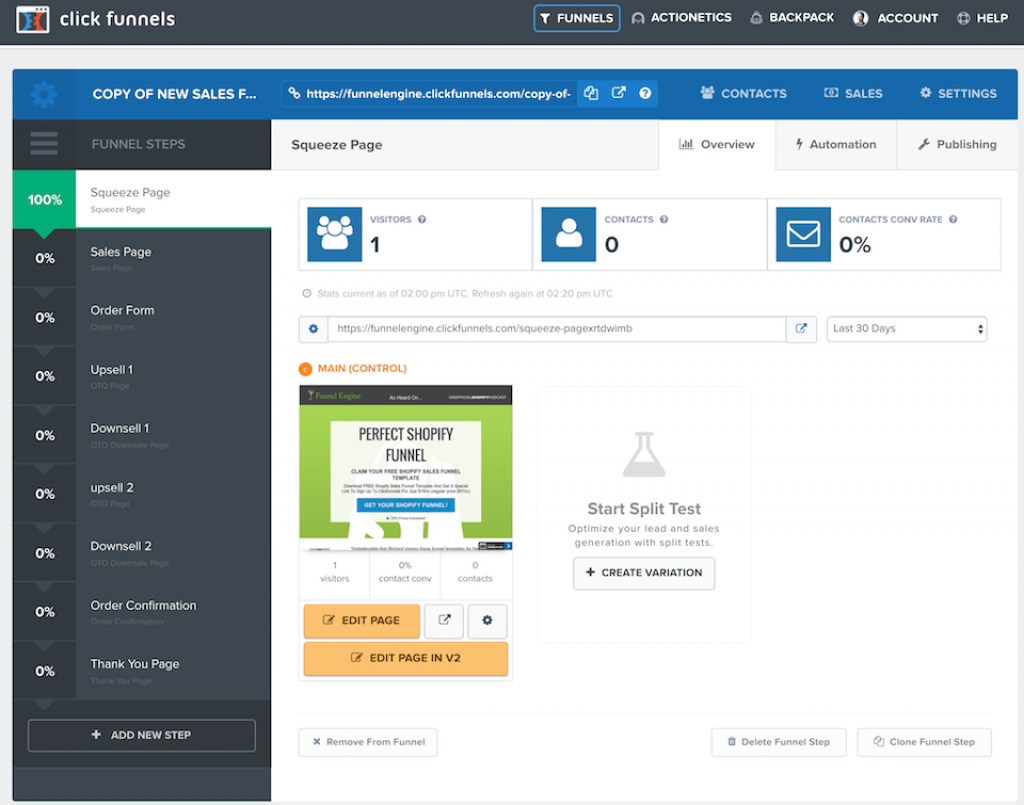 It is a vital decision to finalize whether the ClickFunnels software is right for you, as you are investing a significant amount of money and time using it. You should explore every part of ClickFunnels to validate it. It's time to take an in-depth look at the ClickFunnels software. Here you get details about:
● What is ClickFunnels
● Significant Features of ClickFunnels
● How to build funnels with ClickFunnels?
● Customer care
● Pros and Cons
● Pricing Strategies
● ClickFunnels Vs. the competitors
● Final verdicts
● Frequently asked questions
What is ClickFunnels?
Click funnel is a platform or software that allows users to create websites that can lead to more conversion and sales of products. Entrepreneurs can easily build sites using this platform. ClickFunnels makes it certainly easy to create various sales funnels. You can select from 26 pre-built funnel categories.
The sales funnel is an important part of this software, that's why you need to know about sales funnels before knowing ClickFunnels. Several steps are present in the sales funnel which convert website visitors into real customers.
Your potential customers are waiting at the top of the funnel. They are the possible customers who might be interested in your service. Through a sequence of steps, you grab your customers and by establishing trust between you and your customers.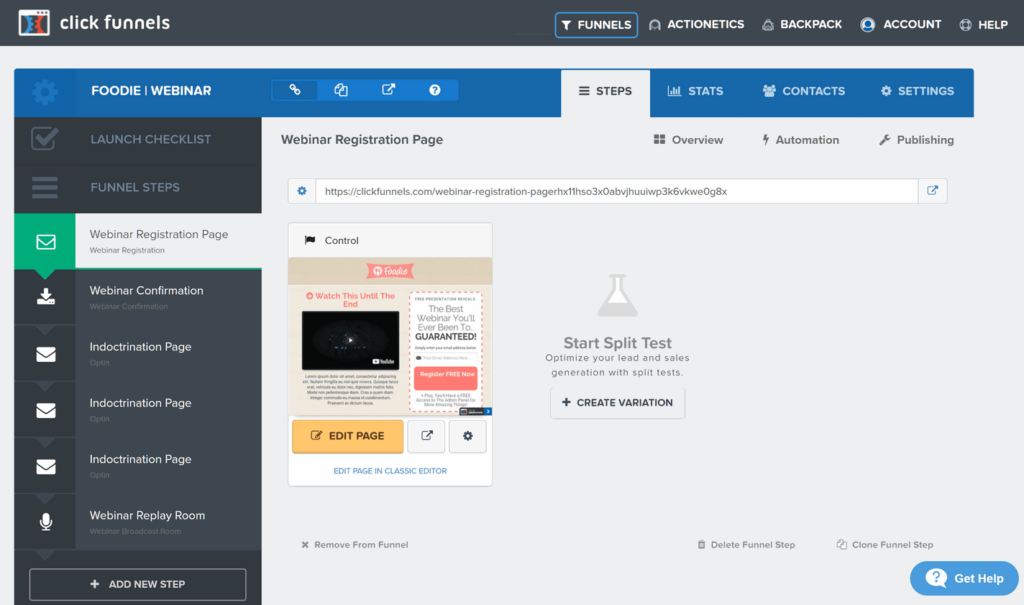 A landing page builder, a check-out system, and an email marketing solution, as well as a system to build sales funnels traditionally.
ClickFunnels are the major solution that assists you to perform all tasks and enable you to build an exact sales funnel excluding third-party solutions.
Now ClickFunnels strives to be that allows-in-one solution that can perform all these functions and allow you to build a complete sales funnel without requiring to use third party solutions (and it is still far from reaching that stage)
ClickFunnels was co-established by Russell Brunson and helped many entrepreneurs through his famous marketing books named Experts secrets and DotCom secrets.
Ease of Use:
The most crucial feature of ClickFunnels is the simple way of its functioning which can be managed by the user and no need to depend on any tech experts. ClickFunnels provides you with amazing tools that assist any inexperienced user and save time as well as money. Ease of use is an important benefit of ClickFunnels. It assures an easy-to-manage funnel builder that can enable you to market your commodities and make you plenty of money.
If you're barely beginning to do it, manipulating funnel planning, landing pages, sales tracing, and associate marketing supervision might be a little too much. But all these characteristics work great, are simple to use, and come together well. ClickFunnels works for you to set goals and discover funnels that bring awareness to your business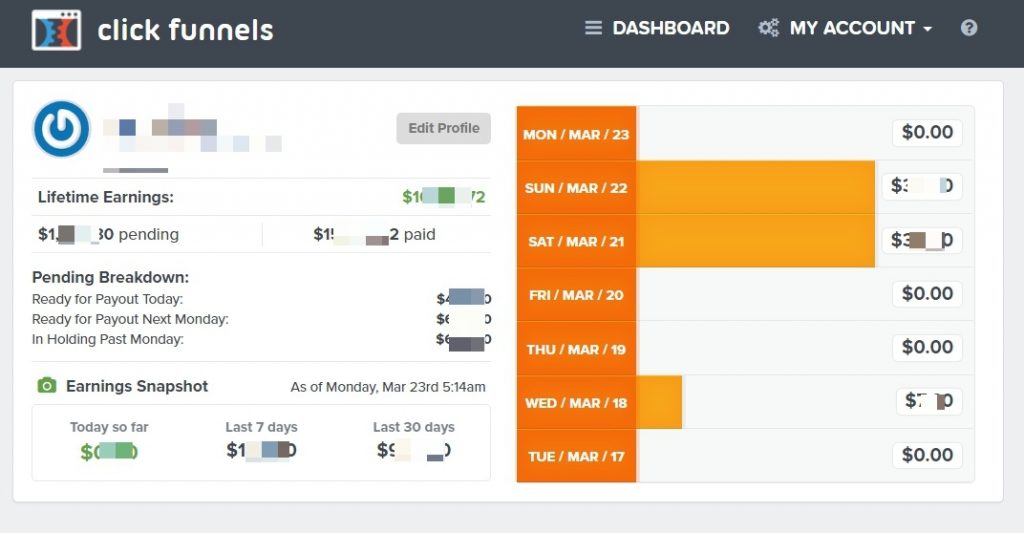 Significant Features of ClickFunnels:
 ClickFunnels become an important part of your toolkit if you use it for years. Following are some of its valuable features.
● Collection of Sales Funnel Blueprint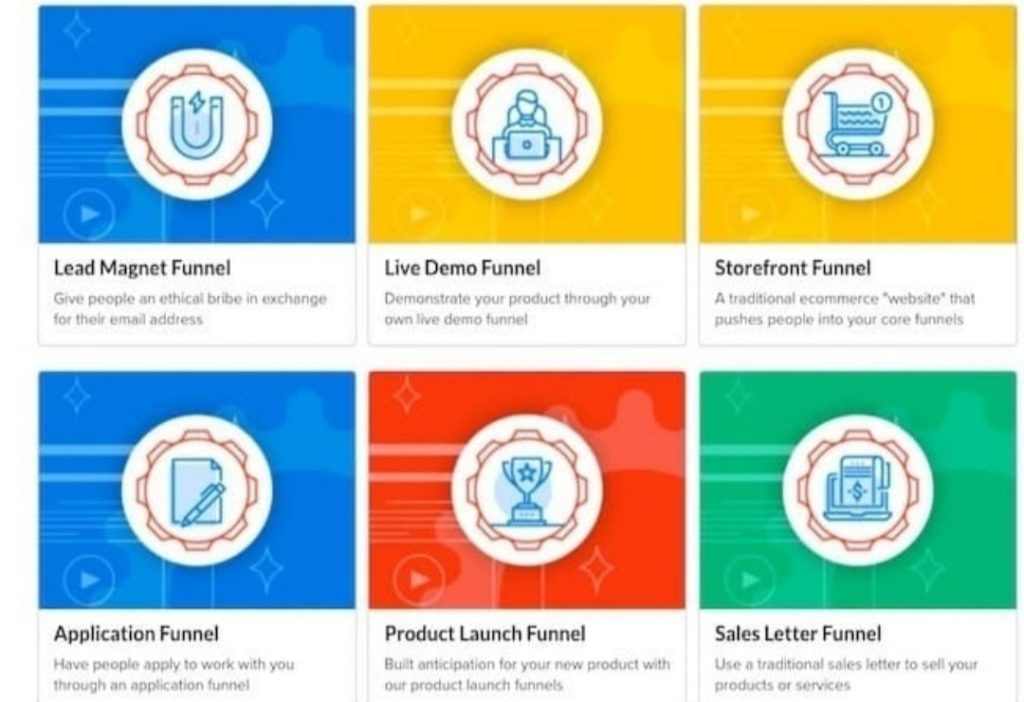 One of the attractive features of ClickFunnels is the presence of ready-to-use blueprints including 26 outstanding funnel kinds. You can access every suitable blueprint for your specific type of sales funnel. Some of the common sales funnels are Lead Magnet Funnel, Auto Webinar Funnel, Product Launch Funnel, and Storefront Funnel for e-commerce sites.
These funnel blueprints bring it simple for you to create complex funnels and are particularly useful for those who are fresh to the sales funnel world.
●      Effective Drag-and-Drop Page Editor
One of the vital characteristics of ClickFunnels is the presence of a drag-and-drop page creator, which is simple and automatic to use. You can even customize your page by using this dragging and dropping option. Hence you can add your favorite style to your page by adding specific elements or can edit it anytime. There are several custom elements
present in the page builder. They include questionnaire elements, timers for the countdown, FB comments, SMS enrolment, etc.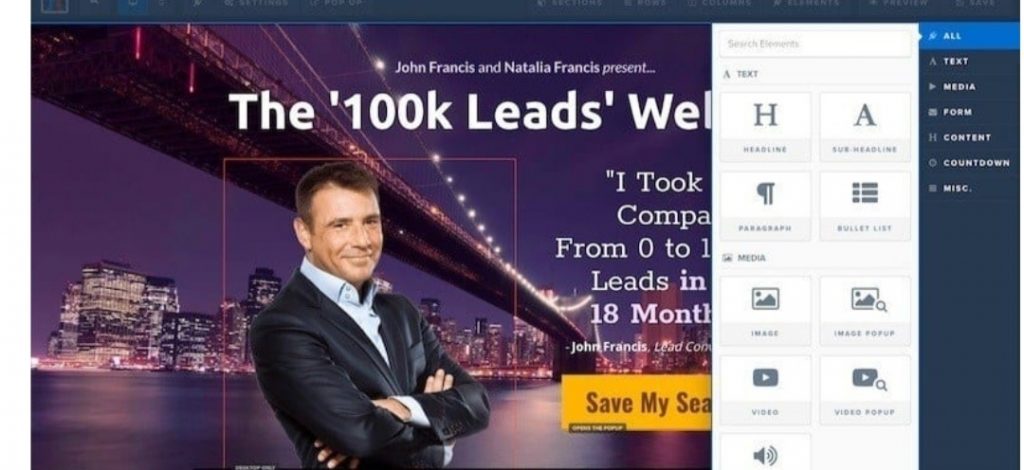 ●   Able to Share Funnels with Others
 You can easily share your funnels with others. For that only you need to copy the specific link and send it to the particular person you want to deliver it to. Then they can receive it into their ClickFunnels account if they have an account. If not, they have to build one. This feature enables you to share funnels with your clients and customers.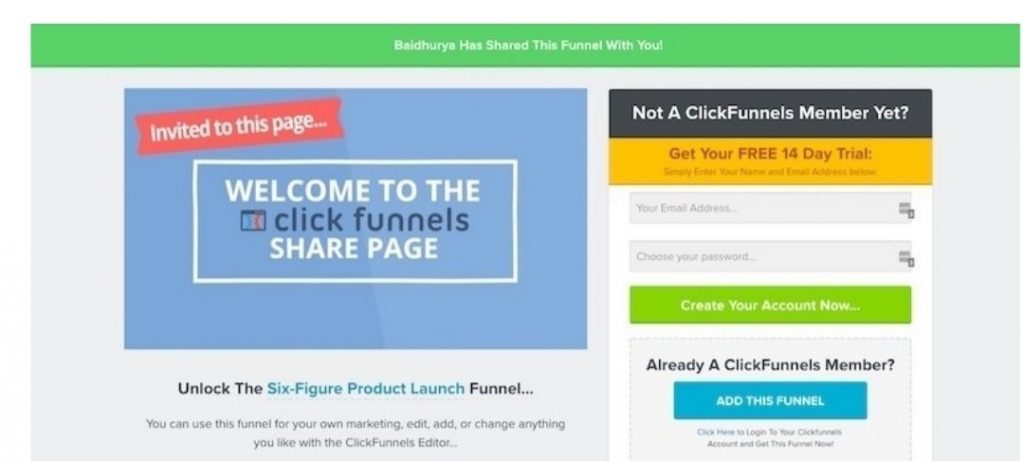 ●      Integrated Marketing Platforms
ClickFunnels provides you with an awesome platform in the digital world to conduct affiliated marketing through interaction with various companies. There are many benefits in integrated marketing which are useful for your businesses. This includes improved efficiency, accessibility to larger audiences, cost-effectiveness, and building trust among your customers. 
The highlight of this feature is it provides a marketing automation platform and can easily restore your email service provider. So you can choose ClickFunnels if you want to have everything on the same platform. The team focuses on enhancing the area of Actionetics and you can find major improvements.
●      Efficient Third-Party Integrations
ClickFunnels allows you a large number of third-party integrations of diverse kinds. Areas, where integrations can be beneficial through ClickFunnels, include increasing customer experience. The third-party tools can help your site to enable customers to discover your products
Apart from that, this feature helps you to realize your customer behavior by understanding the Click path via tools. Hence taking them to your website gives you ideas to optimize. Insight about the customers can be gained from this. Last but not least, the most effective benefit of third-party integration is the opportunity to monitor and report the data collected. This can help managers to make decisions. Some email integration here includes Hubspot, Mailchimp, Convertkit, and so on. Payment integrations are Clickbank, Paypal, Infusionsoft, etc. several webinar platforms are also present such as Zoom, Jam, Webinar, etc. 
Apart from these significant features, ClickFunnels has some really valuable features for digital marketers. Have a look at some useful characteristics:
● Digital Asset Delivery allows you to deliver lead attractions to your subscribers through email handily.
● Another feature is TextOptin which enables users to enter into your funnels through SMS.
● If you want your subscribers to register for your events right away, ClickOption is a nice option.
● If you like to create some appealing popups on your landing pages or other pages, you can use ClickPop.
These are the really handy features provided by ClickFunnel which will be useful for your online campaign.
How to build funnels with ClickFunnels?
Before knowing reviews about ClickFunnels you should know about the marketing funnel. Understand it an easy way. You need to visualize the following steps for that process.
Firstly you need to imagine a funnel in your mind. Then you need to add real ingredients to it that include web traffic or site visitors. The visitors to your website are checking the details and appeals of your website design with your content being a top priority.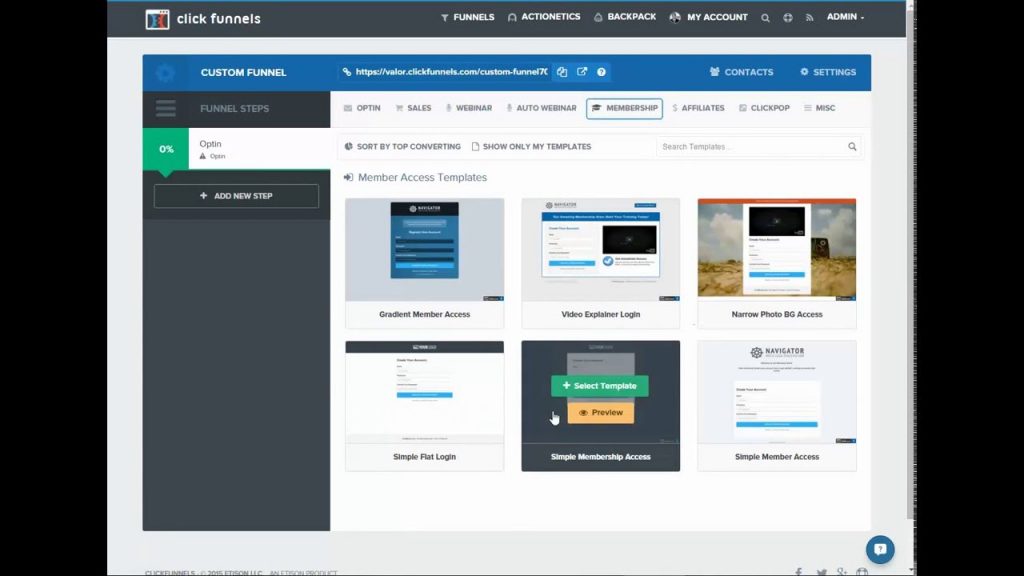 To be honest, this alone can't turn your visitors into customers. For instance, if a buyer enters a cement or brick shop and they can't find where to pay to fulfill their needs, they will walk out of the shop right away. In a physical store, you can even convince or need to talk more to your customers to set a deal. But in the case of a digital shop, you are in a position that may be distant from your customers. This is where your funnel needs to stand appealing to customers who can't resist the style and design of your site. Get the customers by dealing with psychological principles. The funnel works in a way one after another. Then it brings more traffic and leads the visitors to the payment page.
This is indeed an awesome strategy to turn your visitors into customers and it's effective in digital marketing. The founder of ClickFunnels doesn't flourish just by selling technology, but by using it too.
You can even create your funnel on ClickFunnels. Let's see its main steps one by one. Hence you can get a clear idea about the user interface.
Step 1: In the ClickFunnels dashboard you can see the "Build a Funnel" option. Select that choice to start with the sales funnel process.

Step 2: Next you can see an option to choose your goals. These goals include collecting emails to access email leads and build appealing email lists. The second goal is to sell your products through effective services. The third one is to host webinars which involve both live and recorded webinars. From this, you can select any option. Here you can create a funnel to create an email list.


Step 3: Get ready for funnel A
The next option is interesting in the way that it enables you to include any type of group tags if it has any identical funnel that wants to join it. They are awesome for maintaining the dashboard and making funnels more organized. If you don't have any created group tags on ClickFunnels, you can leave that option blank. To continue with the funnel-building process, just click on the "Build Funnel."

Step 4: Time for real fun
Two categories are present in the left sidebar. They include Optin and Thank you. If you select the 'Optin' option, you can see various templates exhibited together. You can find numerous options with very attractive designs together.

Step 5: You like the "Dark Optin Box". It is bold and neat. The fundamental sign is great. Then you can prepare a few changes.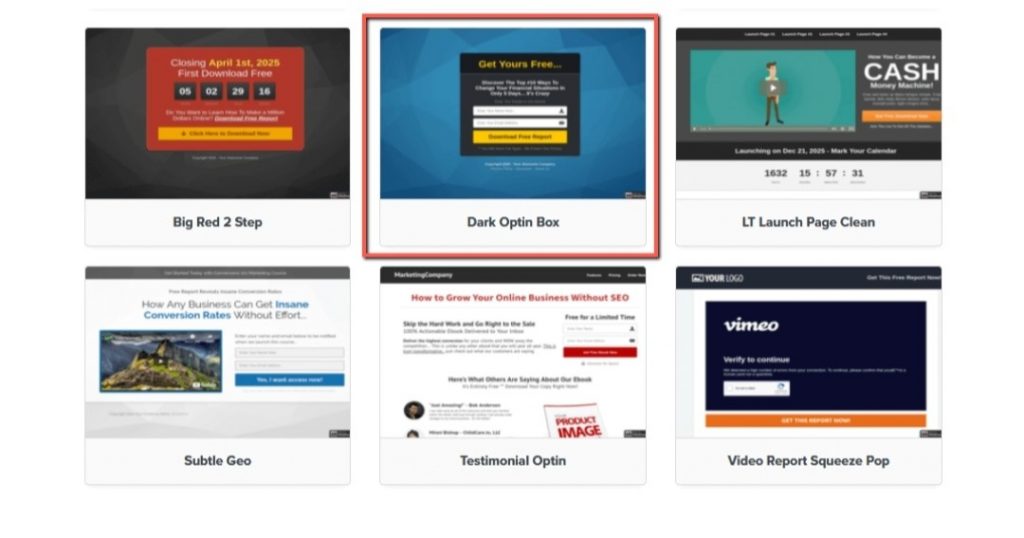 Step 6:  To customize the template, you can go to the edit page option. You can see customization options appear in ClickFunnels.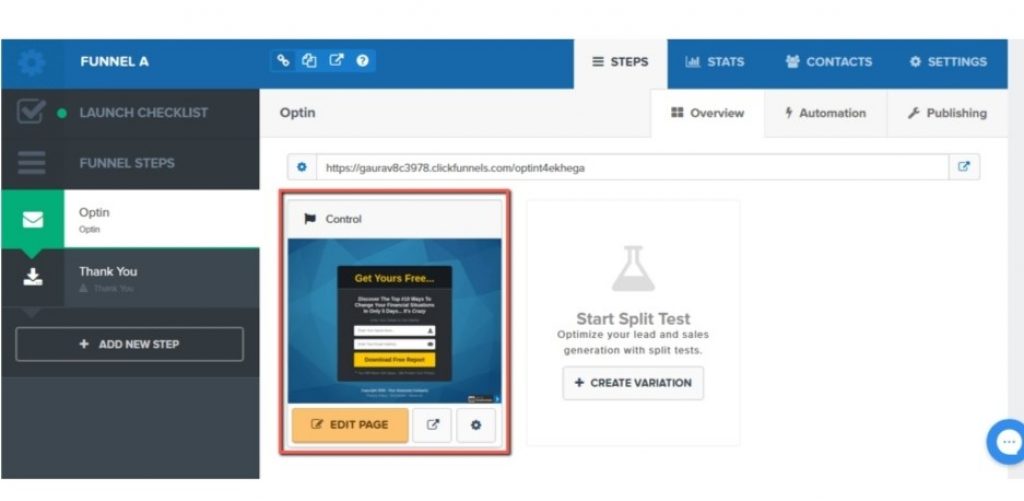 Step 7: In Click funnels, you can easily change the headings or subheadings. For that, you just need to click on the box surrounding each headline. Hence you will get the text box for editing.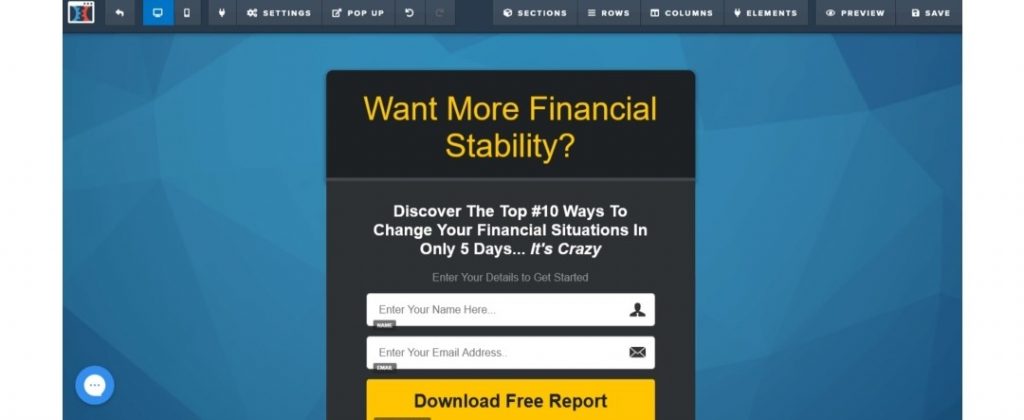 Step 8: If your mind tells you to change the color of text, font style, or size, there are plenty of options to do that in ClickFunnels. You can see that in the Setting symbol for each box that you want to convert. Additionally, it provides you options for displacing your text anywhere you wish as well as editing mobile size, and much more. This option is appealing. You can see from the image below how you can change the color of a heading you added.

Step 9: Next step is about adding a different element to your design. For that purpose, you can select the " Elements " option from the top side. From text and picture popups to videos, countdown timers, and symbols, there is a lot you can put in.

Step 10: There is an option called " Add Section" at the bottom of the image given here. By using this option, you can add entire sections. You can add that to your template if you want.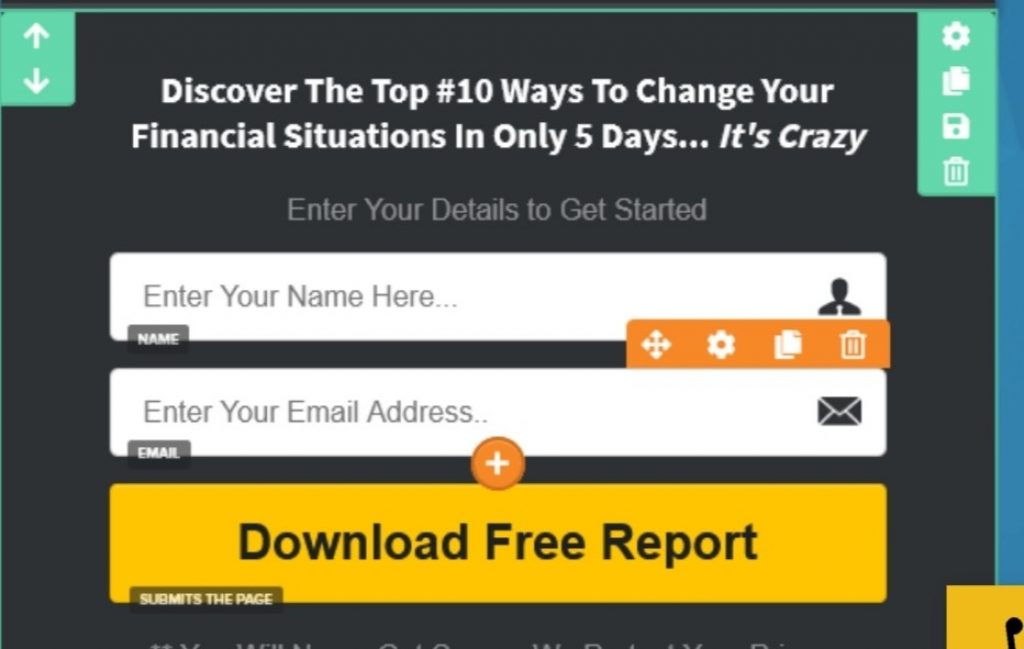 Step 11: Now it's time to choose the type of layout you want. If you want to put your new section into the current design, then you should choose the " Medium" option. You can even find a lot of options in the Actions menu as well.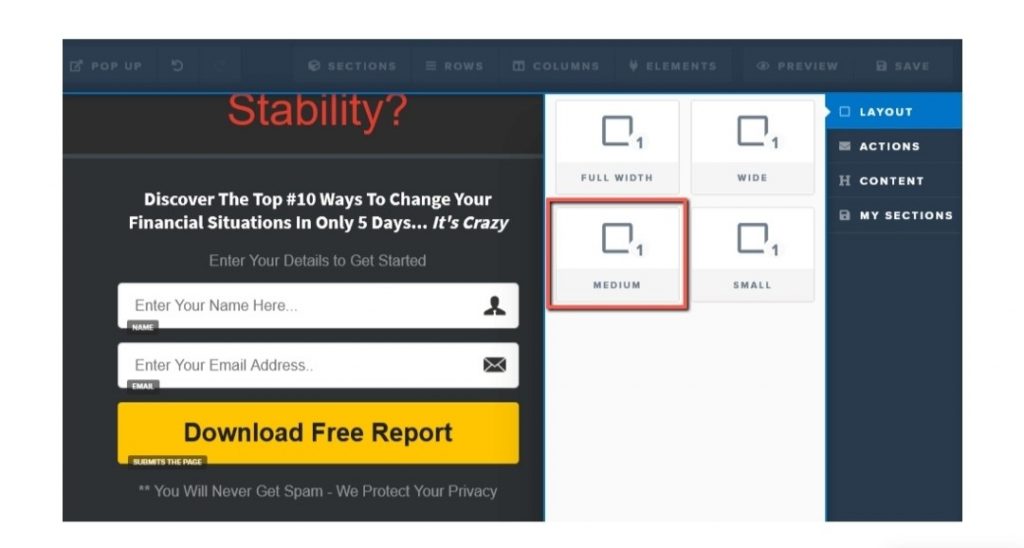 Step 12: As you can glimpse in the image below, there is a line included at the foot. It also has choices to alter the settings or to expand new sections or sidebars. If you want to add two columns, you can choose two as seen in the picture below.

Step 13: You can add extra elements to your design like social share and privacy notices to the columns you have added.

Step 14: Once these elements are positioned, you can join them to fit with your entire design.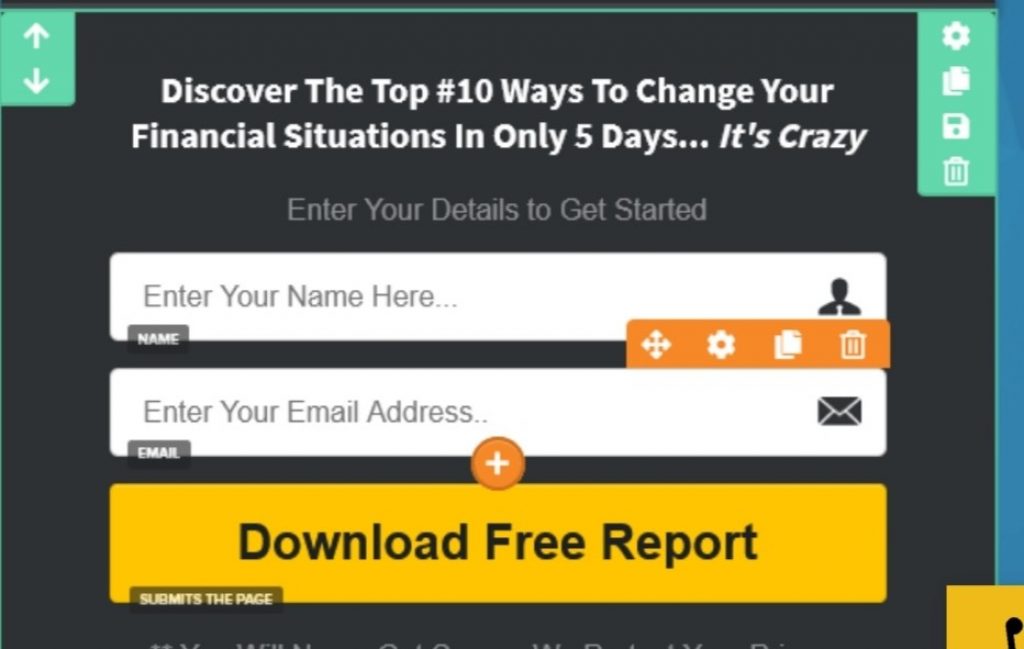 Step 15: Your design finished successfully. But you need to do some work regarding the SEO part. For that, you need to choose the" SEO Meta Data" option from the settings. Then it was to a dialogue box where you can add title, description, keywords, social image, and more. Also, you can watch a preview of how every detail you give will be shown on SERPs.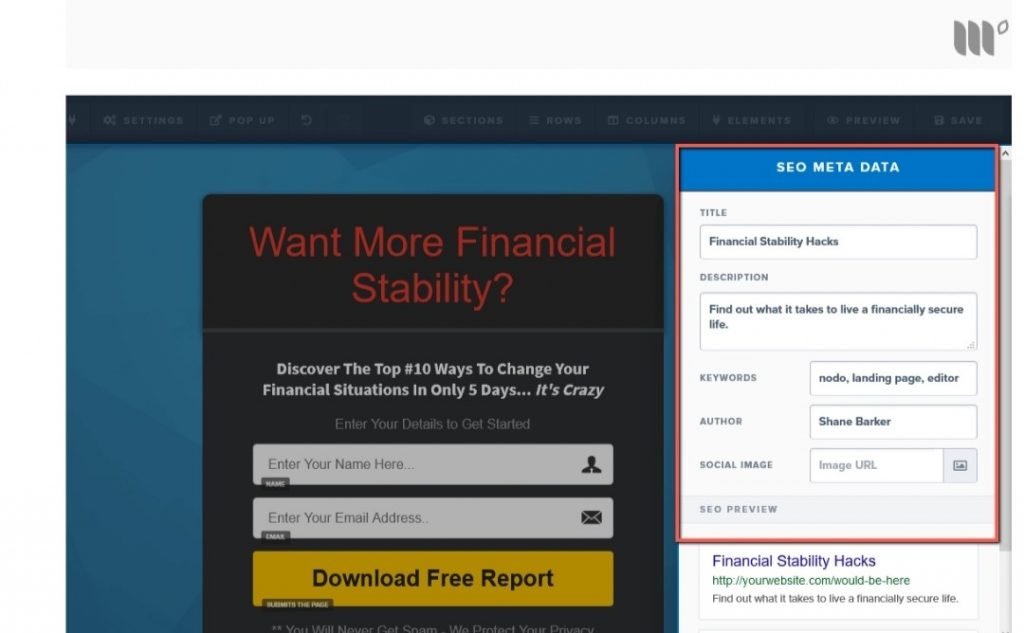 Customer Care:
When speaking about customer service, it is good. You can even inquire about a question through the chat box provided by ClickFunnels and the impressive thing is you can even get a response to your question within a couple of hours. Sometimes it can take a while to respond, but indeed it will respond even if it takes some time. Still, it can put up with them a while sometimes to get back which is not great if you require help instantly.         
They do give preference support on the Etison Suite where you get a much quicker response. However, I do think that ClickFunnels should give a similar assistance level on their Startup plan as well. 
You will like the live training alternatives that you can book. You can talk with a real live person and get particular advice associated with your business requirements.
Users of Clickfunnels for local businesses can also get a tonne of beneficial guides via the ClickFunnels blog, which encircles a different range of topics.    
They do have substantial documentation about utilizing the software and you can also share your questions in the Facebook Group to get help from other ClickFunnels customers.
PROs and CONs of ClickFunnels:
PROs of ClickFunnels
There are absolutely some good merits on ClickFunnel. This includes saving your precious time and energy when you contribute your attention here. It doesn't require any technical proficiency or gathering of third-party integration. In that sense, ClickFunnels wins.
●      Bring You Money 
You can easily make money with the help of ClickFunnels. They make it easy for creating an account and add your content, and you can easily earn money. You can pick everything that you wish to add, even though it will take only a few hours to need to figure out what you want.
●      Presence of Drag and Drop Builder
This feature is indeed useful. You will love how simple it is to copy pages, and you can even save templates to use for later purposes. The page builder is a useful feature
●      A/B testing
Creating A/B testing is a good feature.
In this, you can duplicate a page, suggest your changes, and can select the amount of traffic you want in version A or B.
●      Enormous choice of Integrations
 ClickFunnels deals with API integrations pretty well. Email autoresponders and payment processors are quite easy. They aren't too much of a sweat—they work well ably and are easy to organize.
●      WordPress Plugin
You can easily link ClickFunnels pages to your WordPress website. It saves you from wasting too much time and it is less complicated than functioning between ClickFunnels and WordPress in the absence of a login. You can find a convenient plugin of WordPress that allows you to add ClickFunnels pages to your site. They got rated 4.4 stars in the repository of WordPress with more than 20,000 users.
●      The whole in one plate
Altogether, it's beneficial to have stuff so centralized. You can create your landing pages, build forms and order forms, and catalyst emails all from a single outlet. The advantage of this is that it will save you time and a lot of money. Otherwise, you need to pay a lot on developers, CSS, hosting layouts, and so on.
●      Acceptable Value
It is promising to create a low costly account on ClickFunnels as it is a worthy investment. It's a good idea to spend on a StartUp account if you have a pretty number of visitors and a minimum of 100 pages. ClickFunnels does an effective job of collecting tools jointly and making them available. ClickFunnels does have a decent fraction of aids for training & onboarding. Once you've found how to use the areas you want, it's very simple and easy.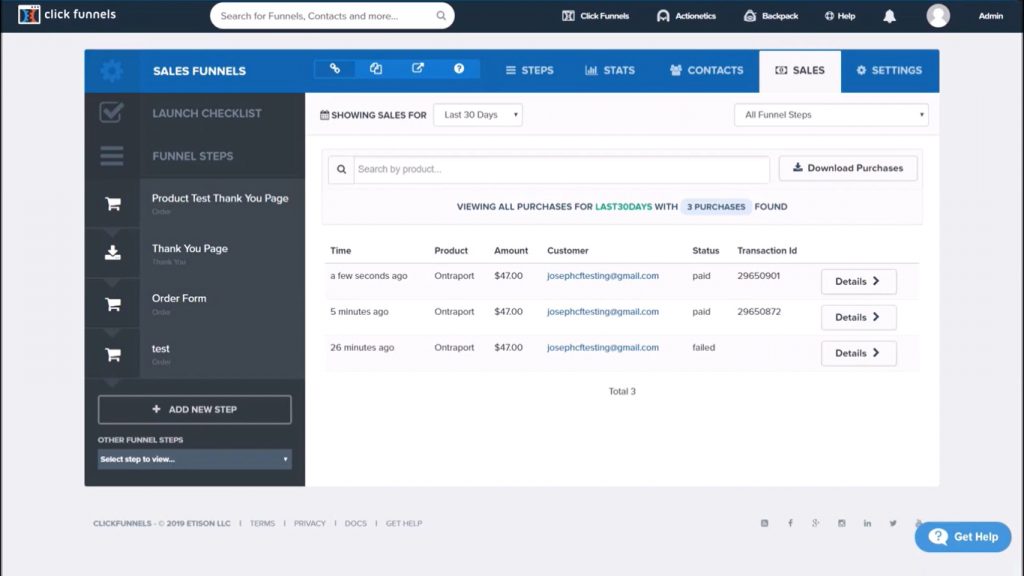 Cons of ClickFunnels
●      Too much promotion of ClickFunnels
One of the drawbacks of ClickFunnels is the advertising and promotions they have created around the product. They are giving millions of stories about Clickfunnels and how it changed people's lives. This makes new marketers make decisions based on emotion rather than based on statutes.
The significant thing to know is that those who attained success accomplished it because of their hard work and their abilities and a tool like ClickFunnels can be no big thing, but a helping tool in the entire purpose. 
●      The curve of a steep learning
It is not much easy to start with the ClickFunnels outlet. Before using it, you need to learn every aspect of it by contributing your time to the process. Then only you can effectively use it. It seems easy for a recent user to begin with ClickFunnels. But there are plenty of other facets you need to learn and it will take time. The steep learning curve is due to the ability in the work scope of ClickFunnels. If you want to create a simple lead capture page, you can do it quickly with solutions like Lead pages instead of waiting to be completed by ClickFunnels.
●      Limitations of visitors and funnels
If you are ready to take a Startup plan, ClickFunnels enables you to build a maximum of 20 funnels and 100 pages only. The number of visitors must be 20,000 allowed. This limitation is a drawback of ClickFunnels. The limit is more than enough to help you get started and create your online business and you should be earning enough money with 20k different visitors before expecting to upgrade. Yet, if you create funnels for numerous businesses or multiple clients, the limit can be restrictive.
●      Low Potential for Membership sites
You know, ClickFunnels does allow you to create a membership site and even add your content. However, ClickFunnels is acceptable only for very fundamental online courses and membership sites. It doesn't benefit user improvement tracing, user conversations, multiple content categories, etc. also the membership area is not very nicely organized from a user background viewpoint. So, if you are trading an online course and want a tremendous user experience for your learners, ClickFunnels won't be the promising option to deliver your content. In this case, you can utilize ClickFunnels to create your funnels and sell your products only.

Pricing Strategy: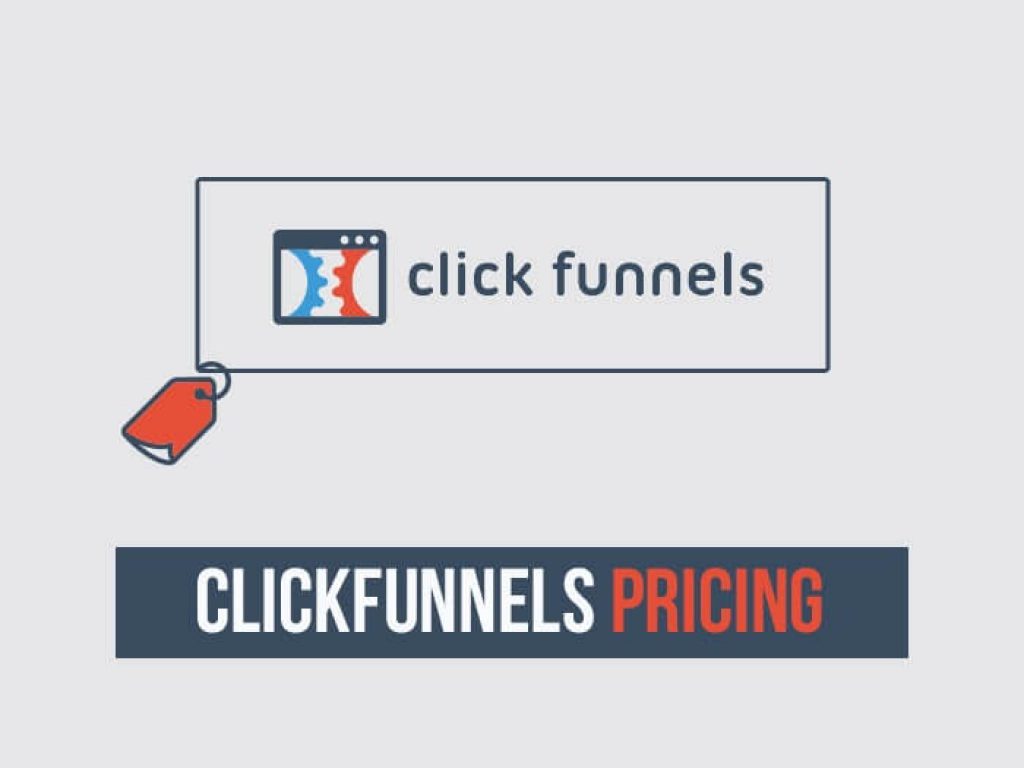 The pricing method of ClickFunnels includes two pricing choices. They are Startup Plan and Etison Suite. Now let's know what they can offer.
For the Startup Plan, it costs $97 monthly. This plan helps you to get all the necessary funnel-building tools and can create any kind of funnel, sell your commodity digitally, and can include upsells and down sells. Also can even make membership sites. 
That is you are allowed only to create a maximum of 20 funnels and 100 pages with up to 20,000 unique monthly website visitors. The Startup Plan does not include any elements like Actionetics, Automation of email marketing, and also Backpack.
ClickFunnels Platinum is nearly a rebranding of the ClickFunnels Etison Suite plan. In the case of the Etison Suite, it costs $297 per month. Here you can access all the features that Start-up Plan does not provide you. The users of ClickFunnels begin with Startup Plan and they use integration like Convert kit for automation.
The Etison Suite enables you to build an unlimited number of funnels and pages and doesn't restrict funnel traffic in any way. You also get high priority from ClickFunnels if you choose Etison Suite.
If you like to purchase Etison Suite, you must dig into the Funnel Hacks package. This provides you with a six-month entry to the Etison Suite at $1782 with bonuses which comprised of training about sales funnel and email 
If you want to purchase the Etison Suite, you should dig into the Funnel Hacks package. As part of the Funnel Hacks, you get 6 months of access to the Etison Suite (worth $1782) and bonuses which include sales funnel training and email orderings for $997.
ClickFunnels Platinum is now the all-inclusive plan that has it all, telling you to have the capacity and flexibility to build endless offers and set your views on limitless improvement. 
If you'll be using its features, ClickFunnels is worth the price tag. ClickFunnels is not the inexpensive solution in the demand but it is indeed reasonably priced. However, If you only want to make some landing pages to obtain leads, you can't excuse the price of ClickFunnels. In that sense, ClickFunnels may not be a suitable choice for your business.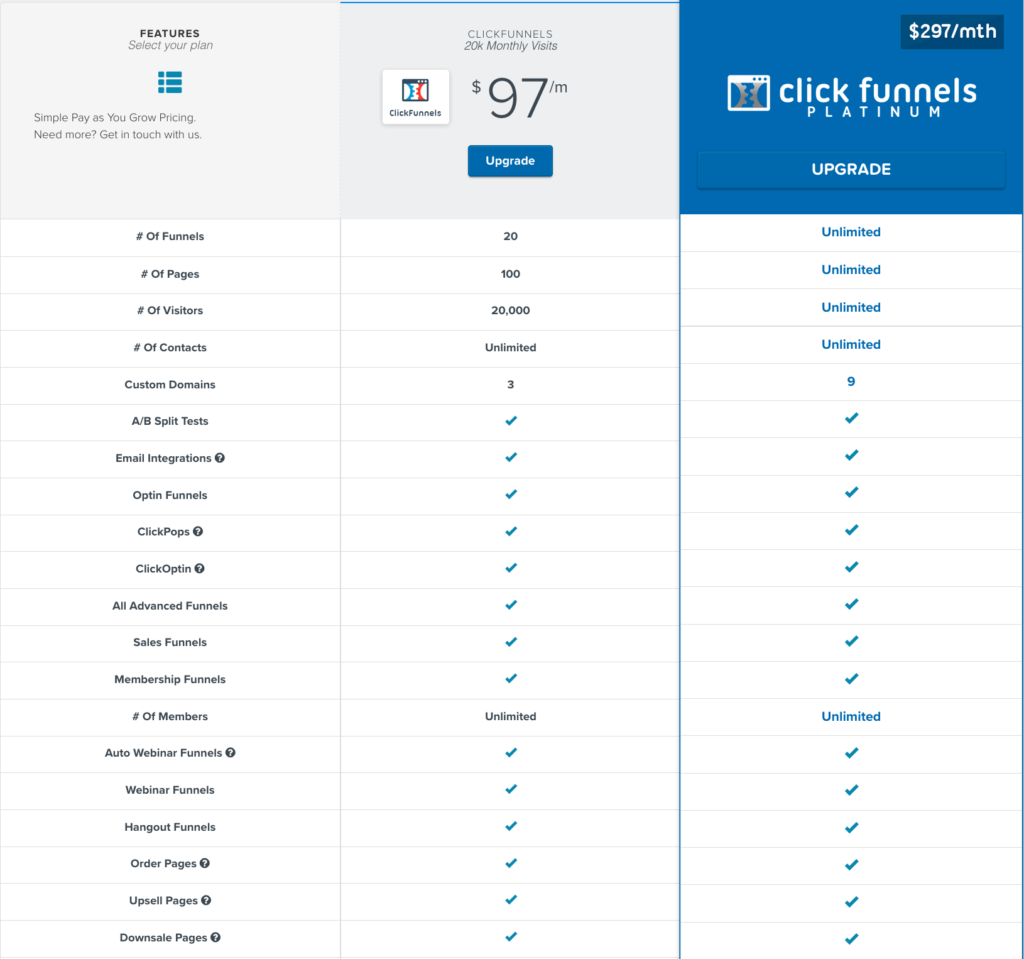 ClickFunnels Vs. Competitors:
Let's take a glance at similar popular solutions that work the same as ClickFunnels and maintain a reasonable competition phase with it 
●      ClickFunnels vs Leadpages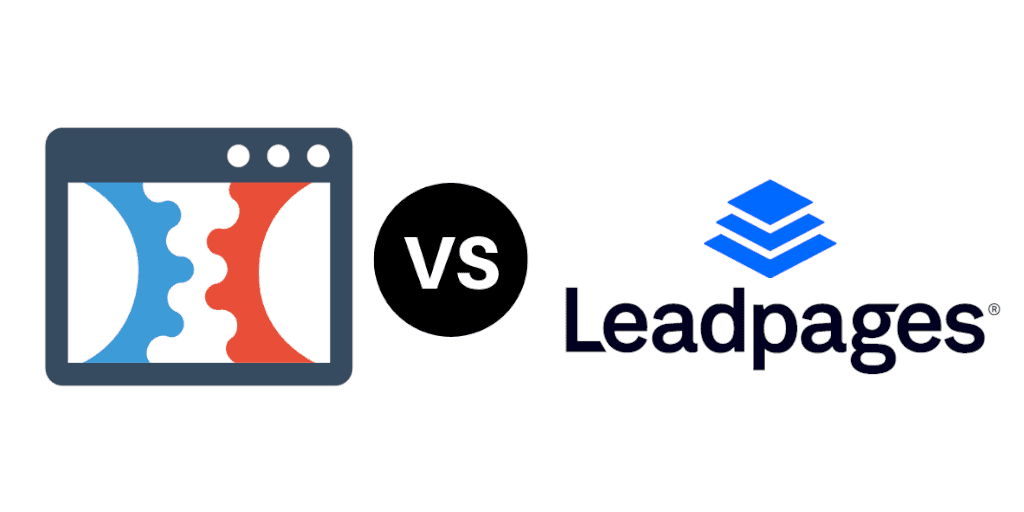 In the category of the landing page in demand, the Leadpages is more effective and popular. It consists of an appealing template collection in its widespread library. You can customize it anytime by using a drag-and-drop editor. Leading pages are a landing builder. They recently established a payment facility feature and they are ready to give out much more features that are suitable for a digital marketer. They help to build funnels and sell your stuff in simple ways in the future.
A noticeable thing is that Leadpages are comparatively cheaper than ClickFunnels. Their pricing starts at $37 per month. But to access features like check out, A/B testing, etc. You have to purchase a Professional Plan which costs $79 per month. But it is limited in scope when compared with ClickFunnels. They have to go much distance to reach ClickFunnel capability. Lead pages are the right option only if you like to build landing pages and gather leads. For selling your products and services, ClickFunnels is the best choice.
●      ClickFunnels Vs Kajabi
Kajabi is mainly a membership site maker or can say it is an online course platform that has expanded a lot of sales & marketing features to its outlet. It allows you to assemble a sales pipeline (sales funnel), delivers follow-up emails, creates membership sites, and much more.
In Kajabi, the pricing starts at $149/month and their most outstanding plan costs $199/month and their Premium plan costs $399/month. This is much more costly when compared to ClickFunnels.
While Kajabi is a decent solution for building a membership site, it, however, is far from being a match to ClickFunnels when it comes to sales & marketing aspects.
●      ClickFunnels vs SamCart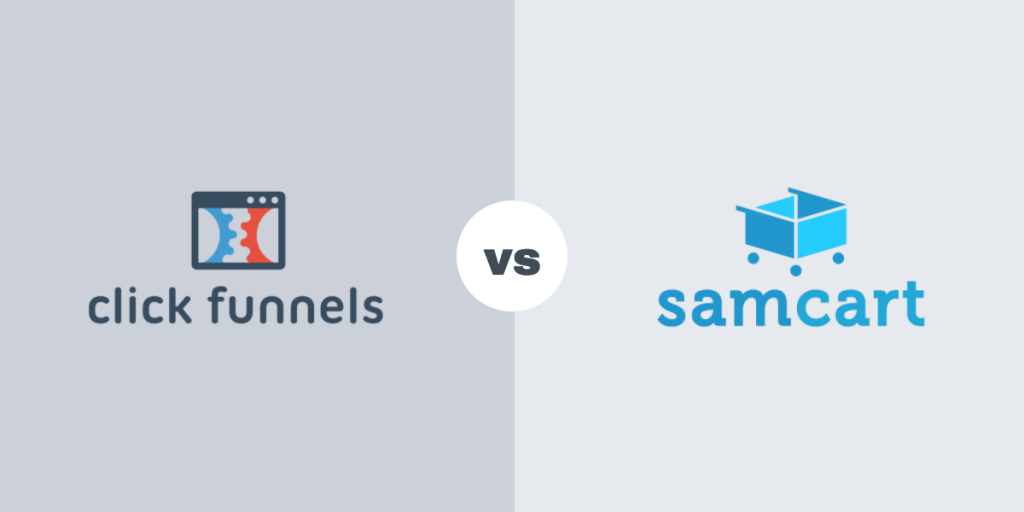 SamCart is a digital tool that allows you to create highly optimized checkout pages to trade your products and services. The crucial thing to infer is that SamCart doesn't allow you to build landing pages or sales pages, it just permits you to build checkout pages and accept payment only.
In SamCart the pricing starts at $19/month but this doesn't comprise features like single-Click upsells and A/B testing. Also, it again charges an extra 1% marketing fee. You will be able to utilize these features and eliminate the 1% charge on their $99/month plan and you will require to upgrade to $199/month to operate an associate project.
SamCart is a super-costly software and for an identical price, it is much smaller compared to ClickFunnels. It is neither as feature affluent nor doesn't combine with as many payment gateways to rationalize its pricing.
The only situation where you can use SamCart is when your pages are already created on another landing page solution like Leadpages and you just like to connect your sales page(s) to an optimized checkout solution.
While these are some of the solutions that do identical things and strive with ClickFunnels, none of them fit with ClickFunnels as far as capacity and features are involved and so isn't a real option.

ClickFunnels Review: Final Verdict
When it comes to the most powerful tool of online marketing, ClickFunnels acts as a real fit for that position. There is not much software that can perform in the same way Clickfunnel works. They can't reach up to its scope and capability.
A lot of things can be done by ClickFunnels comprising marketing automation, and membership sites. But their power lies in the foundation, which is the sales funnel builder which is the best one in the enterprise recently.
ClickFunnels has plenty to give to any entrepreneur who likes to develop more leads and increase their conversion rate. This tool gives you templates based on your enterprise and marketing purposes.
Also, you can effortlessly create follow-up funnels as well to reach out to your leads. It's an all-in-one outlet that does what it guarantees.
The decision of choosing ClickFunnels depends on your unique requirements regarding online marketing. You no need to use ClickFunnels if you only want to build some landing pages, to create your email catalog.
On the other hand, if you are focused on selling your services or products, ClickFunnels can indeed fulfill your requirements and it is the right choice and worth the money to bring you money.
Frequently Asked Questions 
Q1. Is it essential to install software to begin using ClickFunnels?
Ans: No. You don't need to download any software to utilize ClickFunnels. To use this platform, you can get on to their website and log in to the account that you have already created.
Q2. Is ClickFunnels a legal platform?
Ans: Yes, ClickFunnels is an entirely legit platform. Through this platform, you can develop high-converting landing pages, create websites, and establish effective funnels.
Always remember that this platform can assist in enhancing your online presence, but there is no assurance that you will receive a good return on your enterprise. Whether it is effective for you or not relies completely on the way you prefer to use this platform.
Q3. Does ClickFunnels own the information that I give on their platform?
Ans: No, all the data that users create on the ClickFunnels platform is owned by them. The platform doesn't have the authorization to own that content. In short, if you develop something on ClickFunnels, you have entire ownership of it.
Q4. What sort of customer assistance does ClickFunnels deliver?
Ans: During any time in the day you can contact the ClickFunnels team. They are ready to help you 24/7. They give priority to solving your questions if you choose the VIP Support option.
If you are struggling with any technical issues, their team can help you solve that. Do this, if you need to reach out to their representatives:
● For that first, you need to log in to your account in ClickFunnels. Choose ' Help Menu', then Click on the " Get Help " option in the right corner below.
Q5. Can I host my web pages without using ClickFunnels?
Ans: ClickFunnels assists you to stay updated with their latest elements and can even host web pages. It also helps you to ensure that your sales funnels are not leaking.
If you like, you can effortlessly export all the connections you want along with the HTML code from any page you wish.
Q6. Is there any limitation regarding the number of members in my team access to ClickFunnels?
Ans: ClickFunnels facilitates you to give admin rights and logins to numerous teammates with their more costly plans.
With the Basic plan, only one member can utilize the program but the Platinum and Collective Plans have more choices. While the Platinum plan enables three teammates to use the platform, the Collective Plan permits access to up to ten team members.
Q7. Is it allowed to cancel my ClickFunnels subscription at any time?
Ans: It's very simple to discontinue your subscription to ClickFunnels. This software solution doesn't come with any agreements or long-term obligations. You can enroll in their monthly plans if you are not assured about your long-term usage.
Here is how to terminate the subscription of your ClickFunnels account:
First, go to ClickFunnels and login
Then, 
Choose Account Settings
Select "Cancel My Account."
This process is very simple. You can cancel your account subscription without requiring any assistance from their support team.
Q8. Which third-party integrations are provided by ClickFunnels?
Ans: Many integrations are possible with ClickFunnels.They include apps like
Facebook, Drip, Hub Spot, Zapier, etc.
.