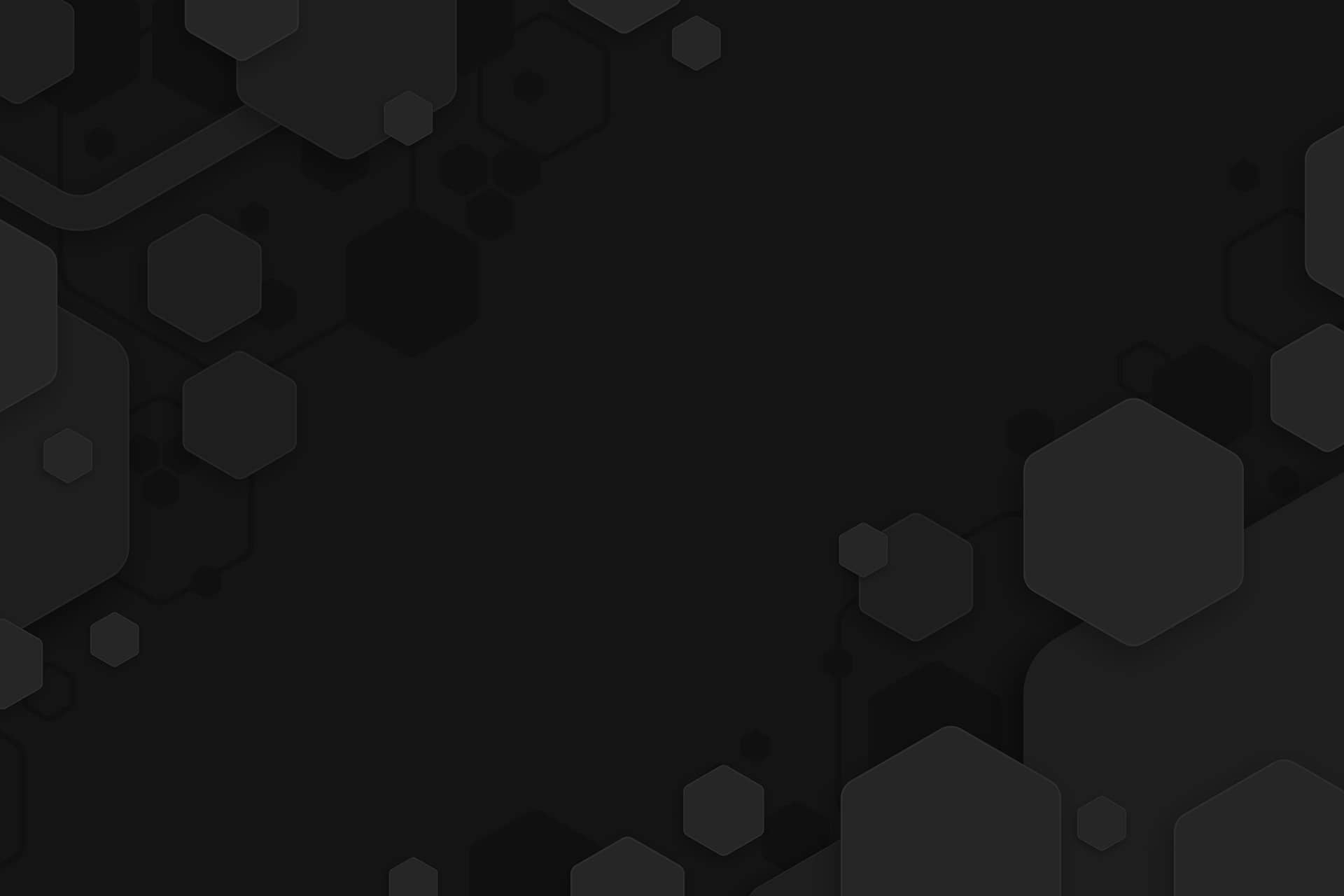 Visme
Visme: An Impressive Visual Content Design Platform that meets most needs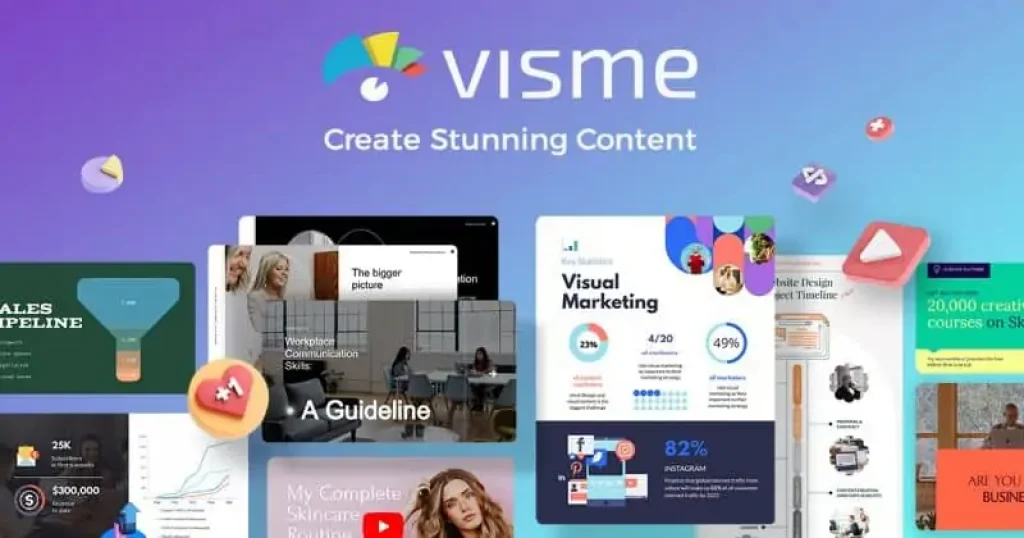 Creating attractive and engaging infographics is one of the most important activities that a professional working in a different field performs, such as design, digital advertising, art,  education, training, etc. They also use complicated tools to create documents, presentations, mockups, etc.
There are many complicated software programs available, such as Photoshop, to perform such tasks, but the issue with most of them is that either they have a steep learning curve, they require high-end hardware, or sometimes they can be expensive.
Honestly, professionals don't always require all the functions and powers complicated software provides. However, for these reasons,  professionals like to have access to a simple application that doesn't require steep learning but simultaneously offers the power and functionality to complete design tasks easily.
A cloud-based tool like "Visme" and a browser work best here. This blog is about Visme, and it will explain everything you might need to know about this excellent design tool and shed light on its good points, drawbacks, competition comparison, features, and all other aspects you might want to know about. This review is based on my practical experience with Visme. Let gets into it by knowing what exactly Visme is.
Overview of Visme
I can confidently state that Visme is a superb tool for producing stunning visual content because I have used it practically in the real world. The platform offers a variety of templates to meet different types of needs, including presentations, social media graphics, and infographics. It is ideal for various roles, from marketers to human resources professionals. Visme makes it simple to produce professional-looking content in minutes, even for those without any design experience, with its selection of over a thousand layouts and themes.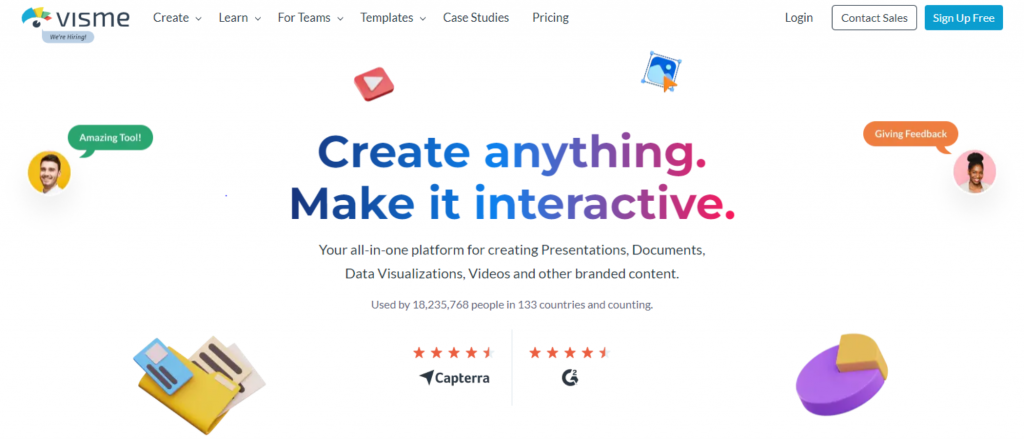 Visme's support for collaborative work is one of its most remarkable features. It is ideal for businesses seeking to produce high-quality visual assets consistent with their identity because its team management tools make communication, receiving feedback, and managing assets simple. The data visualization tools it provides also make it simple to transform numerical data into stunning graphics that are sure to be impressive.
Visme provides a much wider range of features and design capabilities than some of its rivals, making the price difference more than worthwhile. Over 15 million users and companies use the platform worldwide, including IBM and Kraft Sports + Entertainment, which have commended it for its flexible functionality and capacity to empower teams.
To sum up, Visme is an ideal tool for you if you're looking for an all-in-one solution to produce high-quality visual content that is simple to use, supports collaboration, and offers a variety of templates and design capabilities.
What is Visme?
Visme is a  comprehensive visual content creation and collaboration online design platform that allows users to create engaging presentations, social media infographics, mockups,  reports, graphics, and other types of design.
It has been conceptualized and intended for individuals and businesses who may need to create visual content for various purposes, such as marketing, education, training, and communication. And as an online design platform, it is resourceful. But most importantly, it  is especially useful for those who do not have extensive design skills but need to quickly and easily create high-quality visuals.
Visme can essentially benefit anyone who needs to create engaging and effective visual content; marketers, educators, trainers, content creators, social media managers, and business owners might use it. Before we get into all the information you might need as a user about Visme, let us discuss its pros and cons.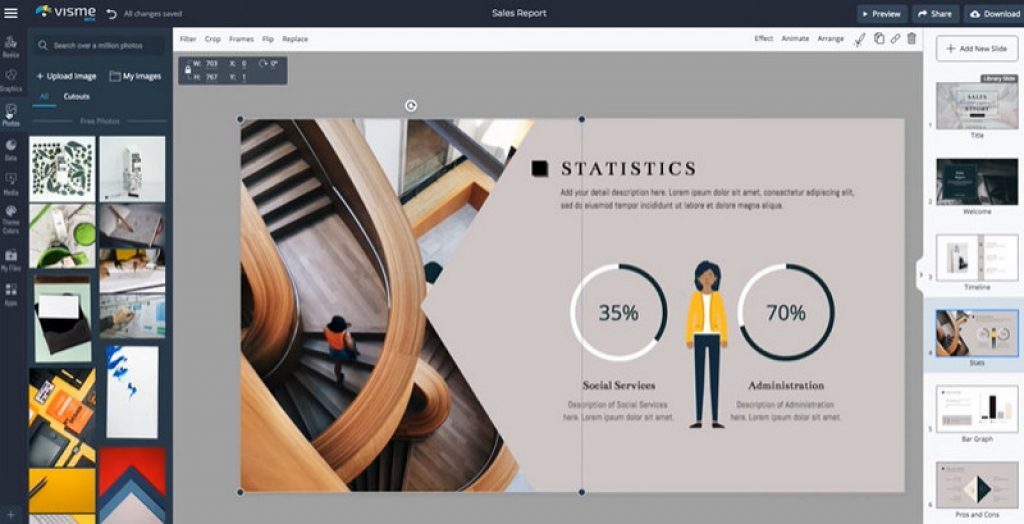 Pros of Visme
Users can easily create visually stunning images without installing any software, thanks to Visme's robust and user-friendly photo editor.
The platform of Visme offers support for a  number of languages in its interface, including English, German, French, Russian, Spanish, Latin, and Italian.
Another highlight of this platform is that it offers users access to a large library of design resources, such as templates, charts, tables, and assets.
Visme lets users personalize their visual content by applying their document theme colors and data to their designs.
It provides a large selection of vector icons and graphics from which users can choose, with the option to customize their colors as needed.
Its photo editor feature is its highlight because it is powerful and user-friendly, allowing users to create stunning visuals and use stock photos from the tool itself.
Multiple visual content formats, such as explainer videos, presentations, tutorials, and promo videos, are supported by Visme.
Users can save time by using the free online infographic creator to produce stunning infographics in a short amount of time.
It enables users to create an embeddable public link, post material to social media, or embed it on their website.
Visme users can build their own Visme content blocks and reuse them in upcoming designs to increase the productivity of content creation.
Another excellent feature of it is that you can create mockups quickly and easily for free using templates that are expertly made.
Cons Of Visme
The pre-built templates provided by Visme may not be suitable for all customers' design requirements.
The platform's more complex features have a steep learning curve that will take users much time and effort to understand.
When modifying their material, users might experience formatting and layout errors.
Visme has various modification options but might not offer users as much freedom as expert graphic design programs like Photoshop.
Even though Visme provides excellent customer support, some users might still experience problems or difficulties using the platform.
Even with all these features, as per my experience, most users may like Canava better because of the pricing.
The stock photos library is average.
Unlike the software, which can be downloaded on pc and allow users to work offline, such functionality is not possible with Visme, and users must have decent-speed internet otherwise, it may lag in the browser.
Easy to Use:
One of the many advantages of naturally building a platform like Visme is that it creates a relatively simple environment for users in which even those with little knowledge of building designs can easily do so.  And in this regard, Visme is clearly a top-notch and dependable design platform.
And it becomes clear when you look at its interface, which is laid out similarly to many other design tools, such as "Canva" and many other design tools you may have used in the past.
While using this platform, I could sense that it has almost no learning curve and that users, even those with no design exposure, can easily jump in and start creating visual designs without hassle.
The fact that everything in the editor is completely editable is one of my favorite things about Visme. This means that the users can completely personalize various blocks and elements, altering the text, fonts, colors, icons, and more, which results in unparalleled ease of use. Moreover, you will have the flexibility to create unique and eye-catching designs that stand out without hassles.
Moreover, Visme offers an extensive library of assets for users, including stock photos, videos, and audio. Saving time is one of the goals of using a tool like this, and using these libraries will save you a ton of time because you won't have to spend hours looking for the ideal asset to use in your design. Instead, Visme users can go through the libraries and pick the ones that best fit their needs.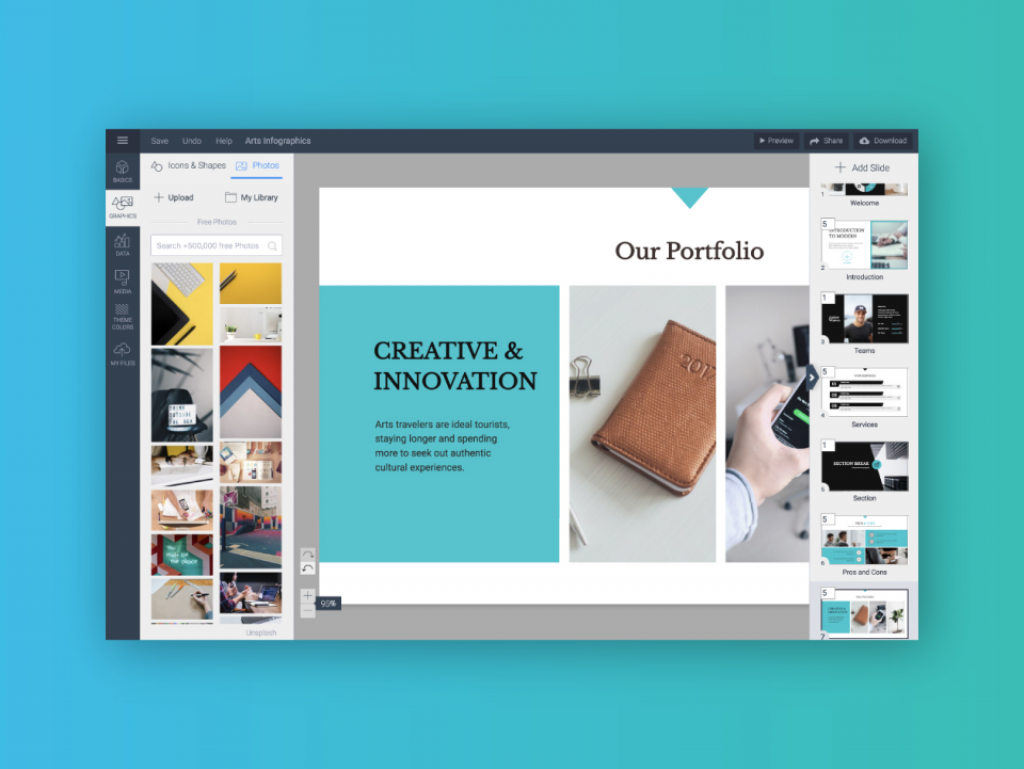 What if the graphic libraries don't exactly match your brand's color palette? Visme has you covered, so don't be concerned. Any graphic library you import into your project can have its colors easily changed to correspond with your brand's colors, which shows the deep thinking that has gone into building this exceptional design tool. Solutions such as this ensure that all your designs are consistent and on-brand.
In short, due to its user-friendly project editor, vast asset libraries, and customizability, Visme is a fantastic choice for anyone who wants to create beautiful designs without going through the grind of learning complicated software.
Project Management in Visme:
When you log in to Visme, you'll see a dashboard or project management window with various templates to choose from. There are templates for presentations, infographics, printables, and other things. Visme also includes a library of tens of thousands of graphics, icons, and images to incorporate into your designs.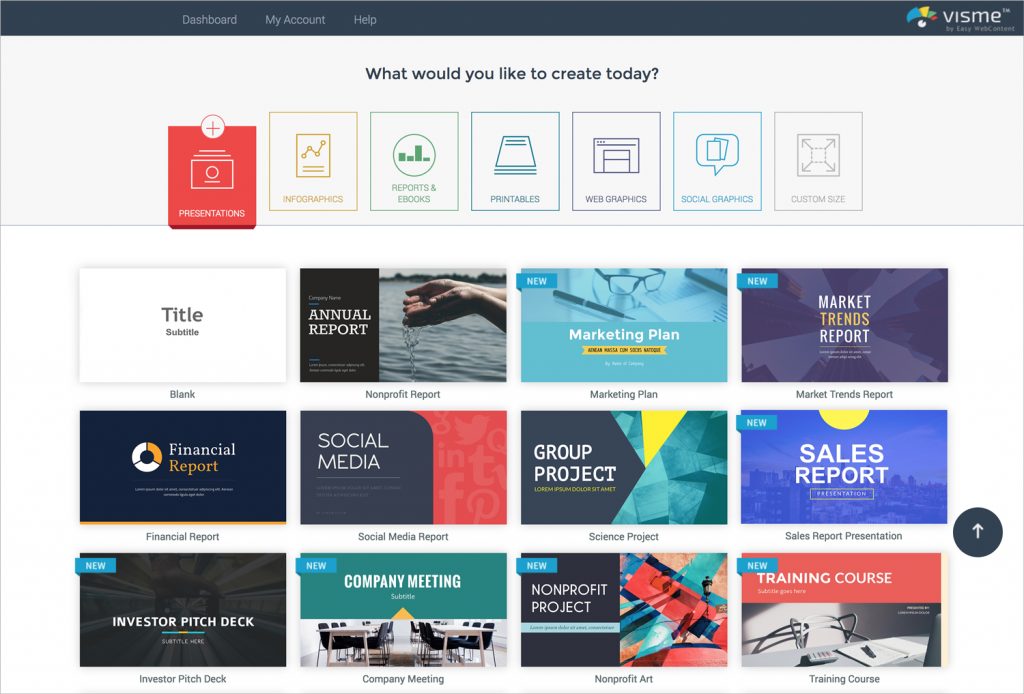 The interface of Visme is clear and uncomplicated when you first log in. It's simple to begin a new project thanks to the large, bold "Create" button in the page's center. You'll also notice a left-side menu with all the necessary tools and features.
Let's take a closer look at what's included on the left-hand side:
Projects: You can find your Visme projects here under "Projects." Users can group them into folders, look for particular projects, and even filter them based on type.
My Files: This is where all the images, videos, and audio files you've uploaded to Visme can be found. You can use folders to organize your files and perform file searches.
Content Calendar: Visme allows you to schedule and plan your content in advance using this useful tool. In a calendar view, you can see everything that is coming up in your schedule and even add tasks and notes.
My Brand: This is where you can manage the visual components of your brand, such as your logos, colors, and fonts. Across all of your Visme projects, you can create and save brand kits.
Data: Using this tool, you can import and display data in a variety of waiting for your own data or one of Visme's pre-made templates; you can make charts, graphs, and infographics.
Trash: Don't be concerned if you unintentionally delete something. Your deleted projects and files can be found here and restored if necessary.
Workspace: You can coordinate with other team members and control access herein.
All Projects: Users' Visme projects are arranged by date here.
My Projects: Not hard to guess as it is a list of all the projects you've created.
Shared with me: Any projects other Visme users have shared with you can be found here.
Folders: Creating and managing folders to organize your projects is possible here.
Create New Folder: Herein, you can create a new folder to group your projects into custom folders.
Mobile Download Button: If you need to download the Visme app for your phone or tablet, click this button.
How do you use project management in Visme?
The user interface dashboard, where you create and work on a project, is divided into different sections. As was already stated, the left side of the screen has a vertical toolbar with all the tools you'll need to develop your project. This includes, among other things, text boxes, image placeholders, graphs, and charts. The canvas, which is in the center of the screen, is where you'll design your project.
The Create New Project button displays a new window where you may select a template from a selection of choices. Several alternatives are available, such as presentations, movies, social media, and the opportunity to hunt for a certain template. Users can choose from various themes and templates, and everything's made to be understandable, so there shouldn't be any problems.
After picking a template or theme, users are taken to the dashboard or project management window by clicking the "edit" option. They can use the various editing options available on the left-hand side.
Visme's interface is designed to be simple and intuitive, even if you are not a trained designer. The drag-and-drop interface makes adding and arranging design elements simple, and the options panel provides many customization options.
All the tools and features you need to create stunning visual content are available in one place on Visme's user interface, which is designed to be simple to use and intuitive overall. You can find everything you need for your ideas, regardless of your level of design expertise.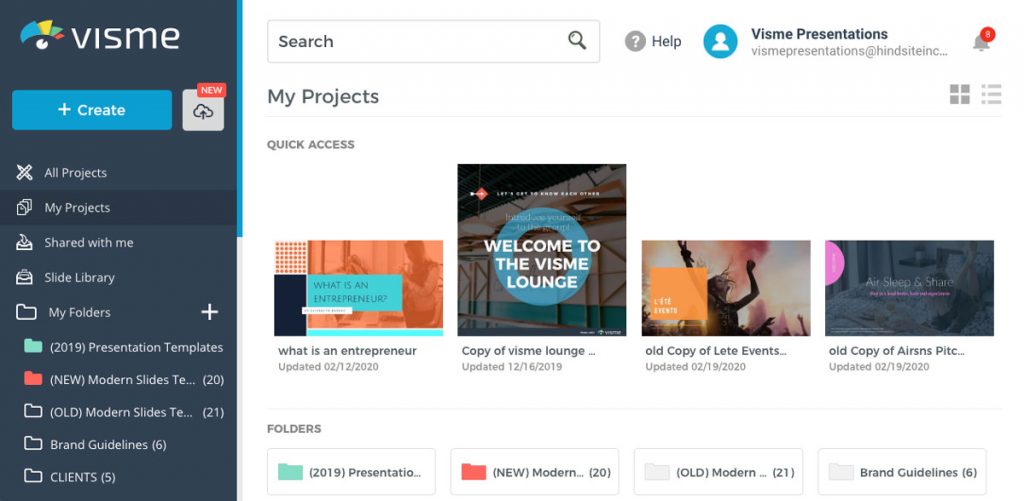 Data Visualization with Visme
Visme's ability to create stunning data visualizations is one of its key features. Visme makes it incredibly simple to transform data into visually appealing charts, graphs, and diagrams. Visme will automatically generate if you import data directly from Excel or Google Sheets. Visme also allows you to create custom data points, making it an excellent tool for solopreneurs, freelancers, and teams who need to make data interesting.
Enhancing Your Design with Animations and Videos
You can incorporate animations and videos into your designs using Visme. On Visme, almost everything—including icons, text, and images—can be animated. Visme's animations are simple but effective at adding visual interest to your designs. You can also include videos in your designs, and Visme has a video library with tens of thousands of options.
Sharing and Presenting Your Design
When you're ready to share your design, Visme provides numerous options. You can save your design as a PNG, PDF, or HTML file, or share it on social media. Visme can also be used to present your design directly, making it an excellent tool for remote meetings and presentations.
Overall features that make Visme special:
1.Classic Presentations with a Visme Touch
With Visme, you can take your presentations to the next level with its unique designs and templates. Whether you need to create a pitch deck, sales presentation, or educational slides, Visme doesn't disappoint.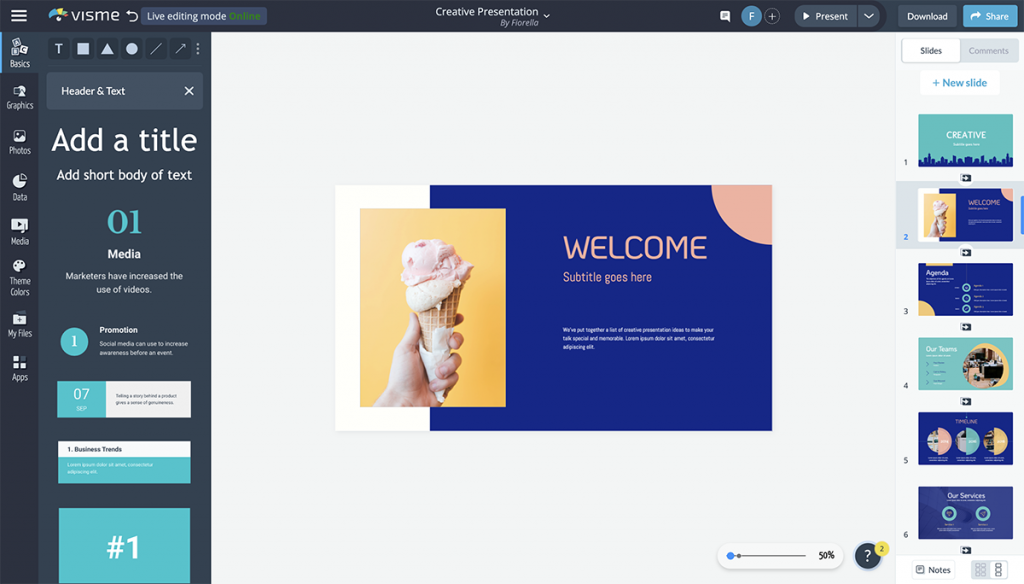 2. Engaging Infographics Made Easy
Infographics are always fun to look at, and with Visme, you can create engaging and informative ones in minutes. Choose from various pre-existing templates or create your designs using Visme's project editor.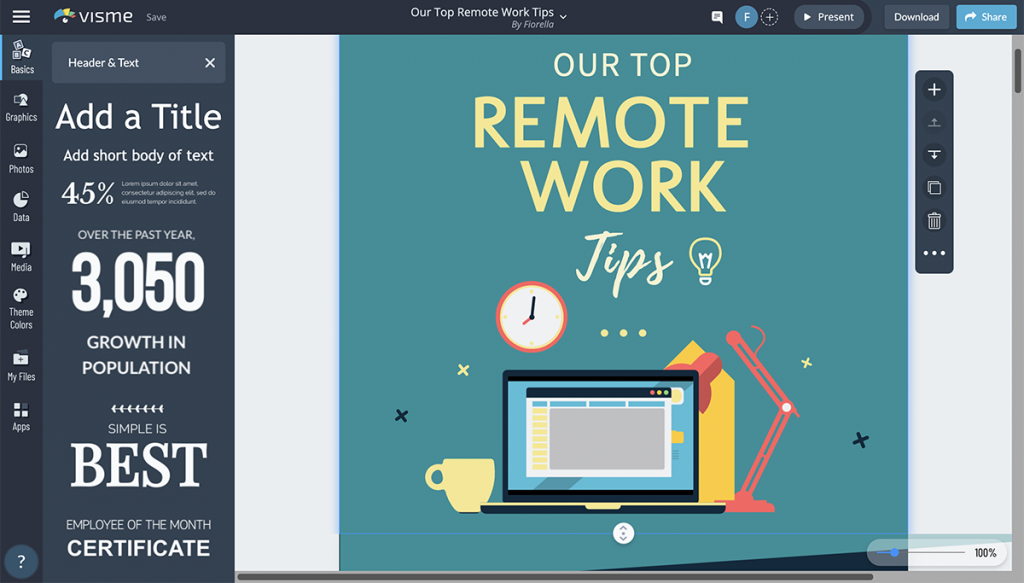 3. Documents for Every Occasion
Visme offers many document templates, including proposals, magazines, resumes, etc. Whether you need to create a professional-looking document for work or a fun one for personal use, Visme has got you covered.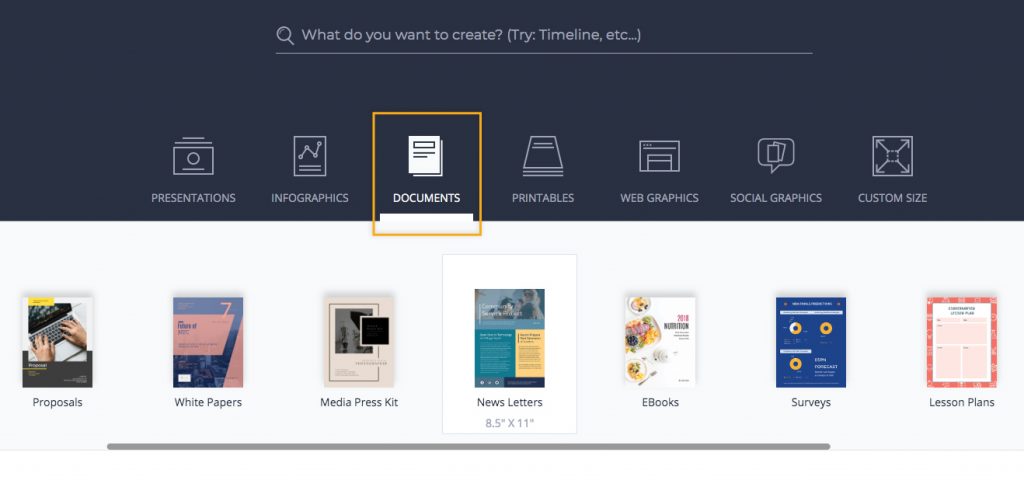 4. Eye-Catching Charts for Better Data Visualization
Charts are an excellent way to display data visually and engage viewers, and Visme offers a wide selection of pre-existing chart templates. Whether you need to create a pie chart, line graph, or bar chart, Visme offers many choices.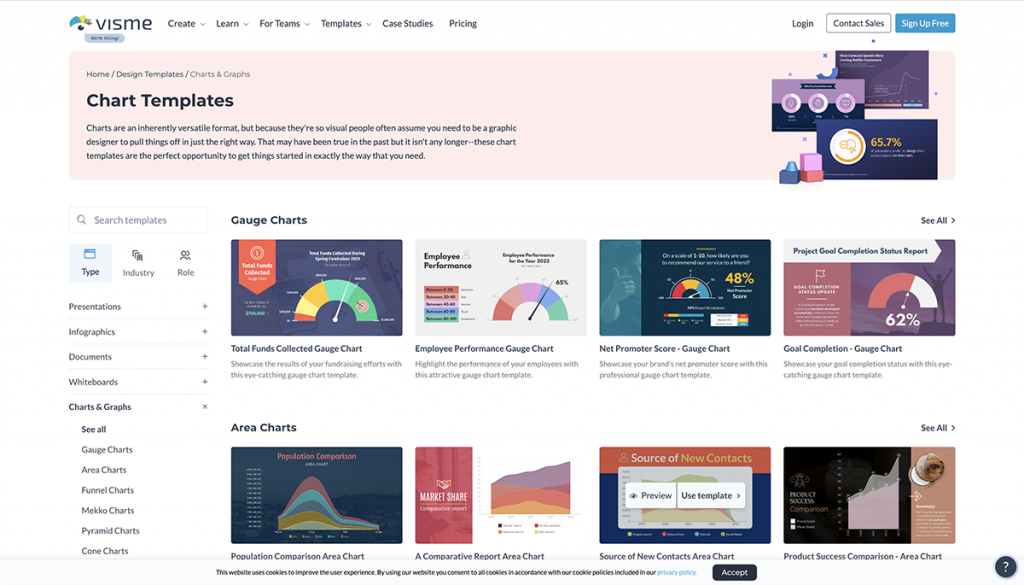 5. Printables for Various Uses
Printables are a big category in Visme, with many subcategories like flyers, menus, schedules, and more. These templates are ideal for businesses seeking promotional materials or individuals looking to create custom designs for personal use.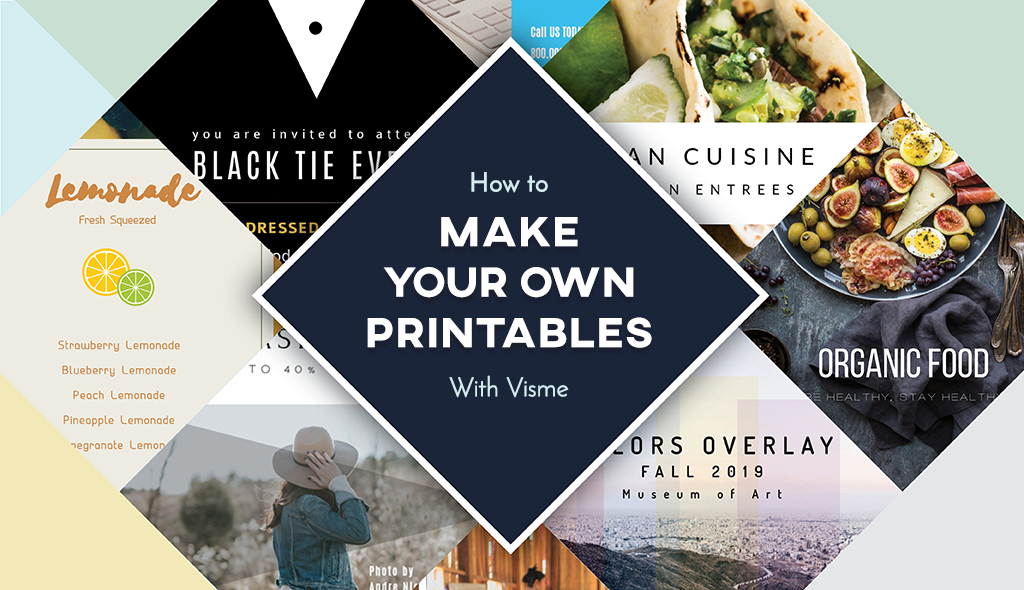 6. Web Graphics for Your Online Presence
Create engaging graphics for your blog, banners, emails, and more with Visme's web graphics templates. These templates are designed to help you create eye-catching graphics that will grab your audience's attention.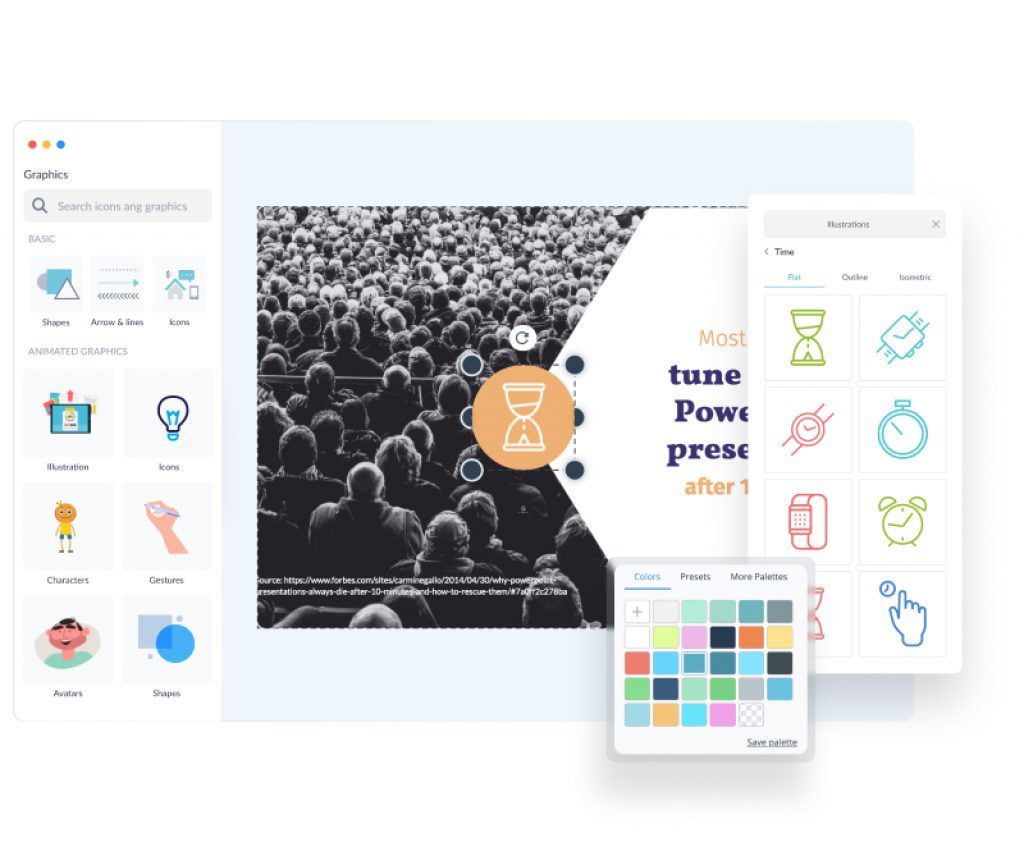 7. Social Graphics for All Platforms
One of the most exciting features of Visme is its social graphics templates. These templates cover all social media platforms, with content at the correct native resolutions for each platform. You can make images for Facebook Ads at a specific resolution and aspect ratio. At the same time, Facebook posts work better in a 1:1 aspect ratio, and Facebook covers also have specific ratios, which is incredibly helpful. The same is the case with other social media platform-specific templates.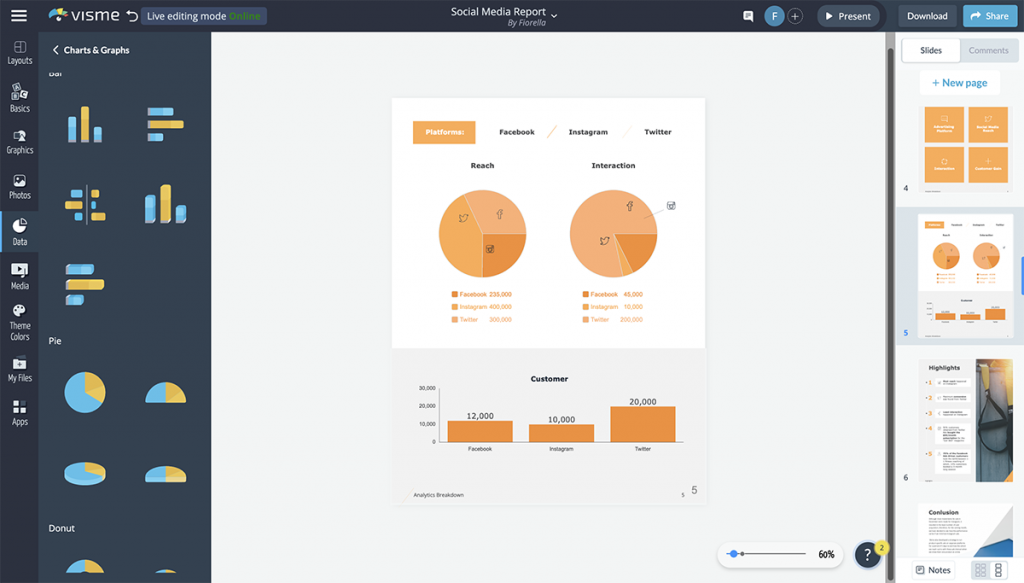 8. Videos/GIFs for Better Engagement
As a design professional, I can tell you that l, one cannot survive without having the ability to work with videos and Gifs, and I was happy to know that Visme has taken care of it too. It offers a massive selection of video and GIF templates. Whether you need to create an intro, outro, zoom background, or social media posts, Visme will exceed your expectations. These templates are tailored to each platform's needs and will help you create engaging video content that resonates with your audience.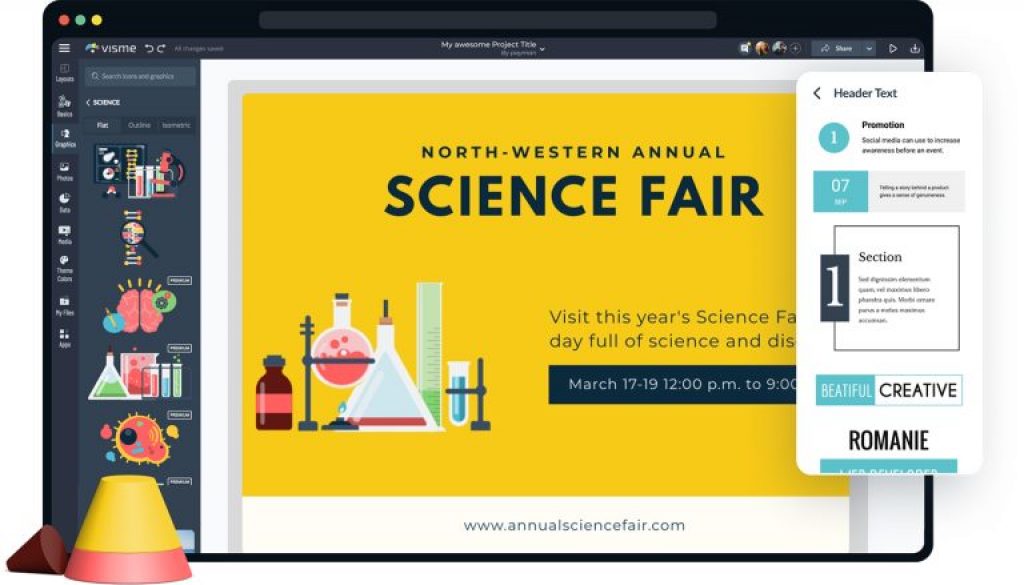 9. Product Mockups, Invoices, Logos, Invoices, and more
In addition to the categories I explained above, Visme offers various miscellaneous templates to help users, such as product mockups, logos, and invoices. These services also give them a comprehensive environment and complete this as a design platform. Visme's offered templates are helpful for companies looking to create professional design elements and cater to particular requirements.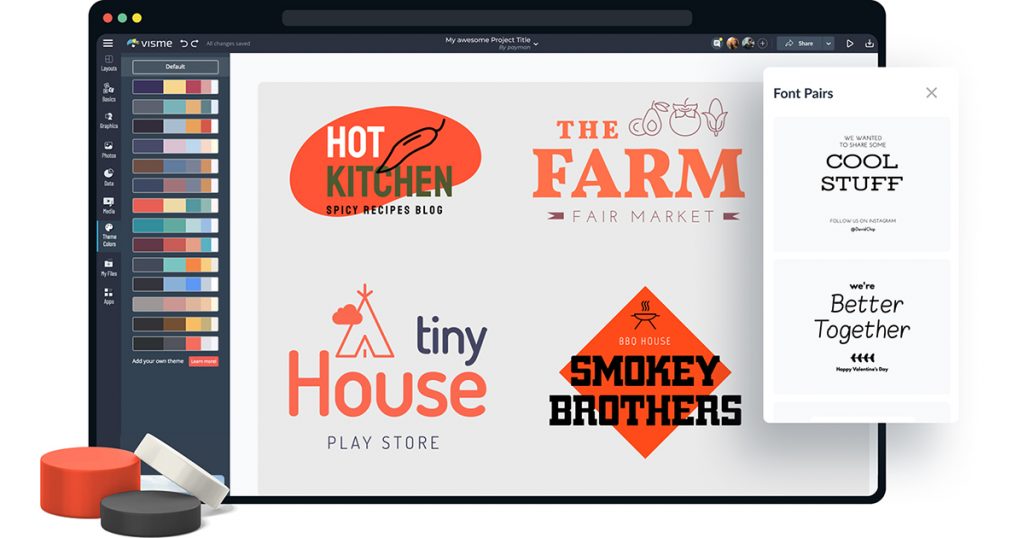 In short,  as a design professional, I can tell that Visme is a tool with lots of versatility to help users create most tasks. And whether you're a beginner or an experienced designer, Visme has something to offer, and users can save time and be artistic at the same time by using its features and functions.
Team Management:
As a user of Visme, I can vouch that their collaboration tools are impressive and make working on projects with a team much easier.
To begin, Visme allows you to invite team members to work on your projects. This means multiple people can work on the same project simultaneously, which is particularly useful for larger teams or projects with short deadlines. Users can also control each team member's access level to specify whether they can edit or only view the project.
The commenting system in Visme's collaboration tools is something I really like. You and your team members can leave comments on specific parts of the project to provide feedback and ensure everyone is on the same page.
Visme also has a "Brand Kits" feature that helps teams stay on brand. You can create a Brand Kit with your company's logo, color scheme, and font choices and make it available to all team members when working on projects.
Moreover, the built-in revision history feature of Visme enables you to view earlier iterations of your project and go back to them as needed. This is useful if you make a mistake or need to return to a previous product version for any reason.
The team administration and collaboration tools in Visme are incredibly functional and user-friendly, in my experience. Making it simple for teams to collaborate on tasks involving visual content has obviously received a lot of thought.
Visme Pricing:
It offers three pricing tiers: free, starter, and pro. Its free plan gives users 100 MB of storage space and limited access to templates and design assets. The Starter plan is $12.25 per month, billed annually, and includes 250 MB of storage and complete access to templates and assets. Users on this plan can also download their projects as JPG, PNG, or PDF files and have access to email and chat support 24 hours a day, seven days a week.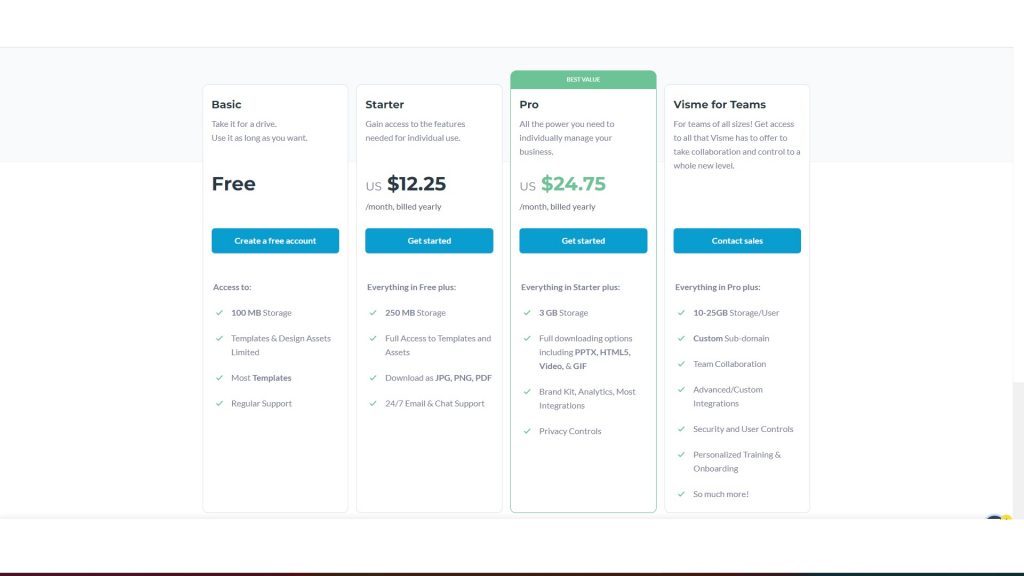 Visme's most comprehensive plan, the Pro, costs $24.75 monthly, billed annually. Everything in the Starter plan is included, as well as 3 GB of storage, full downloading options including PPTX, HTML5, Video, and GIF, a brand kit, analytics, most integrations, and privacy controls. For groups of any size,
However, most users will find Visme more expensive than comparable tools such as Canva, particularly concerning business and enterprise plans. Canva, for example, offers 100 GB of storage space and 100 Brand Kits for just $12.99 per month for up to five users.
Visme is slightly more expensive than some competitors, but it still provides a variety of features and plans to choose from. Visme may be worth the investment if you're looking for a tool with advanced features like brand kits and team collaboration.
Visme Alternatives and Their Comparison:
There is no shortage of options for content design software and platforms, and when comparing Visme to its main competitors, they are also plentiful, making it difficult to cover them all. However, I am going to put my focus on 4 main competitors-
1. Canva
2. Picmonkey
3. Adobe Spark
4. Adobe Photoshop
Canva is a natural first and perhaps Visme's biggest competitor. Both platforms provide similar functionality, such as the ability to create infographics, charts, presentations, videos, and so on. In my view, the toolkit of Visme is better and stronger than that of Visme. Canva may be a more popular design tool, and it is a little cheaper. Still, if your primary goal is to get your hands on a design solution that can help you produce engaging visual content, I would prefer Visme over Canva. Canva, on the other hand, does not lack features, as it has superior exporting and sharing capabilities, as well as the ability to schedule social media postings, which is useful.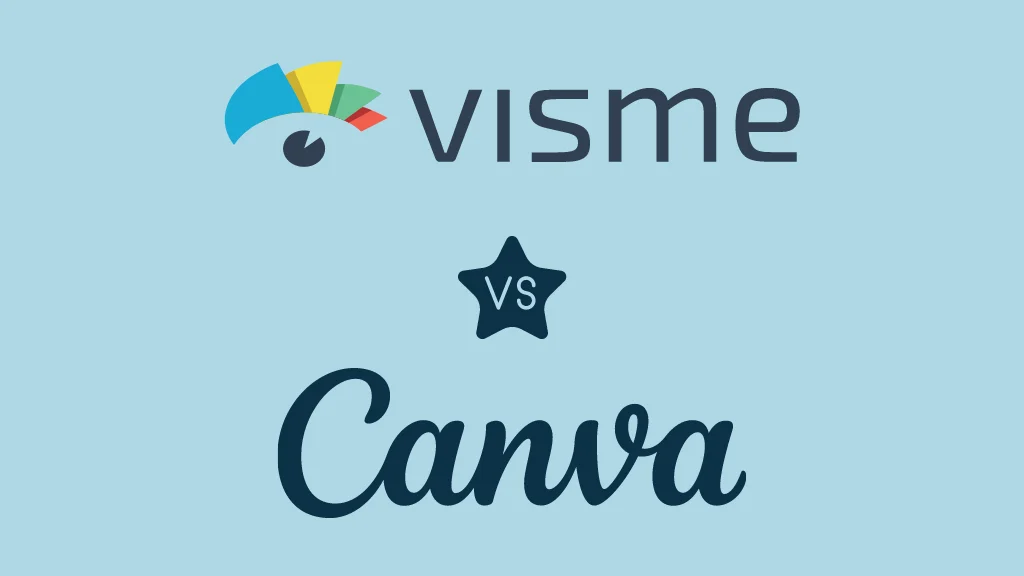 When comparing Visme to PicMonkey, it is a robust and gesture-rich platform, but Visme's collaboration features are superior and available even on free plans. It is handy if you want to work on a project involving various team members. Furthermore, because Viusme has more features, such as the ability to create charts and infographics, it appeals to me more as a design professional.
When comparing Visme to Adobe Spark, the results were similar to how I felt about Visme vs. PicMonkey. Adobe Spark is user-friendly and cost-effective, but it lacks the features to create data-rich infographics and charts. Adobe Spark is great for creating logos and social ads, but Visme has the same capabilities.
In the end, Photoshop is left, but it is unfair to compare Visme with Photoshop as Photoshop is targeted at professionals and advanced users, It is a complicated tool that demands   specialized skills.
In conclusion, if I had to pick only one platform out of all of these, going with Visme would be easy because it can do almost everything that all these competitors offer and, in some cases, better than competitors. And if you consider how Visme is targeted to help beginners to advanced users alike, it seems like a better choice without a shadow of a doubt.
Visme Customer Support:
If I say that one shouldn't look any further than Visme if you're looking for a design platform with excellent customer service, it won't be wrong. Whether you need assistance troubleshooting an issue or have a question about a specific feature, Visme's support team is always available to help.
Furthermore, Visme provides several ways to contact their support team. You can email support@visme.co and expect a response within two hours, or use the live chat feature, which is available for paid subscriptions. If you prefer to solve problems independently, Visme's Learning Center, Video Tutorials, Support Articles, Case Studies, and Visme Blog are great places to start.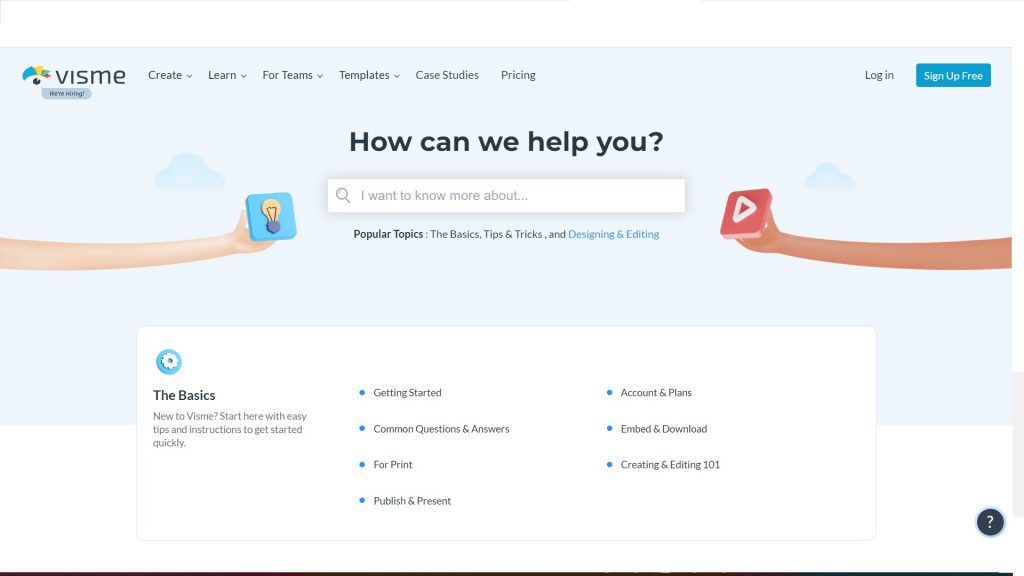 Final Thoughts:
In my opinion, Visme is a design software with great features and a valuable tool for teams. It is excellent since it provides various templates that can help users get started quickly and easily, saving time and effort. Another strength of Visme is its flexibility in terms of usage. It can be used for various purposes, including social media graphics, infographics, presentations, and more.
Although it may be pricey, the capabilities that Visme brings to team collaboration and management features make it worth the investment. One minor downside is that the catalog of stock images offered by Visme can be inconsistent and inadequate.
In conclusion, Visme has flaws, such as inconsistent stock images and pricing, but it also has strengths, such as flexibility, customizability, and a variety of templates. Finally, the decision to use Visme will be based on each user's or team's specific needs and budget.
Frequently Asked Questions:
Q1: What is Visme?
Ans: It is an online, cloud-based design and visual content creation tool that allows users to create various graphics, mockups, social media presentation documents, charts, infographics, etc. without learning complicated software such as Canva.
Q2. What are the features of Visme?
Ans: It features a variety of tools and editable templates for designing custom graphics, themes, presentations, and infographics. Some of its features include drag-and-drop design tools, customizable templates, data visualization tools, multimedia integrations, and collaboration capabilities, which make it an ideal go-to tool.
Q3: Can you let me know about the pricing of Visme?
Ans: It offers a range of pricing plans for its individual and business users, starting with a free plan and going up to $39 per month for the business plan, which is slightly more expensive than its competitors.
Q4: Does Visme offer a free plan?
Ans: Yes, Visme does offer a free plan with basic design features and limited storage and access to templates and assets.
Q5: Is Visme a good platform?
Ans: It is a well-known website or platform for the creation of visual content, and many positive user reviews have praised its functionality based on templates, adaptability, and rich feature set.
Q6: What's better, Visme or Canva?
Ans: Both Visme and Canva are renowned design tools that provide their users with a ton of functionality and simplicity, but which one is better will depend on the individual user's or team's specific requirements. Canva offers more stock photo options, whereas Visme has more features and collaboration possibilities.
Q7: What is a drawback to Visme?
Ans: Its inconsistent stock image catalog, in addition to its high price points, is a drawback. This may force users to search for images elsewhere, incurring additional costs.
Q8: Is Visme easy to use for beginners?
Ans: It is user-friendly and provides a selection of templates and design tools to assist beginners in getting started. For those new to designing or creating visual material, there may be a learning curve similar to any new tool.
Q9: Does Visme offer a mobile app?
Ans: Yes, it offers an app for tablets and smartphones that enables users to edit and produce visual material while on the go.
Q10: Do I need to download any software on my machine to use Visme?
Ans: No, it is a cloud-based tool, so there is no need to download or install any program to access or use it. A web browser and an internet link are all you need.